The iPhone 6 and iPhone 6 Plus arrived in September, but now that we're well into 2015 it's no surprise that chatter about what's next for Apple's smartphone is getting louder and clearer. Here's everything we know about the iPhone 7 release date, specs, new features and design rumours and bring you the latest iPhone 7 speculation to help you stay up-to-date with the latest iPhone 7 news, rumours and leaks. When is the iPhone 7 coming out? Updated 17/8/15 with new reports regarding the implimentation of Force Touch technology, as well as a video comparing an iPhone 6 shell with a next-generation iPhone 7 shell.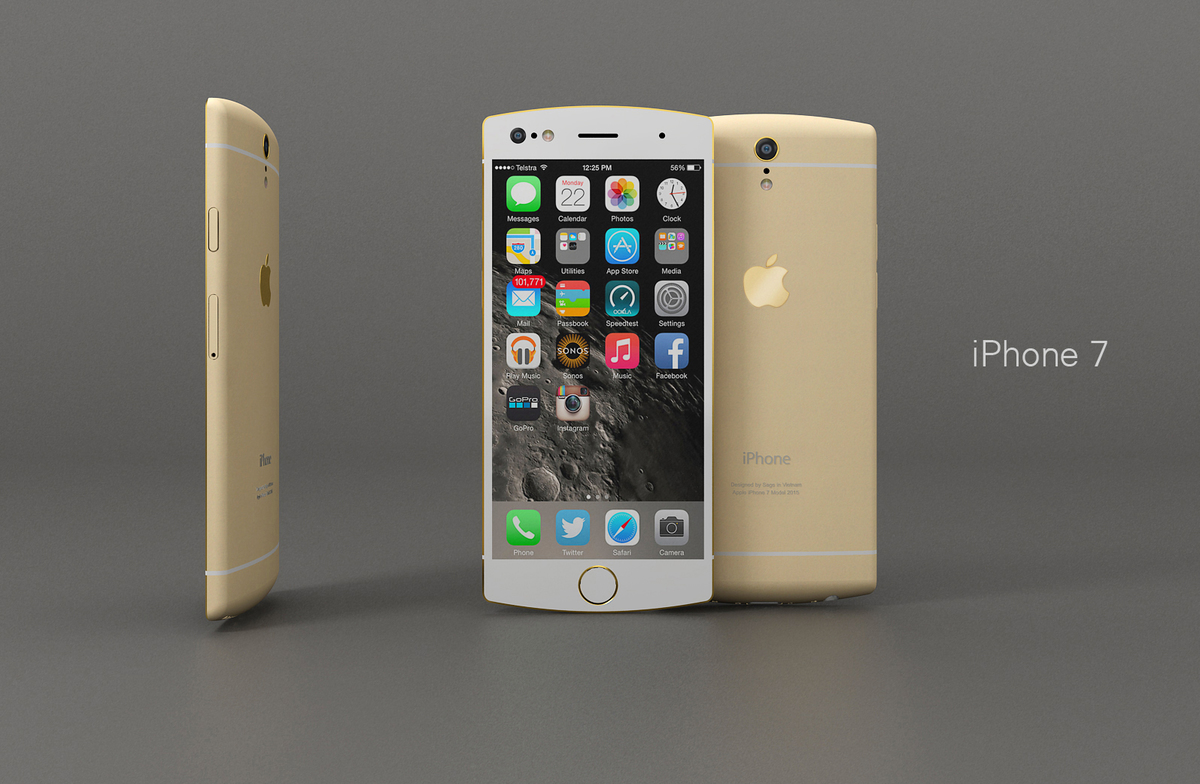 Concept iPhone 7
iPhone 7 rumours: Isn't it going to be the iPhone 6S?
Some of you might be thinking, isn't it going to be called the iPhone 6S next? After all, Apple has released an iPhone 3G, iPhone 3GS, iPhone 4, iPhone 4S, iPhone 5, iPhone 5S and now iPhone 6 (alongside the iPhone 6 Plus). So if history repeats itself, it's likely that the next iPhone will be called the iPhone 6S rather than the iPhone 7. See also: iPhone 5S vs iPhone 6 comparison
However, Apple has surprised us somewhat over the past two years, releasing an iPhone 5Calongside the iPhone 5S in 2013, and an iPhone 6 Plus alongside the iPhone 6 in 2014. We're wondering whether Apple might soon decide to ditch the numbers completely and stick with iPhone, iPhone Plus and iPhone C, perhaps. Or, simply ditch the 'S' models and launch an iPhone 7.
In fact, reports that emerged in mid April suggest that the next iPhone is going to be so significantly different to and better than the iPhone 6 that Apple has decided the iPhone 6S name doesn't fit, and instead will launch an iPhone 7 this autumn.
No one knows for sure yet though, so you'll see both terms used within this article, although primarily iPhone 7 to keep things simple.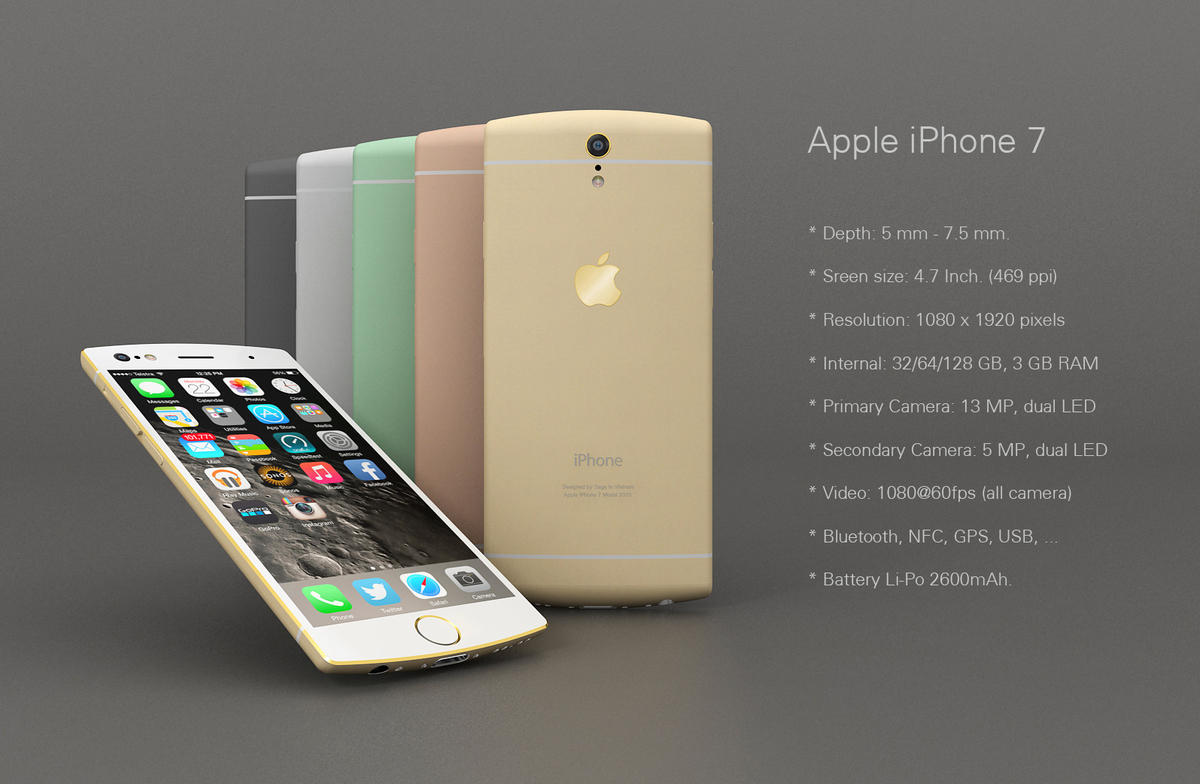 Concept iPhone 7
iPhone 7 release date rumours: When is the new iPhone 7 coming out?
Looking back over the recent history of Apple's iPhone launches, it's likely that the iPhone 7 will be unveiled at a special event in September 2015. It will be a little while until invites are sent out, though.
Our current prediction is 8 September. Why? Well, it's a complete guess, but it's an informed one. The iPhone 6 and iPhone 6 Plus were unveiled on 9 September, iPhone 5C and iPhone 5S were unveiled on 10 September, and iPhone 5 was on 12 September. Apple goes for Tuesday or Wednesday launches (more often Tuesdays) so Tuesday 8 September 2015 is our iPhone 7 prediction.
iphone 7 innovative screen pics
According to Mobile News, the new iPhone will be released on September 25. It's claimed that the blog received an internal email from Vodafone, which outlines the prelaunch plans and includes two dates: September 18 for pre-orders and September 25 for the launch. We're not sure of the authenticity of the email and since the rumoured launch is months away, there's still a chance that these dates could change.
iphone 7 innovative screen pics
However, opposing rumours suggest that the iPhone 7 could actually arrive in August, a few weeks earlier than expected.. The Economic Daily News has cited supply-chain sources who allegedly say that the iPhone 7 is in production already, and will launch a month earlier than we first thought. We're taking this rumour with a pinch of salt for now, unless any further evidence emerges. And of course, if it does we'll update you right here.
Update 10 August: August still seems unlikely, especially with Samsung's Unpacked event(for the Galaxy Note 5 and Galaxy S6 Edge+) taking place on 13 August. The latest iPhone 7 launch event will take place during the week beginning 7 September with Wednesday 9 September the 'most likely', just a day after our prediction. This comes via Buzzfeed as requires just as much of a pinch of salt as the other proposed dates.
The unveiling of iOS 9 and the launch of the developer preview on 8 June at WWDC 2015offered some further clues to the features we can expect in the next iPhone model, which you can read about in the camera section below.
Latest iPhone 7 rumours: Apple places huge iPhone 7 order with suppliers as it prepares for launch
Apple is reportedly preparing to place its biggest order ever for the iPhone 7, with 85 to 95 million units set to be manufactured in China this summer ahead of the new smartphone's launch later this year. That's according to The Wall Street Journal.
It's believed that Apple asked suppliers to build 70 to 80 million units last year, so it looks like Apple is confident that the next iPhone will fly off the shelves too.
Latest iPhone 7 rumours: iPhone 7 leaked images emerge
On 30 June, the first purported iPhone 7 leaked photos emerged, and we expected that this would spark a string of many more in the months to come – and we were right.
The first images come from 9To5Mac, which claims to have obtained the images from a "proven source familiar with Apple's supply chain."
The images show an iPhone case that looks almost identical to the iPhone 6, but is apparently destined for the iPhone 7 later this year. Despite previous rumours, the case is the same thickness and width as the iPhone 6.
Where the differences can be spotted is on the interior of the alleged iPhone 7 rear casing. The mounting points for the logic board and components are different, which suggests changes to some of the inner workings of the phone.
9To5Mac has since published a second report showing what it claims is the new logic board for the iPhone 7. According to the report, the new iPhone will have a new Qualcomm LTE chip that will have the potential to deliver up to two times faster LTE download speeds.
However, disappointingly, it looks like the iPhone 7 won't have a dual-lens camera or an antenna-lineless design as the rumours have been suggesting. Of course, whether this case is the real deal remains to be seen, so we won't know for sure until Apple shows off the next iPhone itself.
Following the first leaked images of alleged iPhone 7 parts, a second leak courtesy ofEngadget shows what appears to be a schematic for the iPhone 7. According to the report, the images come from a source from a reliable Chinese supply chain. The schematics fit with previous reports that claimed the iPhone 7 would be 0.2mm thicker than the iPhone 6, due to the introduction of Force Touch technology.
Another leak comes from nowhereelse and gives us our first glimpse at the front panel of the next iPhone, be it the iPhone 6S or 7. The leak comes only a week after reports claiming that manufacturers have started production of the next-generation iPhone. The image appears to show the panels sitting out on the factory floor, possibly ready to be attached to the rear shells that were leaked back in June. It's interesting to note that the source of the photo couldn't confirm whether the displays were made of Sapphire Crystal, or if it'll include Force Touch technology.
Just days after the above images were leaked, more images of the proported iPhone 7 display surfaced online, this time from a user named GeekBar on popular social network Weibo, as first reported by nowhereelse. GeekBar claims that the below images show the upcoming iPhone 7 display, which looks a lot like the iPhone 6 display but with a slightly different assembly.
The more eagle-eyed of you will also notice a small rectangular access panel that's cut into the metal plate of the display – an area which has historically shilded iPhone screens from direct contact with internal components. Does this mean Force Touch is incoming with the next iPhone? It seems to be the case, as its already available for select MacBooks and, of course, the Apple Watch and is a logical next step for the company.
Most recently, CAD drawings and a CAD video have surfaced via uSwitch, which, if accurate, could serve as evidence that Apple will be adjusting the width of the next iPhone by 0.2mm, which takes the iPhone 6S/7 from 6.9mm to 7.1mm and the iPhone 6S/7 Plus from 7.1mm to 7.3mm (read more below). Why? It could be a result of implementing Force Touch technology in the device, or it could simply be in response to last years "bendgate" controversy.
Though this could be a fake, Apple tends to send CAD design renders to third-party case manufacturers ahead of general release, which is then used to manufacture compatible cases. See additional CAD renders below:
Apple is keen not to repeat the dramas of last years "Bendgate" saga with the iPhone 6 Plus, as the company is reinforcing key areas of the next-gen iPhone to prevent the device from bending. Reinforced areas include the areas around the volume buttons and the home button, two areas that bendgate reports focussed on last year.
A detailed video comparison has also been posted, showcasing the rear shell of the iPhone 6 along with the rear shell of the new iPhone. Interestingly, the video seems to confirm rumours that detailed a slightly thicker iPhone frame, as the shell in the video is also 0.2mm thicker than the iPhone 6 shell. Although the shell of the new iPhone is thicker and reinforced (in certain areas) the case still manages to be two grams lighter than the previous generation, weighing in at 25g compared to 27g of the iPhone 6 shell.
Latest iPhone 7 rumours: Force Touch display to make iPhone 7 thicker
Those aforementioned reports to suggest the next iPhone will be so different Apple will skip iPhone 6S come from well-respected and previously accurate analyst Ming-Chi Kuo from KGI Securities, who says that the biggest difference between Apple's iPhone 6 and the next iPhone is that it'll have a Force Touch display. Apple currently uses Force Touch in the Apple Watch and its new MacBook, but Kuo thinks it'll use different technology that, instead of actually measuring the pressure that you put on the screen to determine whether you're tapping or pressing, will detect the contact area of your finger to make the distinction.
After some reports that suggested Force Touch would only come to the display of the larger iPhone this year, new claims from Economic Daily News say that both will get the technology after all. That's according to a supply chain source, who says that Apple had originally planned to limit Force Touch to the 5.5in iPhone before settling on the final decision to implement it in both.
These reports have led to the creation of an iPhone concept showing what Force Touch could look like.
However, reports, which emerged in mid June, have suggested that the new iPhone will need to be slightly redesigned to accomodate the Force Touch display. Apparently, the new iPhone 7 will be made with a stronger aluminium 7000 and will be 0.15mm longer and 0.2mm thicker in order to bring Force Touch technology to the device.
According to the latest reports, Force Touch on the iPhone 7 is said to work similarly in the way that it works in the Apple Watch, primarily focussing on shortcut actions, which should enable users to perform tasks from within apps more efficiently. It'll be available throughout iOS 9, and users should feel the same haptic response as when using the functionality on the Apple Watch.
One example of this is in the Maps application; using Force Touch on a location should initiate the turn-by-turn navigation, cutting down the steps to get the directions you need. Another example is the Bluetooth icon in the Control Center – instead of just being able to enable and disable Bluetooth, force touching the icon may bring up the Bluetooth settings menu. It has benefits throughout iOS, and is a feature we hope to see included.
iPhone 7 release date rumours: iPhone 7 to feature an e-SIM
Recent reports suggest that it could be the end of days for the traditional SIM card, with a possible introduction of a simpler option; the e-SIM. An e-SIM is an electronic SIM card which would replace the physical SIMs used today and instead will opt for a virtual embedded equivalent. Rumours suggest that both Apple and Samsung are in talk with the GSMA (organisation that represents the interest of mobile operators) to use a standardised e-SIM in future handsets.
What are the benefits of having an e-SIM? First things first, it'll make switching carriers easy and should allow for more flexible roaming. The idea is that with a standardised e-SIM, you'll be able to make a call and switch operators without having to insert a specific SIM card. This idea translates to roaming too, as it'll be much easier to switch to a local network if you're looking to spend a long period of time in a particular country.
You can also wave goodbye to SIM adaptors! If you've ever had to go from a nano-SIM device to a micro-SIM device, you'll know exactly what we mean.
iPhone 7 rumours: Design
The iPhone 6 and iPhone 6 Plus represent a big design change from their predecessor, the iPhone 5S, so it's likely that Apple won't make such significant design changes to the next generation of iPhone. Traditionally, with Apple's 'S' models, the design is almost identical to the previous iPhone's design.
So, we can expect the iPhone 7 to have a 4.7in screen (and the iPhone 7 Plus should Apple decide to launch one to have a 5.5in display), a rounded, aluminium chassis and a very slim profile. It's also likely that it'll be available in Silver, Gold and Slate Grey.
However along with the announcement of the iPhone 7 and 7 Plus, there are also reports of a third iPhone model, complete with a 4in display. The report originated from DigiTimes, which has a hit-and-miss track record when it comes to iPhone leaks. The Taiwanese industry site claims that along with the two standard iPhones (4.7in and 5.5in), a new "C" variation will be showcased, currently known as the iPhone 6C.
The report goes on to claim that the 4.7in and 5.5in variations of the next iPhone will use Apple's A9 chip, while the iPhone 6C will use a slightly older chip, the A8.
Apple could make the iPhone 7 lighter, though, thanks to the use of the stronger sapphire glass and more durable liquidmetal materials, both of which Apple is believed to be working with. Stronger materials mean Apple could use less metal and glass in the device, making lighter overall.
One design rumour we've been hearing recently is that Apple may decide to introduce a fourth colour option, this one with a rose gold finish like the Apple Watch Edition. Those rumours came from The Wall Street Journal, and designer Martin Hajek quickly came up with realistic concept images to show what a rose gold iPhone 7 might look like.
You'll find more on his website.
Not everyone is convinced that Apple won't change the design of the iPhone 7, though.According to MacX.cn, Apple's next iPhone will have a 5in, OLED display with a 400ppi resolution.
In March, a new patent revealed that Apple is investigating ways to make future iPhones waterproof without needing to compromise on the design. Instead of adding armour to the outside of the iPhone to protect it from water, the method would coat electronic components found inside the iPhone in a protective waterproof material that would prevent them from getting damaged should water find its way in. Clever.
iPhone 7 rumours: Specs & new features
The iPhone 7 will have a faster processor, probably names the A9, joined by an M9 co-processor.
Interestingly, it's rumoured that Apple will finally up the iPhones RAM complement, with 2GB LPDDR4 memory. It could also boast camera improvements (although analysts say it won't), as well as better battery life and new features such as wireless charging.
It's believed that Samsung is the main supplier of Apple's A9 processor, and that they're being manufactured using a new 14-nanometer process, helping make them smaller, more efficient and more powerful. A report from DigiTimes has suggested that both Samsung and Taiwan Semiconductor Manufacturing Company (TSMC) have started producing the next-generation A9 chipset for the iPhone 7. It's also claimed that Apple has requested the manufacturers to make last minute changes to the chipset, though its thought that it wouldn't affect the launch schedule.
iPhone 7 rumours: Enhanced Find my Friends
When Find my Friends was released by Apple back in October 2011, it was met by a mixed reaction; while some people saw the potential benefits of constant location sharing, many were creeped out by the idea. Users are in full control of who can see their current location, as you have to accept a request before friends/family can access your location and of course, you can always turn your location services off.
However almost four years on from its release, Find my Friends isn't quite as popular as Apple would've hoped – and the company is hoping to revive the app with the next iPhone, if newly discovered patents are anything to go by.
Originally published by AppleInsider, the report claims that Apple has applied for not one but two new patents relating to location services. The first patent is described as a "customized location notification" and details a tweak to an existing iOS feature that enables users to send and receive event-based notifications as they move through various pre-set geo-fences.
It'd work by a user requesting that a second user shares their location, and agree to send and receive notification pushes via text, email, etc. If accepted, whenever the second user crosses a geo-fence boundary, the first user will receive a custom notification. Does it sound like a more advanced Find my Friends to anybody else? Hmmm.
The second patent is titled "indoor remote triggered location scanning" and describes a technology that can enable location tracking inside buildings. The patent describes the use of "nodes" similar to the tech used in Apple's iBeacon, which can triangulate the location of your device.
So why would users want to be tracked inside buildings? There are a handful of situations in which it could be helpful. Imagine going out on a blind date a restaurant – instead of standing around awkwardly trying to spot the person based on a 3 year old profile photo, you could track their location and see what table they're sat at (with their permission, of course!).
iPhone 7 with sidewall display: Apple's answer to the Galaxy Note Edge?
However, there are some rumours to suggest that the iPhone 7 could have some new design features, though we'd take these rumours with a pinch of salt.
The speculation about a new design stems from an Apple patent that was published in 2015. It describes what Apple calls "sidewall displays," similar to the display found on the Galaxy Note Edge.
Concept by Michael Shanks
The patent hints at a future iPhone with a display that extends onto the sides of the device, providing interactive or touch sensitive portions that give access to slide-to-unlock functionality, music player controls, messaging readout, called ID, system controls and more.
Perhaps Apple will decide to introduce the sidewall display to the iPhone 6 Plus's successor, offering even more screen estate.
While the sidewall display and Touch ID display are both great ideas, what we really want to see is a higher resolution display. The iPhone 6 Plus's display is 401ppi, but that's still not as impressive as many of its rivals, including the Galaxy Note 4 and the LG G3.
One of the biggest things which could happen to the screen is a Force Touch display which is found in the new MacBook's trackpack and the Apple Watch. It would mean the iPhone 7 could distinguish between a tap and a press (not a long press) opening up a world of possibilities.
iPhone 7 rumours: Touch ID display
Another rumour that was sparked by an Apple patent is that the iPhone 7's Touch ID fingerprint sensor, which is usually situated beneath the Home button, could be built-in to the entire display, eliminating the need for a Home button and making room for a larger display without enlarging the overall size of the smartphone.
These rumours seemed pretty far fetched to begin with, but with Sonovation's announcement on Tuesday, it might just happen. Sonovation recently announced that its found a way to insert ultrasonic biometric sensors underneath a Gorilla Glass display, with it still being able to read a users fingerprints.
The newly developed tech is "well suited for through-the-glass fingerprinting and specifically architected to deliver advanced security and ease-of-integration into mobile and IoT devices" Sonovation's CTO Rainer Schmitt said.
The company claims that it can even do one better than the existing Touch ID (and most other fingerprint scanners on the market) by being able to scan fingerprints on a finger that's wet, dirty or oily. Though it's not clear which devices will be the first to feature this new technology, but we assume it'd either be the iPhone or a flagship Android smartphone.
iPhone 7 rumours: Camera
One of the biggest areas of improvement for the iPhone 7 could be the camera. Rumours that emerged in November 2014 suggested that the camera will represent the biggest camera jump in the history of the iPhone, with a two-lens system that could capture "DSLR-quality imagery," according to Daring Fireball's John Gruber.
Rumour has it the iPhone 7 camera could be up to 21-megapixels but more likely is a jump to 12Mp, according to Kevin Wang, IHS Technology Research Director in China. But the catch is that the pixels will be smaller which may mean a drop in low light performance.
Those rumours were cemented by sources in the hardware supply chain. A dual-lens camera would allow the iPhone 7 to include optical zoom capabilities and improve low-light photography.
Clues spotted in iOS 9 also back up the rumours about the improved camera in iPhone 7, which is the first bit of solid evidence we've seen so far. The code hints that future iPhone cameras could have a front-facing camera with 1080p resolution and 240fps slo-mo, as well as panoramic capture and flash. Which might sound a bit over the top but with the selfie-craze continuing to grow it could be a wise move, particularly considering current iPhones have quite poor front-facing cameras compared with rivals.
iPhone 7 rumours: Software
The iPhone 7 to ship with iOS 9 installed. Apple unveiled iOS 9 at its WWDC 2015 event, and you can find out more about it by following the links below.
iOS 9 release date | iOS 9 vs Android M comparison | 9 new features in iOS 9 you didn't hear about from Apple
iPhone 7 rumours: Reversible USB charger
Another rumour circulating the web is that the iPhone 7 will come with a new iPhone charger, with a Lightning connector on one end and a new reversible USB connector on the other end.
In August 2014, a video of a reversible USB charger emerged on YouTube, which you can watch below.
iPhone 7 rumours: Images
As yet, there are no leaked images of the iPhone 7, but we expect that they'll begin appearing soon. For now, though, there are concept images from some of the most popular mock-up designers floating around the web.
Martin Hajek has created some stunning iPhone 7 concept images, as shown below.
Designer Steel Drake has shared images on Behance of what he thinks the iPhone 7, or maybe iPhone 8 will look like.
 (pcadvisor.co.uk)
Comments
comments