KEY FEATURES
5.5-inch 2K curved display
6GB RAM
256GB storage
USB-C
4,000 mAh battery
Kirin 960
Manufacturer: Huawei
Review Price: free/subscription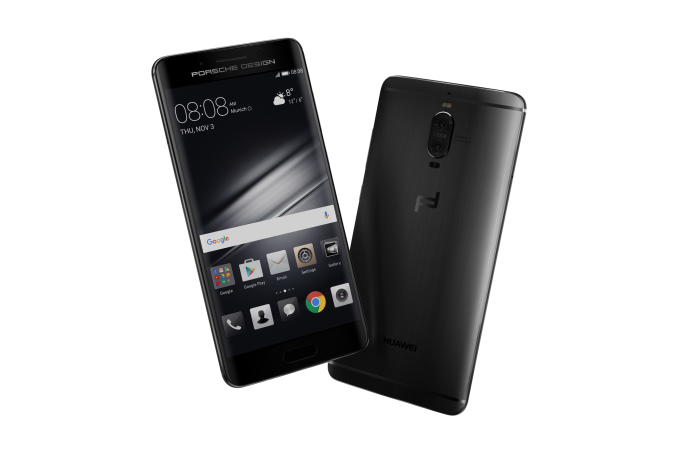 Huawei Porsche Design Mate 9 hands-on: Worth the cost of entry?
Huawei has teamed up with legendary car marker Porsche to create one of the most luxurious, powerful and expensive phones you can buy.
Beyond the premium brushed metal chassis, dedicated home button and iconic Porsche Design logo — what really stands out is how comfortable and easy to hold it is compared to the massive 5.9-inch Mate 9. The Porsche's smaller 5.5-inch curved display is the same size as the iPhone 7 Plus and Galaxy S7 Edge, and looks stunning. It's sharper too, thanks to the higher resolution 2K display.
You can get the Porsche in any colour you like, as long as it's black – or more specifically Graphite Black. And contrary to Huawei's claim, it's a serious fingerprint magnet.
Porsche have also moved the fingerprint reader to the front of the phone, combining it with a new capacitive touch Home button. Like the iPhone 7 and HTC 10, the button doesn't physically press in, instead you get a gentle vibration. In my short time with the Porsche, I wasn't that impressed by the Home Button which seems to require more force to press than you'd expect.
The new octa-core Kirin 960 processor powers both the Mate 9 phones, but the Porsche gets a speed boost, sporting 6GB of RAM – up from 4 on the Mate 9. You'll never need to worry about storage either as the Porsche boasts 256GB of the stuff.
Raw performance is all well and good, but you need the software to make using the phone feel fast and responsive. That's where the new and improved EMUI 5.0 software comes in which, together with Android 7.0 Nougat, is lightning fast.
Both versions of the Mate 9 offer a new and improved version of the Leica engineered dual-camera setup we saw on the Huawei P9 earlier this year. A 12 megapixel RGB sensor alongside a 20 megapixel monochrome sensor work together to produce bright and detailed shots. First impressions are great, but we'll need to test if further to give a final verdict.
The Porsche Design Mate 9 is a seriously impressive phone – but with a eye-watering retail price of 1350 Euros (around £1250/$1875), I suspect most of us will have to give this one a miss.
The limited edition Porsche Design Mate 9 is expected to be available in Europe from December and the rest of the world in the new year.
(trustedreviews.com,https://goo.gl/449Rrb)
Comments
comments