OUR EARLY VERDICT
The Alcatel A7 is an unremarkable budget smartphone in many respects, but its big screen and even bigger battery will help it stand out from other handsets currently on the market.
FOR
Big battery
Stylish design
Big screen
AGAINST
Only one color
Rear-mounted fingerprint sensor too close to camera
Alcatel has introduced a new budget smartphone at IFA 2017, the A7. While it's low in price it's also relatively low on specs and interesting features, but the A7 does offer a larger-than-average screen and a good-sized battery for its price.
The 5.5-inch Full HD display and 4000mAh power pack potentially make this a great budget buy for those who mostly use their phone for basic tasks but rarely have it out of their hands. There's also a decent 16MP rear camera.
Alcatel A7 release date and price
The Alcatel A7 is available now in Europe for €229.99 (around £210), but its UK release date and exact price are yet to be confirmed. The phone will be launching in Australia in early 2018, where it'll cost $299 SIM-free.
Design and display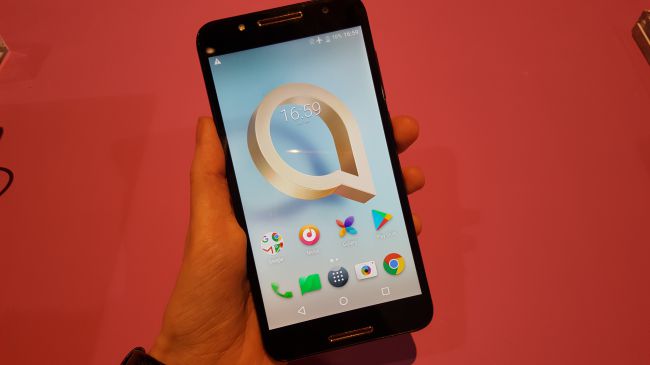 The A7 is a sleek-looking budget smartphone with a refreshingly bold design. Its metallic black casing is stylish, but it avoids looking dull thanks to the subtle engraved spin effect on the casing and the addition of accents around the home button, top speaker, fingerprint sensor and camera lens.
This design should certainly help the A7 stand out from other budget smartphones. However, it's a shame that there's just the one color choice. Though it looks good, it seems like a wasted opportunity on Alcatel's part that it didn't play around with a variety of casing and accent color combinations to give potential buyers more choice.
The phone's edges are smooth and pleasantly curved, and the metal casing feels smooth on the palm. The 5.5-inch display is larger than average, and though it sat comfortably in our palm we did struggle to stretch our thumb the whole way across the screen, which makes us thing that those with smaller hands may be less comfortable using the device one-handed.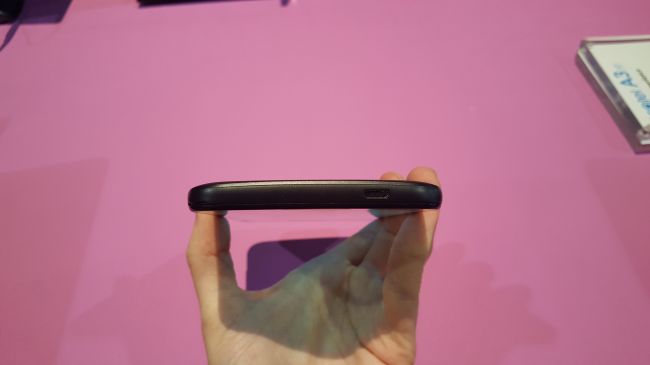 We found the Full HD screen more than up to the task of filling all that space with a bright and clear display. Alcatel isn't doing anything astonishing with its display here, other than making it larger than average for a budget handset, but it certainly looks good.
You'll either love or loathe the placement of the A7's fingerprint scanner. It's on the back of the phone, and while we didn't get the chance to test how accurate the scanner is, we were slightly put out by the fact that it sits directly below the phone's camera lens.
While the other new phone announced by Alcatel at IFA, the Idol 5, kept the scanner and camera far apart, the A7 unfortunately leaves open the possibility that you'll smudge your camera lens every time you unlock your phone to take a picture.
Wired headphone lovers will be glad to know that a 3.5mm headphone jack can be found on the phone's top, while at the bottom there are two speakers flanking a micro USB charging port. On the phone's right side you'll find two buttons, one for volume and the other for power.
Battery life and camera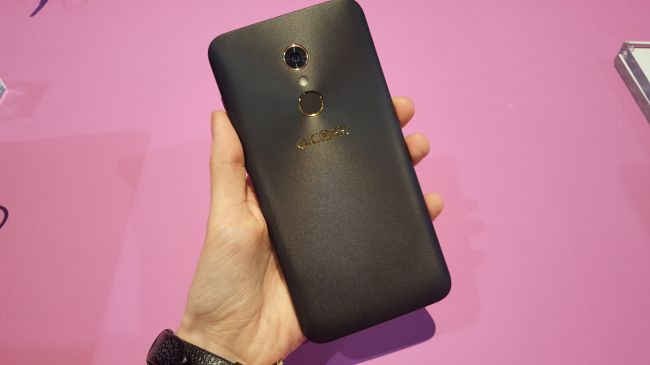 When it comes to battery life, the Alcatel A7 demands your attention. It offers an impressive 4000mAh battery which can be fully recharged in around two and a half hours.
This is a good-sized battery considering the phone's budget price point – the more expensive Idol 5, for example, only offers a 2800mAh power pack. However, given that the A7 is being targeted towards those who 'never rest', good battery life is the least we should expect.
There's a pretty respectable camera on offer here too. The A7 has a 16MP rear camera and a 8MP selfie camera. We got the chance to try out the rear camera, and as far as we could tell it was more than capable of taking good shots of your everyday life, although we'd want to test it in conditions other than a conference hall before passing full judgement.
Other specs and features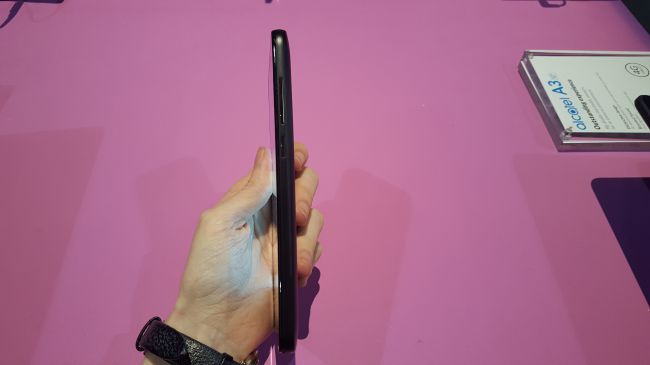 Inside the Alcatel A7 you'll find a MT6750T octa-core chipset and 3GB of RAM. 3GB isn't a huge amount these days, but from what we could see the phone didn't struggle to keep up with our quick switching between apps.
As with the camera, we'll have to wait for our full review to see whether or not the phone can efficiently cope with the multi-tasking its presumed target market will likely be engaging in.
There's 32GB of storage on offer in the A7, which just about passable for a budget phone but not overly generous; if you need more storage there is at least the option to expand this up to 128GB via microSD card.
The phone runs Android 7; with Android Oreo coming this may not be the case for long, but we're not sure how long it'll take Alcatel to bring the new software to the A7, and it's unlikely to be one of the first phones to get it.
Early verdict
Overall, the Alcatel A7 looks to be an appealing budget smartphone proposition. Its specs aren't anything special, but given its low price that's really not surprising. If you prioritize battery life and price, and don't need your smartphone to do anything particularly fancy, it could be worth looking at.
(techradar.com, https://goo.gl/LbVgY4)
Comments
comments