Google stepped away from the Nexus family in 2016 and launched the Pixel smartphones, adopting the line of the previous Chromebook Pixeland Pixel C and presenting a Google-designed premium product.
The Pixel 2 XL is the second-gen, looking to replace one of our favourite 2016 phones. It's an ambitious device, switching to an 18:9 display and refining the bodywork of the previous device, while looking to right some of those wrongs.
But somewhere along this road Google hit a bump.
Google Pixel 2 XL review: Design
157.9 x 76.7 x 7.9mm, 175g
18:9 aspect display
Just Black or Black and White colours
Aluminium body, IP67 protection
Google has kept a design quirk in the Pixel 2 XL with that split rear that we saw on the original model. It's reduced on this model – rumoured to be manufactured by LG – leaving only a small section at the rear top that's glass, with the rest of the body metal.
The front is all glass, with the surface curving at the edges to flow into the aluminium bodywork. The fit and finish is great, display great quality in all directions and coming in two colours: black or black and white. The black version is a little more stealthy, while the black and white version is adorned with an orange power button. Little details matter and this gives the design a lift, although the general them here seems to be slightly understated.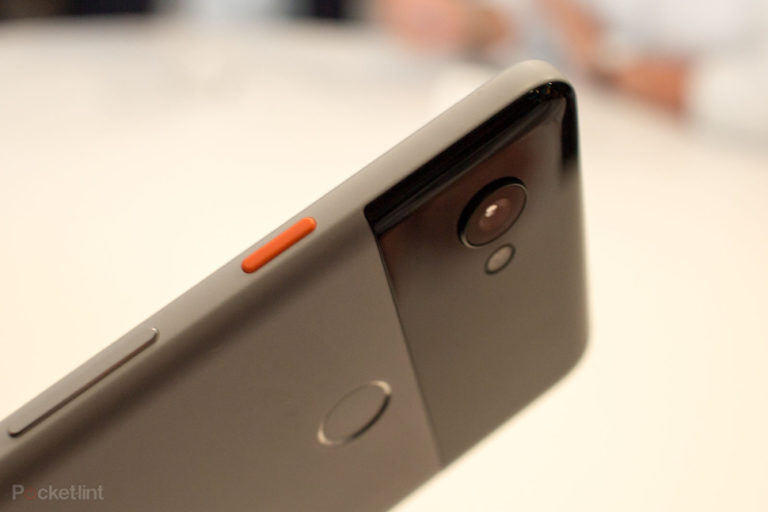 This phone is IP67 rated, giving it the water-proofing which it needs to sit in this flagship position: the previous version wasn't and that was the biggest criticism of the phone. The metal work is also coated for a surface that has some grip: this doesn't feel like the metal body of the iPhone 7 or HTC 10, it feels distinctly different, which we like, although we've already spotted some scuffing around the top edge and we've been very careful with this phone so far.
But let's talk about size. Measuring 157.9 x 76.7 x 7.9mm, the first thing you might notice is that this phone is larger than it perhaps needs to be. It's only slightly smaller than the iPhone 8 Plus so despite the shift in display aspect (with the aim of giving you a big screen without a big body), the Pixel 2 XL doesn't really achieve that aim.
Pitching the size against more formidable competition, it's noticeably larger than the LG V30 (which has the same 6-inch 18:9) display, so in some regards, the Pixel 2 XL is a little unambitious: it makes a move to a different aspect display while not fully delivering one of the greatest benefits of that design shift, namely, a more compact body.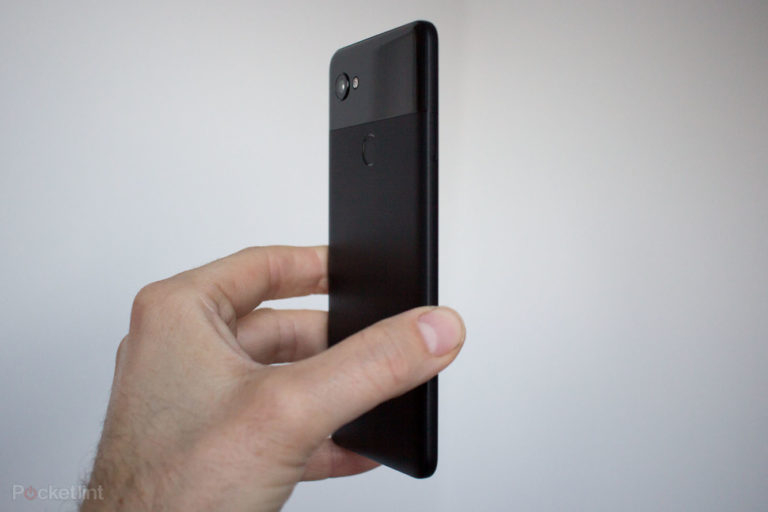 One of the things the design allows for is front-facing stereo speakers, although the accommodation of those seems has pushed this phone to be larger than it justifies. The performance from those speakers is good, but only good, so they perhaps don't justify the space they're given. They're no match for BoomSound, lacking the richness and volume of HTC's solution.
Other things to note are that the 3.5mm headphone socket is gone, so it's USB Type-C for audio, or the dongle in the box us use your old headphones. The fingerprint scanner remains on the rear in a sensible place, certainly more practical to use than Samsung's Galaxy S8 and Note 8 models and we found this perfectly fast to unlock the phone.
Google Pixel 2 XL review: Let's talk about the display
6-inch OLED, 2880 x 1440 pixel resolution, 538ppi
18:9 aspect
We're going to focus on the display next, because we think it's worth a few more words than normal. As we've already detailed, the Pixel 2 XL moves to a new display aspect, following the likes of the Samsung Galaxy S8+, LG V30, and latterly the Apple iPhone X.
It is, we suspect, the same panel that's used in the LG V30, given that it's referred to as p-OLED (which LG tends to use as Samsung dominates the AMOLED nomenclature) and the exact same size and resolution as the LG V30. It couldn't look more different, however.
The thing that we all expect from OLED displays is that they give nice deep blacks but also vibrancy and pop. It is vibrancy and pop that the Pixel 2 XL doesn't have. This display looks pretty flat and lifeless compared to any number of existing devices. It doesn't look as good as the old Pixel XL, the iPhone 8 or our pre-production LG V30. It doesn't look as nice as the OnePlus 5 or even as vibrant as the smaller Pixel 2.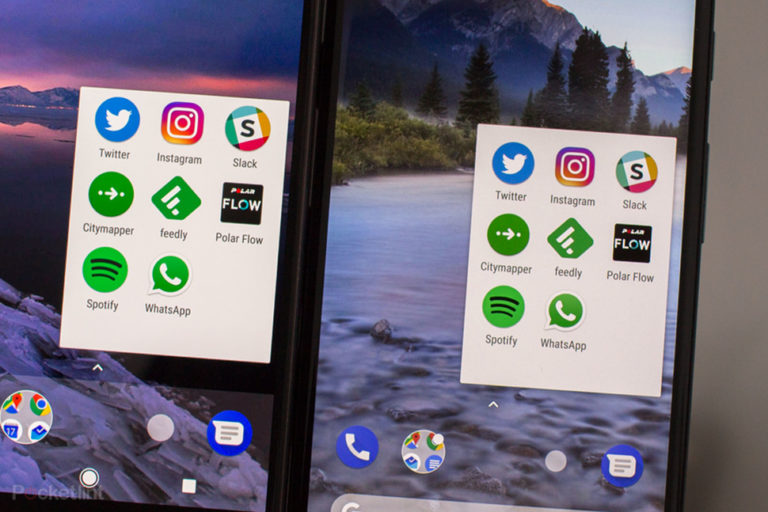 App icons are dull, the colour in many apps doesn't look exciting and things don't shine like you'd expect a flagship to. There's detail, there's contrast and there's the ability to fire out just about enough brightness to cut through screen reflections on bright sunny days (although it can't match Samsung's brightness), but this display doesn't seem to want to wow in everyday use. It's also a hard thing to photograph, because you have the camera, editing and the screen you're reading this on at changes all these colours, but we've included some comparisons to illustrate the point (Pixel 2 XL is on the right, above).
It's not all that simple though. While things like your Instagram feed won't have the sheen that all other top smartphones offer, the Pixel 2 XL's display seems to have been calibrated for accuracy in particular conditions. Watching Star Trek Discovery on Netflix, the Pixel 2 XL looked many times better than the LG V30; by contrast, LG's phone looks red in shadows and noisy in lower light scenes, with the Pixel 2 XL delivering cleaner accuracy – despite LG claiming that it would be showing the HDR version. Discovery is notable because so much is set against darkness.
Switch over to Bosch on Amazon Video and again you'll get the benefit of lower red saturation. Things look more balanced, but in daylight scenes soaked in LA sunshine, it's then the LG V30 that looks more exciting, with a little more brightness coming through. Added brightness often means that some textures that get lost in shadows then appear. Firing up Suits, the Pixel 2 XL delivers cleaner whites than the LG V30. Bear in mind, however, that LG's display doesn't looks as good as Samsung's AMOLED. On display alone, picking the Galaxy S8+ over the Pixel 2 XL becomes a rather easy choice.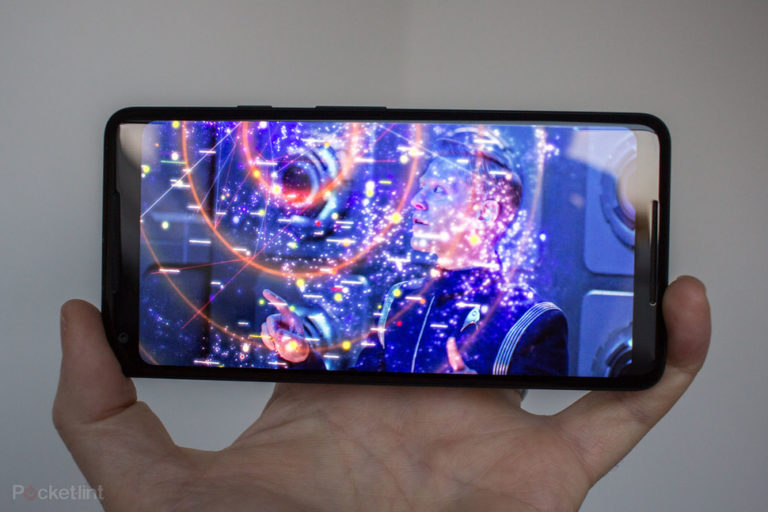 So the display of the Pixel 2 XL is very much conflicted and this dichotomy is almost impossible to avoid. Sitting back and watching video it can look great, but in daily use, it still looks rather boring. The downside might be that anyone looking at the phone on a store shelf might not immediately take to it. Even after using the phone for a week, we find it difficult to accept that the home screen environment is less exciting than most other phones we've seen this year. It just looks wrong.
Perhaps this can be rescued with some software tweaking from Google, but we'd definitely say you've got to see this phone before you consider buying it. When you do see it, make sure you look beyond apps and sample a range of videos too, because there's a real switch in character there.
Google Pixel 2 XL review: Hardware and battery performance
Qualcomm Snapdragon 835, 4GB RAM
64 or 128GB storage
3520mAh battery
With the display behind us, it's easy to say that the Pixel 2 XL is every bit as powerful as other flagship devices we've seen this year. Yes, some have 6GB of RAM – like the OnePlus 5 and the Samsung Galaxy Note 8 – but on the whole, the Pixel 2 XL runs as fast and as smoothly as other devices.
It's here that you'll notice a benefit over the older device: it will handle some more demanding tasks with ease, for example, you won't get asked if you want to turn down the graphical textures in Total War Kingdom, because the phone can handle it. You'd expect pure Android to run smoothly on this hardware and it does – except for the occasional app closing unexpectedly. There might be some software gremlins still in the works.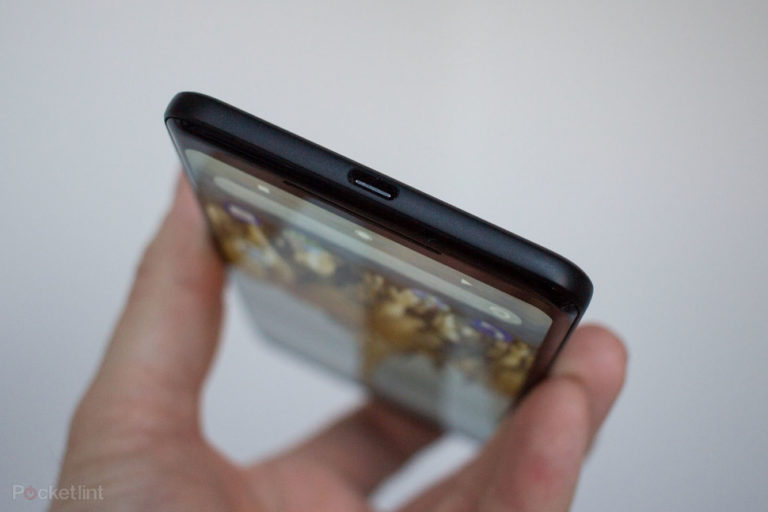 We didn't find it to run hot, however. Even during the initial start-up and mass of app installations we opted to do, the phone still stayed cool.
The consideration worth floating on the hardware setup is that the first device to launch with this hardware as the Samsung Galaxy S8, a full 6 months ago, so during the lifetime of the Pixel 2 it will be surpassed – presumably by the Snapdragon 845. Still, the pace of smartphone progress is such that you'll never be up to date, unless you always by the newest phone as soon as it launches.
Google themselves point to the hardware race in smartphones, preferring to say that AI is part of the future for making phones better and that it will be machine learning that enhances experiences. It depends, of course, whether it's the Google AI experience you want.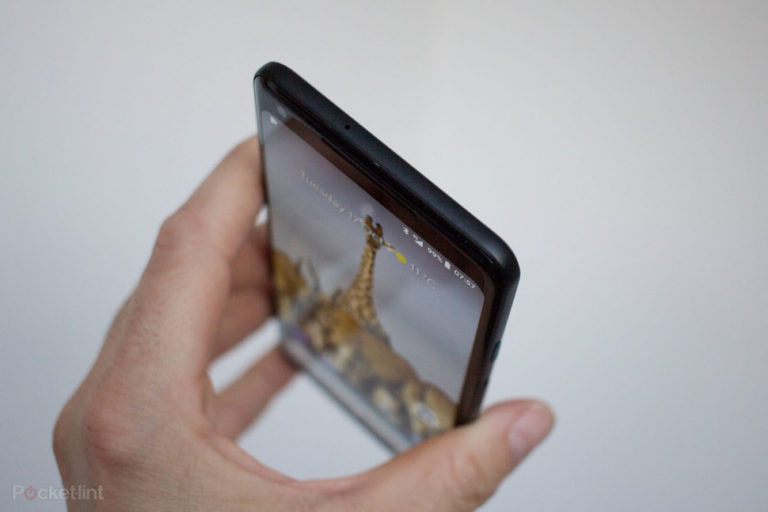 Turning to the battery and the 3520mAh cell in the Pixel 2 XL provides good day-long performance. As with most of these large format devices in 2017, it's fairly easy to get through a day with some left in the tank. Stock Android isn't especially strong on battery saving measures and this could be better: power saving feels like a limp home mode, rather than giving you granular power savings all through the day.
Fast charging is in place to bring that battery back into contention, using that USB Type-C on the base. This is very much the norm for Android devices these days, especially at this level.
Google Pixel 2 XL review: Software and performance
Android 8.0 Oreo
Google Assistant
New Pixel Launcher
The Google Pixel 2 XL launches with Android Oreo. That used to be one of the major selling points of Google's devices – you got the latest version of Android first – but with Oreo already updating on the older Pixels, there's less "newness" about these new devices. The position still remains, however, that you'll be first on the list for updates to new versions in the future.
There is some newness to get excited about and we do really like the new Pixel Launcher. This makes a few tweaks, changing the relationship between the home screen, the Google app and searching, slightly. There's now a search bar at the bottom of the home screen and this will give you live search results both for your contacts and Google searches, as well as offering up common apps that you use.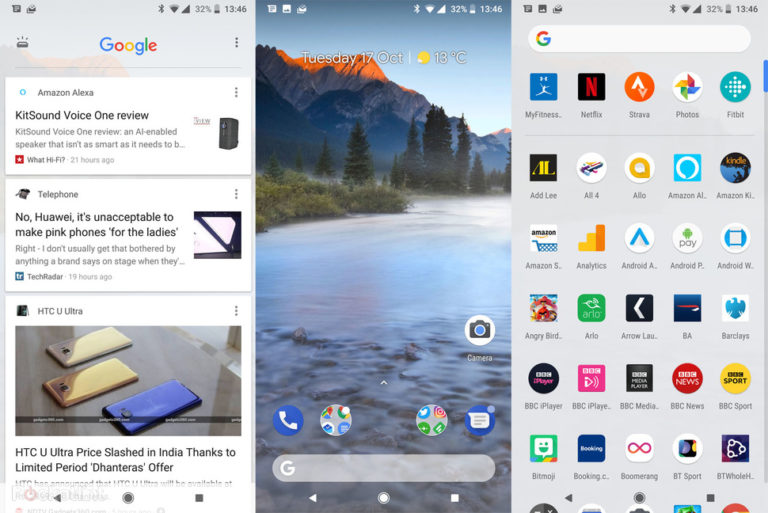 This leaves the Google App off to the left with your tailored content in it. This is the remnants of what was started by Google Now and we still find it very useful. It knows what you search for, so it knows what you're interested in.
There's also the shift to bring more information to the top your home screen, with calendar appointments appearing here. If you're a busy person, it's surprising how quickly little details like that enhance the experience. It's a perpetual reminder and so much more useful that sitting in with the rest of your notifications.
Other changes in the software are mostly to support hardware functions, like giving you the option to have songs identified on the lock screen. It's a form of always listening and it will consume more battery, while also being more convenient than having to open an app. Still, manually using Shazam is still more accurate however.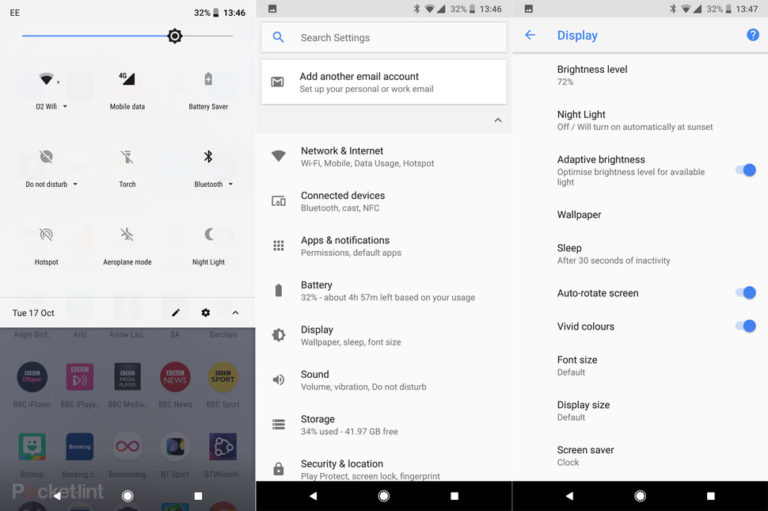 There's a lot more happening under the skin of Oreo however, and these somewhat superficial details mean less on Android than they might on iOS, due to the flexibility in Google's platform.
What's most important is that Oreo is slick and fast, and full or refinement. The days of needing that manufacturer skin are long gone, with little details coming to the fore, like how the apps tray bounces when you hit the end of the scroll, and how smooth the transparencies are. What you won't find are a huge range of additional functions added in. Android sticks to its own services in Google Play (music, movies and apps) and supports functions like Cast, leaving a lot of the wider expansion to AI, through Google Assistant.
Google Assistant is perhaps Google's most aggressive foray into other devices and platforms, because you'll have lots of options to control other home devices. That functionality from Google Home flows into Android devices, meaning you can control things like Nest heating or Hue lighting.
One hardware addition on the Pixel 2 XL is the ability to squeeze the frame to launch Google Assistant, rather than saying "Ok Google" or long pressing the home button. It's a gesture adopted from the HTC U11. We didn't use it there and we can't say we've really used it here either. It very much depends on how you use Assistant and whether you need that direct access. If you do, it's perfectly easy to do and we've not found it to trigger by accident.
Perhaps more useful is the ability to squeeze to silence a call. If you're walking around with your phone in your hand, there's almost nothing easier to do. There's also full control over these elements so you can pick and choose what you want to have on or off.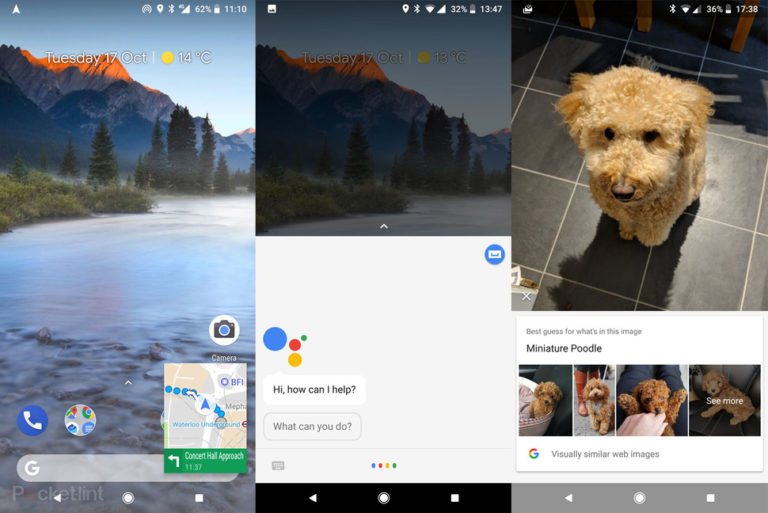 Google sees AI as the future of phones and one element that plays into this is the new Google Lens, which is basically an evolution of Google Goggles. It will identify objects the camera can see. At the reveals of the devices we saw it working from within Google Assistant, but on the review device we now have that doesn't work, it only picks up on objects within photos. If seems there's some disparity in software features in these early days.
However Google Lens is pretty smart and can identify a whole range of things. It seems to have been setup to recognise the common first and foremost. It will identity some breeds of dog, it will pull up information about the brewery from a beer label, but it still feels like a work in progress. It's AI afterall and we expect it to keep learning.
At the moment we're not completely sold on all the AI enhancements that companies seem to want to roll out. While we can appreciate something like Google Home or Amazon Echo being able to control lots of things in the home without having to open a load of apps, we're still not sold on asking for things from Assistant that we can so easily access by opening an app.
Overall, the Pixel 2 XL is slick and fun to use, but unlike the original Pixel, it doesn't feel quite as exclusive as the original phones did. Yes, having free unlimited storage for full resolution pictures in Google Photos is really attractive, but there isn't a huge amount in the experience that really makes this phone different from other Androids. One thing we love, however, is the ability to have floating Google Maps Navigation, however. That's really slick.
Google Pixel 2 XL review: Camera performance
Rear: 12.2-megapixels, 1.4µm, f/1.8, OIS
Front: 8-megapixels, 1.4µm, f/2.4
The original Pixel was best known for its camera and there's a great deal of consistency in what Google offers in this new device. It's still a single camera setup and the camera app remains very much as it was before, but does add in some extras. There's now motion photos which look to be the equivalent of Apple's Live Photos that launched a few years ago; we're still not sure it has its place, but you can get some amusing or interesting results, and there's now portrait mode too.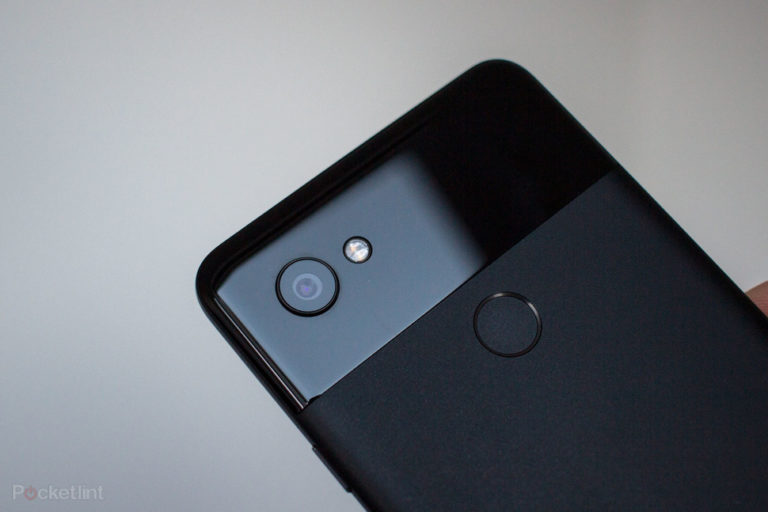 The rear camera is 12-megapixels which behaves much as the previous Pixel camera did which is good news. It's generally very good at taking photos, even if you can't quite check what the colour balance is like because of the display tone.
The front camera gives great selfies, although we've found its generally warmer in the results it produces than the back camera. The photo of yourself will be slightly more blushed than the portrait you've just taken of your loved one.
This perhaps highlights the biggest consideration with the Pixel 2 XL camera: the rear camera photos can look a little cool. White balance was something that the Pixel XL struggled with before and it seems it's not quite right here. In the UK in October you don't have the best natural light for outdoor photos, but we've seen it lacking colour in some outdoor photos as things get a little pale, at other times adding in the richness you probably want.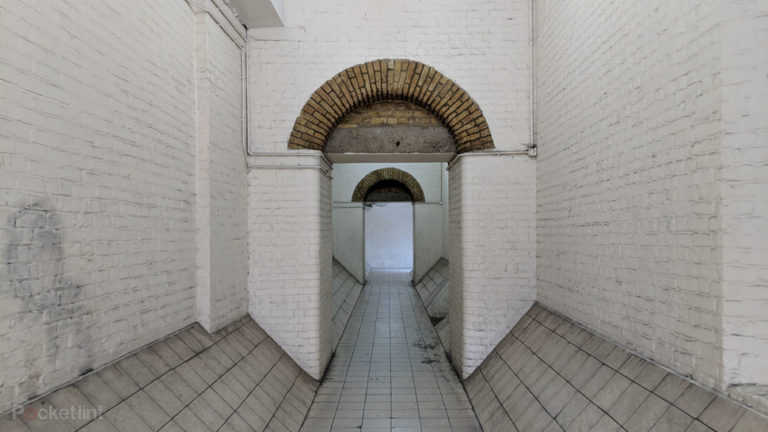 In that sense, we don't find it to be as consistent as the older Pixel models (accepting that indoor white balance is now much better), but importantly, we don't find it as consistent as Samsung's latest phones.
The camera is fast to focus and capture, but does lean on processing to then improve the photo you've taken. Various techniques are used to ensure that HDR looks nicely balanced with highs and lows realistically presented for great overall results. This is a phone where you can generally leave HDR on and get the results you want, which is one of its stand-out strengths.
Then there's portrait mode. Portrait mode and bokeh are the emperor's new clothes in smartphones, trying to create that shallow depth of field effect that a good SLR will give you. Here it's created by another AI algorithm and it's about as effective as other dual or single camera versions of this technology. It essentially attempts to identify the subject and then blur the background. It can work when there's distinction between the two, but if you happen to have hair the same colour as the background – or just wispy hair – then it will get blurred around the edges. Or, as in the example below, there's a faint halo around the head as it separates foreground from background.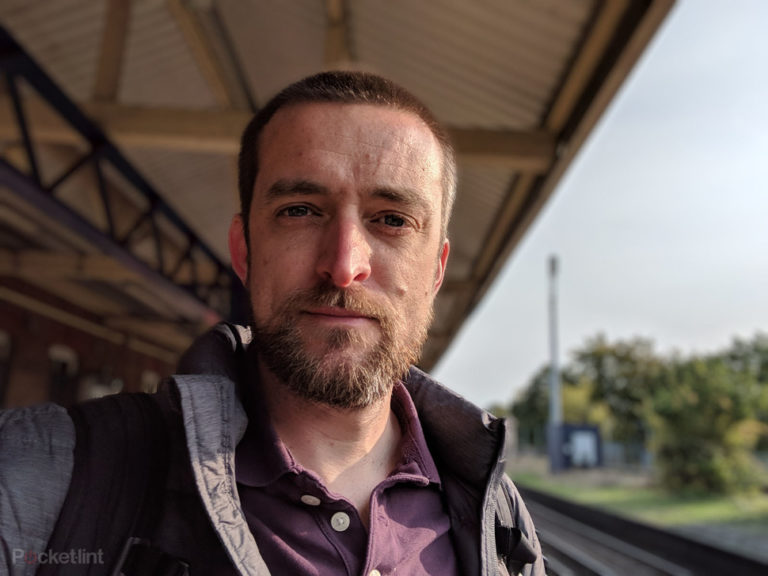 If you really want a great portrait effect, use a real camera, but being able to use it on the front camera can give some great selfies – it's perhaps a little strange that you can't use face smoothing and the portrait effect at the same time for total selfie madness. It also looks like there's a little over-sharpening happening on the front camera, but it's easy to get great results.
Where people were raving about the Pixel's camera in 2016, we're not sure that things feel as strong on the Pixel 2 XL. With current rivals offering great performance – from the the U11 to the OnePlus 5 – up to the additional features of phones like the wide-angle LG V30 or the zoom of the Galaxy Note 8, you've now got a lot more options out there.
Verdict
The Google Pixel 2 XL brought with it a great deal of excitement at launch, with a sense of ambitious design, embracing the 18:9 display and moving things forward, as well as adding that water proofing to keep pace with the best out there.
While the design is good, it's not as adventurous as the Samsungs of this world. The Pixel 2 XL won't quite turn heads for the right reasons. While the shift in display aspect brings some glamour, like the iPhone X, it hangs onto bezel that it should have perhaps tried to eliminate for more radical looks.
But all eyes will be drawn to the colour balance on that display. Daily use feels lacklustre: the app icons just don't look like the right tone and showing the phone to people they immediately assume you're on battery saving mode or night light, when you're not. That's not an experience you get when watching movies where things are much better, although that's an experience you'll have to hunt for.
The result is that the Pixel 2 XL feels like a device that hasn't quite delivered. It's a twist in design that's not as effective as others, the screen doesn't look great and a camera that, although clever, only really keeps pace with others on the market. For an Android fan that's likely to be a disappointment: the Pixel 2 XL was supposed to be the device to fend-off the iPhone X. As it is, it doesn't feel like it's a strong enough rival.
That makes it hard to highly recommend the Pixel 2 XL, not at its £799/$958.8 asking price. If Google can fix the display using software to make it more joyous to use every day, then this would become a more exciting phone, but launching into a market of great devices, this model isn't Pixel perfect.
Alternatives to consider…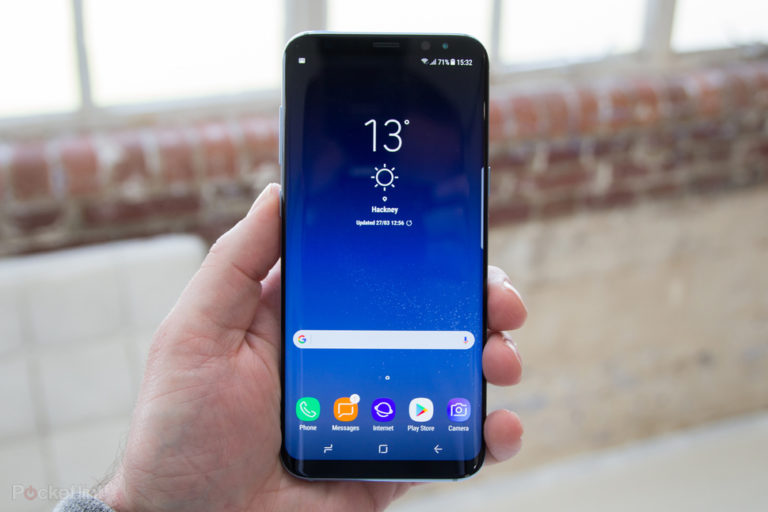 Samsung Galaxy S8+
Samsung's 2017 flagship is one of the devices that kickstarted this latest trend in smartphones. It also manages to give you more display with more radical design than the Pixel 2 XL. With similar hardware, plus the addition of a microSD card slot for convenience, the display looks better, while the camera is as good as Google's even if it doesn't quite have the same potential with future AI enhancements. It's also a touch cheaper, but won't give you the latest Google updates quite as soon as the Pixel 2 XL.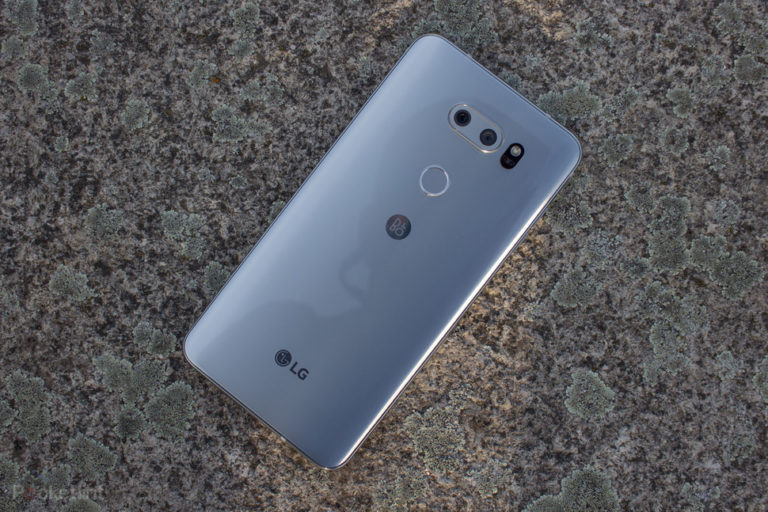 LG V30
LG's second big device of the year is easily better than its first. The LG V30 offers a great pairing of cameras with a wide-angle lens to bring more excitement, while on the front there's a great display and minimal bezel. There's also plenty of power, but it's packed into phone that's slightly cheaper than its rivals from Samsung or Google.
(pocket-lint.com, https://goo.gl/JUeJyU)
Comments
comments