We don't know much about this manufacturer as it's a small company in comparison with other Chinese smartphone makers. But seems Elephone decided to become more active both in hardware and software spheres. Most likely, those who is familiar with this manufacturer know it has announced its bezel-less S3 with an eye-catching display earlier this year. So as the Elephone S3 was loved by many people, the manufacturer decided to go further and announced the Elephone S7. This smartphone is known as the Samsung Galaxy S7 Edge clone at a cheaper price. And as it is set to be launched sometime in September, let's get our hands on it and find out what features are copied from the high-end smartphone and what are not.
Generally, Elephone handsets have been in the market for a long time, and from time to time we take a glance at them. So we know that this manufacturer releases devices varying from phablets to smartwatches, from high-end smartphones with astonishing features to low-end handsets at budget price tags. Thus this handset maker does its best to find its place under the sun. Don't know whether the Elephone S7 will help it for this purpose, but this smartphones is worthy to be reviewed as Elephone has threw down a gage to Samsung. Moreover, it is fighting against one of the most outstanding devices with an innovative display available in the market. Obviously, the Elephone S7 can't compete with its Founding Father, but it can grab a big piece of pie attracting those who can't pay the amount Samsung requires for its flagship.
Elephone S7 Design
There are many people who are sure when copying a handset's design everything should be the same, but there are many patent wars and I don't think small companies are ready to pay such amount of money in terms of patent infringement. So when looking at the Elephone S7 we can notice a real difference in comparison with the Galaxy S7-it's the lack of dual flashes next to the frontal camera. As you can assume, the camera is located above the screen, while the home buttons is placed under the display. It goes with fingerprint function, but unlike the Samsung's flagship, there is no brand logo on the surface. So looking at it no one can say which manufacturer has made it.
Anyway, the power button and the volume rockers are located on the right side at an acceptable height, so holding the Elephone S7 in hands you can easily access them and do whatever you want. The mini HDMI port for quick data transferring and charging is at the bottom side, while the 3.5mm audio jack is located on the top.
The back is more interesting as we can see the beautiful Elephone logo in the center and the main camera located on the upper left side of the phone paired with flash for better pictures in dark conditions.
Honestly, I love the design both the Elephone S7 and Galaxy S7 Edge come to our way, and the double curved glass, no bezel and metal middle frame give an additional charm to the phone and make it to stand out. It comes at very comfortable size as well – 14.50 x 7.10 x 0.80 cm and weighs 150 grams that seems standard for such smartphones. In case of comparing with the Galaxy S7, this device comes at 150.9 x 72.6 x 7.7 mm and at weight of 157 grams, thus the Samsung's flagship is thinner but a bit heavier. As for colors, the Elephone S7 is rumored to be available in black, green, blue, and gold.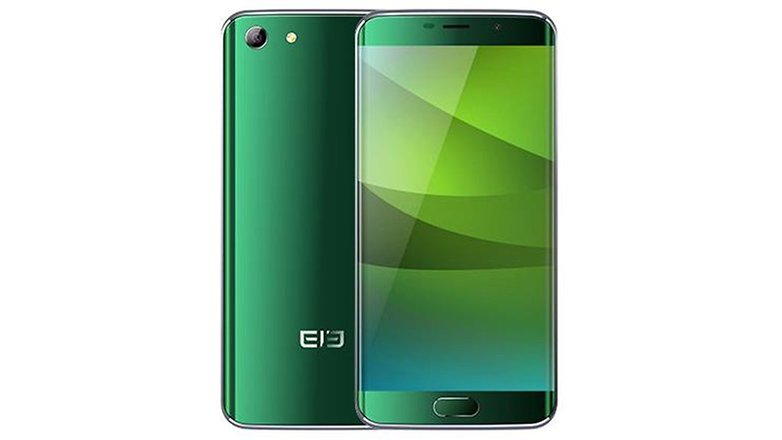 Elephone S7 Hardware
The Elephone S7 is a pretty nice device in terms of hardware as well. It comes in two versions. The first one sports a MTK6737 Quad core processor that is also paired with a 2GB of RAM and 16GB of ROM, while the next one is powered with a Helio X20 Deca core processor with 3GB of RAM and 32GB of ROM. As you guess, ten cores will perform better than octa-core processors, so those who are interesting in getting their hands on a high-end device with a fast processor, the second variant is what you are looking for. But if you are not planning to load heavy 3D games and watch high quality videos, you don't have to pay much, as the first version will be enough for daily routines.
However, the rest key features are the same for both models. For example, the Elephone S7 comes with two cameras –one on the back, and one on the front. The last is a 5MP camera designed for video chats and selfies, while the other is there to capture every detail of your life. The flash works great when shooting in dark conditions.
The device sports a 5.5-inch capacitive touchscreen at a resolution of 1920 x 1080, thus you have no reason to worry about the quality and the colors when viewing Full HD videos and playing similar games.
The Elephone S7 is also packed with a 2600 battery, which seems to be a bit smaller than we've expected. And though it provides a half day usage, I guess such a screen requires a larger battery.
No surprises in terms of connectivity, as it supports 802.11b/g/n/ac wireless internet as well as 3G/4G bands including GSM+WCDMA+FDD-LTE. So this handset can work perfectly with all carriers.
Don't know whether you like it or not but the Elephone S7 comes with dual SIM cards and both of them are active.
Elephone S7 Software and Special Features
The Elephone S7 comes with Android 6.0 pre-installed, which means the abovementioned hardware will work perfectly with this OS. It also means you get access to millions of games, apps and music available in Play Market.
Well, besides Google's mobile operating system en Elephone's own ELE UI, there are a few features worthy to be mentioned as well. I am talking about Gravity Sensing, Hotknot, OTG, People, Proximity Sensing and so on, thus there almost everything you want to find.
Elephone S7 Availability
As I mentioned at the beginning of the review, the Elephone S7 is set to be launched in September, though the exact release date still remains unknown. But as it's rumored the Elephone S7 will be priced from $99.99 to $189.99 regarding the features set you prefer.
Cons
Helio X20 Deca core processor
Cameras
5-inch Full HD screen
Pros
The Bottom Line
There are many clones of top brand smartphones, but most of them are not capable to provide the same performance or something close to it. As a result people avoid such handsets and prefer to wait a bit longer, but acquire the original. Fortunately, there are still a few companies that are able to design smartphones looking similar to high-end devices as well as providing the same or better performance. As you know the Samsung Galaxy S7 Edge is powered with two CPUs – Quad-core and Octa-core, but the performance provided by the Elephone S7 seem to be at the same level. Overall, there are many features Elephone decided to pack with its flagship and I guess it will be a good alternative to Samsung's beast if taking into account what a price tag it comes at.
(xiaomitoday.com, http://goo.gl/hVWnIa)
Comments
comments