When we were reviewing the Uhans A101, there was an actual question 'what can you afford for $60?' As you guess, it referred to the hero of that review. Many smartphone users were surprised to see a 5-inch device with many useful features priced so low. But later there appeared another affordable handset dubbed as theCubot Manito. It came with the same 5-inch screen and similar features. Now if I repeat the question you can say there are at least two smartphones that you can get for $60. But are you sure there are no other smartphones available for similar pricing? We have found another smartphone that you can get for a penny – it's theBlackview E7.
The Blackview E7 was announced a month ago and it became very popular in a few days. One of the selling points of this handset was its price. I guess no one will mind it. The Blackview E7 was priced at 420 yuan ($62.99). But this price tag was valid only during pre-orders. Later the Blackview E7 became available for 450 yuan ($68). Anyway, this is one of the most attractive handsets I have ever seen thanks to the price tag (first), stylish design (second) and many useful features that can be found on high-end smartphones (third). So let's define these features and compare them with other seen on the Uhans A101 and Cubot Manito.
Blackview E7 Design
The first thing we should talk about is that all three models (I mean the Blackview E7, Uahns A101 and Cubot Manito) are not unibody smartphones. This means the SIM card can be inserted only after removing the back panel. Some people think it's a step back, but there are many smartphone users not paying any attention to it. However, the back panel is made of a plastic, which means the Blackview E7 has no problems with antenna. As you know, the metal housing gives charm to a phone, but it affects the antenna.
As for the overall design, the phone looks similar to its rival. I mean the Blackview E7 has those three touch buttons on the front below the screen, a front camera located above it, a rear camera on the back, and what's surprising there is a fingerprint scanner located below the primary camera. There are myriads of Chinese smartphones, but the Blackview E7 is the only one coming as a budget handset and carrying it on board. Moreover, the manufacturer claims (and we do as well) it's a 360 degrees scanner operating in 0.1 second. The back panel also comes with a rubberized coating that is scratch resistant.
There are two speakers on the bottom side of the phone accompanied with a mini USB port. The unlock button and the volume rocker are on the right side. A 3.5mm audio jack is on the top. And as you can guess the left side is blank. In this sense, the Blackview E7 has identical build in comparison to its competitors.
But if the Uhans A101 is available in two colors (Midnight Navy and Cloud Dancer) and the Cubot Manito comes in three colors (black, white, and gold), the Blackview E7 comes in Pearl White, Skyblue and Stardust Grey. I mean of the Midnight navy is the unique color for the first handset, the gold one is for the Manito, the blue version should become the most attractive model of the Blackview E7.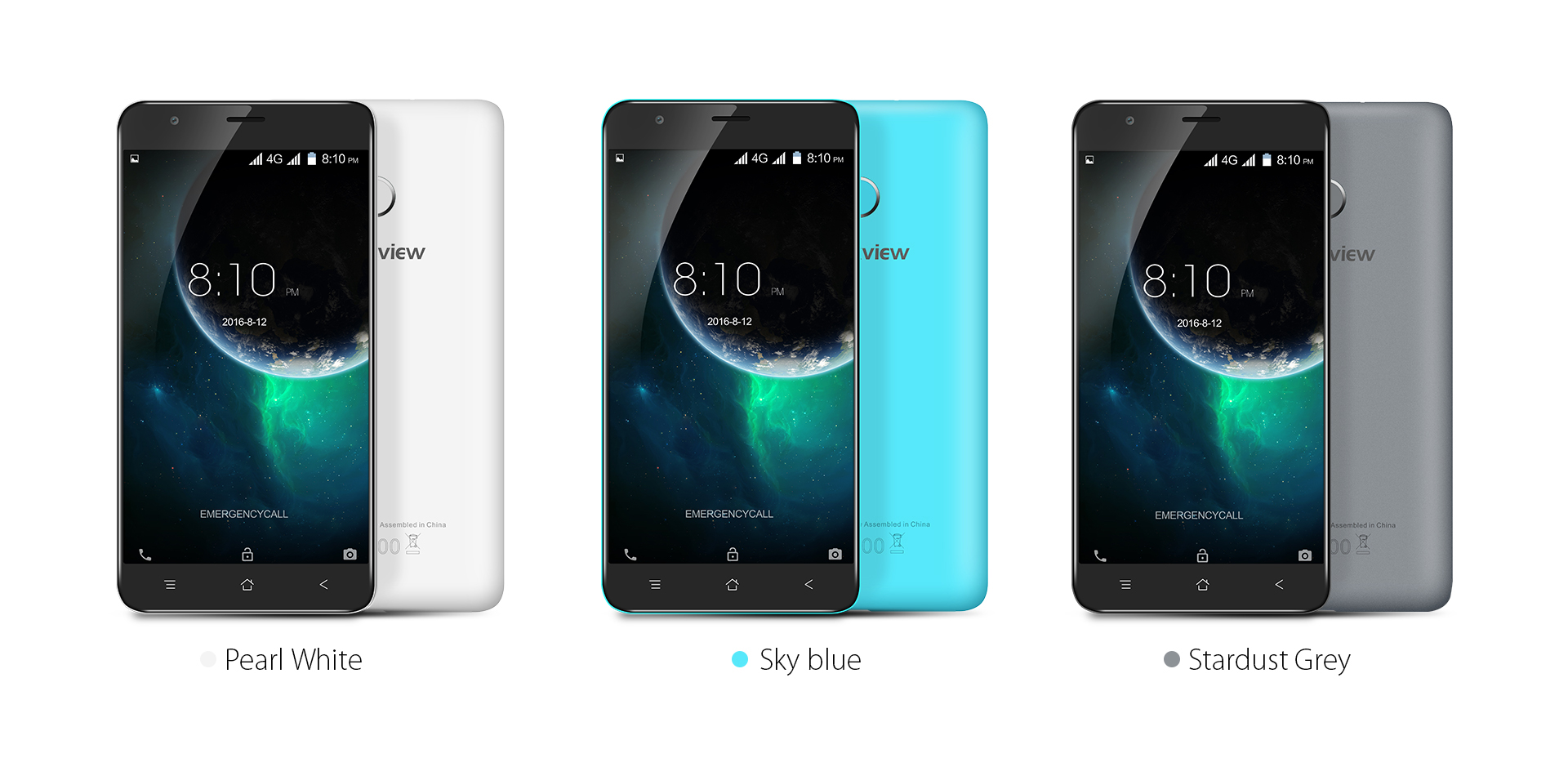 As for dimensions, the Blackview E7 comes at 153.50 mm height, 77.50 mm width, and has a depth of 9.10 mm. This means it is 7.1% thicker than an average smartphone released in 2016. To compare it with those two devices let's look at their dimensions as well. The Uhans A101 comes at 143.5*71.2*9.5mm, while the Manito comes at 142.0 x 73.0 x 9.0 mm. thus the E7 is in the middle of these handsets in terms of thickness. But as you can see it taller due to a bigger screen size. The phone also weighs 150 grams, but surprisingly it's lighter than the Uhans A101.
Blackview E7 Display
The Blackview E7 sports a 5.5-inch LCD IPS screen at a resolution of 720 x 1280 pixels and pixel density of 267 ppi. It also offers a 1000:1 contrast ratio and it is protected by 2.5D glass. The manufacturer decided not to save on the screen and made it multitouch. Thanks to the screen size that occupies 69% of the front panel this device is categorized as a phablet. Plus, it is a little larger than an average phone released in 2016. This 24-bit display also supports 16 million colors and comes with an Ambient Light Sensor as well as a Proximity Sensor.
Though the Cubot Manito comes with the same 720HD resolution display, it is the way smaller. The same can be said for the Uhans A101 smartphone. Both of them feature a 5-inch screen. This simply means the Blackview E7 can be considered as the most affordable phablet.
Blackview E7 CPU
There is one feature identical for all three phones. It's the processor. Like the Uhans A101 and the Cubot Manito the Blackview E7 is packed with a MediaTek MT6737 quad-core processor with an ARM Cortex-A53 architecture and clocked at 1.3GHz. This SoC is paired with an ARM Mali-T720 MP2 GPU running on 550MHz, a 1GB of RAM and a 16GB of internal memory expandable up to 64GB via a microSD card slot.
Blackview-e7-screenshot-2
This MT6737 CPU has been tested for several times and scored 22144 points on AnTuTu, 2261 on Ice Storm, 3506 on Ice Storm Extreme, 761 on GeekBench (Renderscript), and finally, 527 and 1453 for single-core and multi-core testing, respectively.
Blackview E7 Cameras
The Blackview E7 is equipped with an 8MP rear camera with f/2.2 aperture and a single-led flash. This camera is powered with GalaxyCore GC8024 sensor, which can be found on the Zopo Color F5. Though it's not a great camera, it still supports many useful features including autofovus, continues shooting, HDR, panorama and it's capable of recording 720p videos at 30 fps. I understand, that's not the best camera, but it provides good shooting experience that you can check out by looking at the samples below. There is also a 2MP camera on the front that can be used for making video calls rather than for selfies. If you want to get a selfie-centric smartphones, there is the much popular Oppo R9S with a 16MP camera at f/1.7 aperture.
If compared with its competitors, the Blackview E7 comes with better cameras. The Uhans A101 and Cubot Manito are packed with 5MP cameras interpolated to 8MP. This means the maximum photo size can be 3264 x 2448 pixels, while the Blackview E7's camera can be interpolated to 13MP. Thus the maximum photo size is 4160 x 3120 pixels.
Blackview E7 Connectivity
The Blackview E7 supports 4G LTE network as well as 3G, but this can't be a feature to be proud of, as its main rivals come with similar specs as well. Anyway, there are also Bluetooth 4.0 and WiFi connectivity options at 802.11b, 802.11g, 802.11n standards. Plus, the Blackview E7 offers dual-SIM connectivity option. Though all these features sound quite attractive, they have become standard for all Chinese handsets. Unfortunately, there is not a USB Type-C interface. So once any of those handset came with it, we could talk about a real advantage.
Blackview E7 Battery
The bigger a smartphone, the larger a battery should be. Unfortunately, the manufacturer hasn't put a 3000+mAh battery under the hood. The Blackview E7 comes with a 2700mAh Li-Ion removable battery that can provide a 13 hours of talk time. This is an average indicator, so do not care about it much. On the other hand, such batteries are capable of providing up to 270 hours of standby time.
If compared with the Uhans A101 and Cubot Manito, the Blackview E7 is head higher, because its competitors sport a 2450mAh and 2350mAh batteries, respectively.
Blackview E7 Software
All three phones come with Android 6.0 Marshmallow pre-installed as well as supporting Smart Gestures allowing to launch an app without touching the screen. So as a determining factor can be considered the custom UI. As for the Blackview E7 it comes with such a feature, which works smooth and doesn't cause any issues while using the phone.
blackview-e7-screenshot-xx 
Blackview E7 Availability
Well, the Blackview E7 is available for $80, though initially it was priced at $62. Its main rivals come at a price tag of $57 and $110 for the Uhans A101 and Cubot Manito, respectively. This means, if taking into account only the pricing, the Blackview E7 is between these handsets. But if taking into account we are dealing with a phablet, it is the cheapest product in this category.
The Bottom Line
The Blackview E7 has been made to compete in the niche of budget smartphones/phablets. This means its main rival are the Uhans A101 and Cubot Manito, as we said above. But it turns out the E7 has no equal in terms of many hardware features – it comes with larger screen, a better camera, a larger battery, more attractive design, and many more. On the other hand, there are a few important specs identical for all three models – the CPU, the connectivity and the removable back panel. Thus these handsets can be compared more or less. So if taking into account all the abovementioned factors the preference is given to the Blackview E7.
(xiaomitoday.com, https://goo.gl/oxphtk)
Comments
comments