Even a free VR headset can't make Alcatel's $400 Idol 4S a good deal.
HIGHS
Feels like a high-end phone
UI is close to stock Android
Speakers are loud and clear
Comes with a well-built VR headset
LOWS
Better alternatives for the price
Oddly-placed buttons
Gets hot quickly
Pre-loaded VR content is low-quality, nauseating
Alcatel has been offering smartphones for quite some time, but its brand never quite made a splash in the United States. That's probably because the company hasn't tried to vie for the flagship market. It's been focused on lower-tier, budget devices instead.
Alcatel's long-winded naming structure was also a stumbling block  – take for example, the Alcatel OneTouch Fierce XL. Thankfully, the company corrected its branding and dropped the OneTouch name altogether earlier this year. The same time it made that announcement, it also unveiled the Idol 4S, the fourth generation in the Idol lineup and the company's 2016 flagship smartphone.
At $400, the Idol 4S isn't a budget device – it's effectively in the mid-range category. That means it's competing with smartphones such as the OnePlus 3, ZTE's Axon 7, and Google's Nexus 5X. It performs really well in various categories and like the aforementioned phones, it also offers a near stock Android-like experience with minimal bloatware.
The Idol 4S has the makings of a solid smartphone, but how does it hold up against the OnePlus 3 and Axon 7? Let's dive in.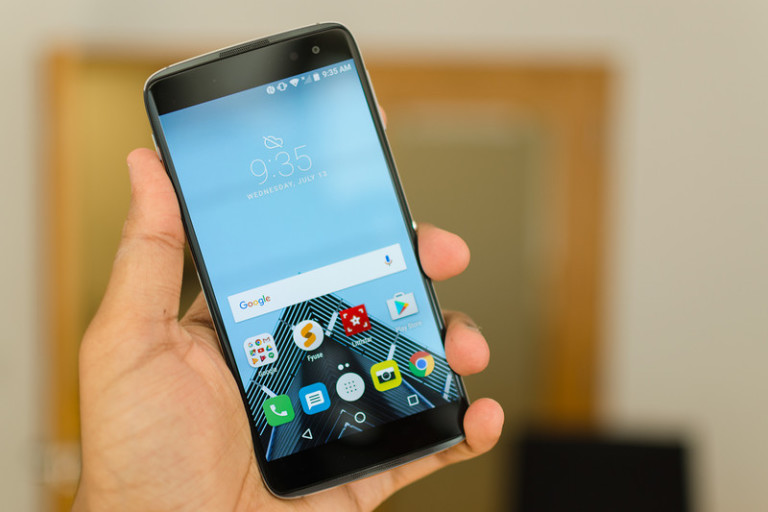 All-glass design
The Idol 4S doesn't look like a $400-device – it looks better. The 5.5-inch phone is thin and it has a nice metal frame going around it, with the antenna bands on the bottom and top.
There's 2.5D glass on the back and on the front, which isn't slippery at all. Concerned the glass might be slippery? Alcatel is bundling an Incipio case along with the device, as well as a tempered glass screen protector.
The downside is that the phone is a fingerprint magnet – the black color masks some of it, but you will want to carry a micro fiber cloth with you. Glass isn't that durable, either, so you'll likely want a case.
The smartphone looks almost exactly like the Samsung Galaxy S7 from the back. It has a similarly-shaped 16-megapixel camera that sticks out, and a flash on its right. The only difference is that Alcatel put the fingerprint sensor on the back of the phone. Most Android manufacturers put the sensor on the back, and that's what we prefer. But if that irks you, there are plenty of Android devices like the HTC 10 and Galaxy phones that offer a sensor on the front.
While we're on the topic of the fingerprint sensor, it worked fairly well for us. It's not breaking any records for how fast you can unlock your phone, and you may find yourself adjusting finger placement to get it right. It's an area that Alcatel can improve on, but it's a welcome addition for the Idol 4S. However, the design isn't perfect.
The feature that bugs us the most is the placement of the buttons. The volume rocker sits on the top right side, which is good, but the power button is on the top left. It's perfect if you're a leftie, but even with big hands we had to constantly adjust how we held the phone to reach it.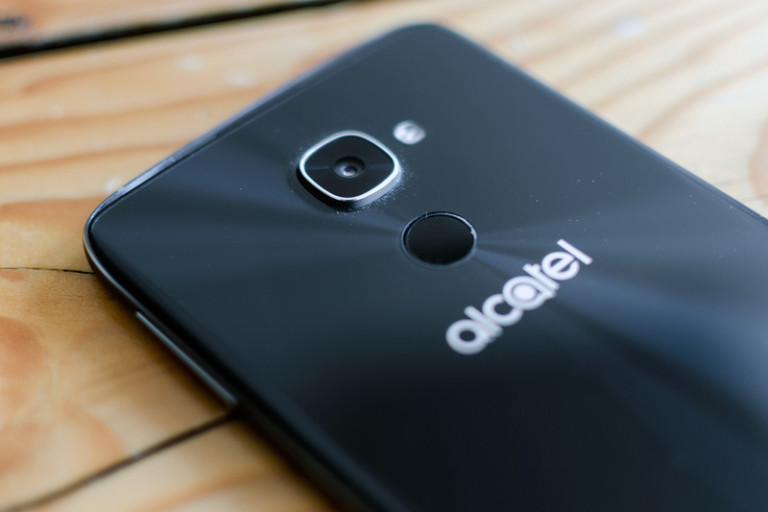 You have some options to counter the odd button placement. The Idol 4S does have a double tap to wake, and double tap to power off, feature — which comes in handy. Unfortunately, double tapping to turn the screen off only works from the home or lock screen.
There's also the Boom Key, which is a circular button on the center right side of the phone – you can set it to perform specific actions like burst mode, trigger an application, or have it turn on your screen. While it's better to use the Boom Key to turn the screen on, sadly you can't make it turn your screen off, so you have to resort to reaching over to the top left side of the phone. It's a user experience oversight that could have easily been fixed.
You'll also find two front-facing speakers that jut out of the glass on the top and bottom. They feel sharp against your hands and attract a lot of dirt near the edge of the glass. However, we're happy to ignore that annoyance, because the audio is loud. If you press the Boom Key while listening to music, it triggers another rear speaker, to give you a truly booming experience.
A brilliant display, and the right specs
Most budget and mid-range smartphones opt for either 1,280 x 720-pixel or 1,920 x 1,080-pixel resolution. Not Alcatel. The Idol 4S is one of the few smartphones we've seen at this price to have 2,560 x 1,440-pixel resolution on a 5.5-inch AMOLED screen. It looks bright, has good color accuracy, and is overall a positive experience. It joins the OnePlus 3 and Axon 7 in the ranks of affordable phones with a Quad HD screen.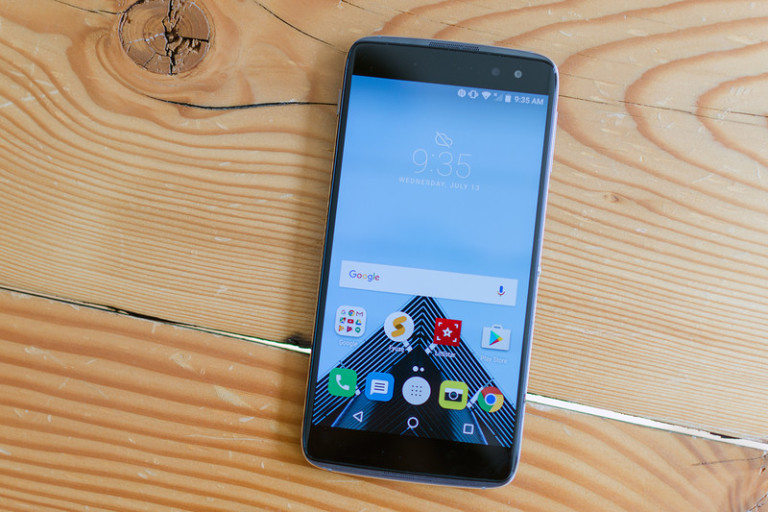 What's powering it, though? Qualcomm's Snapdragon 652, 3GB of RAM, and a 3,000mAh battery. When we read this phone has the 652 we were hesitant, seeing as many other devices in this price range are opting for the higher-end Snapdragon 820 processor — the same chip powering the likes of the Samsung Galaxy S7 Edge and the LG G5.
However, in our time using the Idol 4S, we have not experienced any stutters, lag, or issues. Switching between apps is quick, and so is triggering applications like the camera. Still, the 820 is the better chip, so the OnePlus 3 and Axon 7 have the edge in processing power.
If you're curious as to how it compares on the technical side, here are some benchmarks. 3D Mark's Sling Shot ES 3.1 test offered a benchmark score of 873. The new Moto G4 Plus' score is 374, but the LG G5's is 2,461. The 4S is very middle-of-the-road on paper.
However, it's safe to say that the Idol 4S should tackle most games and graphic-intensive apps. We didn't have problems running intensive games like Asphalt 8 or Pokémon Go.
Unfortunately, the 4S does have a problem with heat. The back gets piping hot within minutes of playing a game, and while it's not unbearable, it's also not enjoyable. Overheating also cuts into battery life.
The Idol 4S comes with 32GB of storage, which is only disappointing because you can get double the amount on the OnePlus 3 – for the same price. Thankfully, you can add up to 512GB of additional storage  via the MicroSD card slot in the SIM tray.
A fairly laissez-faire approach to Android
Once you power the phone on, you'll notice that the user interface is quite similar to stock Android, like on the Nexus 5X. Alcatel has offered this stock-ish experience on previous devices like the Idol 3, and it's a welcome change from the varying skins you'll find on other flagship devices.
Of course, that doesn't mean there aren't pre-installed apps, or some slight tweaks. Many of the apps that come with the phone are actually for the VR headset that comes bundled with the phone — but more on that later.
Tweaks include slight visual changes to the notification drawer, and additions to the Settings menu. For example, you'll see Gesture above the Display settings, where you can control touchless UI features. You can also turn on glove mode, turn on mute, and more. Other additions like the MaxxAudio equalizer, animation options, offer more customization for the device, but they don't detract or enhance the phone. Most people will ignore them.
Func shortcuts, however, are pretty useful. They're just lockscreen shortcuts, but you can choose what you want. For example, you can have a shortcut to start a sound recording, open a calculator, open recent calls, navigate home, and more. You can turn it off if you don't like it.
A nauseating VR experience
The Idol 4S comes bundled in a VR headset, which looks similar to the Samsung Gear VR. It's white, and has padding along the front where you put it on, and on the strap. The bottom has two capacitive buttons. The right is often used to trigger an activity, and the left is used to go back.
The headset is comfortable, and there's no lack of content on the phone when you first boot it up. Alcatel's VR Launcher lets you access most of your VR content without having to take the phone out, and a VR Store offers original, curated content from Alcatel. Littlestar, a VR content aggregator, is also pre-installed, along with games like Lamper VR and Titans of Space Classic, though the latter is more of a museum exhibit than a game.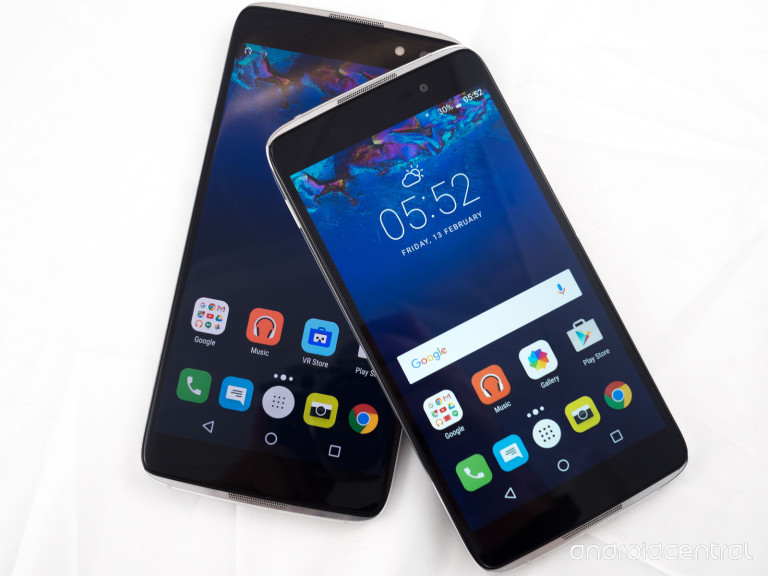 A lot of the content we demoed was nauseating, and the quality sub-par. Lamper VR was an exception and was actually kind of fun to play, albeit a little hard. We went to YouTube to watch some 360-videos, and the quality was a little better, but still it was just passable. That could backfire against Alcatel's plan to bring VR to the masses.
The headset isn't even Daydream certified, which means you won't be able to access the high-quality content Google is creating with developers in the upcoming Android VR platform. If you're buying this device because it's bundled with a VR headset – don't. You're better off finding a cheap headset somewhere else to pair with a cheaper phone or your current one. ZTE's Axon 7 is priced the same and comes with a Daydream-certified headset.
An unimpressive camera
The camera is hardly ever a high point in Alcatel's smartphones, and the same rings true for the Idol 4S. The 8-megapixel front camera has flash, which is a plus if you're an avid selfie-taker, and both cameras work well in outdoor lighting.
There's some decent bokeh, thanks to an f/2 aperture, but there's just not much to say about the photo quality except that it's mediocre. It will be fine for most people as you'll get good details in the outdoor shots, but indoor shots are grainy – good luck with low-light environments. The electronic image stabilization doesn't seem to help much, and there are some white balance issues.
There are some nice features within the camera app itself – notably HDR and a manual mode that has an easy-to-use UI. You'll find other handy features like panorama, slow-motion, and Micro-video, which lets you shoot short videos in increments.
The best part of the Boom Key plays in here, as you can set it to act as a dedicated shutter button — always a plus on any smartphone.
A day's worth of battery life
A 3,000mAh battery is standard on most mid-range and flagship smartphones these days, but it would be preferable to have something larger if you're powering anything more than a 1080p screen.
In our moderate usage, we've been able to come home from work with about 20 percent left. That's after playing some Pokémon Go, running apps like Facebook and Messenger, sending emails, and browsing news aggregator apps like Play Newstand. It's safe to expect a day of solid usage, but if you're the type to constantly be on your phone all day, you may need a battery pack.
While we're talking about the battery, the MicroUSB port for the phone is located in the bottom right side, which is something we have never seen before. It's weird placement, like the power button.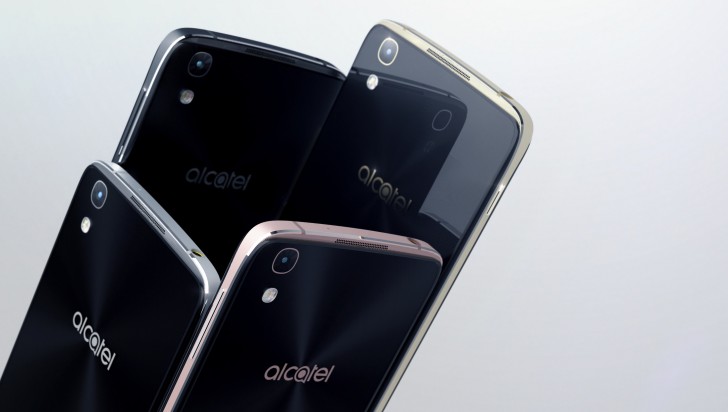 Warranty information
TCL Communications Ltd., the brand that owns the Alcatel brand of mobile phones, offers a one year warranty from the date of purchase that covers any defects and product failures. The same extends to the headsets, and all the other accessories you get in the VR bundle. It doesn't cover water or accidental damage, as well as standard wear and tear.
Conclusion
The Idol 4S has an excellent display, a near-stock Android experience, comes with a VR headset, and offers decent battery life. Unfortunately, it also has an unimpressive camera, odd button placements, and the VR content that is pre-loaded on the phone is nauseating and of sub-par quality.
It also should be noted that this smartphone and the bundle is up for pre-order for $350, but when it is officially released on August 3, it'll cost $400. That may sound like a good deal, but if you're an Android enthusiast looking for powerful features for a similar price, you're better off going with the OnePlus 3 or the ZTE Axon 7.
The problem is that the Idol 4S is priced a little too high. The Axon 7 and OnePlus 3 offer a superior processor that can easily future-proof those devices for a few years, they both support the USB Type-C standard, and feature better cameras. There are just better options in this price category, and we simply can't recommend the Idol 4S at this price.
(digitaltrends.comhttp://goo.gl/cVSjHC)
Comments
comments