Thanks to the modern advertisements, people around the world are mostly familiar with the smartphones like iPhone, Samsung and lately even with Huawei, but what they do not know is that in China, you can also find great brands like Xiaomi, Elephone, and many others. The good thing about those smartphones is that their specifications are almost the same as the latest flagship devices, but they are far more affordable.
Now, even though Xiaomi is less popular than its competition Huawei, we will give you at least 25 reasons why Xiaomi Mi 5 is actually better than Huawei Honor 8. So far, Xiaomi Mi5 is the best smartphone that this Chinese company has to offer, and today we give you 25 reasons to choose Mi5 over Honor 8.
We have prepared a detailed comparison of these two smartphone devices for you, so let's start!
As usual, we are starting with detailed smartphone specifications, so take a look:
Specifications
                                                 Huawei Honor 8                        Xiaomi Mi5                   
| | | |
| --- | --- | --- |
| Screen size (inches) | 5.20 | 5.15 |
| Display type | IPS LCD capacitive touchscreen, 16M colors | IPS LCD capacitive touchscreen, 16M colors |
| Display resolution | 1080 x 1920 pixels | 1080 x 1920 pixels |
| Pixels per inch (PPI) | 423 | 428 |
| Screen protection | Corning Gorilla Glass 3 | Corning Gorilla Glass 4 |
| GPU | Mali-T880 MP4 | Adreno 530 |
| CPU | 1.8GHz Quad-Core | 2.15GHz Dual-Core |
| CPU name | Cortex A53 | Snapdragon 820 |
| RAM | 3 GB | 3 / 4 GB |
| Internal Storage | 32 GB | 32 / 64 GB |
| Expandable storage capacity | Yes | No |
| Expandable up to | 128 GB | – |
| Rear camera | 12-megapixel | 16-megapixel |
| Front camera | 8-megapixel | 4-megapixel |
| Operating System | Android 6.0 Marshmallow | Android 6.0 Marshmallow |
| Wi-Fi standards supported | 802.11 a/ b/ g/ n/ ac | 802.11 a/ b/ g/ n/ ac |
| Number of SIM cards | 2 | 2 |
| Features | 1.4 µm pixel size, touch focus,  geo-tagging, face detection, HDR, panorama | 1/2.8″ sensor size, geo-tagging, 1.12 µm pixel size, touch focus, face/smile detection, HDR, panorama |
| SIM Type | Micro-SIM | Nano-SIM |
| GSM / CDMA | GSM | GSM |
| SIM 2 | Micro-SIM | Nano-SIM |
| GSM / CDMA | GSM | GSM |
| Battery type | Li-Po 3000 mAh | Li-Po 3000 mAh |
| Removable battery | No | No |
| Available colors | Midnight Black, Pearl White, Sunrise Gold, Sakura Pink,  Sapphire Blue | Ceramic, Black, White, Gold, |
| Device dimensions | 5.73 x 2.80 x 0.30 in (145.50 x 71.00 x 7.45 mm) | 5.69 x 2.72 x 0.29 in (144.50 x 69.20 x 7.25 mm) |
| Device weight | 5.40 oz (153g) | 4.90 oz (129g) |
25. Dimensions
When we talk about the advantages of Xiaomi Mi5 in comparison with Huawei Honor 8, the first thing we should mention is the dimensions of both models. They are: 5.73 x 2.80 x 0.30 in (145.50 x 71.00 x 7.45 mm) (Huawei Honor 8) versus 5.69 x 2.72 x 0.29 in (144.50 x 69.20 x 7.25 mm) (Xiaomi Mi5). It's obvious that theChinese model is thinner than the Korean one. That's why it looks more stylish even from the first glance.
24. Aperture
The rear camera aperture of Xiaomi Mi5 smartphone is higher than one on the Huawei Honor 8 (F2.2 versus F2.0). Aperture is the number which relates to the exposure of the camera. The higher value produces a bigger depth of field on the photos made with a smartphone.
23. Design

Both Xiaomi Mi5 and Huawei Honor 8 are greatly designed, and both are made out of finest materials, and they can be bought in several color variations. Besides it is thinner, Xiaomi Mi5 is also considerably lighter than Huawei Honor 8 (153 gr vs. 129 gr).
Xiaomi Mi5 is grippier than Huawei Honor 8, and while holding it in hand, we weren't afraid that we would drop it from our hands.
22. Build quality
Both smartphone devices are covered with the outer frame that is made of aluminum, and they got dual glass panels that cover them from both sides. But unlike Huawei Honor 8, for Xiaomi Mi5 you can buy a bit pricier model that has a ceramic body below the glass cover.
21. Display
When it comes to the screen, both Huawei Honor 8 and Xiaomi Mi5 have the same resolution (1080 x 1920 pixels). Huawei Honor 8 features a 5.20-inch full-HD display with 423ppi, while Xiaomi Mi5 has a bit smaller screen (5.15-inch) but it beats its competitor Huawei in ppi, with 428 pixels per inch. Thanks to the 2.5D display, Xiaomi Mi5 also has a better viewing angle. Both smartphones are protected with Gorilla Glass technology; the only difference is that Huawei is protected with Gorilla Glass 3, while Xiaomi Mi5 is protected with Gorilla Glass 4,.
Both smartphones have IPS LCD capacitive displays with 16M colors. Overall it is hard to decide which smartphone is better when it comes to display, but we will give this round to Xiaomi since it has a 2.5D display, which is a bit sharper than its counterpart.
20. Screen-to-body ratio
Both smartphones have nice screen-to-body ratio, but Xiaomi Mi5 offers slightly better ratio with 73.23% (Mi5) vs. 72.2%.(Honor 8) This proves that Xiaomi Mi5 has a slightly better screen orientation than Huawei Honor 8.
19. CPU

When it gets to the CPU, we can say for sure that smartphones are slowly turning into mini computers. Both companies offer several alternatives of their devices, depending on the price and market availability. Xiaomi Mi5 is geared with the latest 64-bit Quad-Core Snapdragon 820 CPU that is clocked at different rates , depending on which model you buy. (Xiaomi's top model is cheaper though)
Depending on the market, you can get Huawei Honor 8 either with the Cortex-A72 (runs at 2.3 GHz ) or Cortex A53 Quad-Core CPU that runs at 1.8GHz.  Both smartphones own great GPU's, even though that Huawei is in possession of a bit better GPU when it comes to the MHz (Mali-T880 MP4 with 700Mhz vs. Adreno 530 with 625Mhz) but without any doubt, on any of these two smartphones, you will have the best gaming and video experience for sure.
There is almost no visible difference between these two models when it gets in the daily usage. Performance is great, and both smartphones run fast, but the price tag is the one that brings the supremacy to Mi5.
18. RAM
When it gets to RAM, the competition is the same – depending on the model you decide to buy, you can get either 3GB or 4GB of RAM. Both smartphones are usually sold with 3GB of RAM but if you want to go for the premium model, then you will get one with 4GB. We have tested both smartphones gladly in various games, and it appears that Xiaomi Mi5 is quicker in some games and applications, while Huawei Honor 8 is faster in others. While testing some more demanding 3D games, we have thought that Huawei will prevail in that field, but surprisingly, both smartphones offered same frames per second, which provided us with the smooth gaming experience. Still, Xiaomi's 4GB RAM model is cheaper by almost $70.
17. Camera
Both smartphones perform well in the camera department. Huawei Honor 8 is equipped with a 12-Megapixel sensor that offers the size of an individual pixel of 1.4 µm, it features touch focus, face detection and plenty of shooting options.
Megapixel camera sensor puts the Xiaomi Mi5 into leading position.
Xiaomi Mi5 camera size is 1/2.8-inch, and the size of the individual pixel is a bit bigger when it is compared to its competitor Huawei (1.4µm vs. 1.12µm)
When it gets to the daylight image quality, both smartphones offer some of the best cameras that you can find on the market. Both devices have a lot of options when it gets to shooting, but we must say that we were a bit more comfortable with the Xiaomi Mi5 camera interface, since it is organized much better which made it easier for use. Both secondary cameras performed well, but we will give a slight advantage to Huawei Honor 8 since it has a better secondary camera than Xiaomi Mi5 (8-Megapixel vs. 4-Megapixel).
To show you how good both cameras are, we have prepared some of the image samples for you so take a look:
Xiaomi Mi5 image samples:
Huawei Honor 8 image samples:
16. 4-axis stabilization
Taking photos can sometimes be really hard if it's cold outside, there is a huge possibility that your hands will shake which will affect the quality of your pictures negatively. With the 4-axis image stabilization, even if your hands are shaky a bit, the image quality will not be affected, and you will be able to make the pictures of high quality. Huawei Honor 8 is not supporting this feature, 4-axis can be found only in Xiaomi Mi5.
15. Video recording
When it gets to the video recording, Xiaomi Mi5 is much better performer than its competitor Huawei Honor 8, since it can record videos in 1080p and 2160p at 30fps, while Huawei can only record at 1080p@30 fps.
14. Dual LED flash
When it gets about the dual LED flash, Huawei manufacturers haven't changed anything; they kept the single LED flash in their device, while Xiaomi Mi5 got thedual LED flash. If you ever wondered about the difference between single and dual LED, the dual LED emits much more light, which can improve your nighttime photos a lot.
13. Camera glass
Xiaomi Mi5 manufacturers used the real sapphire for producing the lens cover for Mi5. At the same time, Huawei Honor 8 has only doubled the ordinary glass, which is an extra protection of course but not even as good as one that is made with the sapphire technology. You can find some guides on the web about the glass and how to take a good care of it because it can get broken if you don't take enough care of it.
12. Connectivity
Both smartphones have a lot of connectivity options. We are talking about Bluetooth 4.2, Wi-Fi 802.11 a/b/g/n/ac, dual SIM dual standby, Wi-Fi Direct, 4G LTE network connectivity and so on. For easier, faster and more accurate locating both devices are using GPS, A-GPS, GLONASS, and BDS options. Since it has louder speakers, Xiaomi Mi5 is better than Huawei when it gets to the talking on the phone.
Unlike Huawei Honor 8, Xiaomi Mi5 has an NFC option, which means that you can use your smartphone as a debit card. IR blaster gives the Xiaomi even bigger advantage over its competitor, since it will allow you to use your smartphone as a remote controller. So thanks to the IR blaster and the NFC option, we can say for sure that Xiaomi Mi5 prevailed Huawei Honor 8 in connectivity section.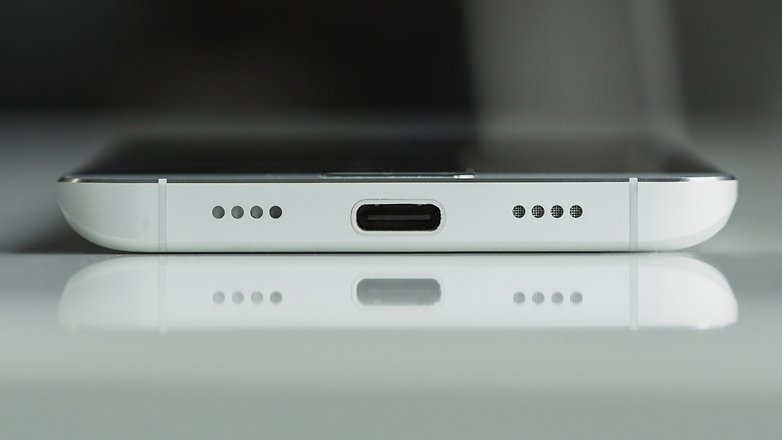 11. EVDO & CDMA
Another interesting difference between those two smartphones is that Huawei Honor 8 doesn't support work in EVDO & CDMA networks, while Xiaomi Mi5 does. This type of network allows Xiaomi Mi5 to use a high-speed internet connection and enjoy the benefits.
10. Quick Recharge

Both smartphones feature 3000 mAh non-removable lithium-polymer batteries. But unlike Huawei Honor 8, Xiaomi is using latest Qualcomm's Quick Charge technology, which means that Mi 5's battery is charged to 83% in 30 minutes while on Huawei, for the same recharge percentage it will take more than an hour of charging.
9. Battery life
According to various reviews that you can find today on the internet, Xiaomi Mi5 has the longer battery life when it is compared to its competitor Huawei Honor 8. It has 92 hours of work with a full battery, while Huawei is taking the second positions with the 80 hours with a full battery.
We have tested both devices while playing games, browsing and listening to music, and both smartphones lasted for more than a day and a half on a single charge. But of course, if you are a real gaming maniac, the battery will probably last less than a day with both smartphones.
 8. Internal storage capacity
The storage section is getting interesting, Huawei Honor 8 can be purchased in different amount variations of internal memory, which means that you can get it either with 32 or 64GB storage capacity. However, you can purchase Xioami Mi5 with 128 GB of internal memory. Bigger, better, and more options to the users.
7. MiUI Interface
While Huawei Honor 8 went for the Marshmallow operating system (Version 6.0), Xiaomi manufacturers made a unique interface. Its appearance is similar to the one that you can find on the iOS devices, which makes it even more popular. More than 150 million people have miUI installed on their smartphone devices, and the good thing about this system is that if you ever get bored of it and want to go back to the marshmallow 6.0 all you have to do is to uninstall MiUI and install Marshmallow 6.0. This option is unavailable on Huawei Honor 8.
6. Loud volume
A lot of different reviews have confirmed our personal experience. While using headphones, the volume of Xiaomi Mi5  is much higher than the one at its competition Huawei Honor 8. Even though if it doesn't seem like something important to you, this feature is much more useful if you are using headphones and talking on your phone while you are walking through the urban places.
5. XXL Text
If you got bored of the basic set of fonts, you can easily change them thanks to the feature that you can find only on Xiaomi Mi5. The main feature of this option is to allow its user to adjust fonts to perfectly fit your screen.
4. Additional Features
Both smartphones have a lot of exciting features like fingerprint, gyro, accelerometer, proximity and compass. Of course, there are some of the features that Xiaomi Mi5 possess while Huawei Honor 8 doesn't, like the barometer function, a great tool for tracking trends in pressure readings.
Both smartphones own a fingerprint scanner feature, and it works great on both devices. Since Xiaomi supports more audio and video codecs plus the barometer function, it takes the win in this section over its competition Huawei Honor 8.
3. Preinstalled themes and software
When we are talking about the themes, unlike many other smartphones and even its competition Huawei Honor 8, Xiaomi Mi5 will have set of themes and applications just after your first launch! Thanks to this option, you will have something to start with and won't get bored, even if you haven't used a smartphone yet.
2. Performance rate
AnTuTu, one of the most popular performance test applications evaluates the performance of Huawei Honor 8 at the level of 128,804 points, while Xiaomi Mi5 shows the result of fantastic 142,084 points. This fact proves that the Xiaomi Mi5 has a higher performance than its competitor Huawei Honor 8, which means that you will have smoother, faster experience on Mi5.
1. The price
If you have a limited budget, and you want to buy a great smartphone but for a reasonable price, well you will be thrilled when you find out that the difference in price between these two smartphones is around 40%. Huawei Honor 8 can be purchased at 569.99 US Dollars (3,814.00 Chinese Yuan) through various online stores while Xiaomi Mi5 can be bought for 329.89 US Dollars( 2,207.41 Chinese Yuan) which is around 40-45% cheaper. For some buyers, the price is the crucial factor, and without any doubts, we can say that Xiaomi Mi5 has swiped its competition in this field.
Xiaomi Mi 5 vs. Huawei Honor8 sum up
Even though we have mostly talked about the reasons why Mi5 is better than Huawei Honor 8, we will list essential advantages of one device over the other, so you can see where Huawei prevails over the Mi5. Second, we will point out the biggest differences in Xiaomi Mi5's favor.
Huawei Honor 8 over Mi5
Storage is expandable via microSD card
Better front facing camera
Possess better GPU
Mi5 over Huawei Honor 8
IR blaster
Better gaming experience
Around 40% cheaper
Opinion
Both smartphones performed well in our tests. Huawei had the advantage in some departments, but Xiaomi prevailed in many others. One of the best advantages that Xiaomi has over its competitor Huawei is its price. In the end, even though we have shown you the reasons why Mi5 is better than Honor 8, it still depends on your personal taste and the amount of money that you are willing to spend on the smartphone. Either way, both of these smartphones are great, and you simply can't go wrong with either one.
(xiaomitoday.com, http://goo.gl/9qkJ2V)
Comments
comments