The Xiaomi Surge S1 chip is here to help the manufacturer conquer the world. No one says it will be easy, but the company is too serious about this deal. The Surge S1 is said to compete with the Snapdragon 625 and MediaTek P20. Moreover, as Lei Jun said at the conference, their own-made chip outruns the aforementioned SoCs. But we decided to compare the same niche chips of Xiaomi, Huawei, Qualcomm and MediaTek with each other and find out which of them is better.
As you can see, all these are octa-core chips using the same kernel. That is AMR's Cortex-A53. So they are quite comparable.
Feature Size
Obviously, the Xiaomi Surge S1 yields all its rivals, as it comes with an old 28nm process technology. Almost all current processors use at least 16nm process technology. I am not talking about the Snapdragon 625, which uses 14nm process. Of course, the first chip has not been designed to compete with the Snapdragon 835 at 10nm process, but we wish it offered something better.
Xiaomi has also announced it uses 4 x 4 architecture, where 4 small cores are responsible for performance and power consumption. But as for the S1 chip, the bunch of small cores clock at the lowest frequency of 1.4GHz. So it still remains unknown how this chip outruns its competitors.
Graphics
The Xiaomi Surge S1 is an absolute winner in terms of ARM Mali GPU, as it comes with a quad-core configuration. The MediaTek P25 sports only a dual-core GPU and the Kirin 655's performance is the way lower. However, when it comes to comparing the Mali-T880 MP4 GPU with the Adreno 506 graphics, nothing can save the Xiaomi chip. Even the Chinese company accepted this fact at the conference. The S1 can provide only the half of the performance shown at Adreno chip.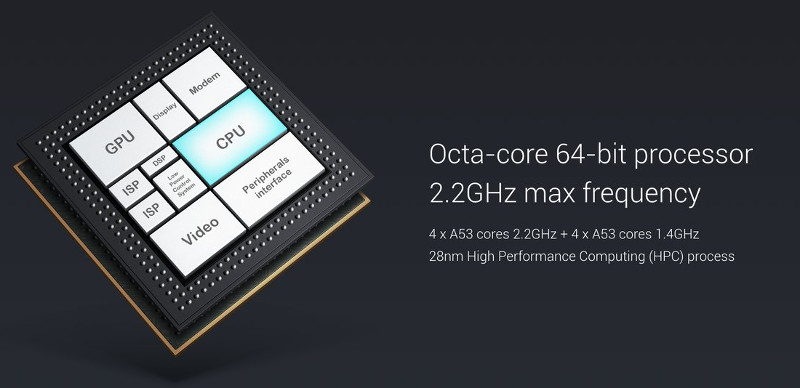 RAM
The Surge S1 as well as two other chips in this chart support 32-bit dual-channel memory. In this sense, only the MeidaTek P25 supports LPDDR4X memory. That's why it can provide not only a faster transmission, but also lower power consumption. On the other hand, LPDDR3 is certainly enough to provide fast application load. But it won't satisfy users when launching high-definition videos and heavy games.
Camera
The main advantage of own-made chips is the ability to customize any feature. As Lei Jun said, Xiaomi Surge S1's main customizable feature is the 14-bit dual-core ISP processor. This means any smartphone with this chip inside supports enhanced image processing capabilities. Theoretically double ISP supports dual cameras as well as 14-bit color depth processing and dual noise reduction function. So the 150% improved camera sensitivity significantly affects the imaging level. The rest of nominees support dual-camera option as well, but the S1 is compatible with up to 36MP camera modules.
DSP
Not all cores in a SoC are equal, hence, they are heterogeneous. That's why many chip makers have enhanced the DSPs (Digital Signal Processor) and coprocessors. Qualcomm has hexagon DSP; Huawei Kirin has i5 coprocessor. As for Xiaomi, it has its own customized DSP that is mainly responsible for HD voice, Voice over Long-Term Evolution (VoLTE), Dual mic noise reduction, and a variety of voice calls. At last, the Surge S1 supports 18W fast charge technology like its competitors.
Verdict
Everyone knows the Xiaomi Surge S1 has been made designed in 28 months. Many can say this is too long, but those who have created something ever, know there is much work to do. Xiaomi is a young company, and it has to make too much researches to form a base for further activity. Lei Jun talked about this at the conference. We understand the Surge S1 is a mid-range SoC with a list of disadvantages and shortcoming. But we also understand this is a long-run project that should bring better products in the future.
As for now, we have the Xiaomi Mi 5C, an irregular mid-range and experimental smartphone. It comes with the Xiaomi Surge S1 chip, JDI screen and a stylish design.
(xiaomitoday.com, https://goo.gl/sBsak2)
Comments
comments