Xiaomi's Mi Band 2 is the perfect step and sleep counter for beginners
HIGHS
Bright screen
Lightweight and comfortable
Heart rate monitor
Android and iOS support
Long battery life
LOWS
No feedback or encouragement
Import only
Proprietary charger
Chinese electronics giant Xiaomi may be best known for smartphones such as the excellent Mi 5 Pro, but it makes a wide variety of other products, from televisions to drones. The majority aren't sold outside Asia, but the Mi Band, its inexpensive fitness tracker, was one of the few we could grab from Xiaomi's online store. It was worth it too, thanks to the bargain price and cool style.
Now we've got the Xiaomi Mi Band 2, a proper sequel to the Mi Band that combines the heart rate sensor introduced on the feature-bumped Mi Band 1S with a revised design and the introduction of a screen. The simple Mi Band has gone all high-tech, something that usually means an increase in price — but that's not Xiaomi's style at all.
We've been wearing the Mi Band 2 for a couple of weeks to test it out. Have all the new features made the tracker better than ever, or has the wonderful simplicity of the original been lost?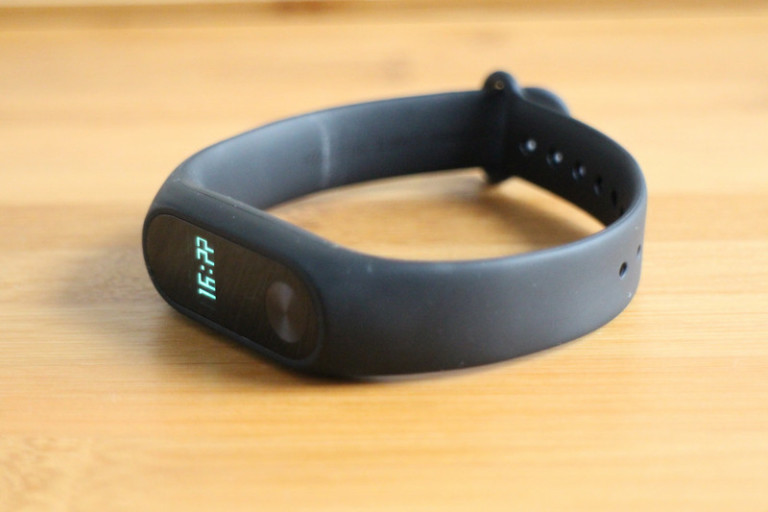 Design and comfort
The Mi Band 2 looks very similar to the original Mi Band. There's a central core module that pops into a slim, silicone strap, allowing you to swap it out for straps in different colors. Once the core is in place, it's not going anywhere at all, and is more securely fastened in than the original Mi Band had been (its core would sometimes pop out unexpectedly). Although soft, the silicone isn't floppy and is secured with a pop stud and small loop. The strap is also super secure, with almost zero chance of it coming loose or falling off.
The Mi Band 2 is easy to put on with one hand, more so than bands like the Jawbone Up2, and it's considerably more compact than the Fitbit Charge HR, which has similar functionality. Because of this it's suitable for all wrist sizes, and doesn't look out of place on the thin-wristed.
Xiaomi has engineered the Mi Band 2 with an IP67 water resistance rating, so it'll survive a swim, a shower, dust, and corrosion. I wore mine in the shower, and to wash the car (where it spent time in and out of buckets, being lightly sponged, and under a gentle hose spray) and it still works perfectly.
Perhaps the only odd thing is it would tend to slip round my wrist — I wear it relatively loosely — so the display is facing slightly away from my gaze. This centralizes the stud fixing under my wrist, so the movement may have to do with weight or the band's center of gravity. The core module is larger than the first generation's had been, but because it weighs only 7 grams, any additional weight isn't noticeable.
Overall, the size makes it one of the most comfortable fitness trackers you can buy. One needs to wear a fitness tracker consistently for it to be of benefit, so comfort is extremely important.
Display and heart rate monitor
The most noticeable new feature on the Mi Band 2 is the display. Although small, it's an OLED screen and incredibly bright, and easily viewable at both night and when exposed to direct sunlight. It shows a variety of information, which can be customized through the supporting Mi app. I set mine up to show the time, steps taken, and heart rate measurement, but it's easy to add calories burned, distance traveled, and battery status.
A shiny panel covers the screen; it feels like plastic, and Xiaomi promises it's scratch resistant and won't attract many fingerprints. Despite being exposed to the elements on my wrist, it shows no sign of scuffs or marks, and it's never a smudgy mess. My Fitbit Charge's screen cover looks considerably worse for wear after only a few more weeks of use.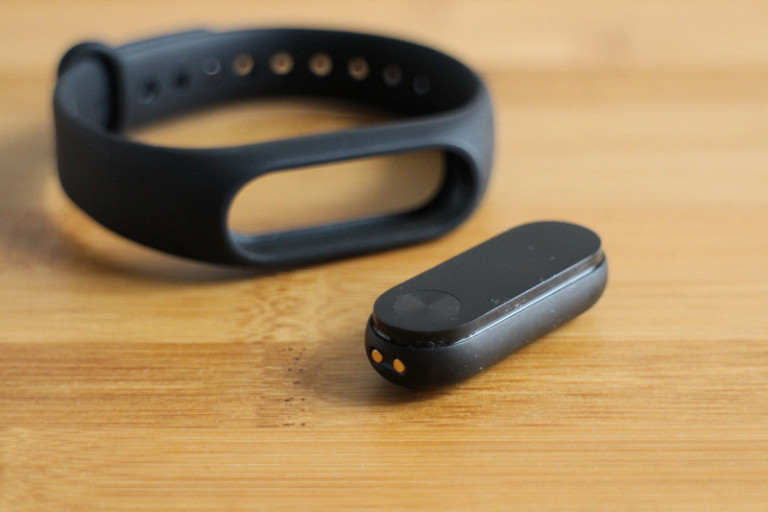 Under the screen is a touchpad that cycles through the data feed. It's not a button, and only requires a tap to operate. Get to the heart rate screen and it'll start taking a measurement automatically. It's an optical monitor, much like that used on other smartphones and wearables, mounted on the underside of the core. The company recommends that you wear the Mi Band 2 tightly against the skin when taking a reading. This is a good idea. I activated it by accident quite often, and due to it being loose on my wrist, I wasn't getting any result. Although it can be used automatically during the night for improved sleep tracking, there's no profile to use the heart rate sensor during a workout, except by starting it manually.
Mi app
Xiaomi's official Mi app is compatible with Android and iOS, so regardless of the phone you use, the Mi Band 2 should work fine. It operated without a problem on both an iPhone 6S Plus with iOS 9.3.2 and a Samsung Galaxy S7 Edge with Android 6.0.1 installed, but it did take a couple of tries to pair with the iPhone.
The app is quite basic. It collects data from the band and collates it in a series of graphs, one for steps and activity, the other for sleep. These are then put into historical graphs covering the day, week, and month. Significant exercise periods are highlighted each day, with the time, distance, and calories burned all shown. Sleep gets a similar treatment, with the amount of time spent in bed, a deep- and light-sleep phase split, and the time you went to sleep and woke up.
You can set a daily step count target and an ideal weight you'd like to achieve, but there's no option for tracking specific exercises or a single workout. It doesn't make full use of the heart rate monitor during exercise either, but oddly it is possible to use it automatically during the night to gather more data (this obviously affects the battery life). There is an alarm, but it's not smart enough to wake you during a light-sleep phase, and the band will alert you of incoming calls, system notifications, or if you've been sitting still for too long.
On the positive side, the app is attractive, minimalistic, and very logically laid out. It's easy to use, and the pertinent information, such as step count, is immediately obvious when you launch it. However, the Mi app is entirely devoid of advice, encouragement, or feedback on your wellbeing, based on the data it collects. This is unfortunate, as it's how value is measured in the overcrowded world of fitness trackers. After all, there's a good chance you're wearing one because you want to get fitter, lose weight, or get better sleep. Some trackers want to help you reach your goal, and offer guidance and motivation. With the Mi Band 2, you're on your own.
Accuracy and battery
Just how accurate a fitness tracker is at counting steps or snoozes is always up for debate, but we wanted at least to see how the Mi Band 2 compares to some of its peers. In the first days I only wore the Mi Band 2, and wondered if I had become suddenly very lazy. I wore it with a Fitbit Charge for a few days, and sure enough the difference between the two was huge. At one point, the Fitbit showed I'd taken 14,500 steps, while the Mi Band 2 insisted it was 9,600. That's quite a difference.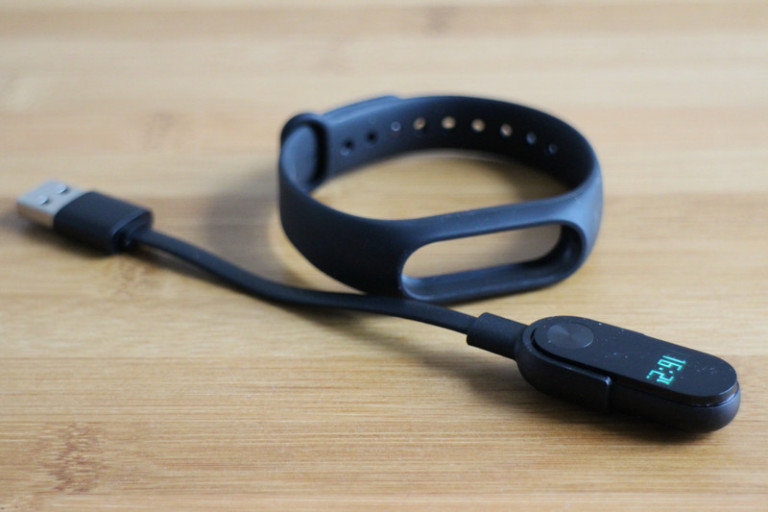 Just as a comparison between the Mi Band 2 and the Jawbone Up2 began, Xiaomi pushed some new firmware to the Mi Band 2, which altered the situation. It brought the step count in line with both competitors, with the difference between them maxing at 100 steps. The heart rate sensor had always agreed with the Apple Watch, with the pair usually coming within a couple of beats-per-minute of each other.
One of the best things about the original Mi Band was its long battery life, and although there is more technology inside the Mi Band 2, the battery is rated for 20 days without a recharge. In reality, I got to 20 days use with the Mi Band 2 and the battery still had 49 percent energy remaining, which is superb. The core module must be removed from the strap and fitted into a proprietary charger to top up the battery.
Price, warranty, and where to buy
Xiaomi doesn't sell the Mi Band 2 through its own online store yet, so to get one you'll need to look at importing it. We got ours through GearBest.com, a well-known online importer of Chinese electronics, where it's priced at $44 without shipping. It arrived by courier a few days after ordering, and had been extremely well packaged.
Worried about what happens if the band goes wrong? GearBest provides a one-year warranty and free repair service, provided the product hasn't been damaged through misuse, along with a 45-day money back guarantee. Because the Mi Band 2 comes from China, there are shipping charges to consider in this process, and although some are covered, situations vary, so do bear it in mind.
GearBest isn't the only importer out there, of course, and if you're patient, there's a strong chance Xiaomi will start selling the Mi Band 2 internationally through its own online store in the future.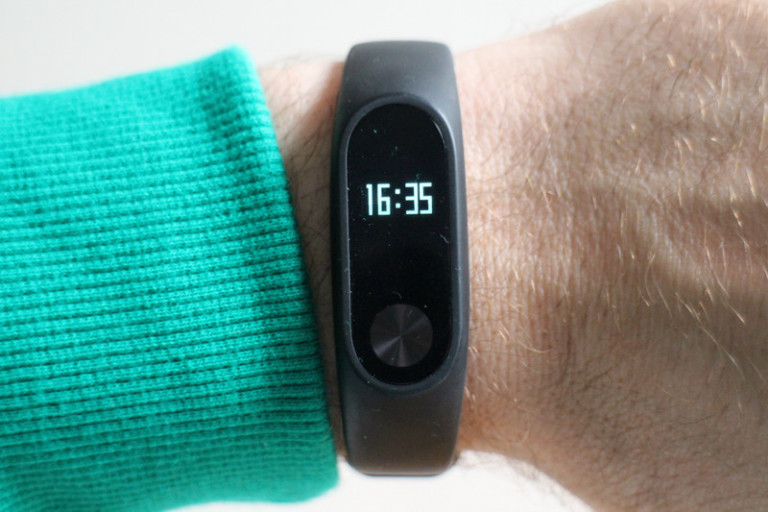 Conclusion
For fitness trackers, the times, they are a changin'. We want value both in terms of price and from the feedback and guidance we get in exchange for wearing the band all day long. The Mi Band got away with staying silent, offering only basic data, because it was cheap and on sale a year ago. Today, the Mi Band has evolved into a more feature-packed fitness wearable, and it's great — but sadly the software has not moved on.
Because it costs less than $50, the Mi Band 2 has few challengers that can meet it head-on. The Misfit Flash costs less, but doesn't have a heart-rate monitor, for example. If you have a bigger budget available, and want a more comprehensive app and fitness experience, we recommend the Garmin Vivosmart highly.
If you want to know only how far you walked and how much you slept, the Mi Band 2 is an excellent choice. It's light, the screen is bright, and it is a great value for a heart-rate monitor-equipped band. However, if you're a fitness fanatic, and you want to track specific exercises, get feedback on your progress, and encouragement to keep going, then the Mi Band 2 will disappoint.
(digitaltrends.com, http://goo.gl/xDPiFm)
Comments
comments