If you're looking for a tough & rugged storage option then there's two routes to choose from: A portable SSD or a USB Flash Drive but both have their pros & cons.
Portable SSD's have the advantage of much faster transfer speeds and higher storage capacities while Flash drives are super lightweight and cost less. In terms of ruggedness, there's no difference between the two types.
If you need to blazing fast speeds or the extra capacity that portable SSD's offer, then the next step if deciding if you need some tough & rugged protection.
As someone who travels a lot, being able to throw a high-capacity drive into my backpack totally care-free is a life-saver. While traditional HDD's are cheap, the moving parts means they'll never be truly rugged, making flash storage the only real option.
With this in mind, all the portable SSD's are made to last. They range from fully waterproof and military-grade drop certified to simple splash and dirt resistant. Enjoy!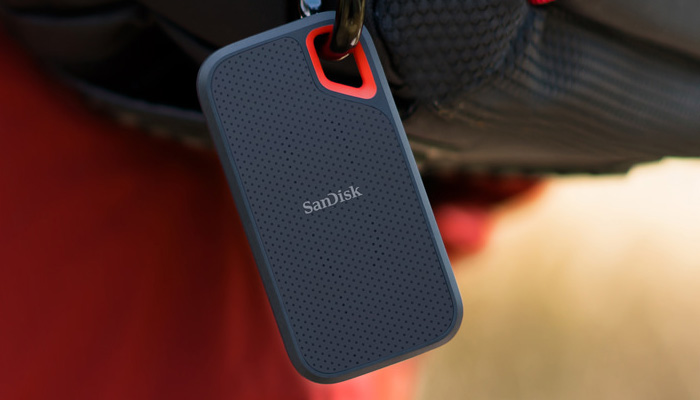 1. SanDisk Extreme Portable SSD (2018 Model)

SanDisk has upgraded their rugged portable SSD after having issues with the previous versions ports failing. The new version has reinforced the USB Type-C and totally redesigned the external protection.
The new SanDisk Extreme Portable SSD also comes sealed with an IP55 rating and drop protection to an impressive 2 metres.
Unless you need to enhanced IP68 waterproofing of the next portable SSD, the SanDisk Extreme Portable SSD should be your number 1 choice!
Storage Sizes: 250GB | 500GB | 1TB | 2TB
Transfer Speed: Max 550MB/s
Connection: Detachable Cable – USB Type-C 3.1 (Type-C to Type-A adapter included)
Tough Credentials: Water & Dust Resistant (IP55), 2 metre drop protection, -20 – + 70 degrees storage temps.
Warranty: 3 Years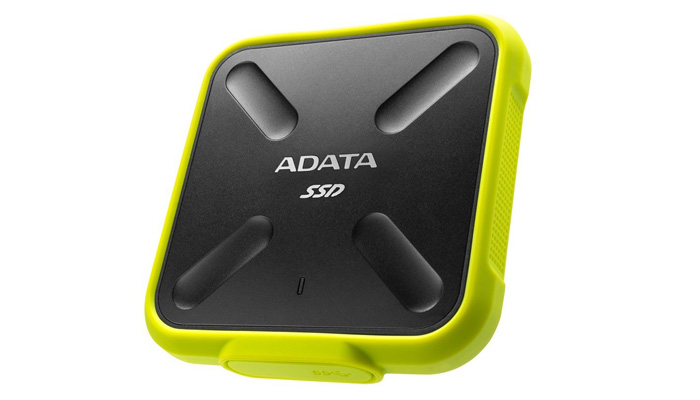 2. ADATA SD700 Portable SSD

The ADATA SD700 is our tried & tested portable SSD that's been available for a few years now. It comes with USB 3.1 but unfortunately uses a SATA to USB cable which you'll need to carry with you. It'd be great if ADATA updated the 2016 model to use a USB Type-C connection which is much more widely available. #dontmakemecarryanothercableplease
In terms of rugged credentials, it's at the top our list with a MIL-STD-810G shock grading (tested to 26 drops at 4ft), an IP68 rating which means it can stay submerged at depths of 1.5m for up to 60 minutes. With a waterproof rating like this, dust & dirt doesn't stand a chance either.
All this protection of cause comes with an Achilles heel… the silicone seal. Forget to close this firmly and you can kiss goodbye to that waterproof rating.
Storage Sizes: 256GB | 512GB | 1TB
Transfer Speed: Max 440MB/s
Connection: Detachable Cable – USB SATA to USB Type-A
Tough Credentials: Water & Dust Resistant (IP68), MIL-STD-810G 516.6 protection, +5 to +50 degrees operating temps.
Warranty: 3 Years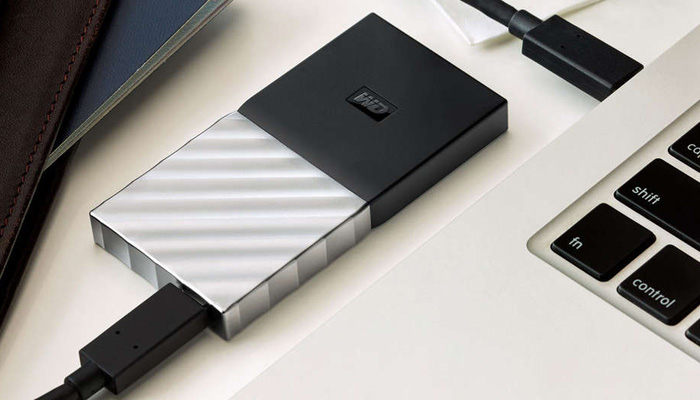 3. WD My Passport Portable SSD

The least rugged of the selection is the redesigned WD My Passport portable SSD. It has blazing fast speeds thanks to its Type-C 3.1 connection giving you up to 540MB/s transfer speeds.
While it doesn't have any dust, dirt or water protection it has been tested by Western Digital to be protected from drops up to 1.98 metres. This is in part due to its super lightweight design (41g).
If you're looking to store secure files, the WD Portable SSD comes with 256-bit AES hardware encryption. This type of encryption is easy to set up and doesn't slow down performance compared to software-based encryption.
Storage Sizes: 256GB | 512GB | 1TB | 2TB
Transfer Speed: Max 540MB/s
Connection: Detachable Cable – USB Type-C 3.1 (Type-C to Type-A adapter included)
Tough Credentials: Drop Protection 1.98 metres
Warranty: 3 Years (worldwide)
(review-hub.co.uk, http://bit.ly/2NUVDUd)
Comments
comments