Pros
Price
Push notifications
Heart rate sensor
Cons
No waterproof certificate
No camera
No SIM slot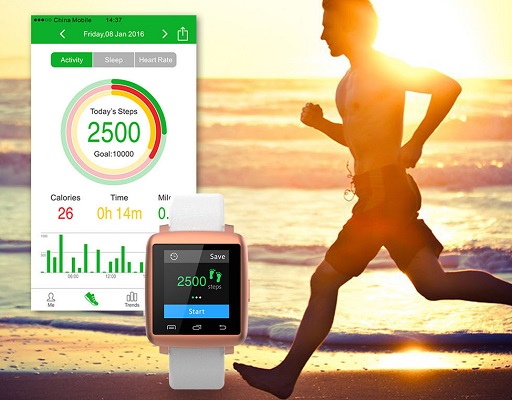 Not everyone can afford to spend their salary on a new gadget, there are some people that really want a functional product but they just don't have enough money; companies are aware of this and they're taking action. We've seen tons of affordable and cheap smartwatches, but nothing like the one we're about to see, we're talking about the Synergy SW1402, a smartwatch that has a modest appearance and a modest performance, or maybe not so modest. Keep reading to find out what this little guy can provide for a ridiculously low price.
Design
We're going to say it right now, there's nothing that stands out about the design of this smartwatch, but it's really appealing. We're talking about a smartwatch that's incredibly humble, so there's no need for all that eye catchy stuff.
If we're talking about a low-cost device it's obvious that the materials are going to be low-cost too; we have a silicone strap that comes in two different colors, black or white. The metallic parts are made out of stainless steel; meanwhile, the zipper is made out of silver for both models.
The color of the screen depends on the model of strap you choose. If you choose the white strap then the color of the screen will be bronze; on the other hand, if you choose the black strap then the color of the screen will be black as well.
This is an extremely light smartwatch with only 45 grams. This smartwatch counts with the following dimensions: 3.5 x 3.5 x 1 cm.
A big issue with the Synergy SW1402 is that it's not waterproof; it doesn't count with any waterproof certificate. So we need to be extremely cautious with this smartwatch, if it gets wet, you lose.
We have a 1.44 inches screen that counts with a resolution of 128 x 128 pixels. Nothing to see here, just your average low-range display, but seriously, we can't complain too much about this smartwatch since it has a low price.
This is where pretty much every smartwatch becomes the same; most smartwatches share the same functions, mostly the health and sport orientated functions; but some devices go a little further than that, and we can say that the Synergy SW1402 does that in its own particular way.
The notification function is something that pretty much every smartwatch on the market has, but the Synergy has something that not every smartwatch in the low-range category has, it will send us notifications of the main apps in our smartphone such as Facebook, Twitter or Whatsapp, you know, the apps you use every day; this is extremely convenient since it's kind of annoying having to take out your phone every 3 bloody seconds to check your notifications, but don't worry, the Synergy SW1402 has your back.
To link your smartwatch to your smartphone you have to make use of the Bluetooth 4.0, it's the only connectivity element that this smartwatch has since it doesn't count with WiFi support or an SIM slot.
The heart rate sensor is a function that used to be exclusive of the high-end smartwatches, but that's ancient history now since now it's considered a must-have function in pretty much every single smartwatch. Aside from the heart rate sensor, we have the pedometer that will allow us to keep track of our physical activity and our health. If we want a more extensive report about our health, we can always use the Owatch app that's compatible with iOS and Android.
With a very colorful and nice interface, we'll be able to see all the information regarding our health such as steps taken, burned calories, the time, the distance and many other features. We can also program this app to set a goal so that when we reach that specific goal the app will let us know.
Among the other functions, we can find the sleep monitor, the sedentary reminder, a calendar, the remote capture function that will allow us to use the smartwatch to take pictures from our smartphone, anti-lost function, voice control, SMS display and remote music control.
Performance
The Synergy SW1402 is humble on the outside and it's also humble on the inside with an MTK2502 chipset. This chipset is pretty common among the low-range smartwatches, it's nothing too fancy, the smartwatch will be able to do its job just fine, but don't push it too far.
We count with 32 MB of RAM and 32 MB of internal storage. This is the average amount of RAM and ROM for a smartwatch of this caliber.
We have a battery with a capacity of 230 mAh. This battery will provide us with an autonomy of 7 days on standby. Also, it won't take too long to get fully charged, that's an upside of having a low-capacity battery; it will take 2 hours to get the Synergy SW1402 fully charged and ready to go.
Once again, this device is low-range, so we can't expect too much from it.
SYNERGY SW1402 SMARTWATCH
Dimensions
25.00 x 4.00 x 1.05 cm
Weight
45 grams
Colors
Black / White
Watch Materials
Stainless steel
Strap Material
Silicone
IP Protection
No
Camera
No
Screen
1.44 inches, resolution of 128 x 128 pixels
CPU
MTK2502
RAM Memory
32 MB
ROM Memory
32 MB
Connectivity
Bluetooth 4.0
Battery
230 mAh Li-Po (7 days on standby / 2 hours to get fully charged)
Languages
Spanish, etc
Compatibility
Android 4.3 / iOS 7.0 and above
Sensors
Heart rate, pedometer
Other functions
Sedentary reminder, sleep monitor, answering and making calls, SMS display, camera remote control, push notifications (Facebook, Whatsapp, Twitter…), anti-lost alarm, alarm, calendar.
This smartwatch is a godsend for those that don't want to spend a fortune on a wearable; please, don't think that this smartwatch is bad, is modest indeed, but it's incredibly convenient for its price, especially if you enjoy sports or exercise.
You have to trust us on this one, this smartwatch will not let you down, of course, the specifications are not the best, but we're talking about a low-range so we can't expect too much from it, but that aside, we find the Synergy SW1402 to be a really good option for those that need a smartwatch for a low-price.
(xiaomitoday.com, http://goo.gl/nM0wc5)
Comments
comments