1.5-inch curved Super AMOLED display
Tizen OS
Dual Core CPU
34g (large) 33g (small)
200 mAh battery
Works with Android and iOS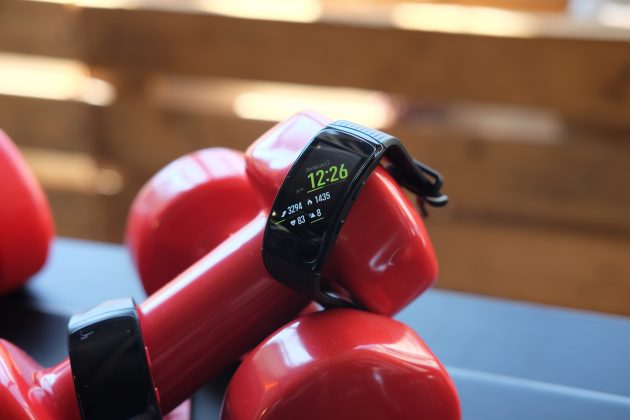 Samsung Gear Fit 2 Pro hands-on: A souped up Gear Fit with swim tracking
Samsung Gear Fit 2 Pro release date: TBC
Samsung Gear Fit 2 Pro price: £TBC
Like the previous Gear Fit devices the Fit 2 Pro is a fitness band and smartwatch hybrid, with a long narrow display and a flexible strap. The Fit 2 Pro is perhaps unsurprisingly very similar in looks to the excellent Gear Fit 2 that was released late in 2017. It has the same vibrant, 1.5-inch curved AMOLED display and runs on the same Tizen software.
The biggest difference between the two is a new focus on swimming. The Fit 2 Pro is rated 5 ATM for water-resistance, meaning it'll withstand depths of 50m and won't be damaged after long sessions in the pool. To complement this, Samsung has upgraded its S Health app with a dedicated swimming section and partnered with Speedo to build a bespoke app. This app not only tracks your lengths, distance travelled and speed, but can also tell exactly what variety of stroke you favour and when you switch.
If swimming isn't your thing, then don't instantly discount the Gear Fit 2 Pro. Like its less 'Pro' sibling, there's onboard GPS for accurate run-tracking without having a phone connected and auto-workout detection. There's also a continuous heart rate monitor on the back, which can take a reading every second.
This means that once the band has detected you moving for more than 10 minutes, it'll log your workout. There are dedicated sections for running, but also a 'Dynamic Option' that will cover things like tennis or football.
Add to this the ability to store around 500 songs offline from Spotify and you've got an excellent all-round fitness watch. If only Samsung had managed to cram an NFC chip inside for Samsung Pay.
What the Gear Fit 2 Pro really has over dedicated smartwatches, even the Gear Sport, is a much smaller footprint when you're wearing it. The silicone strap sticks close to your skin and the plastic build means it's light. Importantly, it's comfortable and doesn't wobble about like so many ill-fitting wearables. I probably wouldn't wear it with a smart suit and for a night out, but it's an almost perfect design for popping on when you're out for a run or a swim. Out of the two colour options available at launch –  an all-black and a black and red – the one with the red trim stands-out noticeably more.The Gear Fit 2 Pro is available in either a large or small size, based on the size of your wrist. Unlike the Gear S3 and the Gear Sport, two size bands aren't included so you'll need to choose accordingly when you buy. You will be able to swap bands at a later date, though.
When our Wearables Editor reviewed the Gear Fit 2, he managed to get about 3 days of juice per charge. This altered quite heavily depending on how hard the band was pushed and whether GPS was on or off. Samsung didn't give me a estimated battery life for the Gear Fit 2 Pro, but considering it the same 200 mAh battery I would say they'll last a similar amount of time.
First impressions
The Gear Fit 2 Pro seems like it'll be a good wearable for someone who doesn't really want a smartwatch.
It's packed with features and looks good, but importantly it feels good thanks to a trim and well designed body. Depending on the price, this could very well another excellent entry into the Gear Fit line.
(trustedreviews.com, https://goo.gl/tHRyLF)
Comments
comments