Samsung has unveiled the follow up to 2016's Samsung Gear S3: the Samsung Galaxy Watch. The watch was officially revealed at the August Unpacked event alongside the Note 9.  
Galaxy Watch – Design
Available in rose gold, silver or black, the Samsung Galaxy Watch isn't a million miles away from the last generation, though it is now available in both 42mm and 46mm sizes. Whichever you get, it keeps the same familiar round face, which means it's compatible with over 60,000 watch faces.
The rotating bezel is still here, and once again it's not purely cosmetic: it actually let you control the watch functions, though the AMOLED display does support touch controls as well.
That AMOLED display is protected by DX+ glass making it, Samsung says, both strong and scratch resistant.
Galaxy Watch – Features
The Samsung Galaxy Watch is powered by the Exynos 9110 dual-core 1.15Ghz chip, backed up by 1.5GB RAM, and 4GB internal storage.
At the Samsung Unpacked event, the company was keen to highlight a few key points. Firstly, the Samsung says the watch will have LTE connectivity around the world, with the company claiming support from over 30 carriers in more than 15 countries.
Secondly, the watch is swim-ready, with 5ATM+ water resistance. That's not hugely surprising given recent Samsung sports wearables have included support from the Speedo swimming app, but it's definitely a plus for fitness fanatics.
On the subject of fitness, this is clearly Samsung's main focus. The watch will track 39 different exercises and is able to detect six automatically. This, alongside wellness features such as breathing exercises and sleep tracking, Samsung says, is supposed to give owners a full picture of their health.
The watch comes with a 472mAh battery on the 46mm wearable, and a 270mAh cell on the 42mm one. Samsung says this translates to a battery life of up to seven days on a single charge for the larger version.
It still runs Samsung's own Tizen OS, despite early rumours which suggested the company was pivoting back to Android. Although renowned tipster Evan Blass did reveal that there are a handful of Galaxy Watches that do run Wear OS…
Galaxy Watch Release Date – When will it come out?
Samsung says the Galaxy Watch will be available from 24 August in the United States, Korea from 31 August and then other markets on 14 September.
The company revealed that EE will be the first network to support it in the UK.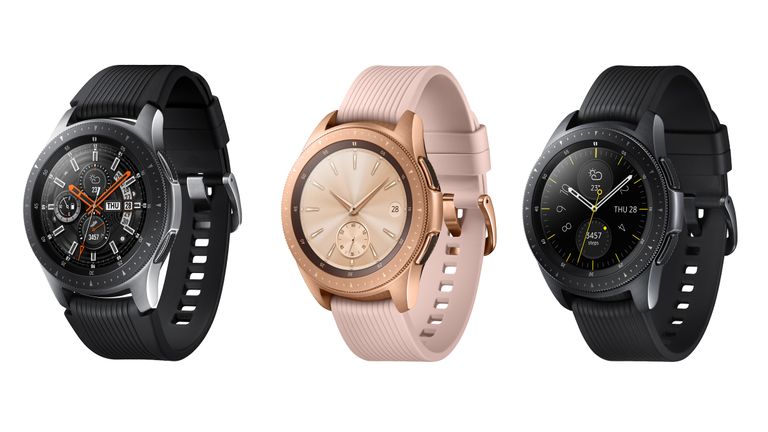 Galaxy Watch Price – How much will it cost?
The Samsung Galaxy Watch is available to pre-order for £279/$357, which is less than the launch price of the Gear S3.
(trustedreviews.com, http://bit.ly/2vtqoZN)
Comments
comments