The PNY GeForce RTX 2080 XLR8 Gaming Overclocked Edition is an okay RTX 2080 priced like a premium model. We can't recommend over other options it at full retail price.
Pros
Great 4K/60 or 1440p/144Hz gaming performance
Slightly cooler than Nvidia's Founders Edition
Cons
Cheaper feeling design than Founders Edition and rival high-end RTX 2080s
Costs too much for what it offers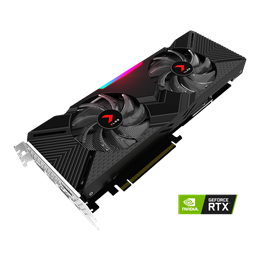 There are no bad products, only bad prices
If the hulking Asus ROG Strix GeForce RTX 2080 showed how Nvidia's graphics card partners can still shine in an era where Nvidia's rejiggered Founders Edition models strike stronger than ever, the PNY GeForce RTX 2080 XLR8 Gaming Overclocked Edition ($850 on Amazon and Newegg) demonstrates just how hard it is to stand out.
The ROG Strix ($870 on Newegg) countered the Founders Edition threat with a monstrous cooler and features galore that justified its price premium. PNY's RTX 2080 XLR8, on the other hand, is just a graphics card. It's fine. It's okay. But there's little here that makes it more compelling than the $800 Nvidia RTX 2080 Founders Edition, especially when it costs $50 more.
It's a shame, too, because we heartily recommended the PNY GTX 1080 Ti XLR8 last year on the back of its tremendous value proposition compared to rival GTX 1080 Ti options. We can't do the same with the PNY RTX 2080 XLR8. Here's why.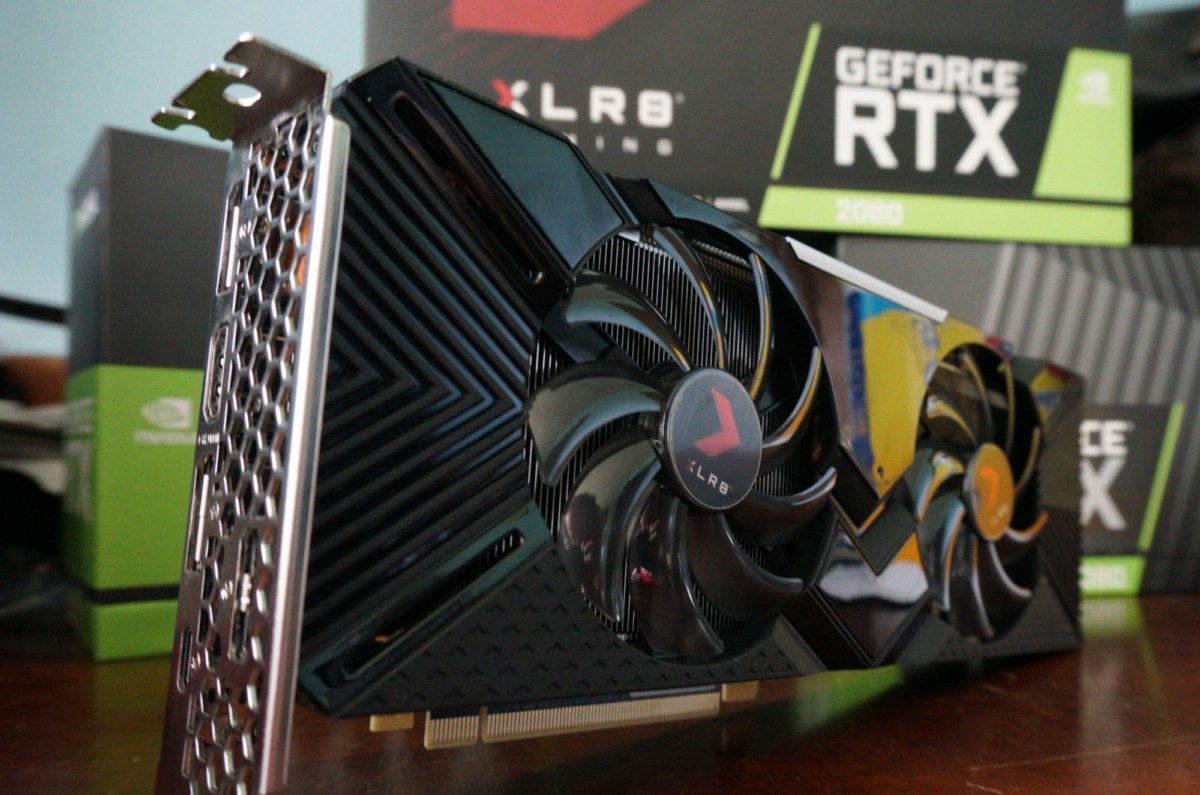 Specs, features, design
The PNY RTX 2080 XLR8 mostly sticks to the reference specifications for the GeForce RTX 2080. That includes the dedicated RT and tensor cores that unlock futuristic new capabilities like real-time ray tracing and Deep Learning Super Sampling… whenever those features become available in games, at least. You can learn more about those technologies in our original GeForce RTX 2080 and 2080 Ti review, as well as our deep-dive into Nvidia's Turing GPU architecture.
CUDA cores: 2,944
Clock speed: 1,515MHz base, 1,815MHz boost
RT cores: 46
Tensor cores: 368
Texture units: 184
ROP units: 64
Memory capacity: 8GB GDDR6
Memory path: 256 bits
Memory bandwidth: 448GBps
Ports: 1x VirtualLink/USB-C, 3x DisplayPort 1.4, 1x HDMI 2.0b
Power: One 6-pin, one 8-pin, 285-watt TDP
Release date: September 20, 2018
Price: $850
Spec-wise, the PNY RTX 2080 changes three minor things compared to Nvidia's RTX 2080 Founders Edition. Both cards come overclocked—PNY at 1,815MHz, Nvidia at 1,800MHz—so they're faster than the RTX 2080's theoretical 1,710MHz reference speed. But despite being only 15MHz faster out of the box, a negligible difference, PNY lists the RTX 2080 XLR8's TDP at 285W, a full 60W higher than the Founders Edition. (The actual power draw between the two is pretty much equal, as you'll see in our benchmarks.) And finally, PNY's card costs $50 more.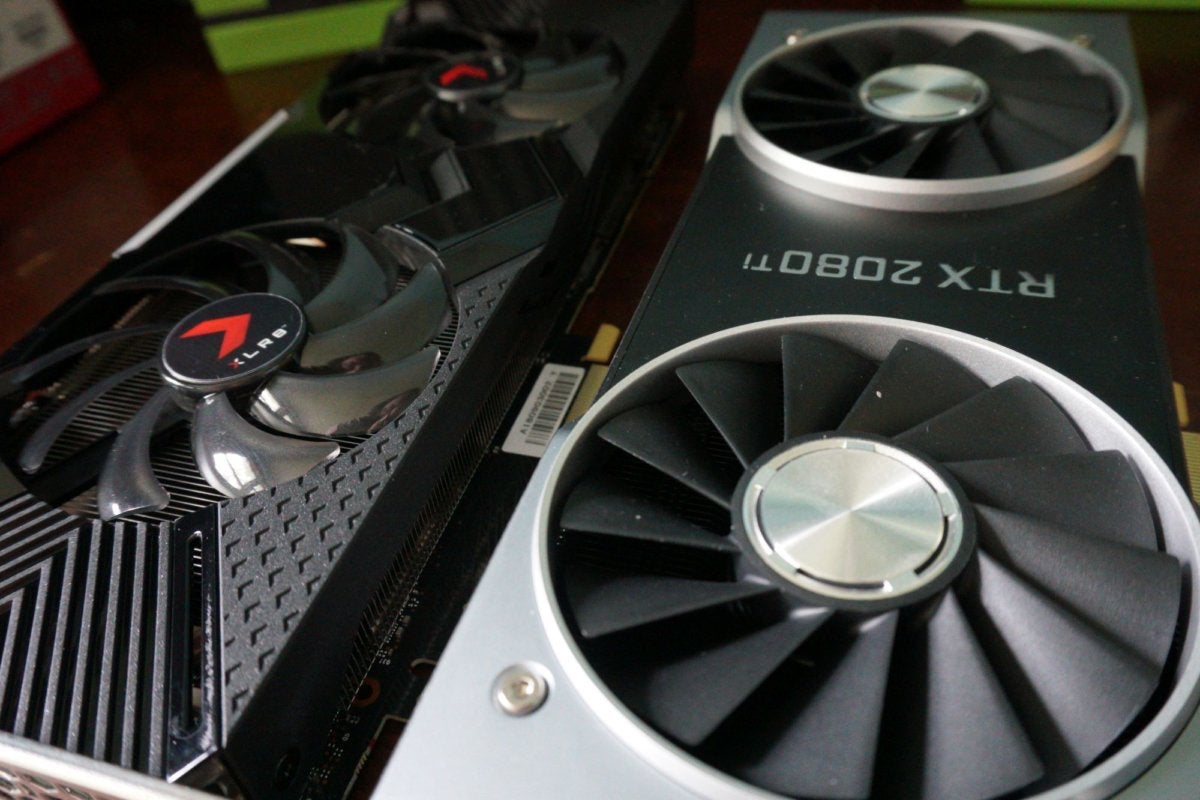 That price premium doesn't feel justified when you hold the two cards side by side. The GeForce RTX 2080 Founders Edition is absolutely stunning. It's just gorgeous, with an aluminum shroud that curves around the end of the card into a backplate, enclosing the card except for a slim opening on the edge where the black, full-length heat sink peeks through. The dual fans are bristling with sturdy blades, and the "GeForce RTX" logo on the side glows a steady green. The Founders Edition feels like a $800 graphics card.
The PNY RTX 2080 XLR8 doesn't. And it definitely doesn't feel like an $850graphics card.
There's no backplate. There's no lit-up logo, only a simple RGB strip just underneath the "GeForce RTX" branding. While I dig the clean design of the shroud, it skips metal for plastic. The PNY RTX 2080 XLR8's dual fans pack far fewer blades than the Founders Edition, and they're made of a flimsy plastic that bends and flexes when you touch it.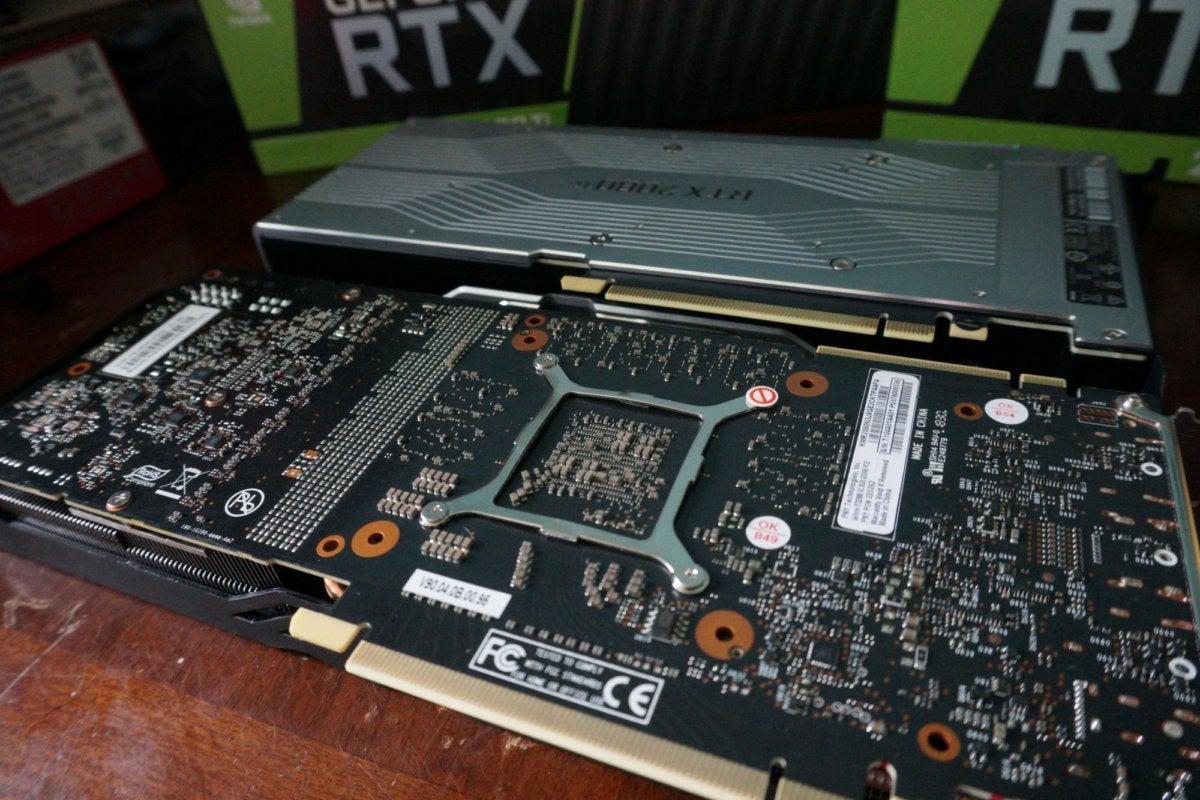 To be blunt: The PNY RTX 2080 XLR8 feels cheap for the $800-plus price bracket. This cooler design would be acceptable on a mainstream graphics card, or if this card cost significantly less than the Founders Edition. But as-is it doesn't make the grade. And while the Asus ROG Strix RTX 2080 deployed an army of extra features to fetch a premium price, such as fan and RGB headers that integrate the card more closely with the rest of your system, you won't find anything luxurious on the PNY XLR8.
It's not all bad. The heat sink extends out past the graphics card's PCB, with several copper heat pipes snaking throughout and a copper base inside. PNY says the honeycomb design of the I/O bracket can increase airflow by up to 15 percent, and the XLR8 uses DrMOS technology for lower noise and better heat reduction. Does this plain-looking card pack on a beefier cooling system that results in increased frame rates to rationalize its higher price? Yes—but no. Let's head to the test bench.
Our test system
We overhauled our dedicated graphics card test system for this new generation of graphics cards. We equipped the system with some of the fastest complementary components available to put the performance bottlenecks squarely on the GPU itself. Most of the hardware was provided by the manufacturers, but we purchased the cooler and storage ourselves.
Intel Core i7-8700K processor ($360 on Amazon)
EVGA CLC 240 closed-loop liquid cooler ($120 on Amazon)
Asus Maximus X Hero motherboard ($275 on Amazon)
64GB HyperX Predator RGB DDR4/2933 ($416 for 32GB on Amazon)
EVGA 1200W SuperNova P2 power supply ($180 on Amazon)
Corsair Crystal 570X RGB case, with front and top panels removed and an extra rear fan installed for improved airflow ($170 on Amazon)
2x 500GB Samsung 860 EVO SSDs ($88 each on Amazon)
We're comparing the PNY RTX 2080 XLR8 Gaming Overclocked Edition ($850 on Amazon and Newegg) against the Asus ROG Strix RTX 2080 ($870 on Newegg), the GeForce RTX 2080 Founders Edition ($800 on Best Buy and GeForce.com) and RTX 2080 Ti Founders Edition ($1,200 on Best Buy and GeForce.com). We've also tested its performance compared to the the GeForce GTX 1080 Founders Edition and the overclocked PNY GeForce GTX 1080 Ti, a card that we loved. Finally, to give the Red Team some representation we've included the results from the Radeon RX Vega 64 reference card, AMD's most potent GPU.
Each game is tested using its in-game benchmark at the highest possible graphics presets, with VSync, frame rate caps, and all GPU vendor-specific technologies—like AMD TressFX, Nvidia GameWorks options, and FreeSync/G-Sync—disabled, and temporal anti-aliasing (TAA) enabled to push these high-end cards to their limits. If anything differs from that, we'll mention it.
PNY RTX 2080 XLR8 gaming benchmarks
Strange Brigade
Let's kick things off with Strange Brigade ($50 on Humble), a cooperative third-person shooter where a team of adventurers blast throw hordes of mythological enemies. It's a technological showcase, built around the next-gen Vulkan and DirectX 12 technologies and infused with features like HDR support and the ability to toggle asynchronous compute on and off. It uses Rebellion's custom Azure engine. We tested DirectX 12 with async compute off.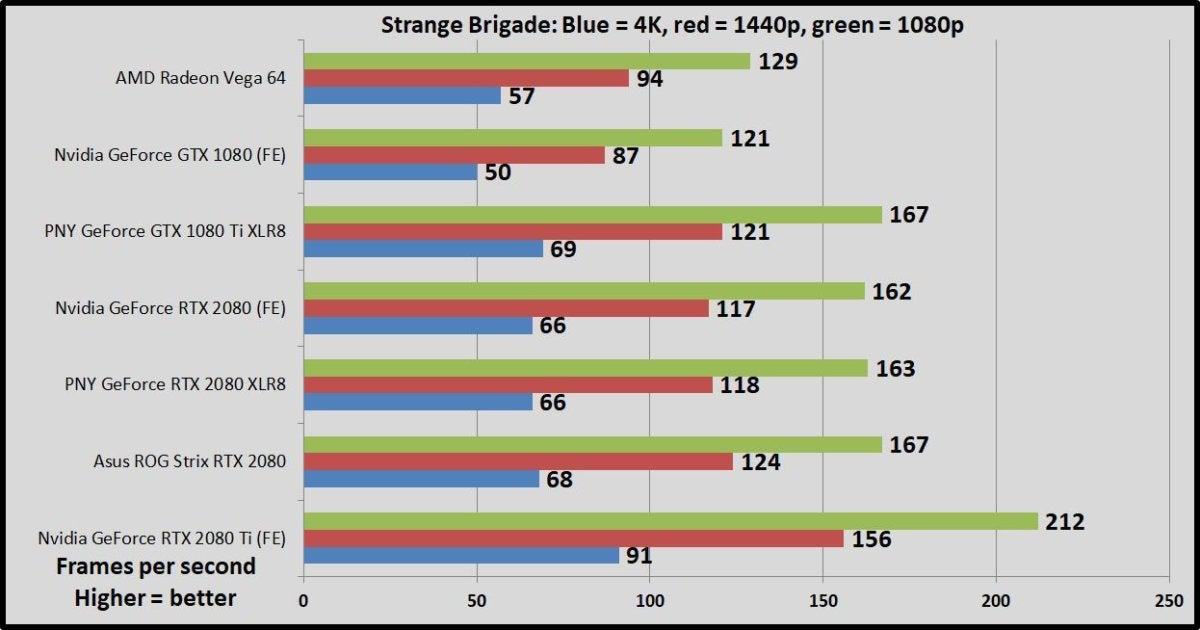 The PNY XLR8 delivers essentially the same performance as Nvidia RTX 2080 Founders Edition, and comes in very slightly behind the ROG Strix, which has a massive cooler and a higher 1,850MHz overclock. That remains the case across our entire testing suite, so we'll keep commentary to a minimum until we reach the power and thermals section.
Shadow of the Tomb Raider
Shadow of the Tomb Raider ($60 on Humble) concludes the reboot trilogy, and it's utterly gorgeous—so much so that even the state-of-the-art GeForce RTX 2080 Ti barely manages to average 60 fps with all the bells and whistles turned on at 4K resolution. Square Enix actually optimized this game for DX12 (and recommends DX11 only if you're using older hardware or Windows 7), so we test with that. Shadow of the Tomb Raider uses an enhanced version of the Foundation engine that also powered Rise of the Tomb Raider.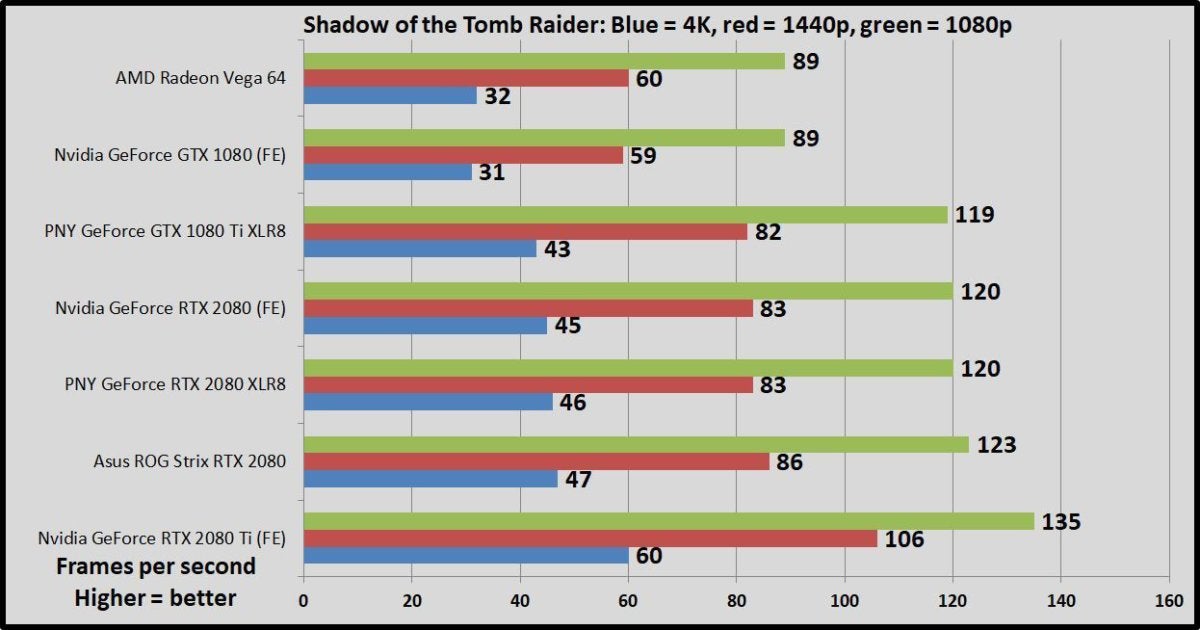 Far Cry 5
Finally, a DirectX 11 game! Far Cry 5 ($60 on Humble) is powered by Ubisoft's long-established Dunia engine. It's just as gorgeous as its predecessors—and even more fun. The game also supports HDR. More on that later.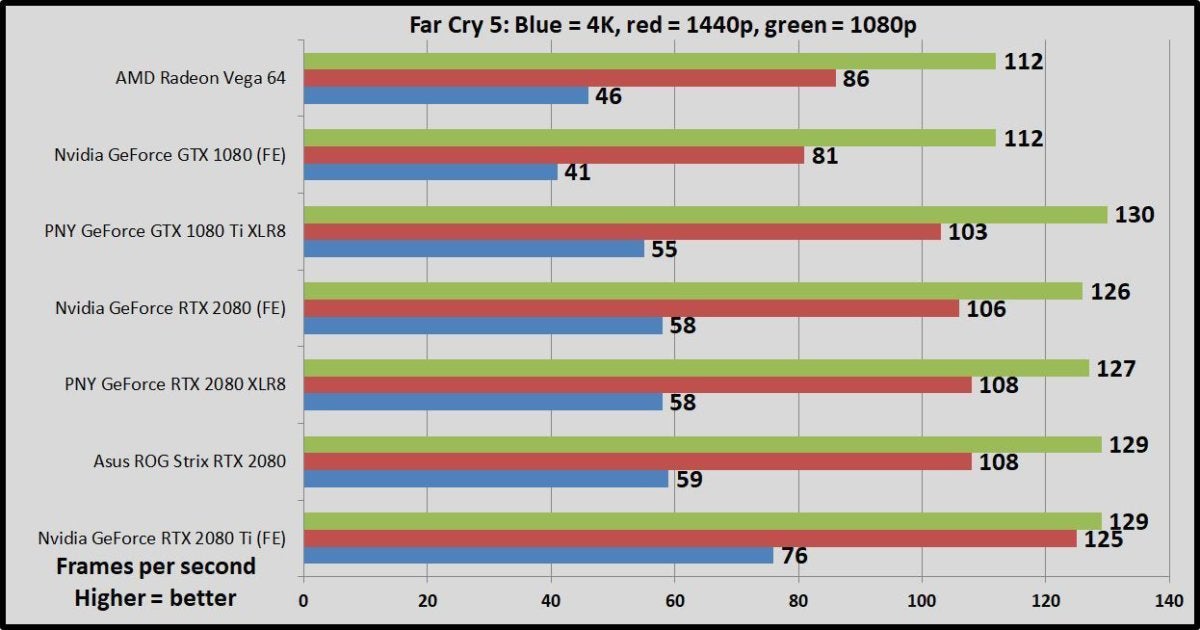 Ghost Recon Wildlands
Move over, Crysis. If you crank all the graphics options up to 11, like we do for these tests, Ghost Recon Wildlands ($50 on Humble) and its AnvilNext 2.0 engine absolutely melts GPUs. Even the GeForce RTX 2080 Ti can't come close to 60 fps at 4K resolution.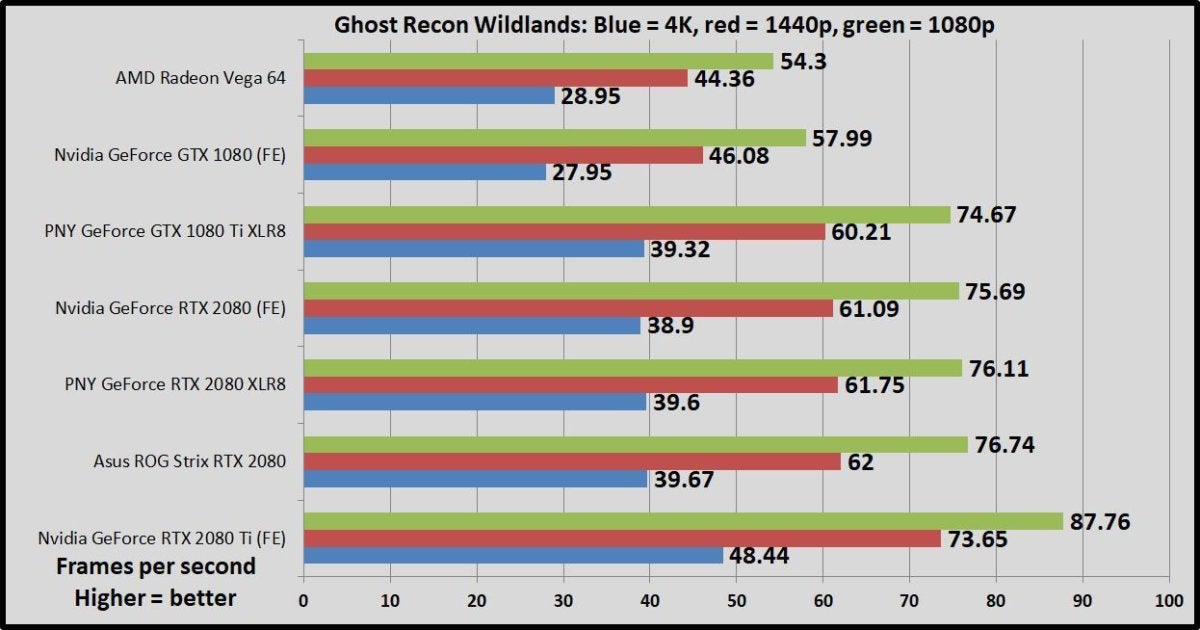 Middle-earth: Shadow of War
Middle-earth: Shadow of War ($50 on Humble) adds a strategic layer to the series' sublime core gameplay loop, adapting the Nemesis system to let you create an army of personalized Orc commanders. It plays like a champ on PC, too, thanks to Monolith's custom LithTech Firebird engine.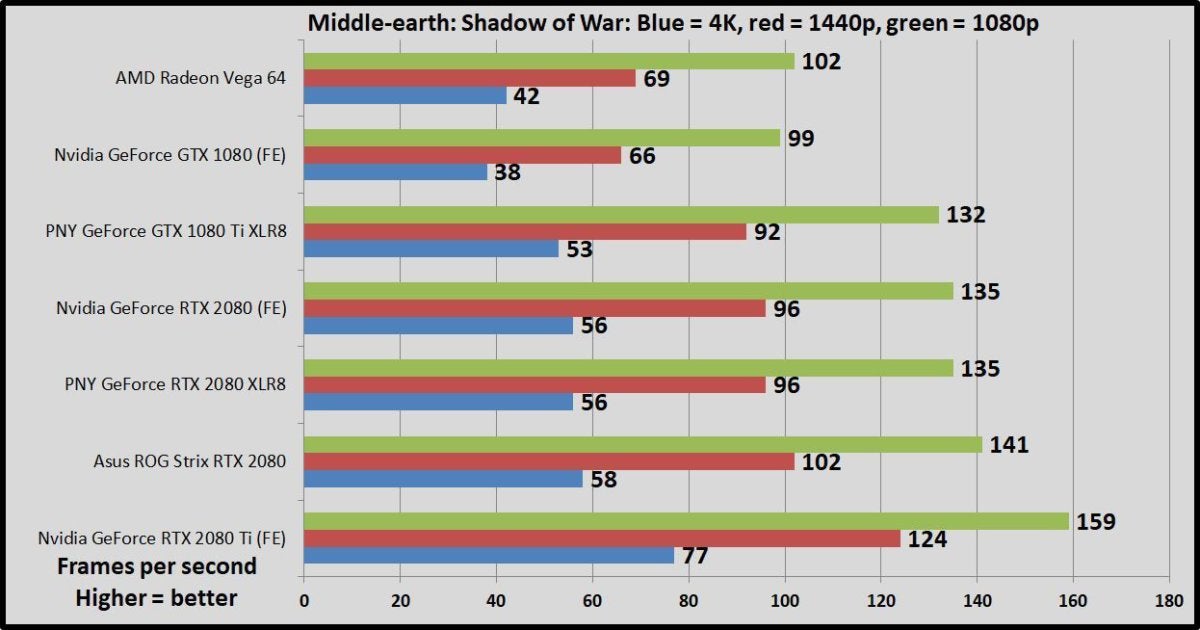 F1 2018
The latest in a long line of successful games, F1 2018 ($60 on Humble) is a benchmarking gem, supplying a wide array of both graphical and benchmarking options—making it a much more reliable option that the Forzaseries. It's built on the fourth version of Codemasters' buttery-smooth Ego game engine. We test two laps on the Australia course, with clear skies.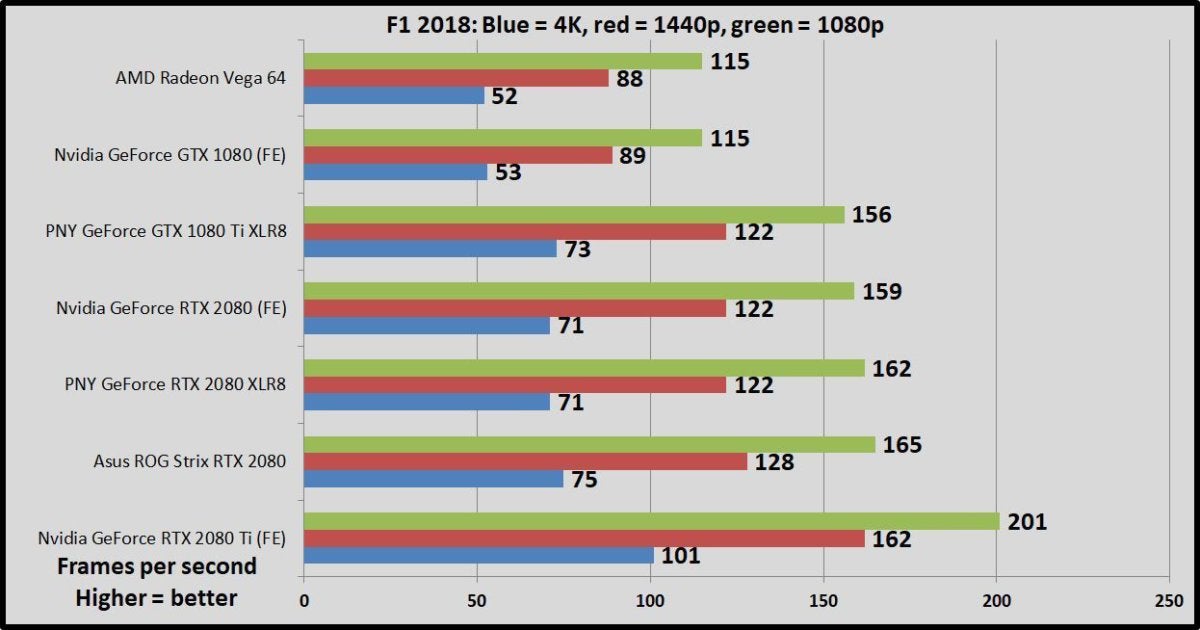 Ashes of the Singularity: Escalation
Ashes of the Singularity ($40 on Humble) was one of the very first DX12 games, and it remains a flagbearer for the technology to this day thanks to the extreme scalability of Oxide Games' next-gen Nitrous engine. With hundreds of units onscreen simultaneously and some serious graphics effects in play, the Crazy preset can make graphics cards sweat. Ashes runs in both DX11 and DX12, but we only test in DX12, as it delivers the best results for both Nvidia and AMD GPUs.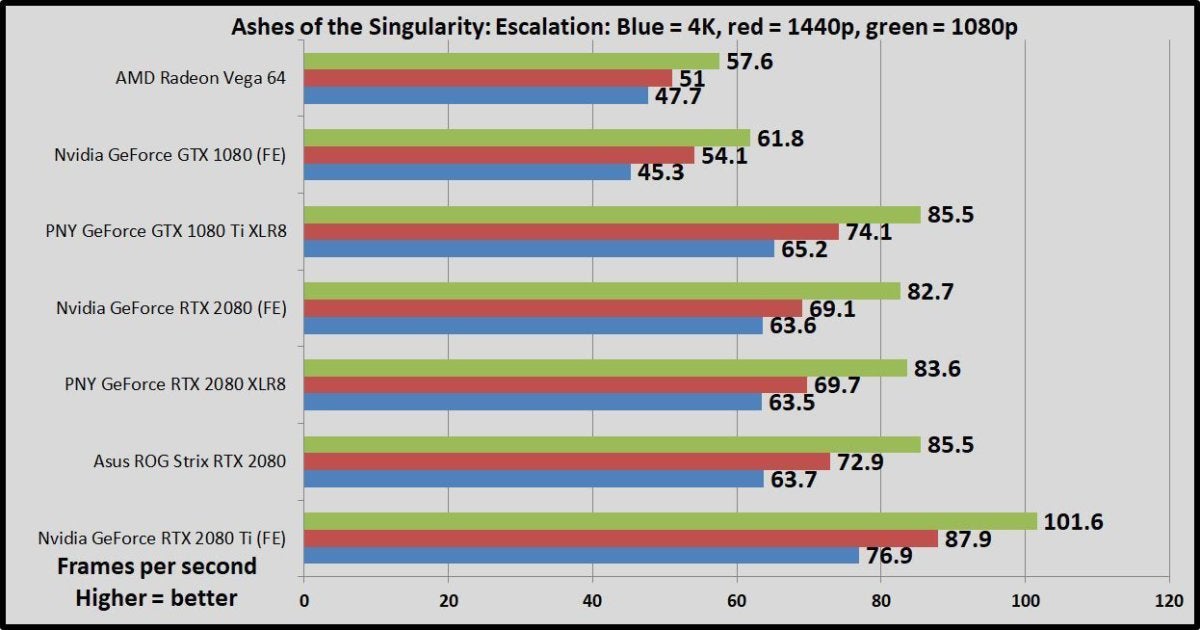 GTA V
We're going to wrap things up with a couple of older games that aren't visual barnburners, but still stop the Steam charts day-in and day-out. These are games that a lot of people play. First up: Grand Theft Auto V ($30 on Humble) with all options turned to Very High, all Advanced Graphics options except extended shadows enabled, and FXAA. GTA V runs on the RAGE engine and has received substantial updates since its initial launch.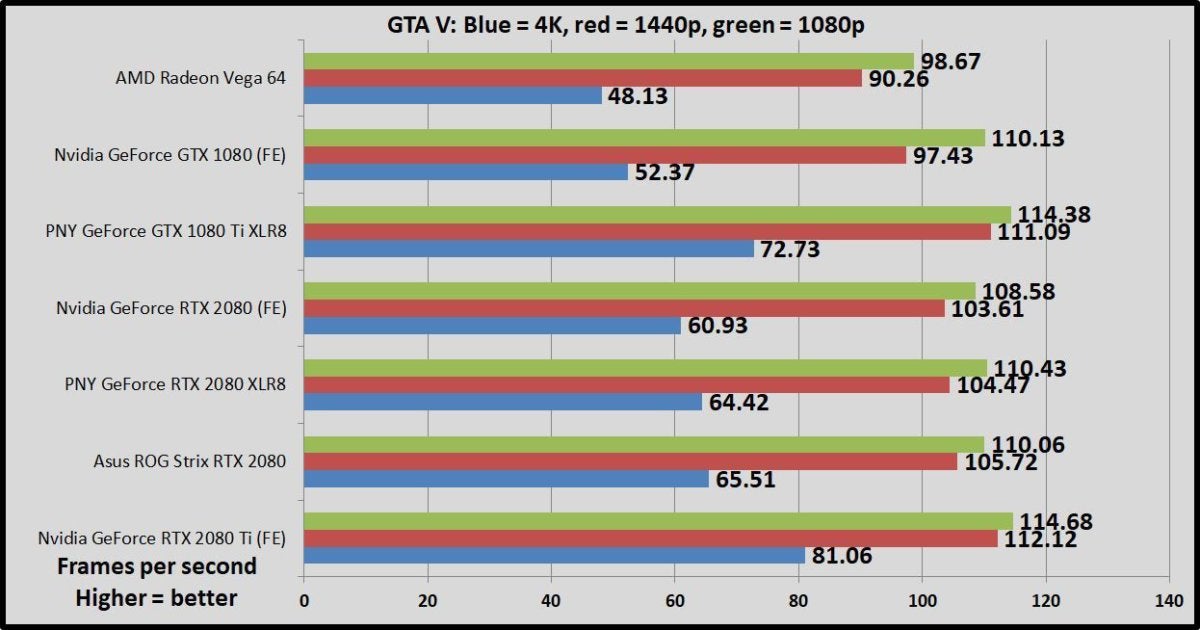 Rainbow Six Siege
Finally, let's take a peek at Rainbow Six Siege ($40 on Humble), a game whose audience just keeps on growing, and one that still feels like the only truly next-gen shooter after all these years. Like Ghost Recon Wildlands, this game runs on Ubisoft's AnvilNext 2.0 engine, but Rainbow Six Siegeresponds especially well to games that lean on async compute features.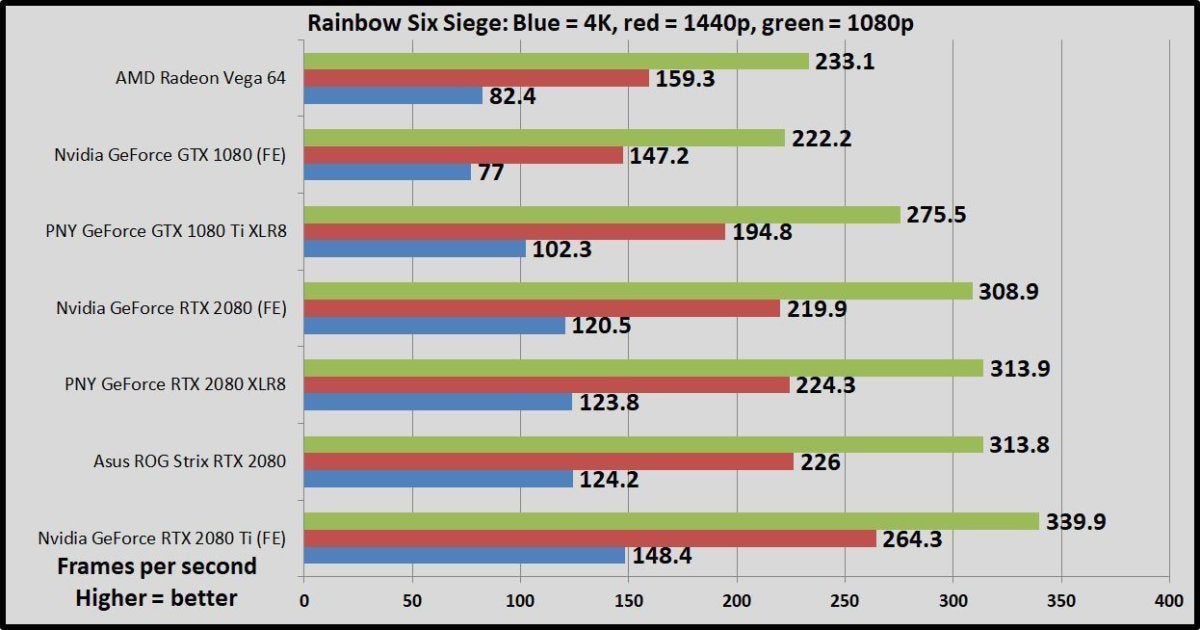 Power draw, thermals, and noise
We test power draw by looping the F1 2018 benchmark after we've benchmarked everything else with a card, and noting the highest reading on our Watts Up Pro meter. The initial part of the race, where all competing cars are onscreen simultaneously, tends to be the most demanding portion.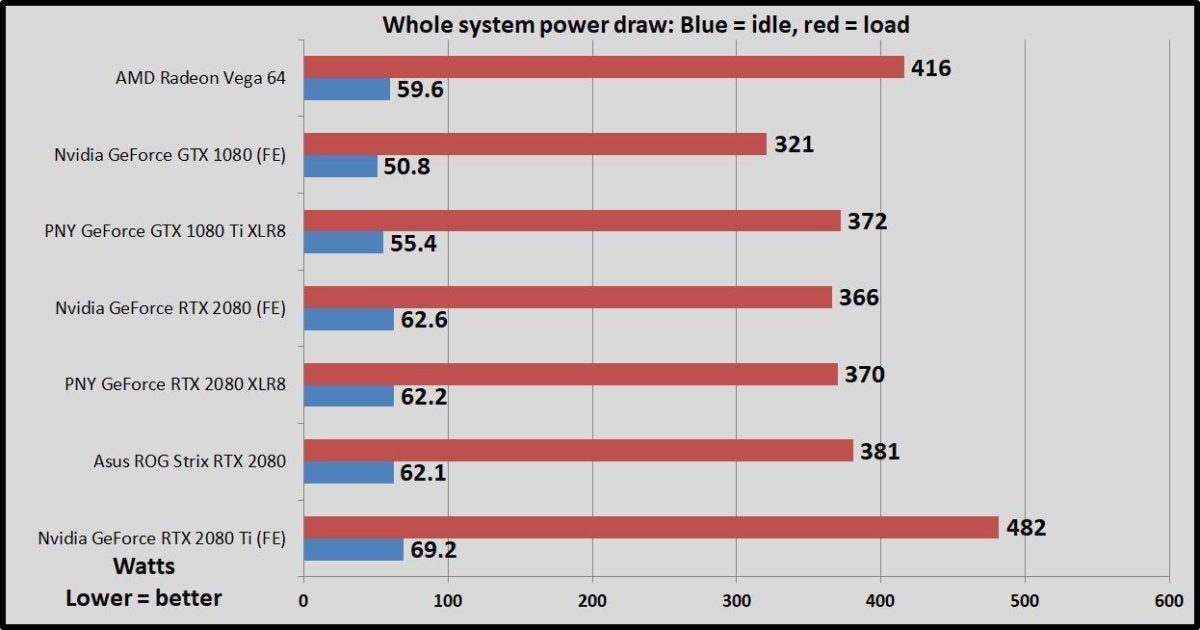 The PNY XLR8 sucks down a few more watts than the Founders Edition and a several watts less than the ROG Strix, which makes sense as its overclocked speeds fall between the two. The Asus card also has three fans to keep powered up during gaming sessions.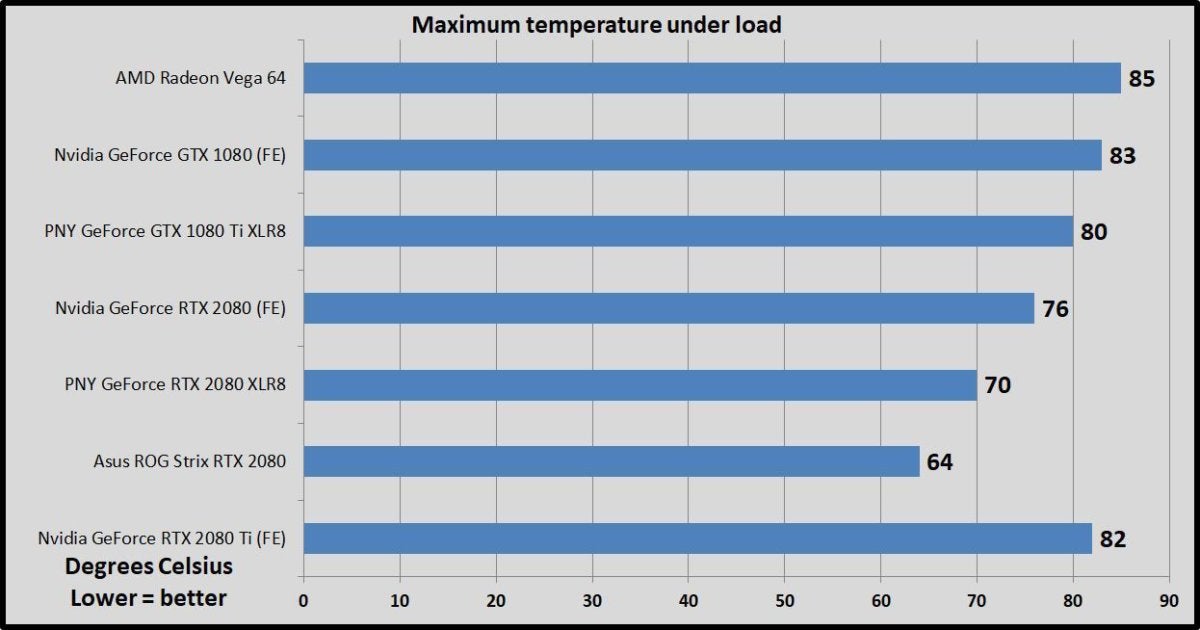 We test thermals by leaving HWInfo's sensor monitoring tool open during the F1 2018 5-lap power draw test, noting the highest maximum temperature at the end. The PNY XLR8 disposes of heat more efficiently than the Founders Edition card, coming in six degrees cooler. Both cards emit around the same level of noise, subjectively—they're not silent, but not too loud either. But the ROG Strix demolishes both in pure temperatures and noise levels, depending on whether you're using its Quiet or Performance mode. (The number above was taken in the Strix's default Performance mode.)
Should you buy the PNY GeForce RTX 2080 XLR8?
No. At least not at its current cost.
You'll find an adage repeated somewhat often in technology coverage: "There are no bad products, only bad prices." That phrase nails the PNY GeForce RTX 2080 XLR8 Gaming Overclocked Edition's problem. You won't be disappointed if you wind up with it. It's an okay graphics card that costs way too much.
The PNY XLR8 ($850 on Amazon and Newegg) is neck-and-neck with the Nvidia Founders Edition ($800 on Best Buyand GeForce.com) in noise levels and raw gaming performance. It runs slightly cooler, but feels kind of cheap, while Nvidia's card oozes luxury. If PNY's card cost $750 it'd be a stellar option for gamers who wouldn't mind giving up metal shrouds and fancy RGB lighting to save a few bucks. But it's impossible to recommend the PNY RTX 2080 XLR8 at $50 more than the Founders Edition. Nvidia's really putting the screws to its board partners with the Founders Edition's impressive redesign and factory overclock.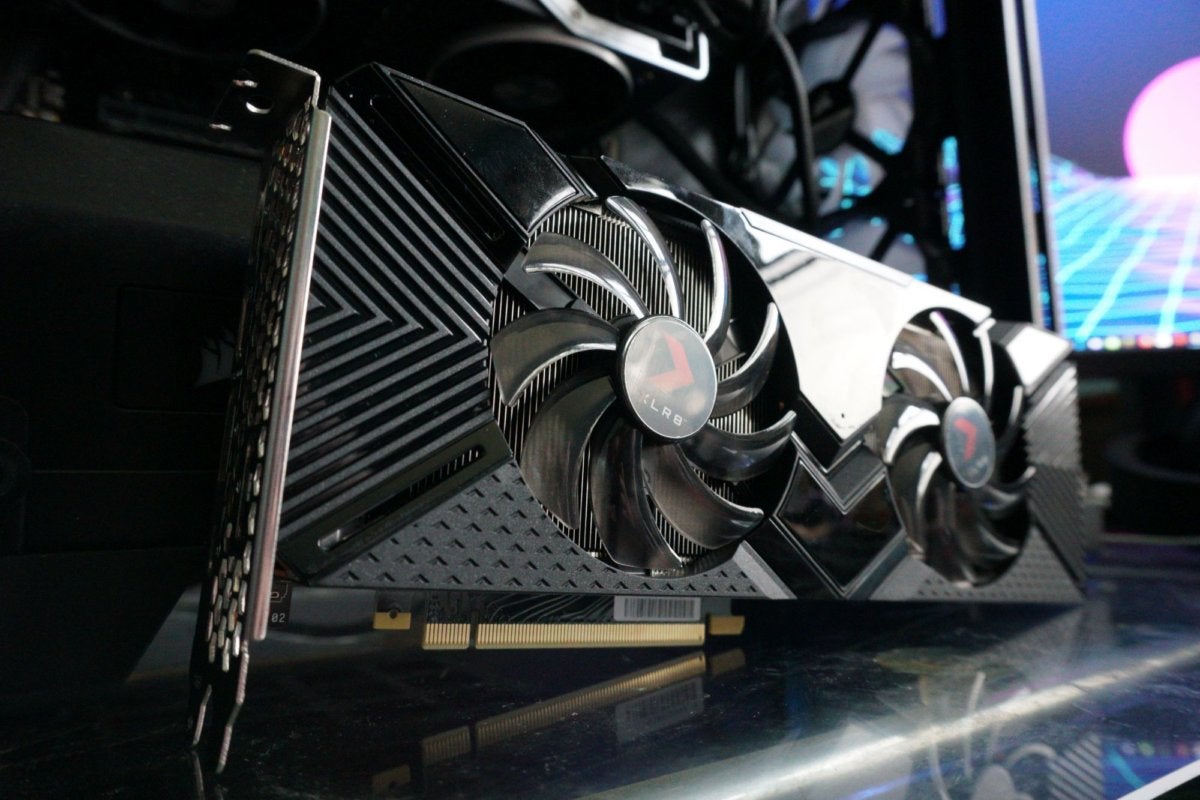 If you're willing to consider $850 or so for an RTX 2080 with better cooling performance, we'd recommend saving a few pennies and opting for the Asus ROG Strix RTX 2080($870 on Newegg)  instead. It runs damned cold in Performance mode or virtually silent in Quiet mode, and it's absolutely loaded with extra features, including those dual BIOSes.
Should you invest in an RTX graphics card at all, though? That's a valid question in itself. Any GeForce RTX 2080 delivers great 4K/60Hz or 1440p/144Hz gameplay. But so does the GTX 1080 Ti, which lacks future-facing ray-tracing and AI hardware but delivers virtually identical performance in traditional games for $100 to $250 less. Check out our GeForce RTX 2080 vs. GTX 1080 Ti breakdown for all the info you need to know.
(pcworld.com, http://bit.ly/2pKB9nb)
Comments
comments