Nvidia has unveiled new 'big-format gaming displays' that look set to shake up both the gaming monitor and TV markets.
However, with the company throwing umpteen technical terms at us in its marketing, trying to determine the tech and perks they actually offer can be tricky. Here to help, we've summarised all the key details you need to know about Nvidia's new behemoth monitors.
What are Nvidia BFGD (big format gaming displays)?
BFGD are a new standard of monitor from Nvidia. They aim to combine the perks of both top-end TVs and gaming monitors into a custom 65-inch panel built by the company in partnership with AU Optronics. Any monitor carrying the BFGD branding will offer a variety of different technologies.
For starters, they'll have to offer the razor-sharp 4K resolutions seen on expensive TVs, while also meeting the HDR10 (High Dynamic Range 10) standard. This means the panel will have to reach a minimum brightness of 1000 nits. Considering the fact they're LCD – not OLED – panels, this will be a seriously impressive achievement if Nvidia succeeds. The panels will also present a super-fast 120Hz refresh rate, full coverage of the DCI-P3 colour gamut and support Nvidia's G-Sync variable-refresh-rate technology.
What this means for gamers and movie fans
The combination of technologies means that BFGD monitors will, in theory, be great for both watching movies and competitive gaming.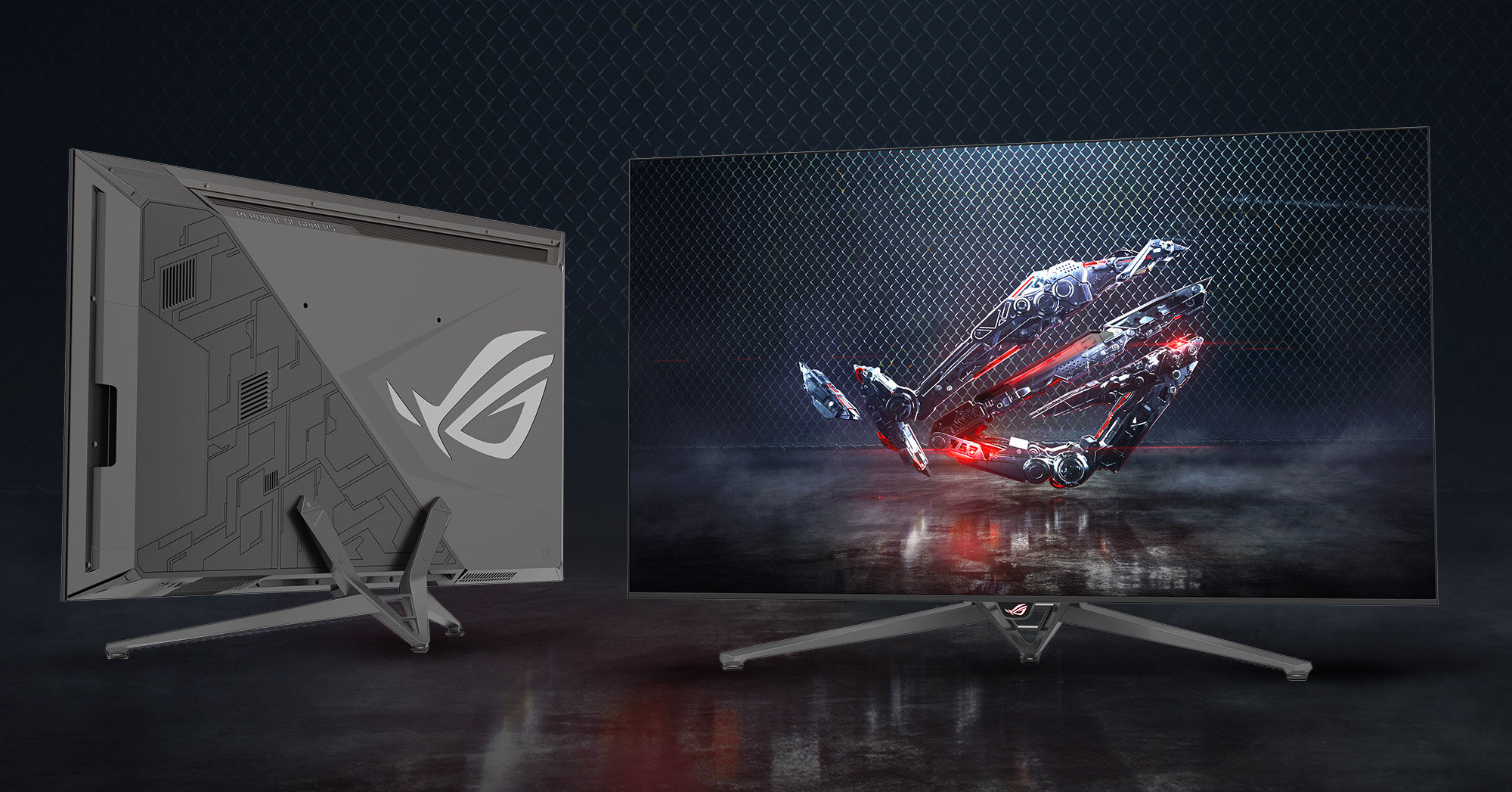 HDR10 support isn't a unique selling point, but it's awesome nonetheless. HDR TVs and monitors aim to make images, games and videos look more dynamic and lifelike by offering better contrast and superior brightness levels to their non-high-dynamic-range competitors. You can find out more about the benefits of HDR in our in-depth guide.
It's more the inclusion of G-Sync and the 120Hz variable refresh rate that are the headliner for BFGD monitors. For non-techies, refresh rate refers to the number of images a screen can render per second. A higher refresh rate means there are fewer gaps between each new animation and image.
Gamers tend to favour a higher refresh rate. If implemented correctly, it makes the screen significantly more responsive and smoother to use. This increased responsiveness also results in the monitors being able to detect and display your controller or mouse and keyboard movements faster on-screen – an advantage in reaction-focused games such as first-person shooters.
G-Sync is a nifty technology that's similar to AMD's FreeSync. For gamers, the benefits of G-Sync remain the same on BFGD monitors as they are on regular gaming displays. The tech syncs the screen's dynamic refresh rate with the GPU, to stop it jumping ahead and pre-rendering images early, thus causing screen tears and anomalies appearing when gaming.
What's unique here is the size of the panel. To date there haven't been any mainstream gaming monitors to match a BFGD monitor in size. The inclusion of the tech is doubly important for those looking for an all-in-one device that can work as a gaming monitor and lounge TV.
There are some 120Hz TVs on the market, but most remain capped at 60Hz and the refresh rates aren't variable. A locked refresh rate can affect how some types of entertainment media are displayed. TVs generally force movies, which are mastered in cinemas at 24Hz, to play at 60Hz, for example.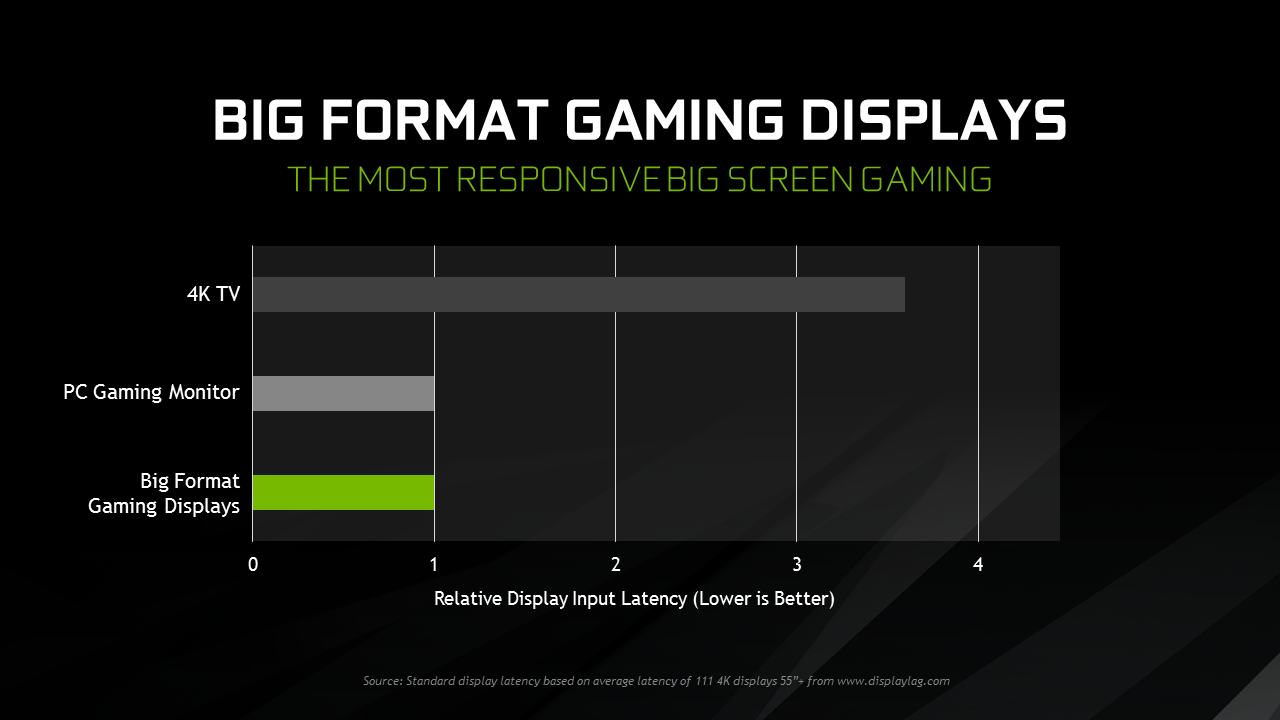 Even if they have a higher refresh rate, the forced boost can cause a number of technical issues, including motion blur and screen tearing. The inclusion of G-Sync and variable refresh rates should reduce, or even stop, such problems occuring on BFGDs by letting them manually adjust to play content at its native refresh rate.
The inclusion of an integrated Nvidia Shield further boosts BFGDs' entertainment capabilities, giving buyers access to key services including Netflix, Amazon Video and YouTube, as well as Android apps and Nvidia's GameStream.
The end result is a compelling package that could be a great choice for lounge PC gamers looking for a slick high-refresh-rate monitor that can double as a TV.
Who's making them?
Acer, Asus and HP will be the first companies to release BFGDs. Sadly, all three have been tight-lipped about the monitors' exact specifications – outside of the fact that units will meet the standards set by Nvidia.
How much will BFGD cost?
Pricing is another area where all three manufacturers are yet to reveal any information. Given how expensive cutting-edge Nvidia tech usually is, we'd suggest that you start saving now.
When will BFGD come out?
Sadly, this is another key question yet to be answered. The only hint we have so far is that "it's expected to be later this year". Helpful.
Variable refresh rate support in HDMI 2.1
The lack of a solid release date is doubly dangerous, since one of BFGD's biggest selling points – variable refresh rates – will appear on mainstream TVs when the new HDMI 2.1 standard starts to roll out. HDMI 2.1 was first announced at CES 2017, but we haven't seen any TVs sporting the tech hit the market yet.
(trustedreviews.com, https://goo.gl/nLQECS)
Comments
comments