There is always plenty of attention afforded a new games console launch, not least when it has Nintendo slapped across the front. But after the relative failure of the Wii U, it seems there are more eyes on the company's new machine – the Nintendo Switch – than ever before.
It's already dividing opinion. Some are desperately hoping it will be a huge success and that Nintendo has learned some valuable lessons from its Wii U missteps. And there are some we've encountered who seem to long for another flop, as unbelievable as that may seem.
At present, neither group will be totally satisfied with the launch of the Nintendo Switch. It has the potential to sit among the company's finest consoles – and is unique among the current PlayStation 4 and Xbox One line-up thanks to Nintendo's portable play functionality out of the box – but it also feels incomplete on day one.
The Switch does many things spectacularly well, but we think it would have benefitted from a later release. That's not stopped boat loads of people from buying the console for launch day, though, so here's what you can expect and whether it's worth purchasing now or holding back a month or three…
Nintendo Switch review: Rethinking the home console
Console, 6.2-inch 720p screen and two Joy-Con controllers included
Play on TV or play on-the-go (Joy-Cons clip onto screen for portable controls)
Grey or Neon Joy-Con finishes available
The Switch is currently defined by what it lacks, rather than what it offers. But it could well be the Nintendo comeback many hope in little time. The signs are certainly there.
There is little doubt that the Nintendo Switch is a clever, intriguing games console, even at this early stage. It re-addresses a major section of the gaming fraternity that Nintendo mistakenly abandoned last time out: families. And does so without alienating hardcore, died-in-the-wool gamers in the process.
It mainly comprises a 6.2-inch tablet-like device, with a 720p touchscreen, stereo speakers and kickstand around the back so it can be used hands-free as well as on the move. There are two mini controllers, called Joy-Cons, that clip either side when playing solo. They can also be removed and used as individual, mini gamepads for two-player games or more.
The Joy-Cons also contain motion sensors – working like smaller versions of the Wii Remote for games involving movement – and they can be clipped either side of a Joy-Con Grip to make a larger, more recognisable game controller for when the Switch is docked.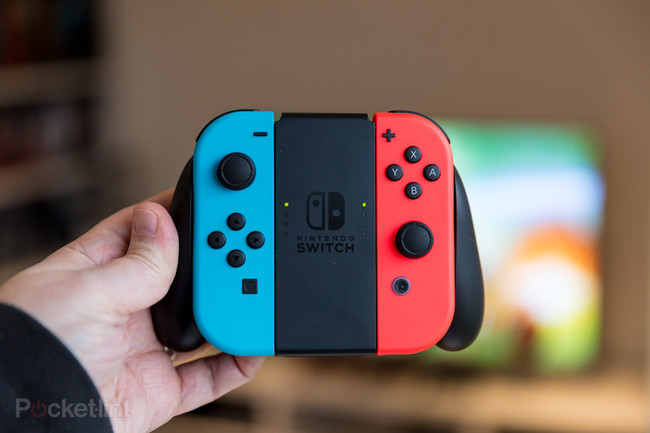 This is the Switch's coolest feature. It is not a new idea that a tablet device can be plugged into a TV for a home gaming experience, but Nintendo makes it ridiculously simple. You slide the portable console into a plastic housing, which is both powered and connected to a TV through HDMI, and your game or Nintendo front-end appears on the big screen instead.
The dock also has its own graphical hardware inside, improving the experience up to Full HD 1080p (from the 720p on the device itself). Not all games will attain that – The Legend of Zelda: Breath of the Wild maintains a resolution of 900p when docked – but when they do they should match the graphical fidelity of an average Xbox One or PS4 game.
Nintendo Switch review: Games, eShop but no apps
Nintendo eShop available on launch day
Games come on cartridges or for download
No third-party apps at launch (no Netflix, etc)
Games themselves come on cartridge or through digital download, bought from the Nintendo eShop. Sadly, at the time of writing and prior to the actual launch, the eShop was not accessible, so we couldn't access it. We've been told it will be available from day one, however, for those due to receive the console.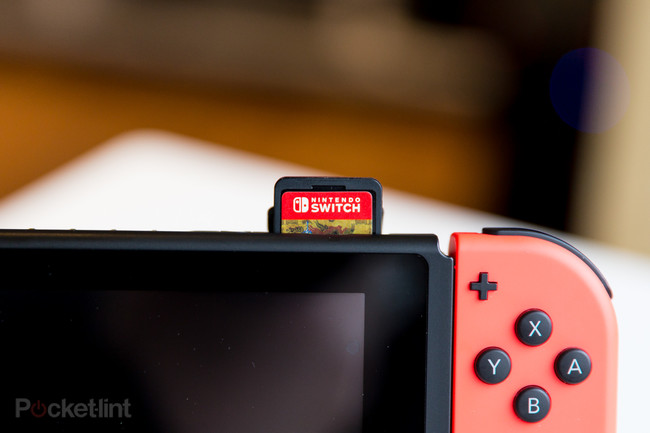 Thankfully, we do have a few cartridges to play with – Zelda, 1-2 Switch and Just Dance 2017 – so have a decent idea of how they work. They are physically tiny, smaller even than 3DS games, so you do need to be careful not to lose them. They are handy for transit though, and expanded libraries can be stored easily.
The menu system is simple and clean, with big, square thumbnails for inserted or installed games and smaller menu icons to access the store, change settings, check Joy-Con battery levels, that sort of thing. There is also a "news" section that presents the latest updates and information from Nintendo itself. This is full of tutorials and setup info when you first boot up.
You might be surprised to see that there are no video streaming apps. It's something we learned early doors, with Nintendo previously admitting their absence and saying that there is a distinct possibility they will be added at a later date. However, having a fairly chunky portable screen in your bag and no ability whatsoever to watch Netflix, Amazon Video, BBC iPlayer or any of the other video services seems dumb.
We found ourselves having to take an iPad and the Switch on lengthy travels, which is hardly ideal. We ended up with two devices in our bag – both of which capable of playing games – rather than the usual one. Admittedly, our iPad could never play the sort of games the Switch offers, it could never offer Zelda: Breath of the Wild for certain, but it does have the ability to play back the entire series of Stranger Things, Narcos and Vikings.
Yes, the Switch needs to play games well and that should be Nintendo's main focus, but gadgets are meant to simplify our lives, not make them more complicated or our bags heavier. Video streaming apps would also partly make up for the relatively few launch games. And give something else to do with the console without having to shell out much extra cash.
Nintendo Switch review: No game in the box
32GB on-board storage (microSD slot for expansion)
No game included in the box (1-2-Switch is £40/$60)
To be honest, we're not among those who think the Switch itself is too expensive. There have been several naysayers who criticise the price, but this is an all-new games console and new concept. It is priced in the same ball park as the Xbox One and PlayStation 4 when they first launched. In a world still recovering from and dealing with recession, Brexit and Donald Trump, £280 seems okay for what you get in the box.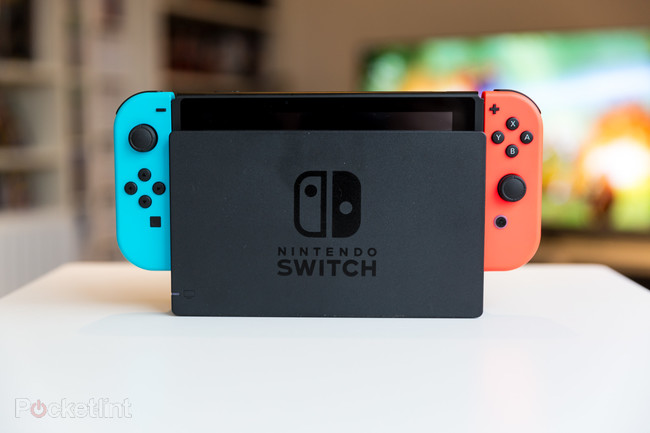 The kick in the nether regions comes with the cost of the games on top. Nintendo's first-party games have always been overpriced, we feel. They rarely get discounted by much either, with legacy titles maintaining a premium price point for years. So, £50-60 for Zelda is a mighty outlay when added on top of the price of the console. And let's face it, it's the main game everybody wants at this stage in the Switch's life (and more-or-less the only one for day one).
We suggest you cough up for a microSD card too, with at least 64GB of storage. The Switch comes with just 32GB on board – a measly amount considering the digital download version of Zelda alone takes up more than 13GB. A half-decent microSD card will cost you around £17 – so that gets added to the bill too.
Thankfully, that's it. You do not need the £65 Pro Controller or £28 Joy-Con Charging Grip. The former is a nice accessory, with a more traditional feel for gaming, but the Joy-Con Grip that comes in the box with the Switch is more than capable. It might look like a lop-sided dog's face, but it feels nice in the hand and we've spent plenty of hours playing Zelda with one comfortably.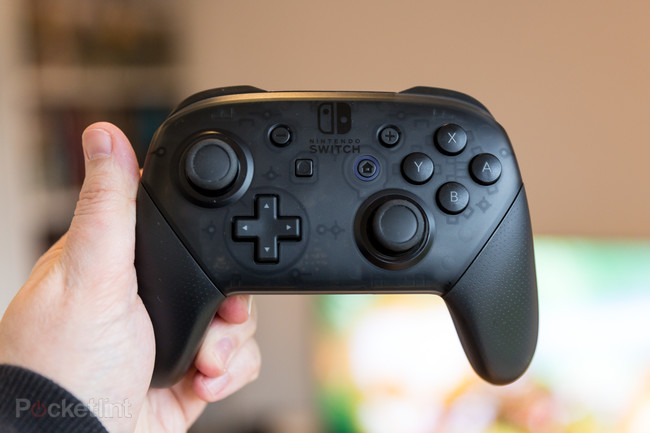 The Charging Grip is also pointless we feel. Much was said before launch about its non-inclusion in the box, but all it adds is a USB port so you can charge your Joy-Cons as you play, through attaching a wire between the Grip and the Switch dock. We just ensure we pop the Joy-Cons back on the sides of the Switch unit when we retire each day and that does the job just as capably. Indeed, it keeps them tidy.
We've never had any battery life issues with the Joy-Cons or Switch itself and we've played several hours at a time both docked and in handheld mode. Considering how expensive the Pro Controller and Charging Grip are, that will come as good news for parents especially.
Nintendo Switch review: Nintendo goes Full HD
720p maximum portable resolution
1080p maximum TV-based resolution
The Switch should have come with a game in the box though. The Wii came with WiiSports, the Wii U with NintendoLand. The Switch should have had 1-2 Switch included. Instead, the party game costs £40, which is far too much for a series of mini-games almost exclusively designed to show off the motion abilities of the Joy-Cons. We suspect it'll be added as a freebie by either Nintendo or retailers somewhere down the line.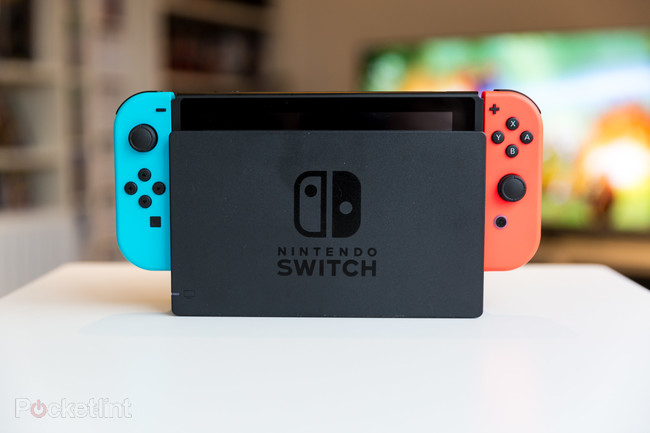 Still, that's early adoption for you and there will be plenty happy with what they already get for now. The Switch is a sturdy, robust device. The Joy-Cons look plasticky – especially in neon red and blue – but don't feel it. They feel well made and like they will last. You also get wriststraps to ensure they don't fly across the room when windmilling your arms.
The 6.2-inch screen is decent and capable of up to 60Hz (60fps) so looks great when fed colourful, smooth gameplay. We'd have liked a bit more contrast and text can look a bit too small for our aging eyes at times, but it's a more-than decent gaming window. Far better than the screen on the Wii U GamePad, for example.
Audio is a little flimsy but understandable considering the tiny speakers. To be honest, most will be using headphones in handheld mode anyway, although you do have to provide your own. Kerching!
When docked the Switch experience is as good as any rival. Yes, many Xbox One and PS4 games have better resolutions and/or frame-rates than the initial batch of Switch titles, but that's thanks to time and development experience. We have little doubt that most future titles for Switch will be 1080p 60fps too. Nintendo itself has said Mario Kart 8 Deluxe will have just that when fed to a supporting TV.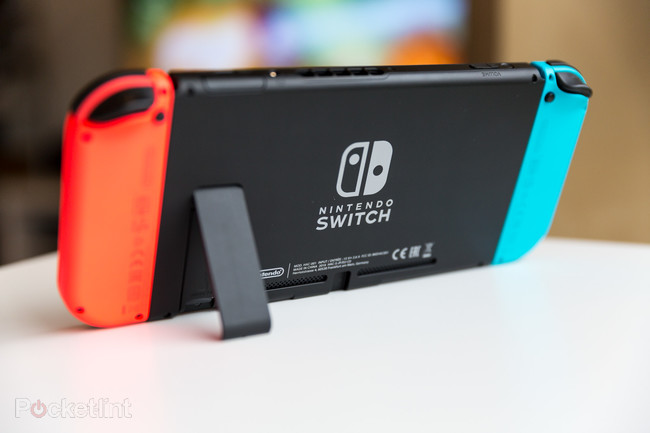 The menu system, while sparse at present, also looks nice when scaled up. And considering we've tested the Switch on 49-inch and 65-inch 4K TVs, we doubt there'll ever be an instance where the visuals look fuzzy or blocky.
Verdict
Like this review, we feel the Nintendo Switch is a work in progress. We will have to update it regularly as Nintendo pushes new features and ups the ante with its games releases (Mario is to arrive at the end of 2017, for example). In doing so the Japanese gaming giant will make its new console more relevant and exciting over time.
As it stands it already feels twice the machine when compared to the Wii U, both figuratively and literally. Being able to play the full version of The Legend of Zelda: Breath of the Wild when on the bus, Tube or in a doctor's waiting room is a delight and probably enough to sell the console on its own. And when docked it does hold its own against rival machines, albeit with a tiny fraction of the games library.
But at present, the Switch oozes potential rather than realising perfection. It is made all the more desirable by one of the best games releases in modern times, but finish the job Nintendo and your flame can burn as brightly as ever before.
The alternatives to consider…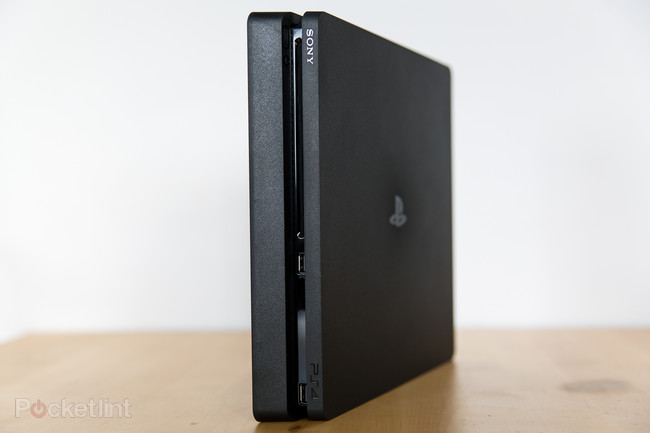 PlayStation 4
£230/$345
Sony's PlayStation 4 is by most popular games console out there. It has a massive library of games and even virtual reality support, through the optional PlayStation VR headset. However, it is not portable. For that, you'll need to add a PS Vita handheld console and even then it can only stream your PS4 games when you are connected to the same home network.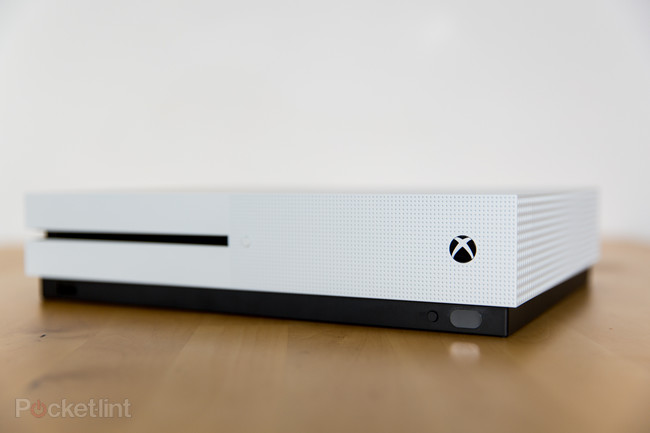 Xbox One S
£220/$330
Microsoft's machine is by far the best media player among the home consoles. It has apps for just about every streaming service you can think of. It is the only one that can also double as a 4K Ultra HD Blu-ray player, with HDR (high dynamic range) support too. There are just about as many games as available for PS4, but no VR support.
(pocket-lint.com, https://goo.gl/aPjbpU)
Comments
comments