PROS
Very fast speeds at long range
Easy setup
Consistent coverage
Much faster performance than WiFi extender
Single SSID makes managing connections easy
CONS
High upfront cost
Modest feature set for power users
Not the fastest router when in close range
KEY FEATURES
Tri-Band Wi-Fi
802.11b/g/n/ac, 2.GHz, 5GHz support
Two routers in one for better coverage
Dedicated 5GHz band for backhaul
Total of seven Ethernet ports
Single SSID
AC3000 speeds
Manufacturer: Netgear
Review Price: £350.00/$525.00
WHAT IS THE NETGEAR ORBI?
The Netgear Orbi is a new spin on the home Wi-Fi router, designed specifically to stretch Wi-Fi coverage further than any normal router can manage.
It achieves this because it's essentially two routers in one, with the second unit acting like a glorified Wi-Fi extender. However, there's no head-scratching setup routine or disappointing performance as is likely with most Wi-Fi extenders. Here you get blazing-fast Wi-Fi and a totally effortless setup – it's the future of Wi-Fi, for a price.
NETGEAR ORBI – FEATURES AND SETUP
The secret to the Orbi is that it consists of two units, each of which is a fully fledged tri-band router. That is, each router has several Ethernet ports and USB ports, and each has one 2.4GHz Wi-Fi band and two 5GHz bands. Such tri-band routers are nothing new – although it's still quite a high-end feature – but it's what the Orbi does with them that's the key.
It dedicates one of those 5GHz bands solely to communication between the main router and the satellite router. This wireless backhaul largely eliminates the main problem associated with conventional Wi-Fi extenders, whereby they rely on a single band to communicate both with the router and any devices connected to the extender. This greatly reduces the speed at which the extender can work and is largely why extenders should be considered something of a last resort.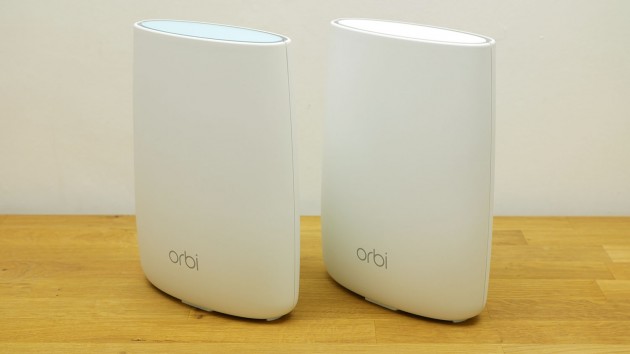 It is possible to add further satellites to the Orbi system, although the returns will be diminishing after a point as the system starts to run out of separate dedicated Wi-Fi bands to communicate between the routers.
The other vital element of the Orbi is that it uses only one SSID (the Wi-Fi connection name), rather than having separate ones for each Wi-Fi band.
Again, that's nothing new per se – it's generically known as band-steering and is often called Smart Connect – but when combined with a tri-band, multi-router system it completely takes the headache out of what could be a complicated and frustrating setup.
With the Orbi, setup is as easy as plugging the main router into your broadband modem (there's no modem included here) and powering it on. Then you place the satellite where required and turn it on. The two will automatically find each other and, after only a few seconds, you'll be ready to connect and login to the router.
The idea is that you place the main router somewhere convenient, close to where your internet connection enters the house – as you would with any normal router. The satellite router is then placed somewhere more central.
So, for example, if you have a three-storey house then you'd have the router on the ground floor, often next to one side of the house, then the satellite in the centre of the middle floor from where it can reach the rest of the house.
There are other Wi-Fi solutions that work in a similar way to the Orbi system, with several routers used to spread the load of the network. There's Ubiquiti's Amplifi HD Home, Luma Home and Eero, for instance. However, none of these are tri-band with a dedicated 5GHz band for backhaul. Nor is each router as powerful, or do they include as many features or offer as many customisation options.
NETGEAR ORBI – DESIGN
The Orbi router and satellite are identical: tall, white units with an oval profile and soft-touch white finish. It's a far cry from the angular, aggressive styling of Netgear's Nighthawk range of high-end routers, such as the Nighthawk X4S R7800.
This more friendly design is in some ways more practical, too. With such a small footprint and no external aerials getting in the way, the units can sit unobtrusively on a windowsill or shelf.
The downside is that raw performance won't quite match some hefty routers with external aerials simply due to the Orbi units' six antennae being squeezed inside a much smaller space. But the main goal here isn't maximum performance but consistent, more far-reaching performance.
Atop the units is an oval ventilation opening from which a ring of light is emitted. This glows magenta, blue or white and flashes occasionally to indicate the status of each unit. You get no other feature-specific lights, though, so diagnosing a problem isn't quite as straightforward as looking at a flashing light – like it is on some routers.
Round the back of the router is the modem input (WAN) and three more Ethernet ports for connecting whatever wired devices you may have. There's a USB connection that can be used to share printers or files from USB drives – it's only USB 2.0, though, which will limit file-transfer speeds as compared to routers with USB 3.0.
Finishing things off are the power button, power connection and reset button. It's always good to see a dedicated power button, rather than having to rely on pulling the plug; it makes it easier to fulfil the IT technician's first rule – try turning it off and on again.
Turning to the satellite, it's essentially identical but the WAN socket is a normal LAN Ethernet, so you get four sockets in total. All are Gigabit Ethernet, rather than the slower 100Gbps you get on some cheap routers.
NETGEAR ORBI – MENU AND SETUP
One area where Orbi sets itself apart from several other multi-router Wi-Fi systems is with regards to the customisation on offer. Here you setup the routers by logging into a browser, just like on any normal router, and once in you can adjust many of the settings you'd expect.
These include being able to turn either unit into a conventional Wi-Fi access point, add parental controls and block access to websites or to specific users, as well as configure static routing, VPN, and port forwarding. Plus, there are advanced Wi-Fi features such as beamforming and MU-MIMO.
Before you dive into those settings, there's a clear and simple guide that runs novice users through setting an admin password and Wi-Fi name and password. Then you're greeted by a basic menu that provides access to the core wireless and internet settings, along with some parental controls and a list of connected clients and their IP addresses.
Jump into the Advanced section and you get all the extras, although one thing you simply aren't allowed to do here is to turn off band steering. Most routers that offer this capability provide an option to separate the bands out – in case you want to manually connect only certain devices to certain bands – but here this simply isn't possible.
NETGEAR ORBI – PERFORMANCE
Networking
Given the Orbi is aimed at those with larger houses, I tested the Orbi in my usual two-storey house test environment and in a different, three-storey home.
For the first test, I set up the router in the ground-floor front room, where the internet connection enters the front of the house. Wi-Fi speed is then tested at 2m from the router with direct line of sight, then in the rear kitchen where it's about 5m away, with one brick wall in-between.
Finally, we move up a floor to a rear bedroom that's approximately 10m away and with two brick walls and one wooden floor in between. We positioned the satellite in the middle of the first floor.
For the second test we set up the router on the ground floor towards the front and side of the house, and again positioned the satellite in the middle of the first floor. We then tested in a rear first-floor bedroom and two of the top-floor bedrooms.
With a basic router there normally isn't reliable coverage on these top floors, while the most powerful conventional routers only just reach.
We've compared to several high-end conventional routers in our first test, but only to the Netgear R7800 in the second test – it's about as fast as you can get for a conventional dual-band router.
Starting with the first test scenario, the Orbi didn't set any new speed records for the shorter range tests, but kept in touch with typical high-end AC routers.
This is partially down to the fact that you can't disable band-steering on this router. We've found that this feature tends to reduce maximum performance compared to separating out the bands and connecting to them manually. So those seeking pure performance will want to look elsewhere.
However, once we got to the furthest test in our first scenario, the Orbi really showed what it can do. While most routers have dropped to around half their maximum pace by this point, the Orbi was still maintaining almost full speed, at least for downloads – the weaker Wi-Fi transmitter of the laptop struggled a little more for upload speed.
Moving on to the second test scenario, this is where the Orbi came into its own. While the R7800 did manage to stretch its connection to the top floor, it took noticeably longer to connect, and speeds were far more variable.
With the Orbi, however, the connection was rock-solid and speeds were dramatically faster. In particular, in the most demanding, furthest-reaching test the Orbi was four times faster than the R7800. Meanwhile, even in the shortest test the Orbi was twice as fast.
USB
Sadly, USB sharing wasn't enabled at the time of writing so we weren't able to test how easy it is to setup or how fast it is. However, Netgear says the ability will be arriving in a later firmware update.
SHOULD I BUY THE NETGEAR ORBI?
The Netgear Orbi is undoubtedly a fantastic Wi-Fi solution for large homes struggling with Wi-Fi coverage. It's incredibly easy to set up and provides markedly faster performance than any single router at long range. It's an expensive option, but if you simply haven't been able to find another Wi-Fi solution that works then the Orbi is worth a try.
What's more, it isn't expensive when compared to other mesh-style Wi-Fi solutions. Most cost in the region of £350 for a two- or three-router package, and none offer the same speed and features as Orbi.
However, for those with smaller homes it's unlikely you'll take advantage of what the Orbi can do, except when venturing to the bottom of the garden, so you'd be better off buying a more conventional, powerful dual-band router.
Likewise, if you're looking to connect up your Wi-Fi to a distant outhouse or garden office then you're probably better off trailing a wire to the building and installing a conventional Wi-Fi access point.
VERDICT
The Netgear Orbi is the future of Wi-Fi for large homes. It's expensive but it delivers where it counts.
(trustedreviews.com, https://goo.gl/y2Gc7f)
Comments
comments