PROS
Very fast 5GHz speed
Comfortably extends 5GHz
Tidy design and easy interface
CONS
2.4GHz speed is disappointing
A touch pricey at time of review
KEY FEATURES
Up to N300+AC867 Wi-Fi speeds
Power-off switch
WPS, push to connect
1 x Ethernet port
Extend both 2.4GHz and 5GHz simultaneously
Manufacturer: Linksys
Review Price: £60.00/$90.00
WHAT IS THE LINKSYS RE6400 AC1200 BOOST EX?
The RE6400 is a dual-band Wi-Fi extender that can be used to improve the range of your existing Wi-Fi network. Just place it between your router and the area where your router struggles to reach and it will bring the Wi-Fi with it.
Supporting maximum Wi-Fi speeds of 867Mbps using the 5GHz band and 300Mbps using 2.4GHz, it's among the faster extenders (in terms of theoretica maximum speeds) currently available on the market.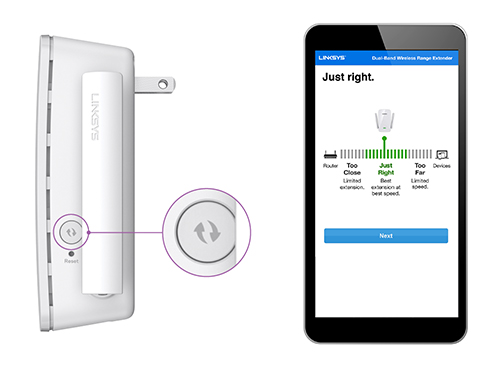 LINKSYS RE6400 AC1200 BOOST EX – DESIGN AND FEATURES
This is a smart-looking device with a white plastic finish. It's quite large, though, with dimensions of 21 x 16 x 9cm. It also has a couple of aerials sprouting from its sides, which rotate and splay outward, allowing you to optimise their position for the best signal.
A single strip of light on the front indicates the device's status, glowing green if all is well and variously flashing green, orange or red depending on what's going on. Most usefully it shows solid green, orange or red to indicate if it's within range or getting too far from the router whose range you're trying to extend. This, in theory, theory makes it easier to find the optimal position for the extender.
On the left side is a WPS button for easy one-touch connection of the extender to your router. Here there's also a power switch that can be used to turn off the extender – a slightly more convenient way to save power than unplugging the whole unit.
A single Ethernet socket can be found on the bottom of the unit, which can be used to connect wired devices to your network. This will prove handy if you have an older network printer or a desktop PC nearby, since it makes for one less device congesting the Wi-Fi. It also means you'll get faster overall speeds since there'll be no loss of performance from the extender to a device plugged in over Ethernet. I also like that the socket is on the bottom, since it makes it easy to keep cables tidy.
LINKSYS RE6400 AC1200 BOOST EX – SETUP
Setting up the RE6400 is a cinch. Just plug it in and hit the WPS button on the extender and your router. Once the two have paired, you'll be ready to roll.
Almost, anyway. To actually enable extension of both the 2.4GHz and 5GHz bands of your Wi-Fi you'll need to connect to the new network then browse to http://extender.linksys.com. From here you can enable the second band and change the network names and passwords.
Using the light on the front it's easy to determine if the extender is close enough to your router for a strong connection. However, as with many previous extenders I've tested, I found it was necessary to get the extender to just the point at which it tipped from green to amber to significantly out-range the router.
In fact, this is a key issue with extenders in general: you need to set them up in a fairly narrow sweet spot for them to be effective. As such, it may be necessary to trail a mains extension cable or put in a new socket to get the device setup properly.
In this regard, Powerline adapters can be a better option for extending Wi-Fi, since they can work over a much longer range.
LINKSYS RE6400 AC1200 BOOST EX – PERFORMANCE
To test the RE6400, we had it positioned around 10m from the router with two brick walls in between, right at the point before its front indicator light turned from green to amber. The test laptop, equipped with an AC1900-capable Wi-Fi adapter, was positioned a further 8m away from the extender.
At this range the router would occasionally drop connection, particularly using the laptop's weaker onboard Wi-Fi. However, due to the variable nature of Wi-Fi, it was consistent enough that we were able to run full-speed tests.
The results? Without the extender our router managed 34.5Mbps using 2.4GHz and just 2.8Mbps using 5GHz, which is as expected; although 5GHz can be faster overall, 2.4GHz has greater range.
Connecting to the RE6400 and the 2.4GHz speed actually dropped to 20.1Mbps, while at 5GHz it leapt to 71.4Mbps – rather proving the point that Wi-Fi extenders can be slightly temperamental when it comes to finding an optimal position for them.
These figures compare well to rival extenders of this calibre. I've only tested one other extender with exactly the same setup – all the other extenders in our Best Wi-Fi Extender roundup were tested with a different router – and it achieved figures of 27.1Mbps and 61.9Mbps. Slightly more consistent than the Linksys, but with a lower peak 5GHz speed.
SHOULD I BUY THE LINKSYS RE6400 AC1200 BOOST EX?
The Linksys RE6400 is a very capable Wi-Fi Extender that offers an easy setup procedure, good range and fast peak performance.
Priced at £60, it's definitely a touch pricey, with the likes of the BT 11ac Dual-Band Wi-Fi Extender 1200 offering similar performance for around £40. However, it's well worth considering if you can find it for a slightly better price.
VERDICT
A fast, easy-to-use Wi-Fi Extender, the Linksys RE6400 is well worth considering – but it could do with dropping to below £50/$75 to be really price competitive.
(trustedreviews.com, http://goo.gl/NVZt6g)
Comments
comments