Key Features
Review Price: £399/$598.5
Optional motion controllers
110 degree field of view
Two 2.9-inch, 1440 x 1440 LCD lens
Windows 10 Creator's Edition compatible
Hands-on with Lenovo's Explorer Windows VR headset
Microsoft unveiled its VR and augmented reality aspirations last year, but it's only at IFA 2017 that we've started to see them in the flesh. Pretty much every PC maker under the sun is now launching a headset designed for Windows.
The latest Lenovo's Explorer, which from what little I've seen looks like it could be one of the coolest and simplest-to-use VR headsets out there.
Visually the Explorer is pretty similar to the established Oculus Rift and HTC Vive VR headsets. Outside of being slightly smaller and lighter, it has optional motion controllers that look incredibly similar to those for the Oculus Touch. Even the joystick and button layout feels the same.
Up close you'll notice a few small design changes. For starters, Lenovo's tweaked the design to make it so you can flip the headset's visor up without taking it off. This may sound small, but it's a welcome addition that makes it easy to quickly pop in and out of VR when someone asks you a question or you need to get your bearings after a prolonged playing session.
More importantly, though, unlike the Rift or Vive the Explorer doesn't use external sensors to track its wearer. Instead it utilises two front-facing cameras and IME sensors in the headset and controllers. The front cameras are used to scan the area around the wearer and then use the algorithms Microsoft originally created for HoloLens for location locking and positional tracking.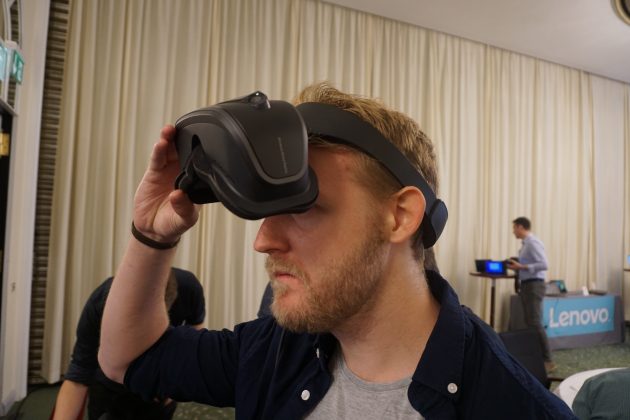 In theory this should offer a variety of benefits. The setup should stop you from ever hitting a sensor black spot when in VR, which was a common occurrence on the Oculus without a third rear-facing tracker, as the cameras will always move with you. The IME sensors between the motion controls and headset also act as a fallback mechanism, should the headset ever lose the controller's main position – say when you try to reach for something on your back in a game.
Sadly the motion controllers weren't working during my demo and I was stuck using a regular Xbox One controller, so I can't comment on how well the tech works, but it's definitely an interesting approach to VR.
The change should also make it quicker and easier to set up the Explorer without having to use all your USB 3.0 ports, or manually pull cables across your living room while placing external sensors.
A Lenovo rep told me that, to further streamline the experience, the headset doesn't require any specialist software to be installed. Once you connect the headset to a Windows 10 machine using the single HDMI and USB cables, it should auto run an in-built 'Cliff House' launchpad set to be released during the Windows 10 Fall Creators Update. The launchpad will reportedly have virtual rooms for different activities, ranging from gaming and checking out 360 videos to productivity applications, like Excel.
I didn't get to see any of this during my demo and was instead treated to a single whip around the VR game Space Pirate Trainer.
The headset's twin 2.9-inch LCDs performed admirably during my demo and have the same 110-degree field of view as the Oculus Rift's OLED screen windows. The graphics looked sharp and the framerate was wonderfully smooth and judder free. My only slight quibble would be that colours didn't appear quite as vibrant as I remember them being on the Rift, but until I can test them head-to-head I can't confirm how big a disparity in quality there is between the two.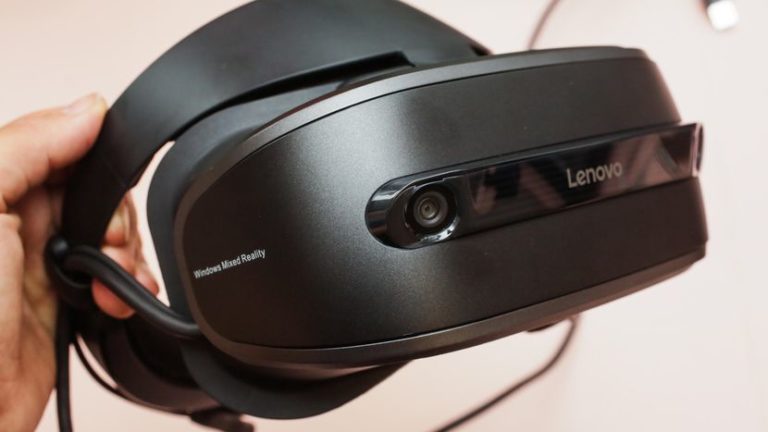 Technically the headset also has lower system requirements than the Vive or Oculus and, like all Windows 10 VR headsets, will be able to run some experiences on cheaper devices without a dedicated GPU. But be warned, these will be very limited experiences and won't include high-polygon-count games, like Space Pirate Trainer, which will still likely require at least an Nvidia GeForce GTX 1060 to run, though Microsoft hasn't actually confirmed this.
My only minor issue with the Explorer is that it doesn't feature built-in headphones. Though some people may prefer to use their own gaming headset for it, the fact that there isn't a pair in the box is a bit of a faff and means gamers will have to experiment to find a suitable-sized set to work with the Explorer. If my experience with the PlayStation VR is anything to go by, not all will.
Opening impressions
From what little I've seen, the Explorer has the chops to be a great headset that could really help launch Microsoft's big Windows 10 Creators Update VR push, when it arrives later this year.
My only concern is its slightly hefty £399/$598.5 price. With the Rift and Vive dropping in price every other week, the Explorer may not offer enough value for money to pull buyers away from the more established platforms or persuade VR newbies to try out the new tech.
(trustedreviews.com, https://goo.gl/TMiRyf)
Comments
comments