Two Months with the HyperX Angry Sea Clam Cloud Revolver Gaming Headset
My love affair with the new Cloud Revolver headphones from HyperX didn't start off well, but we'll get more into that later.
After a serious amount of research and more than a few unboxing videos, I was practically drooling at the thought of getting my hands on the HyperX Cloud Revolver Pro Gaming Headset. For me, the edgier style and bigger ear size of the Cloud Revolvers put them ahead of the well-loved HyperX Cloud II's.
So I headed over to Amazon and managed to grab myself a pair on sale for £90 ($118 / €107) with next day delivery. 24 hours later I grabbed the package off the postman like a rabid dog and scuttled back inside to open my package… my precious… my Cloud Revolvers…
Placing the crown headphones upon my head, I felt the soft cushioning embrace of premium leatherette against my cheeks and immediately opened up my steam account to test these bad boys out. When the love affair ended, was an hour later when I felt like my head had been clamped by the angriest clam in the sea. The more I wore the headphones the angrier the clam became.
Like all good love stories I wasn't ready to give up on the Cloud Revolvers yet… See the image above? That's act one of  trying to loosen the Angry Sea Clam's deadly grip.
Let's take a look at the Pro's & Con's of the HyperX Cloud Revolver before I go in-depth on how to kill the angry sea clam adjust the un-adjustable Cloud Revolver headset.
Cloud Revolver starts at… UK : £95 | EU : €135 | US : $145
Pro's
Fits over my massive ears
Super Comfy (post: Kill the angry sea clam)
Fantastic Sound-stage
Excels at Gaming & Music
Great build quality
Packaging Heaven
Con's
Twangy Metal Support
Non-detachable headphone cable
Sound travels up the braided cable easily
Clamps your head (Pre: Kill the angry sea clam)
Medium Gaming Bass (easily fixed with EQ)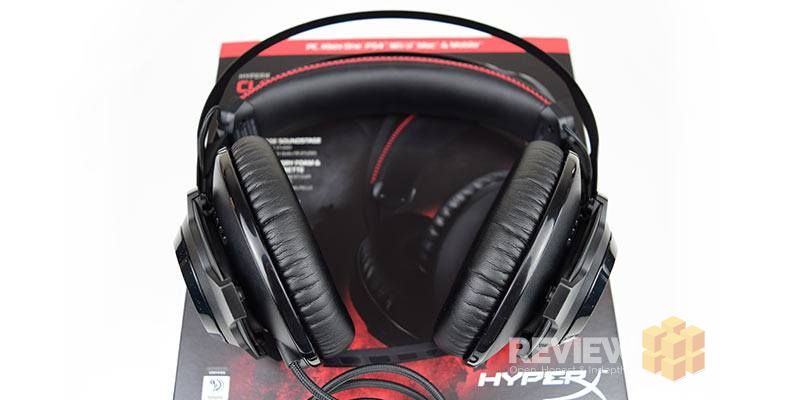 Design & Build Quality
When you first pick up the Cloud Revolvers you get a real sense of the craftsmanship that has gone into making these headphones so great. They aren't the lightest at 365g but this only adds to the feeling that there's some serious drivers inside, you won't find any weights in these headphones coughbeatscough.
Now, although I prefer the Revolver's design over the Cloud 2's, you wouldn't catch me wearing these outside the house… in the 'real world'. Everything that makes the design great indoors makes you look like a Star Trek extra outdoors. But that doesn't matter because there a much better choices for on the go.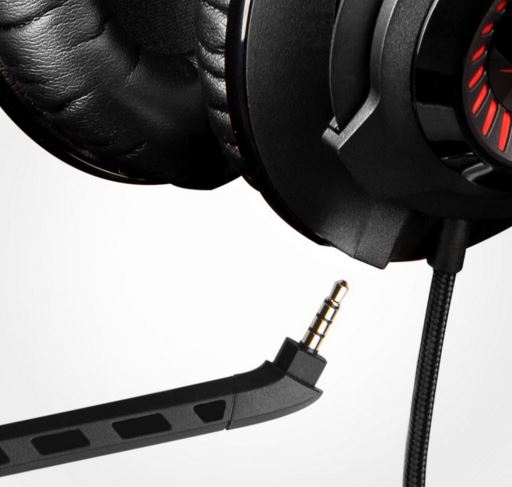 The metal suspension bar that rises over the headphones is pretty much indestructible but does have the downside of acting like a tuning fork if you accidental knock or adjust the headband. Whilst gaming at a computer, this isn't a problem, but if you are planning to walk around the occasional 'twang' can be quite distracting.
HyperX Craftsmanship wins again
An impressive aspect of the Cloud Revolver headset is the minimal noise leakage. With the headset on, it creates a  nice seal around your head that keeps leakage very low, even at high volumes.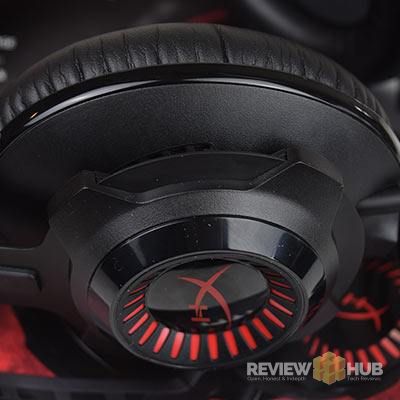 A slightly unexpected downside to the Cloud Revolvers is that the metal support band can be a little dangerous. Although there aren't any rough edges it's still not wise to be waving them around near your expensive monitors.
Overall, I'm a big fan of the Cloud Revolver design, the edgier gaming style, to me, feels more contemporary when compared to the Cloud II . The one big downside, for me, is the unexpected noise produced by the metal headband as well as how easily noise travels up through the cable and into the left ear cup. I'm going to look at fixing this with some carefully placed black elastic bands.
Comfort
Why am I discussing Comfort before Sound Quality? Because no matter how great a pair of headphones sound, if my ears feel like they've been bitten by the angry sea clam after an hour then they can go straight back to the shop.
Straight out of the box, they Cloud Revolvers feel great, everything you would expect from a full over ear premium set of headphones. But, a big but here, after around an hour of wearing the headset my ears were burning and the side of my cheek ached.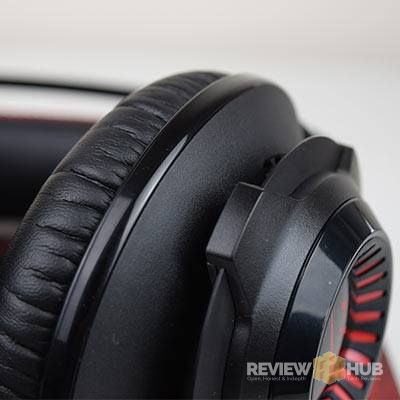 I'm pretty sure that I'm not some giant headed blogger which means that others must be feeling the same way about the non-adjustable tight Cloud Revolvers. As the headphones are full over ear they rest from above your ear to the side of your jaw. Too much pressure on your jaw soon becomes very uncomfortable.
The way the Cloud Revolvers exert pressure means that the bulk of the force ends up on the lower half of the headphones, mainly your jaw. I think the rave reviews about these headphones comfort must have come from either tiny headed tech enthusiasts who didn't wear the pair for more than 5 minutes… well I hope so or I'll have to admit I have a freakishly large head.
Adjusting the Cloud Revolver Headband for comfort
Fear not though fellow tech enthusiasts… through bravery and testing I have developed a very scientific way of adjusting the Hyper X Cloud Revolver Headband!
Disclaimer: Be careful when trying step 3 as you may overstretch the bar.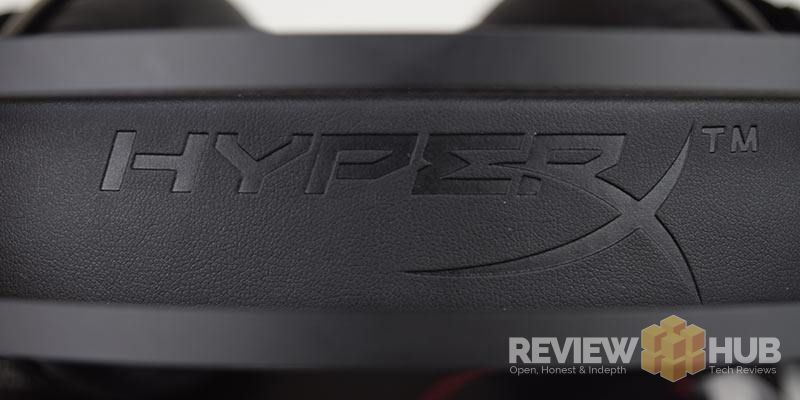 First of all, you will need a 200ml Graduated Cylinder, a Bunsen Burner, and a Gauze mat. Just kidding!
First, I stretched the headphones over the box and left for 24 hours. The headphone sprang back to their original shape and the indestructible headband laughed at me.
Secondly, I tried heating the bar with a hair-dryer until too hot to touch and then leaving them stretched over the box until cool. This did nothing. The indestructible headband laughed at me even harder.
My third attempt was more drastic. Placing the headphones upside down over my knee, I pulled the headphones down until the headband became straight, then slightly past straight. Releasing the headphones you could see the gap between the two ear muffs had increased around 5mm. I tried the headphones on and repeated until the clamping pressure on my head felt right.
Post Angry Clam Cloud Revolver Comfort
Now that I've adjusted the headband tension these are some of the comfiest headphones I've owned. Fully covering my big ears and gently resting on my cheeks and head.
I made out like adjusting the headphones was an epic mission but if you skip straight to step three then you'll easily be able to lessen the clamping force for your Cloud Revolvers as well.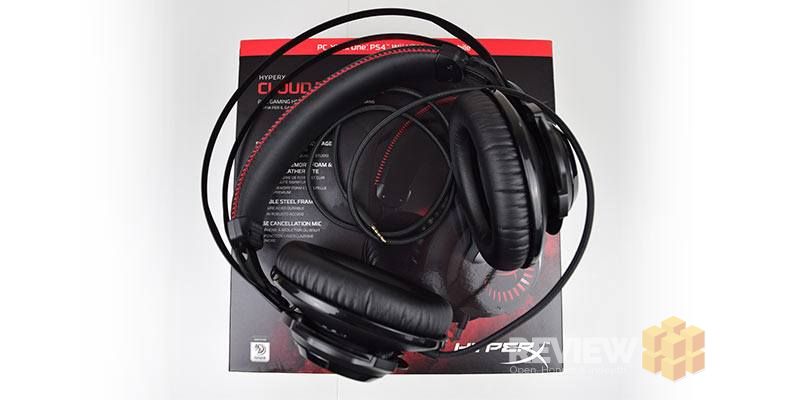 Sound Quality
Overall the cloud Revolvers sounds fantastic. If you've ever tried the Cloud II headset then you'd know that we were expecting great gaming audio from the Cloud Revolver.
I tested the headphones using a variety of high-quality FLAC music titles, lots of FPS games and a selection and high-quality film trailers.
Straight out of the box, the Revolvers produce a really clean soundstage. You can hear each instrument separately which at first is a little distracting as you get used to it sounds fantastic. I was surprised at how well these headphones worked for listening to music without being overpowered by bass.
One area where the Cloud Revolvers won't WOW you straight out of the box is in the Bass department. The unequalised Bass sounds earthy and guttural but is, in my opinion, still a little lacking. This isn't an issue though as the free 7.1 software from Razer improved the Bass two-fold.
Razer Virtual 7.1 Surround Sound Software
If you haven't already then go get yourself a free copy of the Razer 7.1 software. It massively improved the Cloud's Bass whilst generally making everything sounds more epic as well as giving a 7.1 effect.
Make sure to turn the setting off when listening to certain genres of music as it can sometimes muffle the treble on voices.
Razer Virtual 7.1 Surround Sound Free
Overall Sound Quality
Music and gaming audio is very much down to personal preference and taste but, for me, I absolutely love the Cloud Revolvers. Admittedly I haven't had my hands all that many headsets. What appeals to me about the Clouds Soundstage is the clarity between the different in-game sounds which really draws you into the action.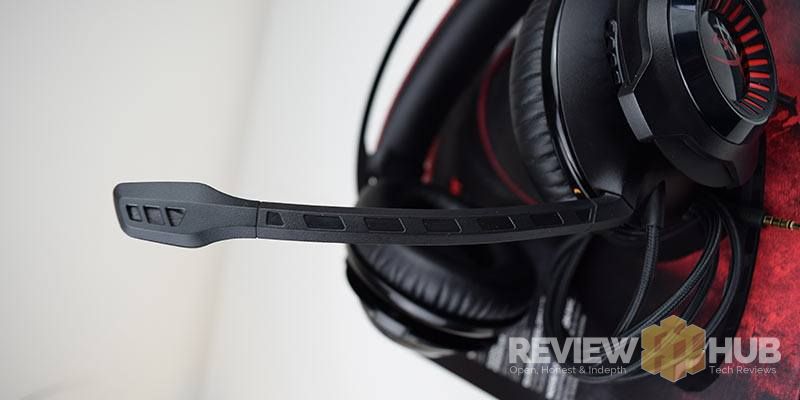 Removable Microphone
The microphone does a good job of picking up the full sound of your voice. Often headset microphones tend to make you sound flat but the Cloud Revolver microphone does a good job of keeping a realistic amount of Bass when recording.
The microphone is detachable and adjustable via bending it towards your face. In practice, it will often bend back and take quite a few tries to get it to stick. It takes a standard 1.5mm jack so can be easily replaced or swapped out.
Microphone Technical Specifications
Element: Electret condenser microphone
Polar pattern: Uni-directional, Noise-canceling
Frequency response: 50Hz–18,000 Hz
Sensitivity: -40dBV (0dB=1V/Pa,1kHz)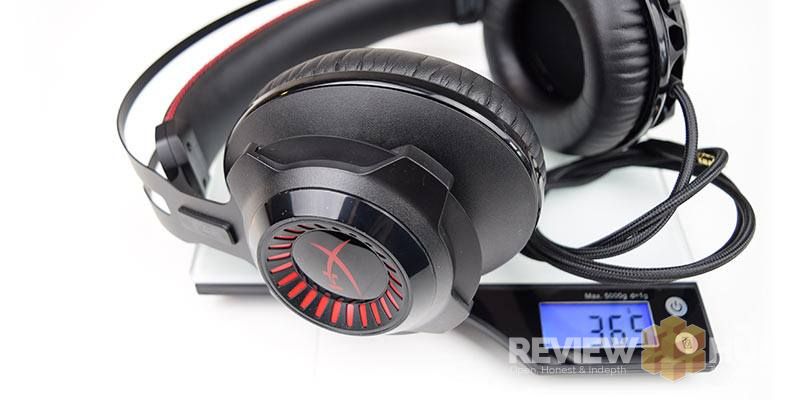 For the Geeks
HyperX Cloud Revolver Technical specifications
Driver: Dynamic, 50mm with neodymium magnets
Type: Circumaural, Closed back
Frequency response: 12Hz–28,000 Hz
Impedance: 30 Ω
Sound pressure level: 104.5dBSPL/mW at 1kHz
T.H.D: < 2%
Input power: Rated 30mW, Maximum 500mW
Weight: 360g
Weight w/ mic and cable: 376g
Cable length and type: Headset (1m) + Audio Control Box (2m)
Headset Connection: 3.5mm plug (4 pole)
Audio Control Box: 3.5mm stereo and mic plugs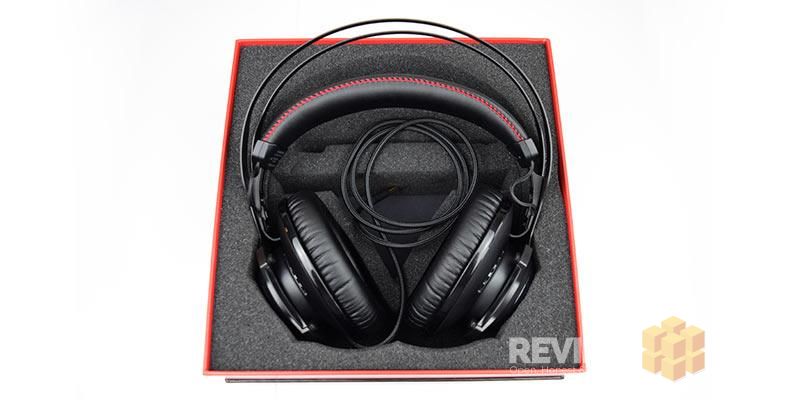 What's in the epic box?
HyperX know how to make great packaging, a subtle slice of red protruding from all black box with the grey HyperX logo giving hints of the subtle craftsmanship that lies within. The cardboard is dense and premium with that almost air-tight seal making you work to get to your hard earned prize.
Surrounding this is a cardboard sleeve, teasing your tech mind with with words like "Studio-Grade Soundstage" and "50mm Directional Drivers".
Inside you'll find: 2 Meter – 1.5mm Jack controller with Volume & Mute, Cloud Revolver Headset, Instructions & warranty leaflet and a secret message written inside the box.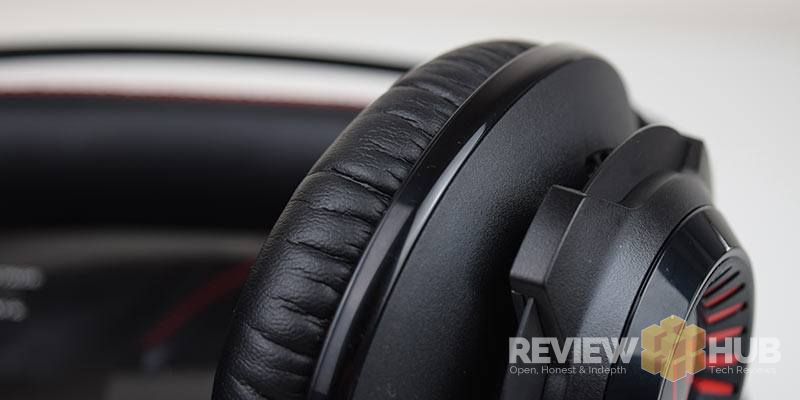 Final Thoughts
I've been using the Cloud Revolver headset daily for the last 2 months and wholeheartedly say I can recommend this headset. It's not cheap, and it does have it's flaw (mainly the twangy headband) but when sat at a desktop or gaming laptop these go unnoticed.
Follow my instructions above and you'll have yourself a super comfy, perfectly adjusted set of headphones that will not improve your game but allow you to hear your music in all its glory.
Cloud Revolver starts at… UK : £95 | EU : €135 | US : $145
(review-hub.co.uk, http://goo.gl/r70XVK)
Comments
comments