Casio recently celebrated the 20th anniversary of the MR-G family of top-grade G-Shock watches. The MR-G, or "Mr. G," as Casio's Japanese contingent calls it, is another member of the exclusive "high-end quartz" club of watches that I am personally sympathetic to. The story of the MR-G is part engineering, part marketing, and all passion from the dedicated designers at Casio who make durable G-Shock watches. The MR-G has come in a range of versions in its 20-year lifespan, but the MRGG1000 model collection, that includes the reference MRGG1000B-1A, is the first Casio MR-G watch to be officially sold in the US.
Ever since I went hands-on with the Casio G-Shock MRGG1000 back in 2014 when they were introduced, I wanted to review one. Given the price and the amount of engineering that goes into them, these are decidedly niche watches, but ones that will satisfy their owners fully. That is assuming, of course, the owners are not only ultimate gear and gadget lovers, but that they have the disposable income and style sense to invest a few thousand dollars into an uber-G-Shock with an all analog dial.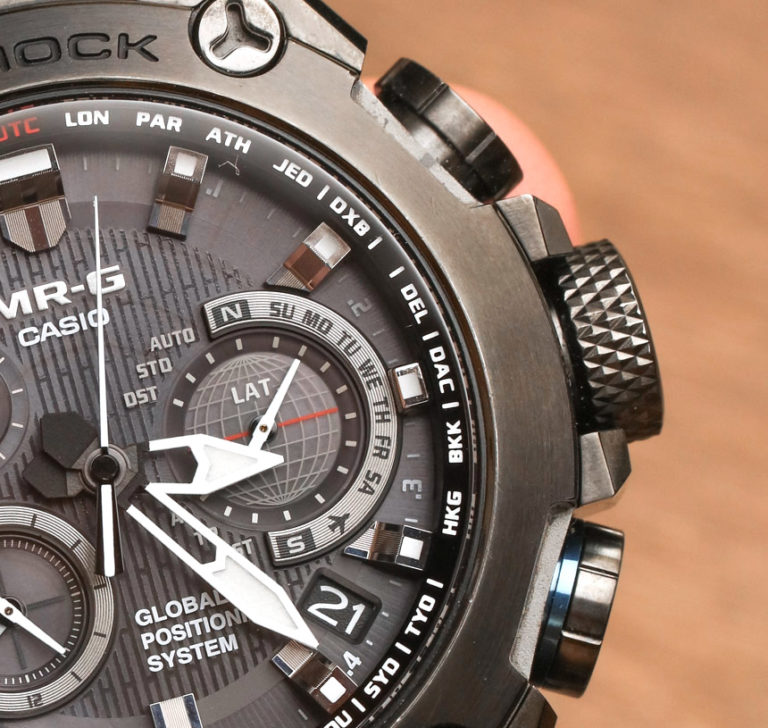 All four years of high school, I wore a Casio G-Shock watch. What I valued in my G-Shock at the time was its durability, high-functionality, easy legibility, comfort, and cool looks. It probably cost about $200 at the time. It's actually interesting to think about how inflation really hasn't affected the price of G-Shocks. Anyway, at the time not only did I not know there were several-thousand-dollar Casio G-Shock watches available, but if I was told there were, I could have never guessed what went into them. I've clearly come a long way since then, but throughout my review of the Casio G-Shock MR-G MRGG1000B-1A I kept asking myself, "what would the teenage version of me think about this watch?"
Teenagers clearly aren't the target demographic for these watches, so why is that important? Casio obviously wants a youthful crowd wearing its timepieces, but model families like the MR-G are meant for people who grew up wearing digital G-Shock watches are supposed to graduate to once they get older and more mature. With that said, if I had one semi-negative thing to say about the MR-G, it would be that despite how awesome it is, it still isn't a G-Shock that will look elegant on the wrist or formal. In other words, while there is definite fashion utility to it – this isn't a watch to wear on a date. No, not yet, Casio… but you have still managed to produce yet another super-tool watch that won't have to try hard to make other men jealous who don't have one.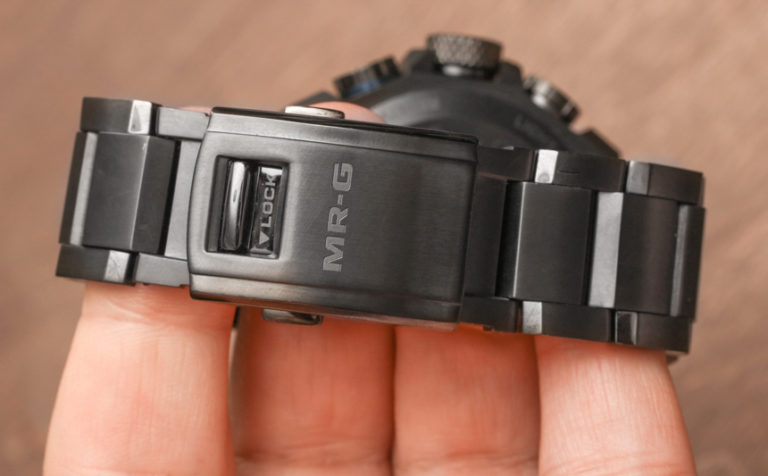 There is so much to say about the MR-G collection of watches that it is hard to even know where to start. I learned a lot more about them recently when I visited where Casio G-Shock watches are made in Japan. Casio currently has three levels of high-end G-Shock timepieces which are produced at their "Premium Production Line" (PPL) at their factory in Yamagata. In addition to famous cherries, the small city in the northern part of Japan also hosts G-Shock's laboratory-style setting where some of the best modern Japanese tool watches are made.
Casio's high-end G-Shock collection starts with the "Master of G" collection, and then goes to MT-G, and finally MR-G. MT-G watches are sometimes easily mistaken for MR-G watches in their exterior looks. That is until you realize that there is sometimes a several thousand dollar price difference. There are simple differences such as the fact that MT-G watches are mostly in steel while MR-G watches are mostly in titanium, but as I believe Casio explained it to me, MT-G watches are basically metal-armored otherwise high-end G-Shock watches with resin skeletons, whereas MR-G watches have a totally unique inner structure and engineering. Apparently the MR-G watches, in addition to using even higher-quality materials, are built even more like a tank.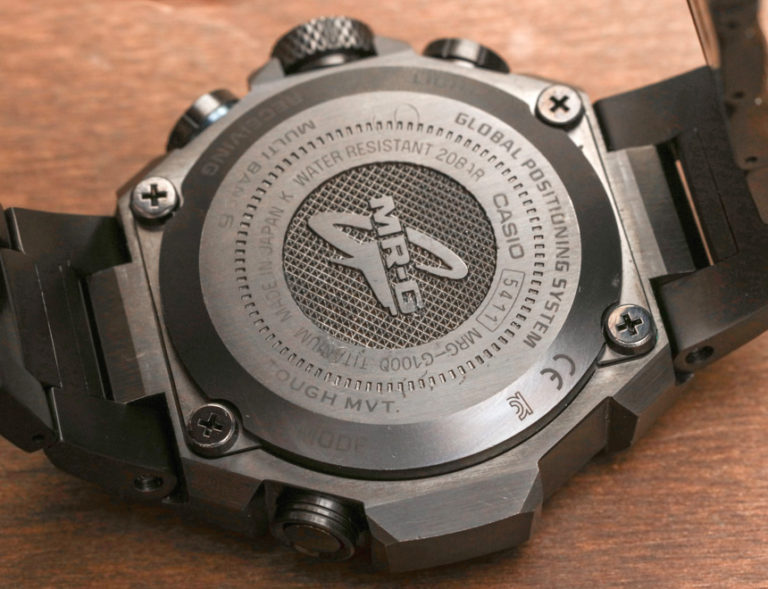 Visually you could argue that the Casio G-Shock MRG-G1000 collection even has the looks of a tank. Just look at the thick metal tubes which protect the pushers. This is among the most durable and armored watches Casio has ever produced, and its looks are almost entirely functional and not decorative. The watch is really built to take abuse, still look relatively new in the process, and keep on happily operating reliably in the meantime.
Once again Casio is able to make a really large watch that is comfortable to wear. In titanium and thanks to the case, lugs, and bracelet construction, I can easily say that while wearing the Casio G-Shock MR-G MRGG1000B you can forget it is on your wrist. The case is 49.8mm wide, 16.9mm thick, and 54.7mm "tall" from lug to lug. Yet it wears very sensibly. The bracelet comes with both full and half-links, and there are three micro-adjust pin bars holding in the locking deployant clasp, also featuring a cool sliding switch lock.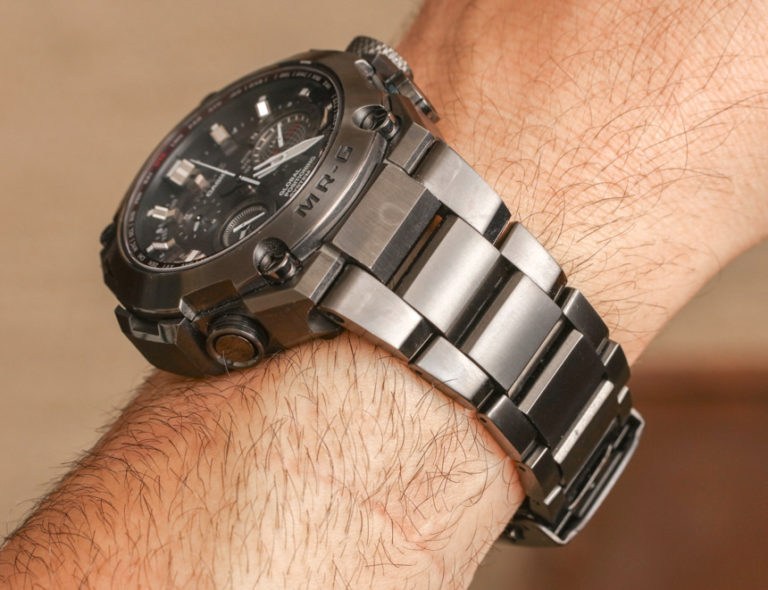 Note that this particular watch I am reviewing is a prototype that Casio has been more or less purposely abusing for a few years, and it still looks pretty good. Casio begins with a specially surface-hardened titanium, and in this MRGG1000B-1A the titanium is further coated in very hard DLC (diamond-like carbon). This means the watch is light and strong, as well as very scratch resistant. Over the dial is an AR-coated flat sapphire crystal. The case is water resistant to 200 meters.
One thing that Casio did not give to this G-Shock MR-G MRGG1000 watch model is a unique movement. Not that there is anything wrong with the movement, but it would have been nice to claim that in addition to the unique dial, case, and bracelet, there is a unique movement as well.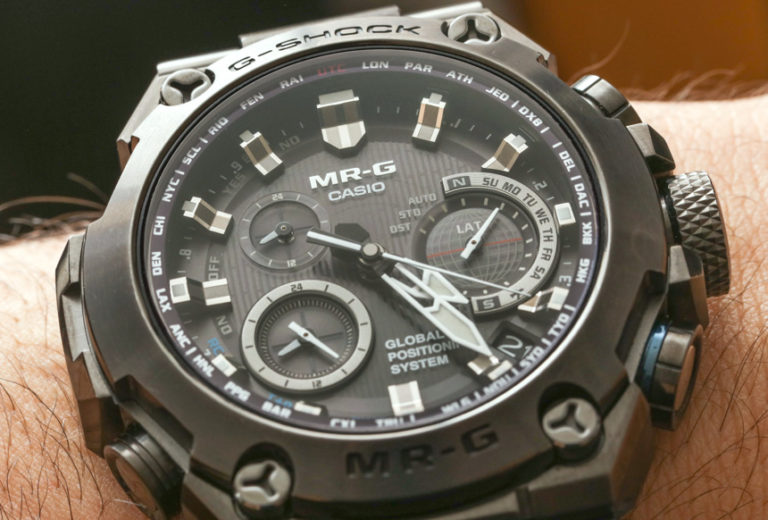 Various layouts of this movement style are available in both the Master of G and MT-G watch collection families. The movement does include more or less all of Casio's best technologies including solar/light power generation of energy for the movement to charge the battery, "Tough Movement" technology that realigns hands if they are knocked out of place due to shock, and GPS Hybrid Wave Ceptor signal technology. The latter is essentially a movement that can receive radio signals from atomic clocks around the world, as well as GPS signals when the others are not available. You might argue that the GPS tech makes the atomic clock radio signal reception tech a bit redundant, but theoretically they each have upsides and downsides.
The movement also uses Casio's Smart Access crown system, which is a way of operating the movement similar to a traditional watch using the crown. This leads me to one of the more interesting parts of the Mr. G story, and that it is how it originally evolved.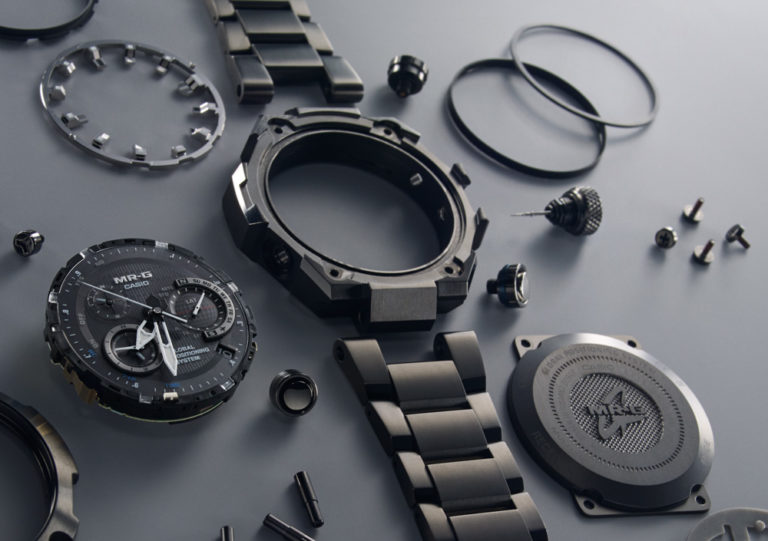 Most of Casio's technology resulted from trying to develop the most effective and efficient solution to the problem of having a durable, legible, and functional watch. Analog-dial G-Shock watches are a bit different. For many people digital watches are superior in terms of being able to quickly and precisely read information on a dial. That means for the above purposes a digital dial-based watch is superior to one with an analog dial. Casio helped prove this fact, and was a major force behind helping the digital watch to take over the world of timepieces. Any yet, the G-Shock MRG-G1000 is just the opposite of that. It is a direct effort by Casio to take everything that people love and expect in a G-Shock watch, and put it in an analog package.
A good question is why. Not only why take an evolutionary step backwards, but why put in so much research and development effort into to making an analog watch in terms of dial, hands, crown, etc… that is easier to render in something that is digital. There are a few reasons for this. The larger reason is that Casio has determined a few important things over the last few decades. First is simply that adults who care about how they look and their status in life tend to prefer analog-dialed watches. Second (and related to the first), is that people who grow up wearing less expensive G-Shock watches are more likely to stick with the brand if they are given something that suits their more maturing needs and offers them something familiar and useful.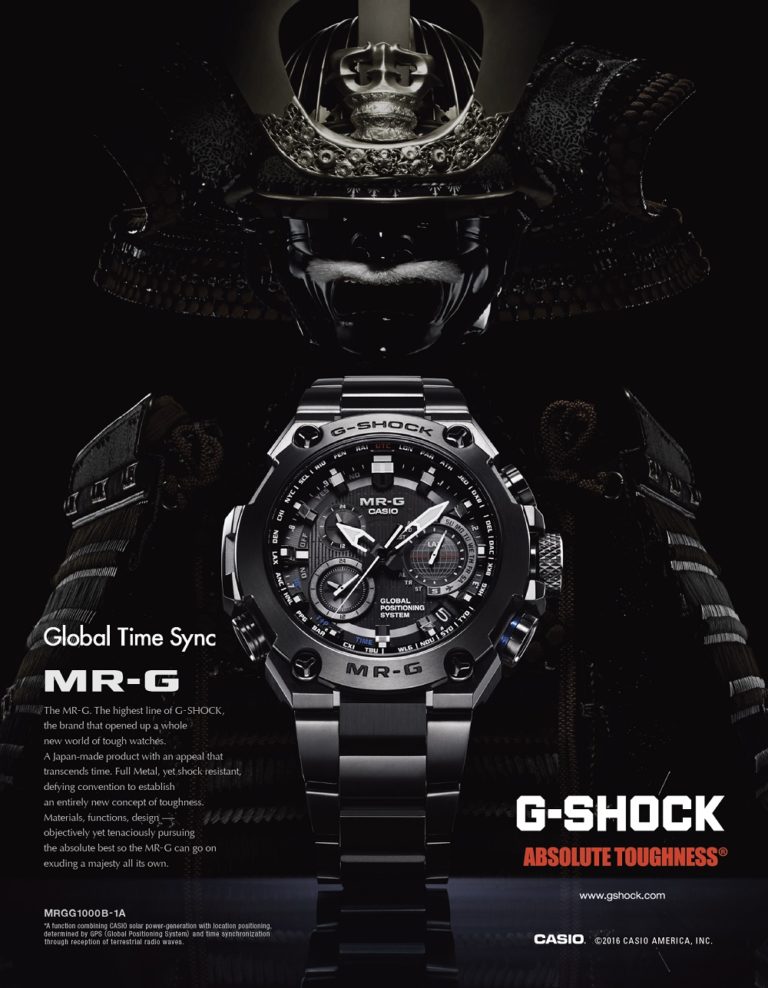 In those terms the world of Mr. G G-Shock timepieces is perhaps the first effort by Casio to make an aspiration lifestyle watch that clearly could do more than what most people who would wear them needed them for, and it was successful even at the beginning in the 1990s. The Casio MR-G is the luxury sport utility vehicle of the watch world. While people in a range of tough fields and active professionals all over the world routinely wear more accessible G-Shock watches for use in their daily lives, the MR-G is for all those guys who graduated to higher-paying jobs. Or the guys with higher-paying jobs that want to be like them.
There is nothing wrong with that, and the notion of inspirational product demand is extremely common in the world of high-end watches. With that said it is something people typically associated Casio with much less than say… a high-end Swiss watch maker. Even among the major Japanese watch makers, Casio is by far the most practical of the three. When people think of aspirational Japanese watches they probably think of something like Grand Seiko. I'll be the first to admit I like both MR-G and Grand Seiko timepieces – they are both different answers to similar questions, though for very different reasons.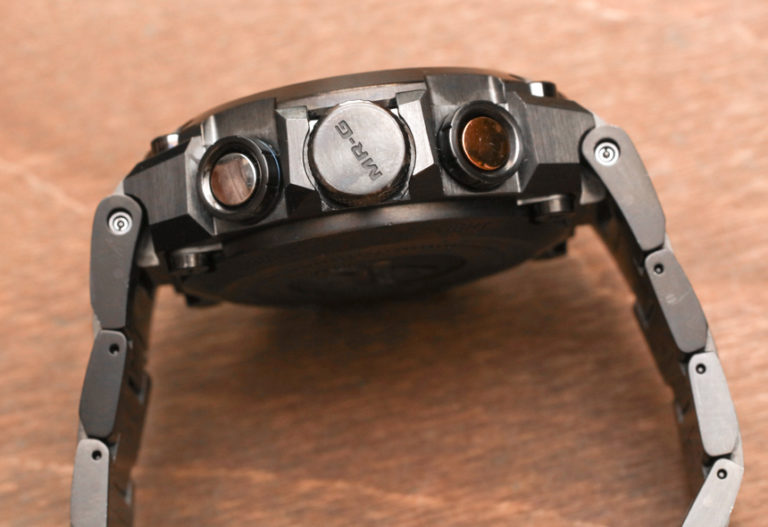 It is the little touches on the MRG-G1000B-1A that you notice over time which are the most appealing. In addition to a high level of comfort and legibility, I like things like the very bright white LED backlight which doesn't just come on, but rather rapidly brightens from dark to light before dimming out. The dial design is typical analog G-Shock, but with extra emphasis on the hour markers and hands, which is a good thing. Even though the watch benefits from a very good backlight, I would have preferred for the hands to have slightly more luminant. Sadly, the backlight is only activated by pusher and there's no auto-illumination if you raise your wrist. Another nice detail is how after a few moments of not being moved the seconds hand stops moving and rests at the 12 o'clock position. It does this to conserve battery power in the movement, once the watch is picked up the seconds hand comes back to life.
If you closely inspect the dial, you'll see numerous small indicators and markers used in a variety of settings that you'll clearly need the instruction manual to fully understand. With that said, the basic information at your disposal while looking at the dial is most of what you'll need, and setting the watch for simple things like changing the main or secondary time zone while traveling is pretty easy using the Smart Access crown. By default on the dial you have the time, secondary timezone in 24-hour format, 24-hour AM/PM indicator, date, and day of the week.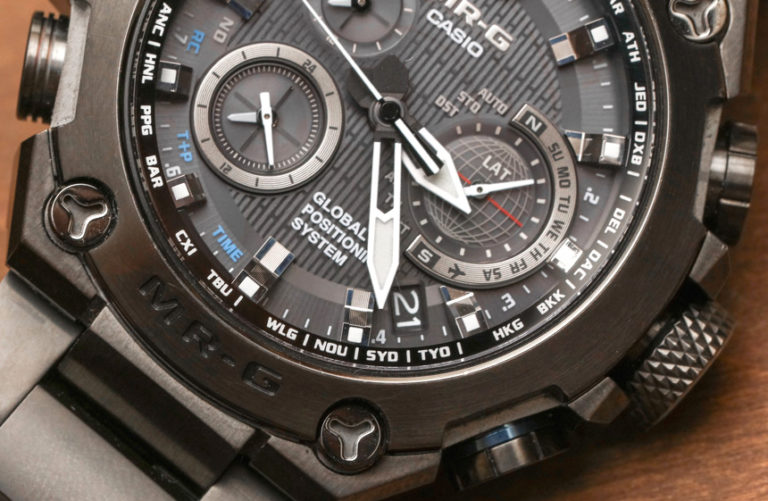 Using the mode selector, you can have further access to a 1/20 of a second chronograph, countdown timer, and alarm set of features. You can set the time manually, but the idea in a watch like this is that the time is set via radio or GPS signals, and that the user just does things like change time zones and adjust DST. For me, the value of this watch is in its more basic features, and if I need a chronograph/stopwatch or other features, I prefer Casio's all-digital or analog/digital hybrid watch dials given their slightly easier and fast selection of different modes.
Like all major product families at Casio G-Shock, the MR-G collection continues to evolve. That noted, we don't get entirely new MR-G models on an annual basis like many other Casio watches. Casio does, however, like to make interesting limited-edition models. In 2016, they released theCasio G-Shock MR-G Hammer Tone MRG-G1000HT-1A (hands-on here), which has some hand-hammered parts with a retail price of more than twice this MRG-1000B model.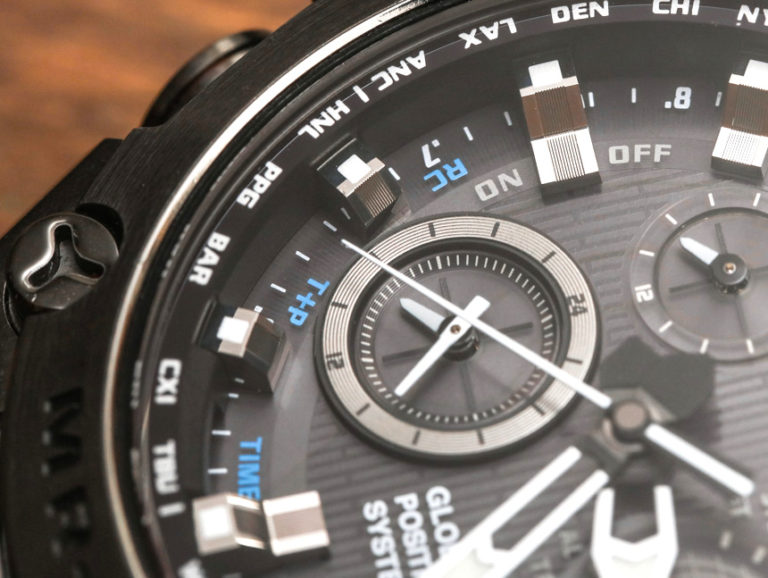 It is difficult to pinpoint the exact type of person that the MR-G is meant for. These are people who want the best-built G-Shock, but who also are willing to accept that other Casio watches have some additional features. Thus, there is no "one G-Shock to rule them all," even if Mr. G watches to be that. I personally love the comfort, love the engineering story, but actually miss a lot of the functionality that comes with a purely digital G-Shock. Early MR-G watches were all-digital, and then the brand shifted to ana-digi dials for MR-G, and now to all-analog. Again, it isn't as though one type of dial is better or worse, they just each have value.
Perhaps the ultimate goal for a Casio G-Shock MR-G watch is to have a dial that somehow transforms or perfectly vacillates between a reasonably elegant all-analog dial to a super functional digital dial when functions like the chronograph are used. That would be a technological feat, but it would help embody the beauty necessary to make a high-end and clearly well-made product like the MR-G to more audiences. The good news is that Casio clearly has no end in sight for MR-G watches, and I can't wait to see what they come out with next.
For now, this pinnacle of G-Shock watch technology in hard metal form is a unique testament to the merged worlds of appreciation of meticulously engineered tools and durable timepieces. Niche by design, the appeal of the message is nevertheless universal – and it takes fully understanding both the story of Casio G-Shock and that of MR-G to fully invest your heart into a watch like the Casio G-Shock MR-G MRGG1000B.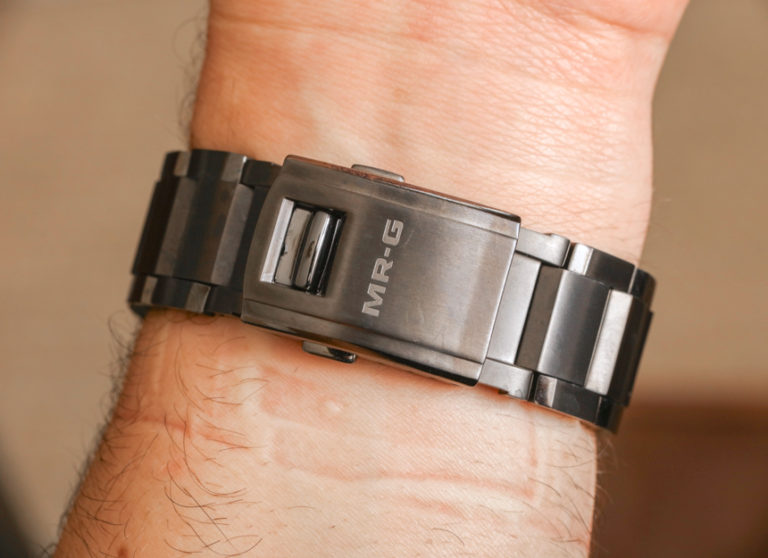 So what would the teenager in me say? I think he would like the watch a lot, think it was cool as hell to wear, not particularly care who noticed it since it isn't a watch for showing off aside from to people who would notice it anyways, and sadly not have the extra funds to get one (yet). That would be for when he was all grown up. Price for the Casio G-Shock MR-G MRGG1000B (MRGG1000B-1A) is $3,000.
Necessary Data
>Brand: Casio
>Model: G-Shock MR-G MRGG1000-1A
>Price: US$3,000
>Size: 49.8mm wide
>Would reviewer personally wear it: Yes.
>Friend we'd recommend it to first: Dedicated tool watch lovers who grew up with G-Shock and Casio, ready to put down money for the best the company can engineer.
>Best characteristic of watch: Perhaps the most intensely engineered tool watch in the world. Despite large size, case is very comfortable to wear. Does manage to feel a lot more "adult" than most other G-Shock watches out there. Excellent fit and finishing.
>Worst characteristic of watch: All-analog G-Shock dials are attractive but the lack of screens inherently limits the efficiency of using certain features. Hands and hour makers could have better lume (but the dial does have a back light), Casio doesn't always best explain the value proposition of these highly-engineered cases.
(ablogtowatch.com, https://goo.gl/PfTuUz)
Comments
comments