An adage among photographers says that the best camera is the one you have with you. That means with the millions of smartphones around the world, most of us are never more than a foot away from a capable camera. The stock camera on the iPhone can produce stunning images, even earning the praise of photographers from National Geographic. But that doesn't mean your iPhone can't use a little help.
Update: We've started receiving the first batch of iPhone lens kits for use with the iPhone 7 and the dual lens iPhone 7 Plus. So, if you're looking to see how lens affect image quality on the new iPhones, check back soon for more lens kit news and reviews later this spring.
An ever-increasing number of iPhone kits includes lenses that let you get close-up details (macro), some that capture a 180-degree field of view (fisheye) and some that deliver expansive landscapes or scenes (wide-angle). There are even some telephoto lenses. The best investment you can make is a kit that provides the flexibility of multiple lenses along with strong image quality.
Our favorite overall is the DxO One ($499), which doesn't use the iPhone's camera at all, but rather plugs into the Lightning port, and gives you a much larger sensor and manual control. If you'd prefer a simpler (and less expensive) clip-on lens, Olloclip in general makes the best accessories, combining as many as four lenses into a single unit. The company makes lens kits for iPhones back as far as the iPhone 4, and recently announced a lens kit for the iPhone7/7 Plus.
DXO ONE – Best Overall
LENSES : 32mm fixed

WEIGHT : 3.8 ounces

COMPATIBILITY : iPhone 5 and higher
While it's not like the other lenses on this page, in that it replaces your iPhone's camera, rather than augmenting it, the DxO One takes much better pictures without taking up too much room in your pocket. Its 1-inch sensor is on a par with much larger cameras, and it works even when it's not connected to your iPhone. Plugged in, it uses your iPhone's display as a viewfinder, and gives you full manual controls, if you so desire. It's not cheap, but it's a great device for those who want to travel light and still get poster-worthy images.
MOMENT WIDE LENS – The Best Quality Add-On Lenses
LENSES : Wide, Telephoto

WEIGHT : 1.6 ounces (Wide), 1.8 ounces (Telephoto)

COMPATIBILITY : iPhone 4 and higher, Samsung Galaxy S4/S5, Note 3/Note4, Nexus 5
While twice as expensive as the competition, the images from Moment's lenses (both 60mm telephoto and 18mm wide angle) are some of the best we've seen from any smartphone camera lens attachment. They have a solid build-quality, work with a range of smartphones (and iPads) and are compatible with a wide variety of cases. You really get what you pay for.
OLLOCLIP 4-IN-1 PHOTO LENS – For iPhone 6 & 6 Plus
LENSES : Fish-eye, Wide angle, 10x macro, 15x macro

WEIGHT : 1.35 ounces

COMPATIBILITY : iPhone 6 and higher
Olloclip's 4-in-1 Lens for the iPhone 5 and 5s was our favorite smartphone camera lens, and the company's new model for the iPhone 6 and 6 Plus retains that title. A revamped design featuring fish-eye, wide-angle and macro lenses (10x and 15x) work with both front and rear cameras, and has the strong image quality we saw on the previous model. The $80 lens system also includes several carrying options, such as an attachable keychain clip, lanyard and cloth drawstring bag. If you or someone you know has recently upgraded to a new iPhone, Olloclip's 4-in-1 system is a great way to enhance shots from the camera that gets used the most.
ZTYLUS METAL CAMERA KIT – Best Case-Lenses Combo
LENSES : Wide-Angle. Fish-eye, 10x Macro, Circular Polarizing Lens

WEIGHT : unknown

COMPATIBILITY : iPhone 5 and higher
Oftentimes, the cases that come with iPhone lens kits are a means to an end, but with the Ztylus, you get a rotating lens module and a rugged plastic case that attaches in a way that mimics a real DSLR. This gives you a more authentic camera feel, while also letting you switch among four different lenses with a simple twist and flick. When you're not taking pictures, you can swap out the lens module for a handy kickstand, and with multiple finishes and colors, there's bound to be a combination to suit your style.
INSTA360 NANO – Best for 360-Degree Photos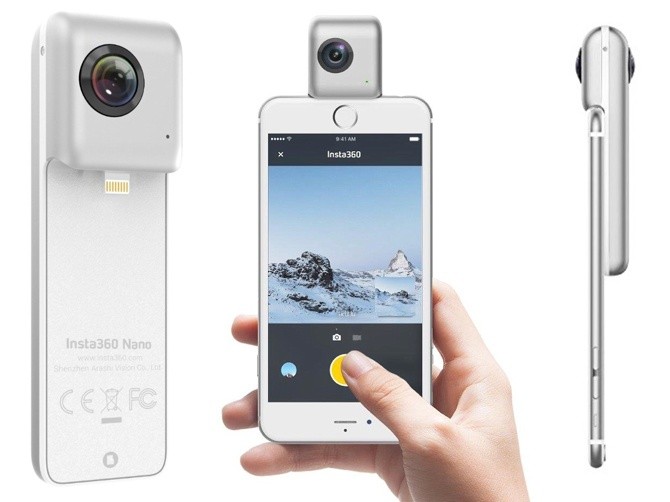 LENSES : Dual 210-degree fisheye

WEIGHT : 2.5 ounces

COMPATIBILITY : iPhone 6/6 Plus, 6s/6s Plus, 7/7 Plus
Using two lenses, the Insta360 Nano lets you take 360-degree videos and photos, whether this accessory is attached to your iPhone or not. However, when connected (iPhone 6/6s, 6 Plus and 6s Plus only), you can also stream to Facebook and quickly post your shots online. It has an 800 mAh battery, so it won't drain your phone, and a microSD card slot (up to 64GB) means you won't use you your phone's storage, too. The Insta360 Nano also comes with its own VR headset, so you can easily relive the moments you captured in a virtual setting.
OLLOCLIP CORE LENS SET – New for iPhone 7 and iPhone 7 Plus
LENSES : Fisheye, 15x Macro, Super-Wide

WEIGHT : 1.75 ounces

COMPATIBILITY : iPhone 7 and iPhone 7 Plus
For mobile photo fanatics, Olloclip will soon have not one but three different iPhone lens kits to use with either the iPhone 7 and 7 Plus. The core set comes with fisheye, super-wide and 15x macro lenses, while the active comes with a 2x telephoto and ultra-wide lenses. For closeup lovers, the macro pro set comes with 7x, 14x, and 21x macro lenses. And with prices ranging from $80 for the macro kit to $120 for the active kit, you won't have to break the bank to get some handy and portable camera upgrades.
MOMENT LENS AND CASES FOR IPHONE 7 AND 7 PLUS – New for iPhone 7
By creating two cases and a new wide-angle lens with aspherical glass elements, Moment is looking to take iPhone photography into a whole new era. Not only did Moment reengineer its lens mounts for added security and compatibility with the dual-camera iPhone 7 Plus, the company also increased quality by fine-tuning its lenses for the iPhone 7's wider aperture camera. And with two different of cases — a $99 option with a built-in battery and a $25 standard case — there's sure to be a combo that will fit every iPhone photo lover's kit. Check out Moment's Kickstarter campaign for more info before the new gadgets ship sometime in May or June.
How We Tested

We took a variety of iPhone lens kits to Washington Square Park in New York City, and mounted an iPhone 5s to a tripod to reduce camera shake and keep a consistent field of view. We took multiple control shots using the stock iPhone camera, and a series of shots using all of the non-macro lenses from each of the kits. We then choose the best shot from each lens and the control to use as comparisons.
For macro testing we used a crisp $2 bill to obtain a super-flat yet detailed subject. Sample images for both the stock iPhone camera and macro lenses were captured by getting as close to the bill as possible while still allowing for the camera to focus.
In both outdoor and macro testing there are differences in color, due to the changing position of the sun or hand positions needed to hold the phone during macro shots.
We judged photos based on factors like sharpness, color accuracy, image distortion and overall quality. We also took ease of use, price, build quality and even fun into account to determine the rating for the lenses and kits as a whole.
(tomsguide.com, https://goo.gl/T8dKhB)
Comments
comments