THE GOOD: The Ally Plus broadcasts fast Wi-Fi coverage over a large area. It includes both a well-designed mobile app and an in-depth web interface, plus more features than other competing home mesh systems.
THE BAD: The system doesn't have a dedicated backhaul band and you can't connect the extender unit to the router unit via a network cable to improve performance.
THE BOTTOM LINE: The Ally Plus is a great Wi-Fi system for any large home but it suits families with both novice and advanced users especially well.
Unlike most mesh Wi-Fi systems geared toward home users, the Amped Wireless Ally Plus has something for everyone. Novice users will love its easy-to-use mobile app and advanced users will still be able to customize their network via a comprehensive web interface, which is unavailable in existing popular systems like the Eero, Google Wifi or Luma. And likely everyone will be happy with its performance and Wi-Fi coverage.
If you live in a home of 4,000 square feet or so and want to broadcast Wi-Fi coverage across every inch of it, the $300 Ally Plus is a great choice. The only exception might be is if your home is already outfitted with Ethernet ports. In that case, Google Wifi will provide better performance, since the Ally Plus doesn't allow for connecting the units together using a network cable.
Snappy setup process
The Ally Plus includes two identical-looking hardware units. One of them is a router, called Ally, that you can get just by itself for $180. The other is a wireless range extender that's only available when you get the $300 Ally Plus set.
To set up the system, you start with the router unit and either the web interface or the Ally mobile app (available on Android or iOS), both of which will guide though through the process step by step. After that just plug the extender unit into power at a place some 40 feet away from the router — an indicator light on the extender will remain green letting you know that the connection strength is at 70 percent or better signal strength — and you're done.
You never have to do anything else about the extender since it's pre-programed to work specifically with the router it accompanies. Other systems like the Luma or Google Wifi require you to use the mobile app to manually add hardware units to the network one by one. The Ally Plus takes care of this on its own, effectively making the setup process much shorter.
In testing, I was able to get the system up and running in under 10 minutes.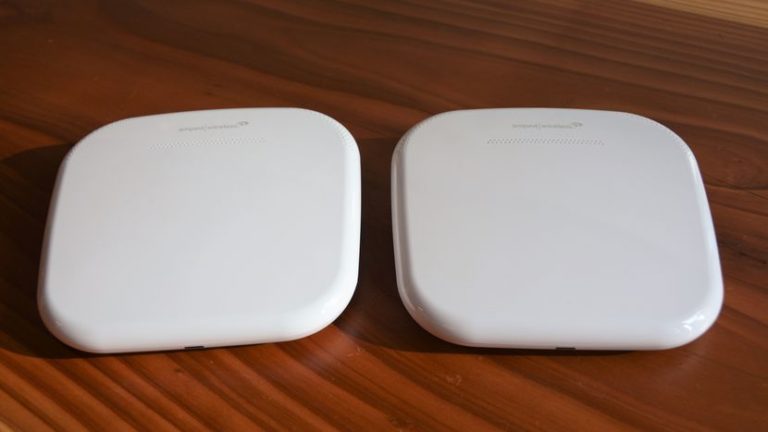 No dedicated backhaul
With just two units, instead of three, the Ally Plus is similar to the Negear Orbi. However, unlike the Orbi, it doesn't have a dedicated third band for backhaul — the job of wirelessly connecting the hardware units together. This means Wi-Fi devices connected to the second extender unit will have, at best, just half the speed compared to those connected to the router. This is because of the 50 percent signal losswhen a wireless band needs to both receive and rebroadcast a Wi-Fi signal at the same time.
To make the matter worse, the Ally Plus doesn't allow for connecting its unit together using a network cable, which eliminates signal loss and would make the system work well in a home that already has ethernet ports in the walls. Amped Wireless told me that it might enable this via a firmware update.
For now, the silver lining is the fact Ally Plus uses a three-stream (3×3) 5Ghz wireless band that caps at 1,300Mbps band and a quad-stream (4×4) 2.4Ghz signal that caps at 800Mbps. Other mesh systems, including the Orbi, use dual-stream (2×2) signals. The essential benefit of the system's higher Wi-Fi tiers is even after signal loss, your connection speed can still be quite fast as long as you don't place the extender too far away from the router.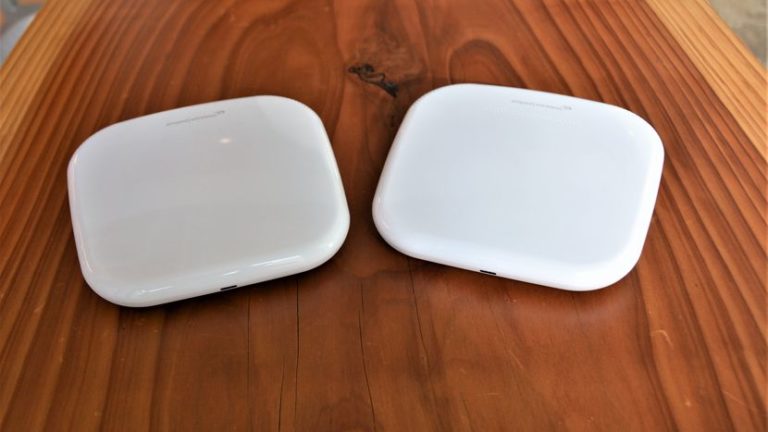 Well-designed mobile app, familiar web interface
The use of the mobile app is optional and when you choose to use it you will need to create an account with AVG, a security firm that Amped Wireless partnered with to make the Ally Plus. After that your system will connect to AVG at all times. In return, your home network is protected by AVG. And you can use the app to manage your home network from anywhere and also do the following:
Manage the Wi-Fi networks: You can change the names and password of the main Wi-Fi networks as well as turn Guest network on or off.
Enable AVG security: You can only turn this on or off. Essentially, according to Amped Wireless, all devices in the network are shielded against harmful websites, phishing attacks and printed from downloading malware and protected against malware. The Ally Plus is one of a few Wi-Fi systems on the market that offers this feature. Keep in mind, however, that all you can do is turn this feature on or off, there's no way to gauge its effectiveness.
Web filtering: You can block groups of devices from certain online categories, or from specific website. You can even monitor what websites a group of devices has access during a certain period. This features worked well in my trial.
Pause the internet: You can quickly pause the internet for a certain groups of devices, manually or based on schedules.
The app is well designed and pleasant to use. If you have used a smartphone before, you can figure things out right away.
To further customize your home network you will need to use the web interface, which is the same as that of other Amped Wireless routers. You can use it to manage advanced settings and features commonly found in most home routers, such as port forwarding, dynamic DNS, IP reservation, quality of service and so on. You can also use it to turn the router into a network storage server when you plug an external hard drive to its USB 3.0 port.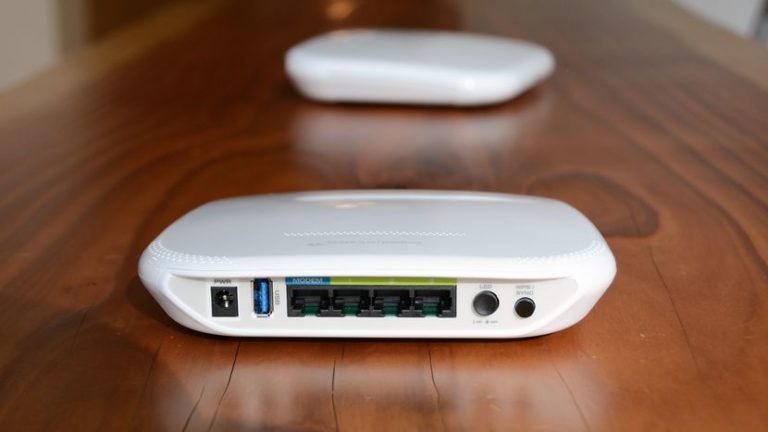 Great performance
The Ally Plus did well in my testing. As a single router, it's the fastest among any of the Wi-Fi systems I've tested, registering more than 600Mbps and almost 270Mbps at close range (15 feet) and long range (75 feet), respectively. This is not a surprise since it has the higher Wi-Fi tier than all other systems I've tested. Via the extender, however, the speed was now reduced by more than 50 percent to just 296Mbps at close range and 176Mbps at long range. Overall, that means the Ally Plus is slower than the Netgear Orbi, due to the the signal loss, but clearly faster than all other systems I've reviewed.
The system had great range, too. In my testing, it can cover some 4,000 square feet of residential settings while maintain the Wi-Fi speed of slightly more than 100Mbps. You can probably stretch the coverage even more by placing the extender further from the router, however, in this case the actual Wi-Fi speed will suffer. Still since most residential broadband connections are slower than 100Mbps, the Ally Plus is more than fast enough for most residential online activities.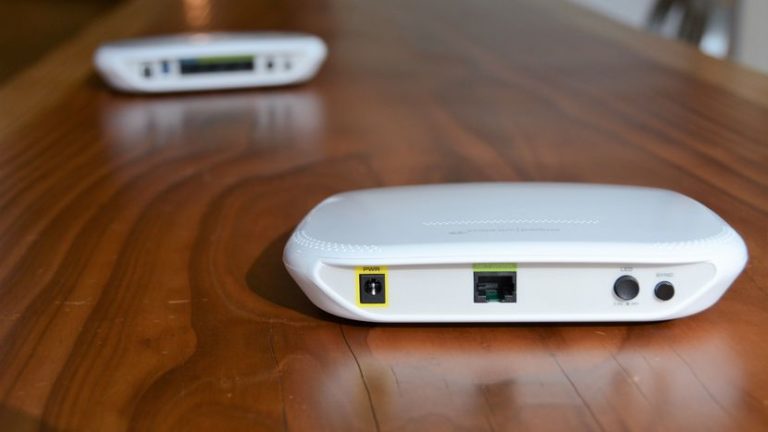 Should I get it?
If you already have a Wi-Fi system, like the Google Wifi or the Eero, and are happy with it, you can skip the Ally Plus. But if you're unsatisfied with the Wi-Fi coverage of your current router and lack the will to spend time setting up extra range extenders or access points, I strongly recommend it as your first home mesh system.
Amped Wireless told me that it'd soon release firmware updates with improvements. You might want give it a month or two before getting your own. This market is growing quickly, so by then there might even be new options available.
(cnet.com, https://goo.gl/qbnCdQ)
Comments
comments