AllCall has released its new smartwatch and priced it at $110! But does it justify that price for a Smartwatch? Check that out in this review!
AllCall is constantly seeking up its brand products range by launching a numerous no. of products. And now this time around after the successful hits of AllCall Rio smartphone, The company has decided to launch a new smartwatch which is not only good in functions but also excels in the price range and is much cheaper when compared with other smartwatches with same or less no. of functions.
The AllCall W1 is a completely considerable device as it can perform the features of a phone in the way of making calls and SMS and can even help running Android apps(as long as you are satisfied running the content on that small screen), a clock itself – as it will help you to show time on each purpose wherever you are might this can only work as long as its battery stand by your usage. Also, AllCall W1 comes with fitness features like:-
Pedometer – Which can help you track your steps you walked in a meantime when you were wearing the AllCall W1, Also in our testing's it turns out to be very accurate and can also calculate intermediate running.
Heart rate measurement – Which can help you track your heart on the go. Also, you can see the demographics in your watch itself. But in the event, if you are not comfortable with seeing stats in your smartwatch AllCall W1
G.P.S. – It's a great novelty from a smartwatch to have this feature implemented right into your wrist, As it helps you track your location with the help of internet and can have a good companion with the in-built pedometer, so that you can see how much distance you travelled and what are the places you covered.
Wi-Fi – Well nothing to dig detail here as you might have known about this function, But in smartwatch, it can even further help like transferring photos and videos between your connected device. Also it can help you connect to your phone's or home internet connection, In the event you don't use a sim on your watch. Also by this, you can browse the features of internet built into your smartwatch as it runs and Android Version 5.1
Processor – This android smartwatch runs on MediaTek MTK6580 Quad core 1.0Ghz chipset, Which is a high-end processor when accompanied by the smartwatch itself as at last, it is only a smartwatch even though it runs on Android, But still it has a restriction to some of Android Functions.
Anti-Lost – This smartwatch phone comes with a feature which can be really handy in situations when you have lost the smartwatch for some reasons and cannot able to find it out by any means, But to utilize this function your phone must be connected t the wireless networks like Bluetooth or Wi-Fi connection in order to get notified on the watch. It basically rings your smartwatch into its highest level of volume capability it can reach and when then make sure you have it right on your hand. In our testing, the speaker of the watch seems to be muffled when got a couch and The anti-lost feature cannot seem to detect it very wisely unless and until we take the phone nearer to the smartwatch through its companion app.
Display – Well this might be the main selling point of the smartwatch as it comes with a super AMOLED 1.39 screen, Which is awesome to see and the colors are very vibrant too, Also the touch response is pretty good as well and in our time of testing it, We seem to find no issues regarding the touch sensitivity or the response rate, But still at sometimes it seems to be bit laggy or hang up when used continuously for an hour or so.
Storage and RAM – the AllCall W1 smartwatch is pretty good in this segment and shines with flying colors here, As in our need and testing the 2GB RAM seems to be pretty fine when used in day to day tasks and in normal to moderate usage, Though as mentioned above in an continues Hour Long of testing usage it seems to lag but for that purpose we used the benchmark three times in that period to make its limits too far, And hence we got it as the smartwatch doesn't run to our demand, But I can assure you that in modern time of usage you will ever not see such thing happening around it, As no one uses a smartwatch for continues 1 hour long period and keep them satisfied in that small screen.
As a SmartPhone – The AllCall W1 is not only used for clock or fitness usage but you can also use it as your primary phone, As AllCall W1 Supports a 3G or 2G nano sim in GSM 850/900/1800/1900MHz WCDMA 900/2100MHz Frequency and the sim can be inserted into the back plate of the device and is easy to replace it, But the Sim Slot seems to be very weak in my opinion, and it is advisable to not always change or play around it as it can even make it stick out and naturally it will stop detecting any further sims And will lose its sim functionality. Although coming to its main highlights, We seem to have no issue in the network aspects though it still gives fewer signals than any traditional phone. Also, the call quality output from the speaker is a bit on the dull side and sometimes it will just give a clumsy noise with the output But still a good thing is that the microphone is decent, and the reception has no problem with my voice output in our testing, But as it lacks any types of noise cancellation so in any crowded place you will see some disturbance in the audio quality often. Also one of a main highlights of the AllCall W1 is the functionality as a phone, As it can help you to send text messages directly from the smartwatch itself to any of your saved contacts, But typing is a nightmare on this phone and can always get incorrect words even after many tries. It is advisable to use your phone instead to send a text message to someone Otherwise you might mess around with some words.
Extra Features – The AllCall W1 comes with many extra sets of features as it runs on Android And some of its main are Alarm Functions which can help you wake up at a time you set the watch to be rung. Although the speaker is a bit on the downside but still if you place it near to your place, then this might work as well. Music is a basic function in nowadays principal as many people are fond of it and it can help us pass through some time, And here AllCall W1 doesn't disappoint in its music features capability as it has tons of customization and an inbuilt Music Player too though as mentioned above the speaker is bit on the downside, and it seems to be a dealbreaker for many, But still you can have a remote function for music player where you can control and play music directly from your phone which might have a better speaker but the too should be in the range too of the smartwatch. Notification Reminder This is a feature which can be really appreciated by many as what it does is make you a reminder of any new notifications on your phone which in the event you might be missed in your phone by this smartwatch will detect and will then send you a little glimpse of it and you can even further reply by there, Also if you are in a situation when you cannot answer the call in your phone the AllCall W1 will help you make the conversation directly from the phone itself. Weather This features utilizes your smartwatch internet you are connected to, It can either be your sim internet connection or your Wi-Fi network. This feature is really good and customizable too as per your region and the stats are accurate too as it adopts the weather information from Google itself, It can also give the exact weather of your area too by utilizing your AllCall W1 smartwatch G.P.S. And there is also a small weather screen in the watch face itself, so you don't have to open your smartwatch every time to check the weather info.
Battery – The most important thing before considering to buy a smartwatch is its battery life, So yeah this smartwatch clearly shines in this segment as it provides almost 2 days of Battery Life in normal usage and a day par in heavy usage, This is possible because of the Super AMOLED display which turns of the black pixels area at black shade and the giving a much more vibrant rich colors than any IPS display. Also, it has a 420mAh non-removable battery and that stand by a super AMOLED display gives a great backup.

Design
The AllCall W1 has a traditional classic design when compared to other watches, Accompanied by Texturing and Laser threading, Which can be replaceable too. The AllCall W1 is made from high-quality stainless steel materials which are not found in many.
The Watch is available in two Colors including Black and Silver. The Watch Display has a nano-coating which can help slide the water pass away But Do Note that the AllCall W1 lacks any Water Resistance which is a shame for a highly priced smartwatch like this.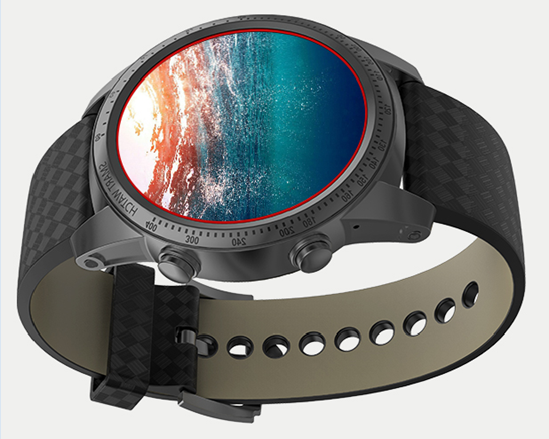 The Watch Face is round and gives a good suitable look to the wrist and is easy to slide around the UI.
Performance
Beneath the AllCall W1 is a MediaTek MT6580 processor which runs on four cores and is clocked at 1.0 GHz accompanied by a Mali-400 graphics chip which can help perform animation tasks with ease. All this runs on 2GB RAM and 16GB internal storage that provides support for cellular tasks with ease like in 3G or 2G connection. The smartwatch as also support for Wi-Fi. The AllCall W1 works on Android Version 5.1, Which gives full functionality of a smartphone. Giving access to browsing websites and watching videos.
Price and Conclusions
The AllCall W1 can be purchased from Gearbest at a price of about $110. At this price, many people might consider buying a phone instead which can give a really more functionality and access to bigger screen, But if you already happen to have it, and you are looking for buying a new smartwatch to your wrists and don't mind spending a little more bucks for an overall good companion, Then the AllCall W1 is definitely for you as it can perform good sets of features like- Heart rate monitor, Pedometer, Notification Reminder and all that in a SUPER AMOLED screen.
Summary
Pro:-
Battery
Performance
Microphone
Display
Design
Cons:-
(xiaomitoday.com, https://goo.gl/yt9Dau)
Comments
comments