OUR VERDICT
Want a high-end gaming system that doesn't need to live on the floor? The Zotac Magnus EN1080 offers the very best levels of performance if you can stomach the high initial cost and additional expenditure needed to make it operational.
FOR
Elegant design
Almost silent
Fantastic GPU performance
AGAINST
Limited upgrade options
Very expensive for a barebones unit
Large for a small form factor system
Building small systems can so often be a compromise. With no slots, limited storage devices or space for exotic cooling technology there are practical limits to how powerful a system can be made inside a SFF (Small Form Factor) enclosure.
That's the conventional logic confronted by Zotac's Magnus EN1080 10 Year Anniversary Edition Barebones (ZBOX-EN1080K-BE).
As a celebration of the Zotac company and brand, the Magnus EN1080 is also a showcase for the engineering and design on which the company has built a formidable reputation.
This SFF system might be more Shuttle PC-sized than typically Mini-PC, but it's still amazingly small for a typical gaming machine, unless it's one that's had an unfortunate encounter with a car crusher.
Before marvelling at what's crammed inside, let's first admire the façade.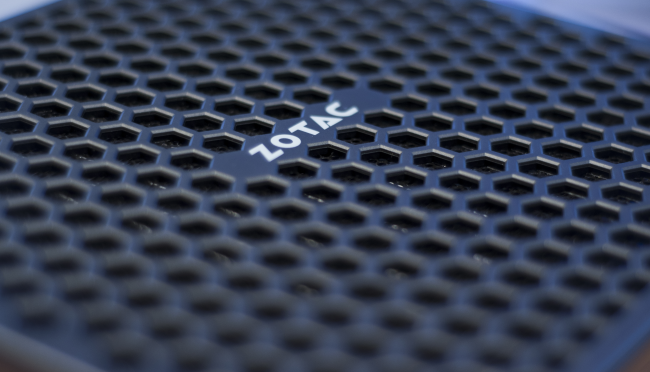 Simple by design
Zotac adores minimalist aesthetics, and the Magnus EN1080 waves that banner with a highly finished but almost feature-free case exterior.
The corners are all chamfered, the top uses Zotac's trademark honeycomb grill, and the parts all go together in a highly engineered and precise way.
The front is characterised by the card slots and ports that you'd normally expect there, and predictably the back has an expanded port selection.
On the fascia are headphone and mic, 3-in-1 card reader (SD/SDHC/SDXC), a single HDMI and two USB 3.1 ports. One of these is Type-C and the other is of the traditional Type-A variety.
At the rear are four USB 3.0 Type-A ports, dual 10/100/1000 LAN ports, dual power inputs and dual WiFi antenna connectors.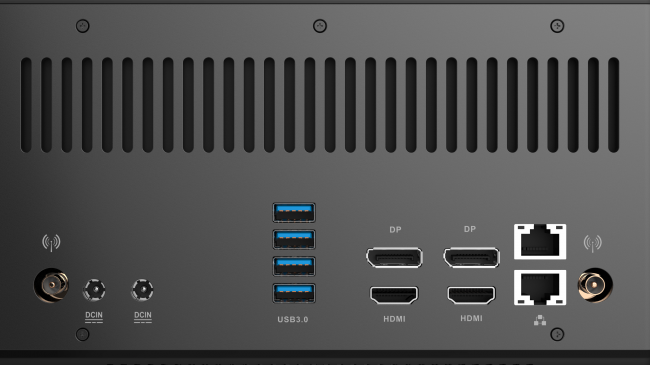 There is also space on the back for two additional HDMI 2.0 and two DisplayPort 1.4 ports, bringing it the total to five video outputs.  Four can be active at once if you fancy multiscreen gaming.
An obvious complaint might be that it doesn't include a Thunderbolt port. And, for those wanting to use an EN1080 for editing 4K video that's a valid point. Also, the lack of an optical audio S/PDIF might irk those craving an ultimate media system.
Those omissions hint that the underlying concept of the EN1080 has a flaw; being excessively gamer focused when a system this compact and powerful could easily achieve a much wider appeal.
Another minor criticism is that the shades-of-black motif is excessively understated, or it is until you fire up the system.
Zotac built a lighting system branded SPECTRA into the case that's software customisable through a provided Windows app. There are only three points of illumination and they're not especially bright as case illumination goes.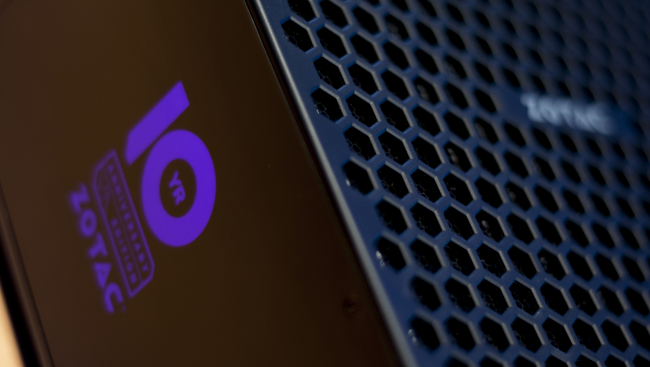 You can set the color and various effects on them individually, should that prospect excite you.
While programmable lighting is fun, it seems at best a mild distraction from the real spectacle going on under the skin. An ensemble of hardware so impressive that it puts most desktop gaming systems in the shade.
Logically, the centerpiece of this computer should be the Intel Core i7-6700 (quad-core, 3.4 GHz, up to 4.0 GHz) processor. This is the Skylake 6th-gen and not Kaby Lake 7th-gen silicon, but it would be wrong to suggest this is anything but a powerful processor.
The associated B150 chipset is also not the Z170 many might have expected in such a high-end solution.
Zotac clearly made a value judgement about adding PCIe lanes that wouldn't be utilised. The downside of the B150 chipset in this context is that it limits the DDR4 memory to 2133Hz irrespective of the speeds offered on the installed modules.
Memory tweakers take note; the current EN1080 BIOS offers no control over RAM clocks or timings whatsoever.
Overall, the effective CPU and chipset combination is rightly upstaged by the GPU mounted directly on the mainboard alongside the CPU. A full Nvidia GTX 1080 with 8GB of its own GDDR5 memory and an eye-watering 7.2 billion transistors.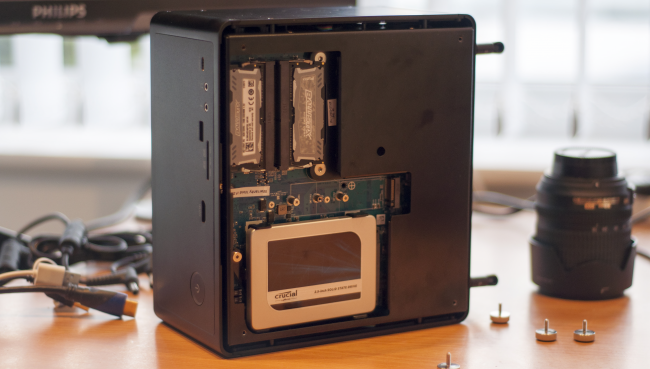 Throw whatever tasks you like at it, this GPU is monstrous and the EN1080's version isn't kneecapped or throttled in any way from the desktop card counterpart.
4K, multi-screen or VR; the GTX 1080 can chew these challenges up and rapidly spit them out like flavorless gum.
The dual challenges of deploying a desktop Core-i7 and one of the best single video cards in something the size of shoebox are keeping it cool and supplied with enough watts.
Zotac's approach was to build the Magnus EN1080 in layers, with the coolest parts at the bottom and warmest, sensibly, at the top.
The drives and memory are on the underside of the motherboard, accessible via a removable panel held in place by four screw threaded feet.
Inside there is room for a single 2.5" SATA mechanism, one M2 PCIe NVMe storage module and dual DDR4 SODIMMs slots for a maximum of 32GB of RAM. The Zotac EN1080 is sold as a 'barebones' system, so you need to buy a hard drive and RAM separately and install them yourself. While this gives you some flexibility in configuring the EN1080 for your personal needs, it does mean there's extra costs involved that you will need to take into consideration.
On the reverse side of the motherboard are the CPU and GPU, each with water cooling blocks mounted over them. The thermal pathway is completed with a fan and radiator assembly above, venting through the honeycomb grill.
How well this works in practice is probably the EN1080's best trick, because not even during the toughest benchmarks did the fans make even more than the slightest hum.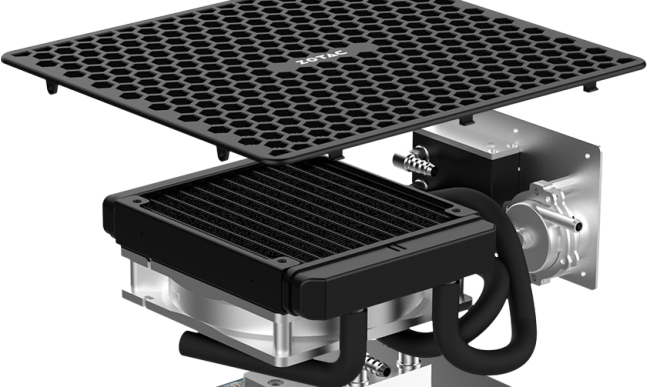 Unfortunately, compared with the cooling solution the power delivery problem isn't resolved nearly as smartly.
Instead of building an external power block capable of providing all the watts needed, Zotac just included two 180W external supplies.
This decision contributes to a mess of cabling behind the unit that isn't easy to effectively organise or hide.
I'd accept that having a giant brick PSU like the original Xbox 360 design isn't ideal, but at least that option would have only one power cable to contend with.
We liked
The Zotac EN1080 is an incredibly powerful gaming machine, packed with some very capable hardware (especially the GTX 1080 graphics card), which means you can play the latest games without any trouble.
The fact that so much power is crammed into such a small body is also remarkable, especially considering how quietly it performs.
We didn't like
The Zotac EN1080 is a very expensive bit of kit, and while it looks like a gaming console, and performs much better than one, it's still almost five times as expensive as an Xbox One or PS4.
The fact that this price tag doesn't include the additional components, such as a hard drive, operating system and RAM, that are needed for the machine to work, is also a negative.
Final verdict
Often systems described as gaming platforms fail to live up to that billing under scrutiny. The Magnus EN1080 isn't one of those.
In the selection of current PC titles tested, almost irrespective of what settings were applied, framerates in excess of 100fps are the norm, even at resolutions above 1080p.
Its primary disadvantage over a conventional desktop platform is that once the hardware in it is superseded, the EN1080 can't be updated to the next level.
For those that only keep their systems for a few years, this won't be a critical problem. But buyers must accept that with the exception of memory and storage, the EN1080 is effectively a technological dead end from the outset.
Technically, the CPU is LGA 1151 socketed. However, it's not designed to be a user modification and would require entirely dismantling the EN1080, invalidating the warranty in doing so.
It might be physically possible to put a Core i7-7700K (Kaby Lake) CPU inside, though as that chip has a TDP of 91 watts, not 65 watts of the i7-6700 you might run into power and heat issues doing so.
All these are useful points indeed, but the giant elephant in this room are the mammoth costs involved in owning such a remarkable piece of PC technology.
A whopping £1999.99 ($2000, around AU$2600) for a barebones system that needs RAM, storage and an operating system isn't an impulse purchase for many people.
However, factoring out the processor and GPU it looks marginally less outrageous, especially if you need both power and transportability in a single system.
It's difficult to argue with the performance as it's simply stellar by today's standards. But equally, at this price point we should quite reasonably expect something amazing.
This is undoubtedly one of the most powerful Small Form Factor systems available, and an absolute joy for those lucky enough to have one.
(techradar.com, https://goo.gl/bg0FhE)
Comments
comments