Our Verdict
Final thoughts: Zebronics Max Plus
Mechanical keyboards are expensive but the proliferation of knock-off mechanical switches in the market has made it possible to manufacture affordable mechanical keyboards. Zebronics is one of those brands in India trying to bring mechanical keyboards for consumers who can't or don't want to spend too much on them. The Max Plus is a full-sized 104-key mechanical keyboard packing all the required features necessary for gaming and typing. Backlighting is bright on the keyboard and although it's not RGB, all the rows have different coloured LEDs giving an illusion of an RGB keyboard. You can cycle through seven preset lighting effects right from the keyboard while being able to control the speed, direction and brightness. Along with that, you get support for multimedia control and Windows lock through modifier keys. Full n-key rollover is present on the keyboard and there wasn't any visible input lag or erroneous key presses.
On the inside, the Max Plus packs Outemu Blue mechanical switches that are similar to Cherry MX Blue switches but with a lower durability of only 10 million clicks. They have a similar actuation force of something between 50-60 g and the same travel distance of 4mm. However, typing on the Outemu Blue is louder and feels more clicky. Gaming on the Max Plus didn't act as a disadvantage and typing on the keyboard was also a pleasant experience. Picking the right switch for yourself is highly subjective to your preferences and typing practices which can only be determined with a hands-on experience. Apart from the switches, the build quality is average on the chassis. However, the keycaps are double-shot injected which indicates a longer lifespan of the characters on them that usually rub off after a few years on laser printed keycaps.
There's nothing attractive in the design of the Max Plus nor does it offer the best build quality. The only attractive thing is its price of Rs. 2,999. While the TVS Gold keyboard is available for a lower price, it doesn't offer backlighting but it houses genuine Cherry MX switches. Compare it to the Max Plus, the only difference is backlighting and higher durability of the switches. Backlighting can be a deal breaker for some if they fancy a flashy keyboard or want to play games in the dark. The price differs by a few hundred rupees between the two, so it's best to go for the one with more features. If you're out to buy a new keyboard and have always wanted to own a mechanical keyboard in the back of your mind, you wouldn't need to have a second thought about the Max Plus.
PROS
Affordable price
Double-shot injected keycaps gives a longer lifespan
CONS
Comparatively lower key lifecycle than the standard
Font could have been more neutral
Zebronics Max Plus: Detailed Review
The budget segment of mechanical keyboards in India is witnessing the entry of several manufacturers. While the big brands are pushing keyboards towards the budget segment, other brands such as Circle, Gamdias, Redragon, etc., are trying to dominate. With the Zebronics Max, the company entered the mechanical keyboard segment for the first time which was an affordable option. The only deal breaker for some consumers could have been the absence of the numpad. Now, Zebronics has launched the Max Plus, a full-size keyboard with no additional features over its little brother Max. Once again, Zebronics manages to keep the costs low by opting for Cherry knock-off mechanical switch brand Outemu and an average build quality. And it still fares as an incredible keyboard for gaming and typing when you consider its price.
Specifications
Keyboard size: Standard, Numpad included (104-keys)
Keyboard backlighting: LED (Multiple-single colour, five modes)
Switch type: Mechanical (Outemu Blue 10-million lifecycle)
Polling rate: 1000Hz (1 ms)
Key-rollover: Full-key rollover
Interface: USB 2.0
Dimensions: Wide – 46.7 cm, Length – 15.85 cm, Height – 3.65 cm
Cable length: 1.8m
Weight: 1.27 kg
Features and accessories
The shortcomings of a budget mechanical keyboards in terms of features usually consists of no software support, no dedicated multimedia buttons, RGB lighting, USB passthrough, etc. Although you might realise that most of them are more of a luxury, the Max Plus lacks all of them. There's no support for software to play around with key assignments, lighting or defining macros. However, the backlighting can be controlled right from the keyboard using modifiers. There are seven preset lighting modes where the speed and directions can also be controlled. You can cycle through four brightness levels as well. We would have loved to see support for recording macros on-the-fly which is possible without software. Music playback and volume control is present on the keyboard through modifier keys. Other modifiers include Windows lock and shortcuts to open up the file explorer, search tab (default to Windows search or web browser search), calculator and default music player. Having the volume control towards the right side of the keyboard (F10 and F11) makes it easier to use with just one hand. Otherwise, it requires some finger gymnastics or the use of two hands control the volume from the keyboard.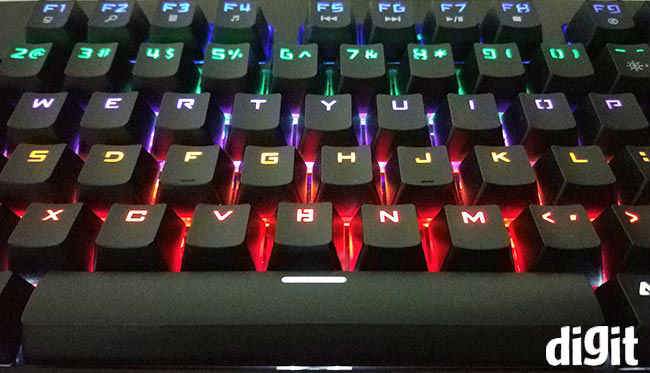 The mechanical switches aren't RGB but to give users an illusion of owning an RGB keyboard, every row of keys have a different colour LED. So, the top Function key row has blue LED switches, the number row has green LED switches and so on. When the lighting modes are doing their magic, the keyboard seems like an RGB keyboard. Although they don't mention anything about the number of n-key rollover (or NKRO) anywhere on their website, we found the keyboard to support full n-key rollover. This will ensure that multiple key presses can be detected through the keyboard. At some point of time you will need to clean the keyboard, and it could have been easier if Zebronics had shipped a keycap puller. Without a keycap puller, it's difficult to remove the keycaps with just your fingers. Essentially, the Max Plus is a basic keyboard with minimal features and no extra accessories.
Build quality and design
It would be criminal to expect superior build quality on a budget mechanical keyboard. However, it does manage to pack an average build quality for a mechanical keyboard. Usually, you would find budget keyboards to house a low-quality chassis, poor-quality keycaps, usage of Cherry knock-off mechanical switches, etc. The Max Plus has a plastic chassis and a metal frame to support the mechanical switches. The metal frame is lined with a layer of plastic on top. It isn't the sturdiest chassis that we've come across but it's quite durable. The extendable rubber feet on the bottom of the keyboard could have used more elevation. Even after flipping them out, there wasn't much elevation visible when placed flat on a surface. The cable is braided and this time Zebronics has shipped a gold-plated USB connector to extend its durability. It's a large keyboard and there's a lot of dead space on the edges that increases the width of the body.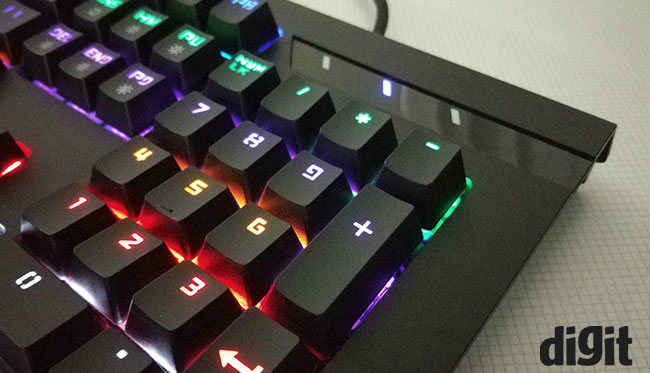 The keycaps have a gamer-ish font which might not appeal to everyone. Generally, you would find regular ABS keycaps with symbols and alphabets printed with lasers. Surprisingly, the keycaps on the Max Plus are double-shot injected instead of the regular laser etching found on other keyboards, even expensive ones. Essentially, two different materials have been used in the keycaps, one for the character whereas the other one is the main base. This will ensure that the characters on the keycaps don't rub off easily. The density of the keycap stem that mounts on the switch is higher than what we saw on the Roccat Suora FX, HyperX Alloy FPS and HyperX Alloy Elite. The keycaps have a textured coating over them and doesn't feel premium compared to the ones with a smooth or matte coating.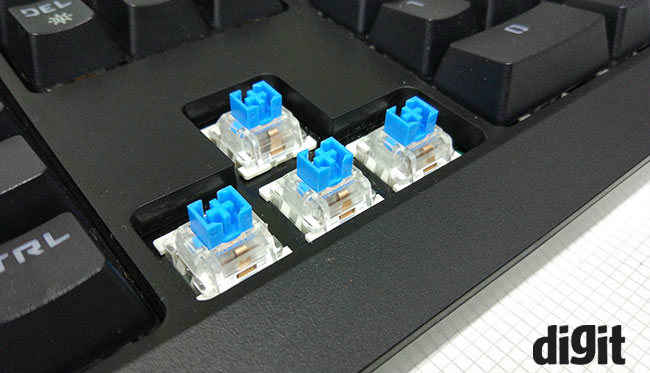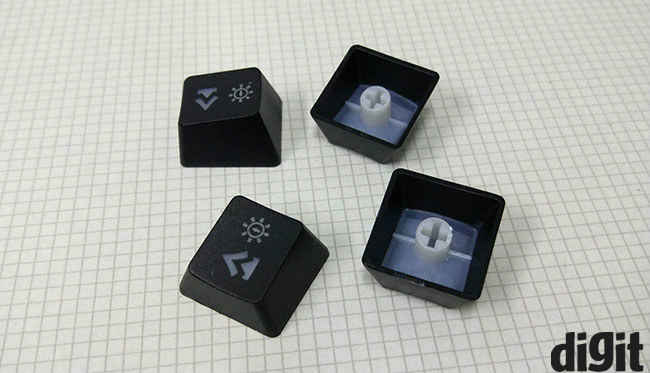 There are several Cherry MX knock-off mechanical switches making the rounds in the budget segment. On the Max Plus, you'd find the Outemu Blue switches that have an actuation force of 50 +/-10 g with a travel distance of 4mm and actuation point at 2.7mm. The company states the durability of the switches to be up to 10 million clicks. However, specifications of the switch mention it to be about 50 million clicks. Whatever the value, a durability of even 10 million clicks isn't that bad for a mechanical keyboard at this price. The design of the Outemu Blue is a little different than the previous one seen on the Zebronics Max. This new design is supposedly better at keeping away dust from entering the switch.
Gaming and typing performance
With full n-key rollover enabled, we didn't face any ghosting or multiple key presses in games. There weren't any glaring flaws in the response time of clicks. Without any branding of being directed to only gamers, the Max Plus can comfortably be used for gaming. Whether it involves spamming the keys or careful clicking of the keys, you won't face any problems. However, if you're a competitive MOBA gamer, you'll feel the absence of macro recording support. Extra keycaps to distinguish a certain set of keys would have been great but it would be unfair to ask on a budget keyboard. The Outemu Blue switch is similar to the Cherry MX Blue, giving you a tactile and clicky feedback. Broadly they feel the same, but the Outemu Blue is louder and feels more clicky. You will be able to notice the tiny nuances only if you've used the Cherry equivalent. If this is your first keyboard and you love a tactile feel on keyboards, you will love typing on this keyboard. We were able to hit a maximum speed of 73 words per minute with 97.2 accuracy on typeracer, and we are pretty sure that this can go up with prolonged usage.
(digit.in, https://goo.gl/5Efs3w)
Comments
comments