Introduction
The ViewSonic VP2468 is a 24-inch LED monitor, with a 23.8-inch viewable screen. It offers Full HD resolution, and is factory calibrated to achieve 99% sRGB colour coverage and Delta E. It has a "frameless" design, while the monitor itself can be tilted and rotated. It has a number of input ports, including HDMI, DisplayPort, Mini DP and USB 3.0. The ViewSonic VP2468 retails for around £250 / $250.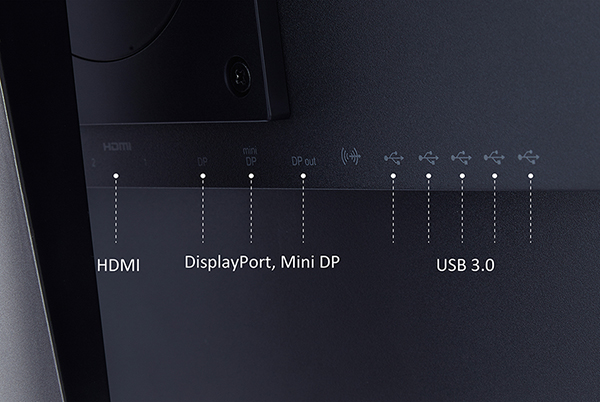 Ease of Use
Setting up the ViewSonic VP2468 straight out of the box is easy and straightforward. All you need to do is attach the screen to the baseplate, and use the provided screws to screw it into place. If you want to use it with a different compatible baseplate you can, with the screws giving you the ability to remove it as and when you need to.
Once you've screwed everything into place, you'll see that you can swivel the ViewSonic VP2468, allowing you to view images and so on in portrait orientation, rather than just landscape mode. You'll also see that the base plate allows you to rotate the screen around, and you can also tilt it forwards and backwards. This means that you can set it up exactly how you want to look at it.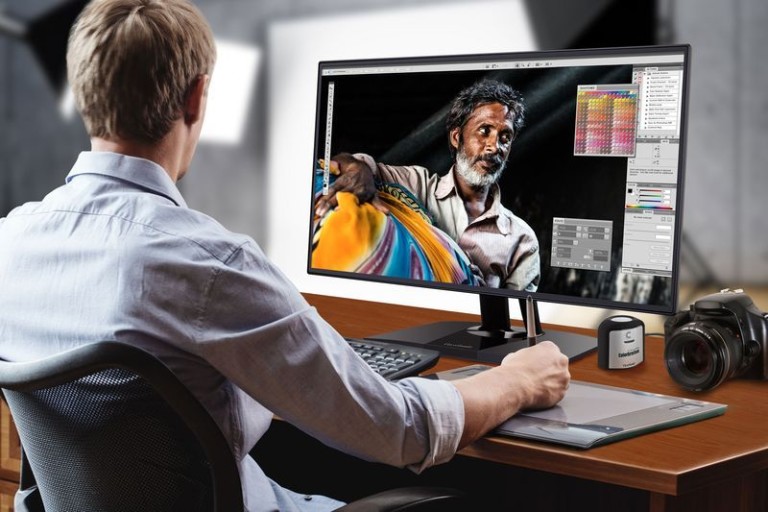 If you're using a Mac, you'll find that you need to rotate the display settings automatically to view anything in portrait orientation, but in Windows you should find it does it automatically if you have the correct drivers installed.
A power cable, supplied in the box, plugs into the relevant port on the bottom of the ViewSonic VP2468 and you're good to go.
There are a range of different input options. As we were using the monitor with a MacBook Pro, we used the supplied DisplayPort cable to plug it directly into the computer without an adaptor. You also have the option to use HDMI, USB 3.0 or Mini DP. The monitor supports 'daisy chaining', which means you can connect more than one display together using a single connection between the devices, rather than lots of different cables – this helps to keep the cables neat and tidy.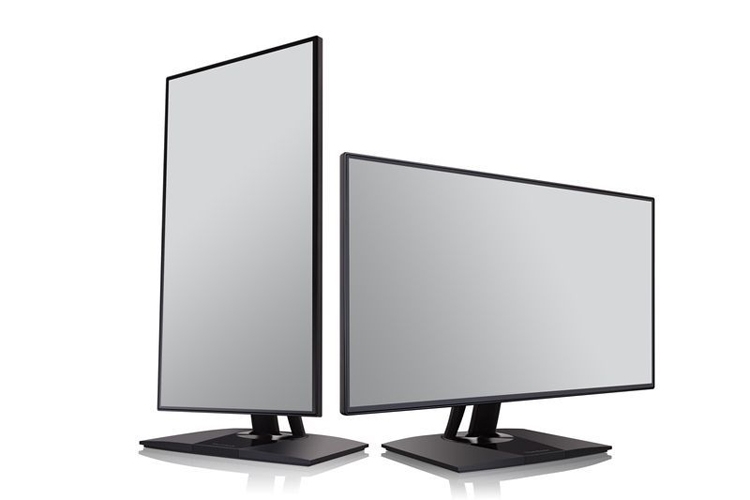 There is a quoted viewing angle of 178 degrees. This wide viewing angle means you have a good view  of the screen from lots of different angles, also displaying the same level of brightness no matter which of these angles you look at it from.
The ViewSonic VP2468 uses a "frameless" design. In reality, there is a frame, but it is just a couple of mm thick, so you can barely see it – this gives it a modern look, but is also useful if you want to use more than one monitor together – as you can set them up next to each other and have almost no interruption between the screens.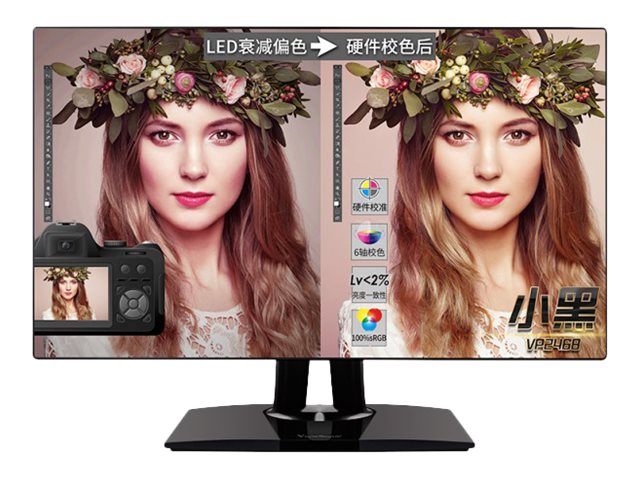 To go with the minimalist impression, there are no buttons or lights on the front of the ViewSonic VP2468. The power button is found on the right hand side on the rear of the screen. This is a round button and it will glow blue when the screen is on, or amber when in low power or standby mode. Just above this is a row of buttons which you can use to change settings.
The monitor is factory calibrated so you can use it straight out of the box when you receive it. Each monitor comes packed with a calibration report in the box which you can refer to if you have particular setup needs.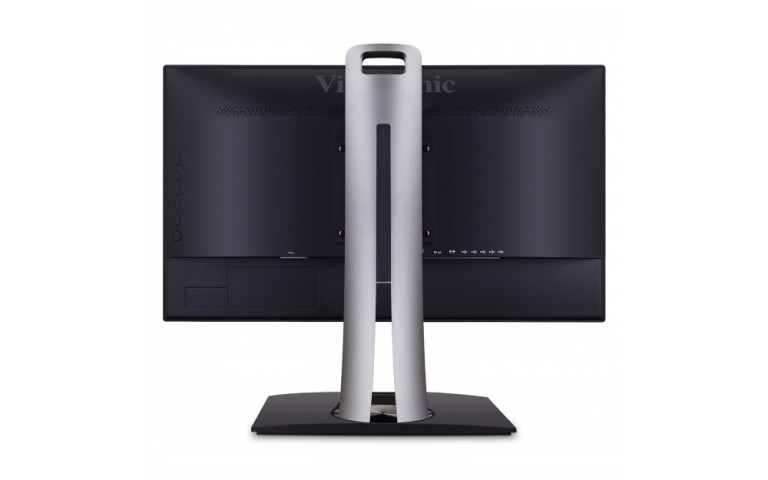 Specifically designed for those who work in photography, design or gaming, the ViewSonic VP2468 also has a range of presets which you can access via the buttons on the back of the monitor. There are a range of colour spaces which you can choose from including sRGB, EBU or DICOM SIM.
Using the VP2468 can be as simple or as complicated as you need it to be. You could use directly out of the box, or you can go through the many different setup options to calibrate it exactly how you wish to use it. You can also buy the VP2468 with an optional 'Colourbration' kit which has been designed in collaboration with X-Rite – you can use this to ensure that the monitor is calibrated to your particular settings at regular intervals.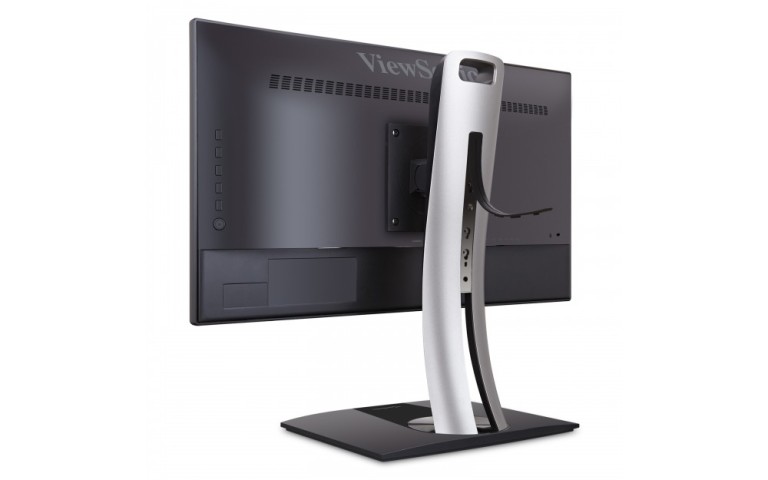 When you press the buttons on the back of the ViewSonic VP2468, options will be displayed as an overlay on the screen. It's a simply designed menu, and you just use the different buttons to toggle through the various options, a system which doesn't take too long to get used to using. If you are using the monitor in portrait format, then the options will appear at the top of the screen, while in landscape, the options will appear to the with hand side.
Options via these buttons include contrast/brightness, input select, preset colour modes and the more extensive main menu. The main menu allows you to make more precise adjustments to colour, change the view mode and so on. You can also make changes to the basic setup, such as changing the language.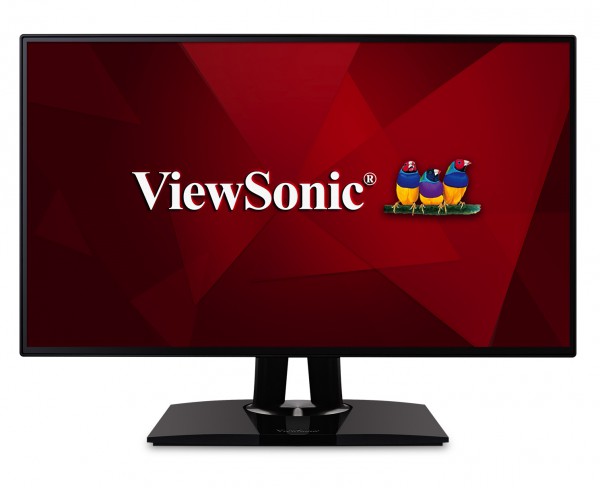 Performance
Straight out of the box, the VP2468 offers an impressive display. It has a matte anti-glare coating that makes looking at the screen for long periods of time comfortable and easy.
It is full HD, which offers a good high resolution for viewing your photos and videos, and is great for those who are checking close details on photographs and the like.
The refresh rate of 60Hz is lower than some more expensive models on the market, but it should be more than enough for most situations, especially for photographers.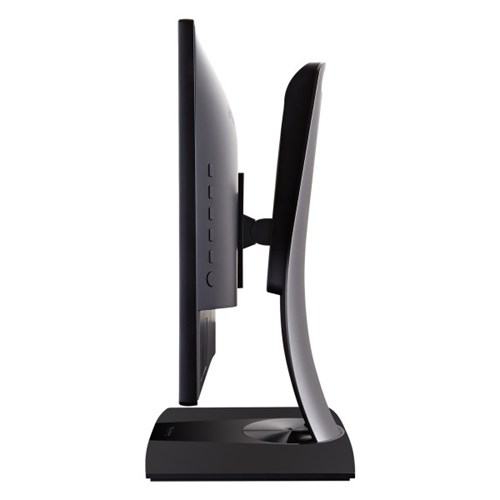 You can see that the monitor has been designed for photographers, and the colour gamut is impressively wide. Images really pop on the screen with beautiful colours and give a real sense of 'life' to your work. You can also rest assured that because of the extensive different calibration options, should you want to print your images then what you see on screen is what you will get in a print out.
Conclusion
The ViewSonic VP2468 is not the cheapest monitor currently available on the market, however, cheaper monitors tend to be designed for all-round usage for display work or for people who don't need something to be particularly well calibrated – such as those working on written documents and so on.
When you compare this monitor to other monitors of its type on the market, the £260 asking price seems positively good value for money, and you'll be able to find professional level monitors for photographers, videographers and designers for at least twice the price on the market.
The biggest drawback of this monitor in today's climate is that it doesn't offer 4K resolution. As more and more cameras start to offer 4K video recording as standard, it could be that this monitor can't keep up with your camera kit before long. If you have any intentions to work with 4K video either now or in the future, you might want to consider an alternative.
Being able to tilt, swivel and rotate the screen is fantastic not only for ergonomics, but also to allow you to better see portrait format images – something which photographers will of course particularly appreciate. It also looks great – with the 'frameless' design making it look attractive, modern and clean.
(photographyblog.com, https://goo.gl/NFJD5G)
Comments
comments