A PREMIUM ULTRAPORTABLE WINDOWS LAPTOP
Toshiba's Kira-10D is a thin-and-light ultraportable Windows laptop. See how it fares in our Toshiba Kira-10D review. 
You can find ultraportables cheaper than the £1000 Kira, but Toshiba has invested in quality components for this small notebook to provide a more premium product.
Its 13.3in display is a high-grade IPS type which gives superb image quality, and its full-HD resolution in this size means a higher 166 ppi pixel density for sharper text and graphics.
The casework is magnesium alloy bottom to top, thinner and not as solid-feeling as an aluminium unibody MacBook Air but lighter overall, under 1.1 kg. It's smaller too, just 315 mm wide with a thinner gloss black bezel around the screen.
The Air allusion is continued by the very shape of the Toshiba Kira-10D, subtly wedge-shaped with the same sculpted taper toward the front.
A smaller keyboard has stunted rectangular keys, easy to type on thanks to good consistent action across the board with decent travel. The buttonless trackpad was functional enough but we'd expect less stickiness, more precision at this price.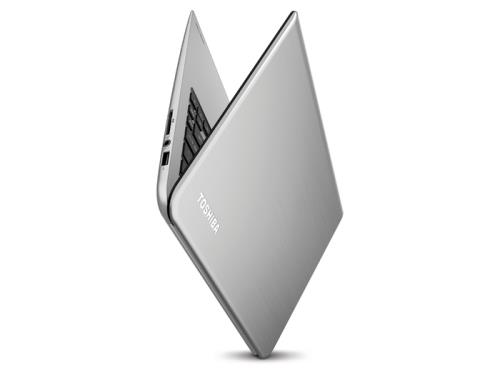 The port count is low, typical for the size category, but all three USB are 3.0 while HDMI 1.4 means you can drive 2560 x 1600 screens without issue.
Flash-inventor Toshiba includes a good SSD here, 256 GB and mSATA, which ensures a responsive overall feel in a useful capacity. And wireless is up-to-date, two-stream 11ac Wi-Fi.
As with other recent Toshibas, the company banks on kickback earnings from avaricious sponsors, when you alight upon pre-installed links and programs from McAfee, Amazon, Skype, Spotify, eBay, Booking.com, Skyscanner and more. Windows built-in unzipping utility is replaced by WinZip, for which you're nagged to pay.
PERFORMANCE
Driven by an Intel Core i7-5500U at 2.4 GHz, the Toshiba Kira-10D has good processing reserves, more than you'd expect of an ultrabook. When pushed its single fan would rev but mostly remained quiet.
PCMark 8 scored the laptop with 3051 points in Home accelerated mode, an impressive result. Geekbench 3 revealed more of the same – 3104 points for just one Turbo-boosted core, rising to 6348 points in quad-core mode with Hyper Threading.
Thanks to one of Intel's better integrated efforts, HD Graphics 5500, this little laptop has entertainment value too. While Batman: Arkham City at native 1920 x 1080 was beyond it (22 fps, Medium), winding down to 720p revealed an average of 43 fps, if dipping to 23 fps minimum.
Worse, Tomb Raider at 1080p only allowed 18 fps; but at 720p and Normal detail expect a more playable 34 fps.
The Toshiba Kira-10D's display quality is first-class, an excellent 800:1 contrast ratio and 100 percent sRGB coverage. Its colour accuracy of just 0.61 Delta E was outstanding too. One deficit is backlight control though, low-rent PWM to reduce brightness, revealing flicker to sensitive eyes.
Despite the low weight the Toshiba Kira-10D packs a healthy 51 Wh polymer battery which proved able to keep running nearly 11 hours (10 hr 59 min) in our wireless-streaming test.
SPECS
Toshiba Kira-10D: Specs
13.3-inch (1920 x 1080), 166 ppi IPS matt anti-glare display
Windows 8.1
2.4 GHz Intel Core i7-5500U (3 GHz Turbo) 2C, 4T
Intel HD Graphics 5500
8 GB (1x 8 GB) 1600 MHz DDR3
256 GB mSATA SSD (Toshiba THNSNJ256GMCU)
802.11ac 2×2 (Intel Wireless-AC 7265)
Bluetooth 4.0
3x USB 3.0
HDMI 1.4
SDXC card slot
stereo speakers
0.9 Mp webcam
dual mics
3.5 mm headset jack
UK tiled keyboard with two-stage backlight
buttonless multi-touch trackpad, 104 x 59 mm
51 Wh lithium-ion polymer battery, non-removable
45 W mains charger with IEC C5 inlet
315 x 206 x 18.0 mm
1083 g

VERDICT
The Toshiba Kira-10D is a well-balanced premium ultraportable, carrying off a great display, good magnesium build quality and a fast Core i7 processor. It's thin, very light to suit anyone needing a more satisfactory Windows ultraportable.
(pcadvisor.co.uk)
Comments
comments