The Good: A great set of features for a reasonable price. The included stylus fits into a handy custom slot on the body, and its basic graphics card can handle light gaming.
The Bad: It's heavier than many other 15-inch laptops, the body can get hot and the power button is awkwardly placed. Battery life and audio are both underwhelming.
The Bottom Line: The Samsung Notebook 9 Pro has a few design quirks, but is packed with features for a surprisingly modest price.
Anyone thinking of getting into the laptop business should consider one piece of advice. Take at least one product in your lineup and call it the Pro model.
It's an idea that's worked well for years. Apple has the MacBook Pro, which helped define the "pro" computer. Microsoft has the Surface Pro, which remains the king of the tablet PCs, and now Samsung has a higher-end version of it's excellent Notebook 9 series, called the Notebook 9 Pro.
Samsung's Pro version of the Notebook 9 is feature-packed.
We recently reviewed the 15-inch non-Pro version of the Notebook 9, and in truth those two models are very similar. Both cost around the same, within $100 or so, both combine Intel Core i7 processors with 16GB of RAM and 256GB of SSD storage. Both have decent 1,920×1,080-pixel displays (although one could argue a 15-inch premium laptop deserves a higher screen resolution), and both include low-end discrete graphics. The Notebook 9 has an Nvidia 940MX, while the Notebook 9 Pro has an AMD Radeon 540.
The biggest differences are that the non-Pro model is much lighter (2.6 pounds or 1.1 kilogram vs. 4.8 pounds or 2.1kg), and the Pro version has a touch display, a 360-degree hinge for folding the screen back into tablet mode and a built-in stylus. For $1,299, that's a pretty feature-packed laptop. Samsung doesn't currently offer its Windows laptops in the UK or Australia, but that works out to around £1,075 or AU$1,765.
The Pro laptop is slightly heavier than its non-Pro sibling.
Samsung Notebook 9 Pro
| | |
| --- | --- |
| Price as reviewed | $1,299 |
| Display size/resolution | 15-inch 1,920×1,080-pixel touch-display |
| PC CPU | 2.7GHz Intel Core i7-7500U |
| PC Memory | 16GB DDR4 SDRAM 2,133MHz |
| Graphics | 2048MB AMD Radeon 540 Graphics |
| Storage | 256GB SSD |
| Networking | 802.11ac wireless, Bluetooth 4.1 |
| Operating system | Windows 10 Home (64-bit) |
A slimmer stylus
The stylus is the same S-Pen model found in Samsung's phones and tablets. It's shorter and slimmer than some of the pen tools used by other PC makers, but it also slips right into a slot on the front lip of the laptop.
The laptop includes the same S-Pen found in some Samsung phones.
When you pull it out, an on-screen memo of Samsung inking tools pops up. Microsoft's Surface products, in contrast, clip the stylus into the side of the display, which is not as secure or as easy to fit into a slim laptop bag.
The S-Pen is passive, so it's not going to be as full-featured the Apple Pencil or Microsoft Pen, but for note-taking and sketching, I liked it. One big advantage of a passive stylus is that you never have to worry about whether it's charged up or has batteries.
Pull out the stylus and a menu of pen-friendly options appear.
Of course, the most common user interface tools you'll probably use are the touchpad and keyboard. The keyboard design here skips a separate numberpad (still found on many 15-inch laptops), but leaves extra space for the arrow keys and a separate column for page-up, page-down and other navigation keys. The touchpad is large, but not a big as on the 15-inch MacBook Pro.
Faster, hotter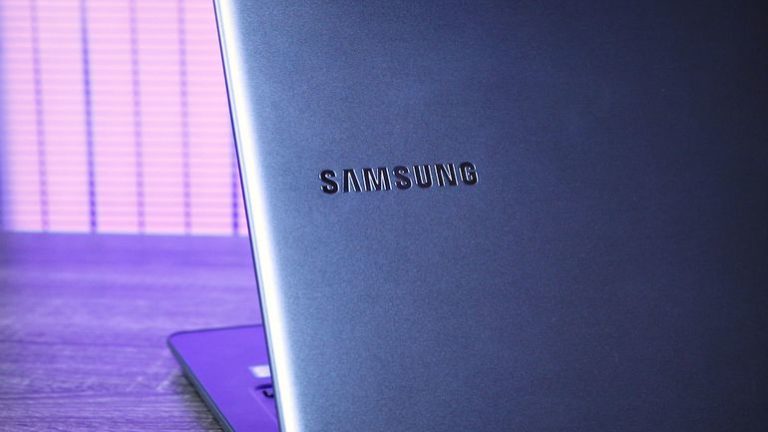 Performance in our benchmarks showed a step up from the non-Pro 15-inch Notebook 9, which bodes well for professional use. But it still doesn't keep up with the best-known "Pro" laptop, the MacBook Pro, which turned in faster scores. Keep in mind that  Apple's latest 15-inch Pro modelcosts at least $1,000 more.
The basic AMD graphics aren't going to make this a gaming machine, but I'm happy to have the included GPU, as it can be useful for artists, photographers and video editors, and it doesn't seem to add a lot to the very reasonable overall price. For kicks, I tried a little gaming, and was able to play the latest Call of Duty game without too much trouble. Frame rates hit 30 frames per second or more once I dialed the detail settings to low-to-medium levels and the resolution down to 1,280×720.
The laptop can handle Pro-level tasks, but it gets hot while doing them.
However, when used for anything other than light web surfing the system could get hot. After one video viewing session where I could feel the heat against my legs, I took a quick temperature check of the bottom panel, and it got up to 98 degrees Fahrenheit (37 degrees Celsius).
Battery life was one area where the Pro didn't beat the competition. At 8 hours and 29 minutes, it ran decently in our streaming video battery test, but the 15-inch MacBook Pro ran for more than two additional hours. Samsung's non-Pro Notebook 9 ran for more than three hours longer.
Pro, with a few quirks
The Samsung Notebook 9 offers a surprising number of Pro-style features, including a built-in stylus, 360-degree hinge and AMD graphics, at a very appealing price. But that doesn't mean the system doesn't have a few quirks.
Besides getting hot at times, the audio suffers from a lack of front-facing speakers. Audio seems to come out from behind the keyboard and from a grille on the bottom of the system, leading to weaker-than-expected sound.
The laptop has some design gripes regarding its speaker placement and power button location.
My biggest frustration is a bit of sloppy industrial design. The slim power button is located on the right edge of the system, about halfway down. It's in exactly the spot you'd put your hands when either repositioning it on a desk, or picking it up to flip into tablet mode. What do you think happened? You guessed it — almost every time I'd pick up or try to move the system, I'd end up accidentally putting it to sleep.
Quirks aside, I'd rate this as an excellent value if you're looking for a big screen that plays well with a stylus, but don't want to spend a fortune.
System Configurations
| | |
| --- | --- |
| Samsung NoteBook 9 Pro | Microsoft Windows 10 Home (64-bit); 2.7GHz Intel Core i7-7500U; 16GB DDR4 SDRAM 2,133MHz; 2GB AMD Radeon 540 Graphics; 256GB SSD |
| Asus VivoBook S | Microsoft Windows 10 Home (64-bit); 2.7GHz Intel Core i7-7500U; 8GB DDR4 SDRAM 2,400MHz; 128MB Intel HD Graphics 620; 128GB SSD + 1TB HDD |
| Samsung Notebook 9 (15-inch) | Microsoft Windows 10 Home (64-bit); 2.7GHz Intel Core i7-7500U; 16GB DDR4 SDRAM 2,133MHz; 2GB Nvidia GeForce 940MX; 256GB SSD |
| Apple MacBook Pro (15-inch, 2017) | Apple macOS Sierra 10.12.5; 2.9GHz Intel Core i7-7820HQ; 16GB DDR3 SDRAM 2,133MHz; 4GB Radeon Pro 560 / 1,536MB Intel HD Graphics 630; 512GB SSD |
| LG Gram 15 | Microsoft Windows 10 Home (64-bit); 2.7GHz Intel Core i7-7500U; 16GB DDR4 SDRAM 2,133MHz; 128MB dedicated Intel HD Grpahics 620; 512GB SSD |
(cnet.com, https://goo.gl/whz7yS)
Comments
comments