PROS
Feature-rich smartphone integration
Solid build quality
Comfortable, responsive keys
CONS
Expensive
Keys aren't mechanical
KEY FEATURES
Roccat rubber dome switches
RGB backlighting
Fully programmable keys
Smartphone features
Manufacturer: Roccat
Review Price: £150.00/$225
WHAT IS THE ROCCAT SKELTR?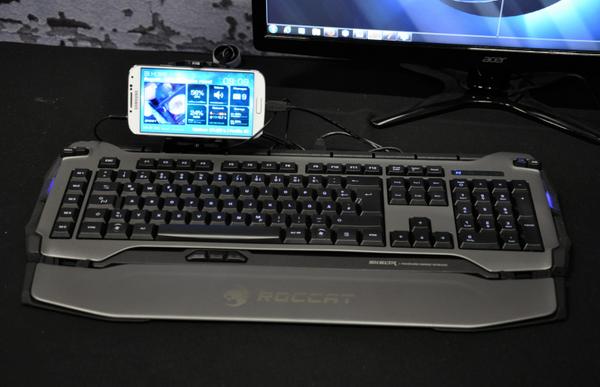 The Skeltr is one of the priciest keyboards on the market, and Roccat tries to justify its price by loading it with features – including heavy smartphone integration.
ROCCAT SKELTR – DESIGN, FEATURES AND SMARTPHONE INTEGRATION
The Skeltr works with smartphones and tablets, with such devices slotting into a recessed area at the rear of the keyboard. It lets you charge your devices, reply to messages and answer calls – and a special app can be used to manage the keyboard and your own PC from your smartphone's touchscreen.
Pairing the phone and keyboard is easy. Connect the two using the included USB and audio cables, and then download the Roccat Swarm app from the Android or Apple app stores. Once it's installed, open it and hit the scan button – if your phone and PC are on the same network, the devices will connect.
Once that's done, the smartphone app opens a status screen. The top row is made up of the audio options – play, pause, rewind and skip tracks, and volume sliders. The bottom row serves up memory and network usage stats, alongside CPU and GPU temperatures and loads.
A separate monitoring tab provides further information including clock speeds, voltages and additional temperatures, and the Skeltr Settings section has options for changing the brightness, colour and pattern of the keyboard's lighting; there are buttons for switching between profiles too.
The Tools option measures APM and mistakes-per-hit, and there's an option to monitor which games your PC is running. A battery-saving mode dims the screen, and the app can auto-connect to the PC when it's loaded.
The phone and keyboard can connect with Bluetooth, too. When that's functional, a button on the Skeltr can be used to answer calls through your headset. Another button switches the Skeltr's input so that it works as a Bluetooth keyboard, designed for answering messages on your phone during a full-screen gaming session.
It's smart, intuitive software. Most of its functions aren't strictly necessary, but it makes profile switching and gaming easier – and a flashier, too. The system monitoring, call answering and message-response options are also useful.
However, there are numerous niggling issues with the Skeltr's smartphone integration, although none are ruinous. The phone has to be placed sideways for the app to work, and on my Samsung phone, the split-screen option didn't function. The Roccat app sometimes took a little too long to respond, and charging is slow. There's nowhere to stash excess USB or audio cabling, and phones or tablets holstered in chunky cases might not fit.
The keyboard itself is a brute. It's huge, with plenty of space around the keys and splayed struts on the left- and right-hand sides that hold dramatic-looking RGB LEDs. A detachable wristrest adds more depth, and the grey and black material looks good. It's plastic rather than metal, but I have full confidence in the Skeltr's build quality. The rubber feet are excellent, too – the unit never budged on my desk.
Five macro keys line the left-hand edge and there are three more programmable buttons below the spacebar. The left-hand side has phonecall and audio-switching buttons, and the right has buttons for to switch to Bluetooth typing and to open the Roccat app on your PC.
The RGB illumination glows through the key designs but it doesn't leak from beneath, which helps the Skeltr look neat. The pairs of braided USB and audio cables look smart, and there's a row of status lights in the top-right corner.
There is one thing, though: the keys. This keyboard might cost £150, but that doesn't buy you one with mechanical keys. Instead, Roccat uses rubber dome technology. This construction is sold as an ideal half-way house between clicky, mechanical keyboards and softer alternatives. It's a simple system: each key has a plunger and spring beneath its plastic surface, and this is pushed down into a rubber-domed membrane that registers the input. In theory, it's supposed to provide a responsive, tactile typing action alongside a soft impact.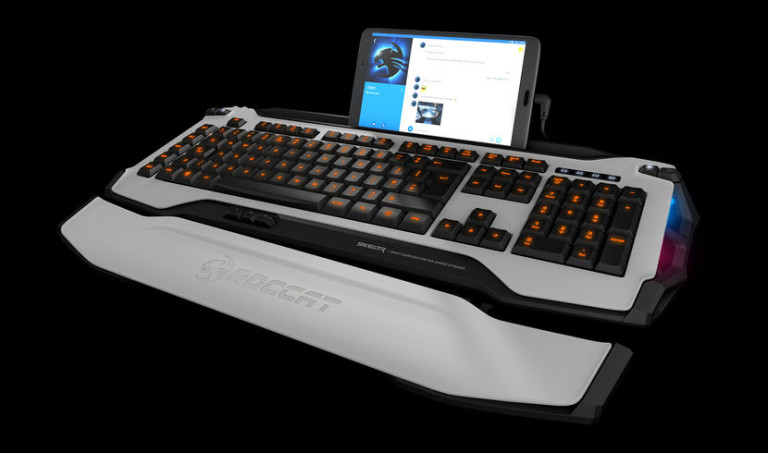 Both of the Skeltr's rivals use mechanical switches, although neither use Cherry MX hardware. The SteelSeries Apex M800 uses switches made in collaboration with a Chinese firm, and they're designed to be low-profile and quiet. Homemade switches are used in the Razer BlackWidow X Chroma, and they're built to be lighter and faster than most mechanical rivals.
Elsewhere, Skeltr has a mixed bag of features. It has anti-ghosting but only supports ten-key rollover – the same as the Razer, but short of the 256-key rollover offered by the SteelSeries. The keys aren't removable, which means no replacements in the box. There aren't any USB ports aside from the one that's used to connect the smartphone. Longevity is a mystery, too; Roccat doesn't publish this statistic.
The Roccat's rivals offer some of these features. Alongside the 256-key rollover and anti-ghosting features mentioned, the SteelSeries is rated for 60 million key presses. It also has a greater number of USB ports.
The Razer has anti-ghosting and ten-key rollover alongside an 80-million-click lifespan, but no USB ports.
ROCCAT SKELTR – SOFTWARE
I've already covered the Roccat's smartphone software but, as usual, this keyboard also comes with a desktop app.
The main screen has options for macro programming, key assignments and profile management. Each key's function and lighting can be customised, and the main panel also has character repeat sliders.
The Settings tab has audio and LED options alongside a Bluetooth module – a handy alternative option for hooking up the Skeltr to a smartphone. Oddly, there's also an option for the Skeltr's keys to provide audio feedback, with a standard click sitting alongside typewriter and sci-fi sound effects.
The key assignment tab provides more in-depth tweaking options and a host of pre-programmed functions for gaming, OS management, web surfing and multimedia. There's a separate lighting page too, where effects can be altered – the options range from breathing and pulsing settings to a typing heat map or individual key blinking.
The generic Roccat software also comes with two tabs that aren't compatible with the Skeltr. The first, AlienFX, works with Dell's Alienware to synchronise lighting across a handful of different Roccat products. The second, TalkFX, takes in-game events and turns them into dynamic lighting effects on the keyboard. That, again, only works with a small selection of Roccat hardware – and not the Skeltr.
There's little missing here, although the software is sometimes tricky to navigate; Roccat provides few indicators about how to change settings or open and close modules.
ROCCAT SKELTR – PERFORMANCE
The rubber dome keys are noticably different from conventional mechanical hardware.
They're softer than mechanical keys, and require less movement to register a press. They're quieter for the most part, too, although the Skeltr's Return and spacebar make more noise. You don't get the bump that's prevalent on certain mechanical switches, or the firm feeling when the keys bottom out.
The keys are softer and less insistent than mechanical keys, but this isn't necessarily a bad thing – they're comfortable and top-notch for typing. They're just as quick to respond as mechanical keys, and their comfort is matched with solid consistency.
The Skeltr's soft, responsive keys are absolutely fine when it comes to casual and mainstream games. I also had no problems with keys sticking or not registering. Despite that, for this money, I think that hardcore gamers will feel aggrieved at the lack of mechanical hardware.
Mechanical switches are certainly the preferred option for competitive players, and people used to those heavy, fast-twitch keys could find the Skeltr a little too spongy. And while the Roccat is great for typing, mechanical switches aren't exactly bad in this regard, either.
The Roccat's macro keys use the same rubber dome construction, but the shoulder and thumb buttons don't. They're far stiffer, with barely any travel and quick response – more like a gaming mouse than a keyboard.
The Roccat's soft-touch approach isn't far removed from its rivals. The SteelSeries Apex M800 has a similar lack of a firm base and a defined typing action – it was comfortable, but not necessarily great for twitchy gaming. The Razer BlackWidow X Chroma was a little firmer and louder, with more resistance, but still not as relentless as a Cherry MX mechanical keyboard.
SHOULD I BUY THE ROCCAT SKELTR?
This is a keyboard that places greater emphasis on its features than the typing experience, and that means it's going to be divisive.
The smartphone features are impressive. The ability to answer calls, reply to messages, switch keyboard profiles and monitor your PC's hardware is a boon, and Roccat's app links up easily and works well in most scenarios. It's a boon in gaming, and it works well with multimedia applications.
Elsewhere, it's a mixed bag. I like the macro keys, the design and the build quality, but serious gamers will notice the lesser key rollover and the dearth of USB ports.
The rubber dome construction is comfortable and quick, which means typing is top-notch and gaming is reasonable – but it just doesn't offer the snap and weight of a mechanical device. This is likely to put off many gamers.
The price, too, makes me wince. The phone features are smart, the build is good and the keys are solid, but for that money I expect all of that – and mechanical keys, too. If you're likely to make full use of the smartphone features then it's a worthwhile investment. If not, rival mechanical devices are cheaper and better for typing and gaming.
VERDICT
The Skeltr makes big claims about smartphone integration, and it largely delivers. The keyboard itself is solid and good for typing, too, although the price is too high, and the lack of proper mechanical hardware means it will lose ground with hardcore gamers.
(trustedreviews.com, https://goo.gl/dXrPO7)
Comments
comments