The Powermonkey-classic V2 from PowerTraveller is a palm-sized portable power charger that can link to a wide bunch of battery-hungry gadgets, including mobile phones, iPods, games consoles, digital cameras and PDAs.
Battery life isn't a strong point of the Apple iPhone, and most users have to charge the battery every other day, if not daily.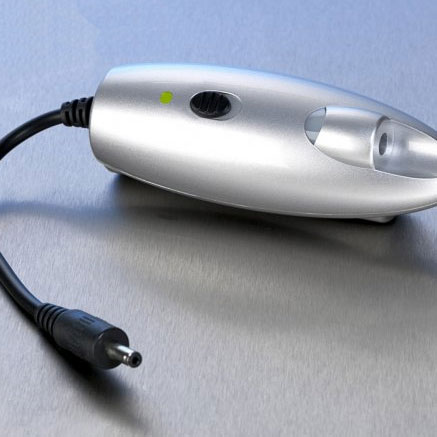 We've tested several iPhone battery packs and related accessories. We particularly likedMiLi's Powerspring case/battery charger, which not only protects the iPhone but stores a good bank of power that can take the phone back to around 80 percent of a full charge.
But here's another portable charger that we think iPhone users should consider – maybe even alongside the Powerspring.
The Powermonkey-classic V2 from PowerTraveller is a palm-sized capsule that can link to a wide bunch of battery-hungry gadgets, including mobile phones (such as iPhone 3GS andBlackBerry), iPods and MP3 players, portable games consoles, digital cameras and PDAs. It comes with ten device connectors and a universal mains charger with interchangeable heads for UK, Europe, Australia and US.
The Powermonkey's lithium-Ion battery boasts a 2200mA capacity, beating even the Powerskin/spring's 2000mA and most other portable power chargers.
In our tests the Powermonkey charged our iPhone's battery back to near full power and even had power left for a second charge that restored it up to around a third.
That should be more than enough for most gadget/phone users on the move between recharging opportunities. If you need more power for longer, you might think about carrying more than one Powermonkey.
The downside of the Powermonkey is that it's a rather inelegant solution. You plug it into the iPhone and there it must dangle while it charges the device's battery, which can take some time. (The PowerMonkey also takes longer to charge itself than other chargers. That said, if you charge when you have the time and power outlet to get the job done, this shouldn't be a problem.)
Although it's a bit cumbersome and you wouldn't want to keep it in your jacket or trouser pocket all day without arousing suspicion it is at least stylish, as well as compact (88-x-39-x-37mm) and lightweight (70g). It's even available in a range of vibrant colours: piano-finish black, classic silver, deep purple, royal blue and hot pink.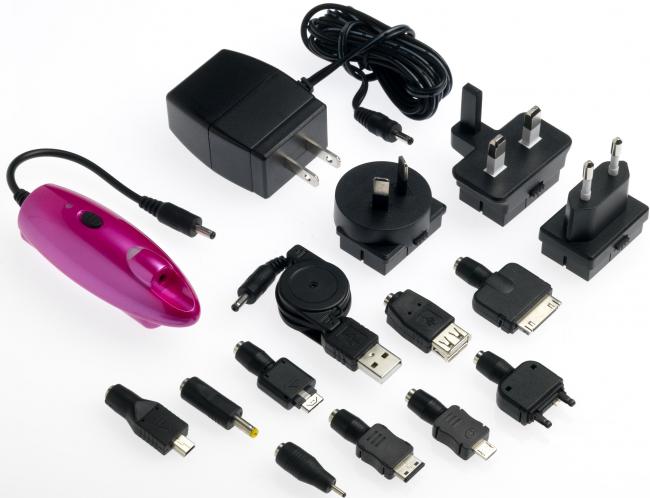 PowerTraveller claims that the Powermonkey-classic will work with any electronic device up to 5.5V. It comes with a universal mains adaptor that works in over 150 countries around the world. Included with the Powermonkey is a pack of adaptors (zanily called "monkeynuts") for leading mobile phone brands (including Apple, Sony-Ericsson, Samsung, Nokia and BlackBerry), as well as tips for other handheld gadgets such as Apple iPod and Sony PSP.
The Powermonkey has a sliding On/Off switch to prevent accidental activation and recessed LED charge lights.
It can be recharged either by the included universal mains charger or via the included retractable USB cable.
We like the Powermonkey so much that we recommend travelling heavy-use iPhone users to keep at least one in their bag at all times. As long as you remember to recharge it after you've refilled your iPhone it won't disappoint.
We're using both the Powerspring case/charger, with the Powermonkey as a secondary power backup that's best kept in your bag for emergency use.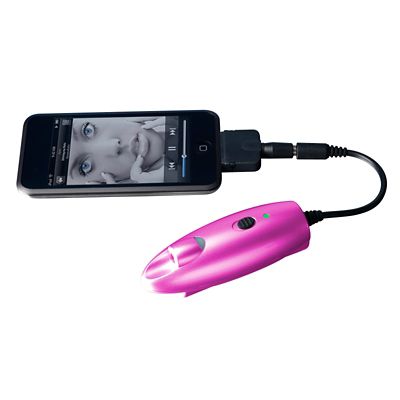 SPECS – Powermonkey-classic V2
Capacity: 2200mAh
Input: Interface: DC3.5 x 1.1
Input: Voltage: 5v 500mAh
Output: Interface: DC3.5 x 1.1
Output: Voltage: 4.5~5.5v
Output: Max Current: 1.2A
70g
88x39x37mm
VERDICT
The PowerTraveller powermonkey-classic V2 is an excellent compact, lightweight power charger for your battery-hungry devices. It's well priced at £35, and we guarantee that it's going to save you precious hours on your iPhone, BlackBerry, PSP or iPod sooner than you think.
(pcadvisor.co.uk)
Comments
comments