OUR VERDICT
The MSI GV62 7RC is affordable and has enough power to handle low-end gaming – but it's hindered by its poor screen and lack of real grunt
FOR
Good GPU for esports gaming
Smart, attractive design
Cheaper than most rivals
AGAINST
Weaker with Triple-A games
Poor screen contrast
Mediocre ergonomics
The MSI GV62 7RC-225UK is an unconventional gaming notebook. For starters, it costs just $1,085 (about £829, AU$1,414) – and MSI has built it for esports rather than the biggest and best new games.
The machine's esports ambitions come from a new Nvidia chip designed for these popular and undemanding titles, and the rest of the machine serves up a solid mid-range spec.
But is the MSI GV62 7RC too cheap to be cheerful?
Pricing and Availability
The model we've reviewed is the MSI GV62 7RC-224UK, and it's the pricier of the GV62 variants.
The more affordable machine is the GV62 7RC-225UK, which costs $1,015 (about £769, AU$1,325). It's got most of the same components as our review laptop, but it ditches the SSD and relies on its hard disk – so game loading times will be slower.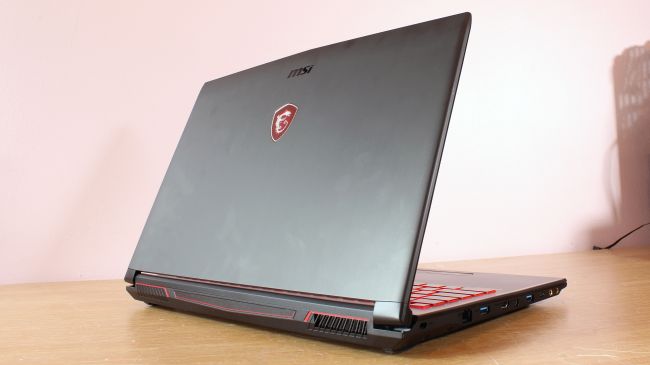 MSI is also selling 17.3in versions. The GV72 7RD-833UK costs $1,187 (about £899, AU$1,548) and deploys a GTX 1050 graphics core, an i7-7700HQ processor, 8GB of memory and a 1TB hard disk with a 1080p screen.
The GV72 7RE-1283UK costs $1,319 (about £999, AU$1,721) and uses a GTX 1050 Ti graphics chip and adds a 128GB SSD.
Design
MSI's machine doesn't break any ground, but it looks the part. Its brushed, gunmetal finish is brighter than the black metal used on many other machines, and it's accented with red: there's an MSI logo on the lid, a red keyboard backlight, red vents at the rear and extra color on the trackpad.
The solid aesthetic is paired with good versatility. It's got two USB 3 ports and a USB 3.1 Type-C connector, a DisplayPort output and a card reader, and the inside has dual-band 802.11ac wireless, Bluetooth and Gigabit Ethernet.
That versatility extends to the hardware: the base panel can be removed to allow access to the storage, cooling gear and memory, and there's a second memory slot free. You don't get that kind of access with the locked-down Dell Inspiron 15 7000 Gaming, which costs $1,065 (about £810, AU$1,390) for its entry-level model.
In other areas, though, the MSI is inconsistent. The 2.2kg weight is great, but it's 35mm thick once its rubber feet are included. That makes it lighter than the Dell, but significantly thicker.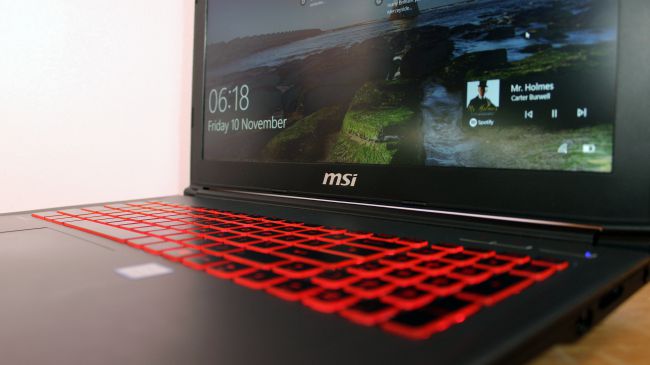 Build quality isn't great: the plastic base is too flimsy, the keyboard can be easily pushed, and flexing the screen makes the desktop distort. It's not a terminal issue on an affordable laptop, but we'd invest in a protective sleeve.
The GeForce MX150 is a new Nvidia chip designed for less-demanding esports titles like DOTA 2, League of Legends and Rocket League. Despite the different name, it uses the same Pascal architecture as other Nvidia chips – the specification is just cut back, with fewer stream processors and only 2GB of memory.
While it'll play esports titles without problems, it'll be difficult to play triple-A games without toning down quality settings.
The MSI ran DOTA 2's highest graphics settings at 68fps, and beat 100fps in League of Legends. It handled Rocket League with an average of 47fps at its highest settings.
It struggled, unsurprisingly, in tougher titles. It didn't get beyond 20fps in Shadow of War or Total War: Warhammer, and only hit playable framerates when we dropped the quality settings to Low. Those aren't isolated examples: we had to use Low or Medium settings in Battlefield 1, Rise of the Tomb Raider, Witcher 3 and Fallout 4.
The entry-level Dell Inspiron 15 7000 Gaming has a GTX 1050, which has around twice as many stream processors and 4GB of memory. That GPU will get beyond 40fps in top games as well as handling esports titles with ease.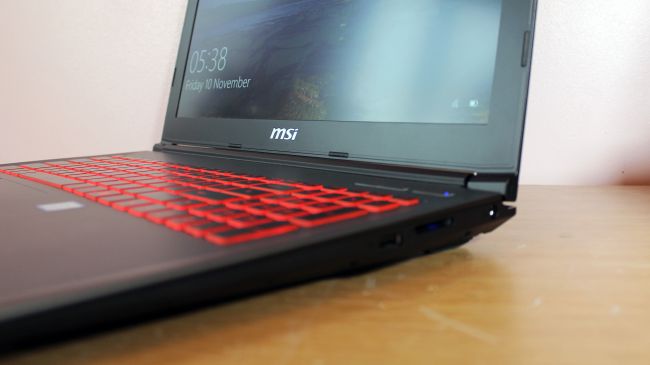 The modest GPU is paired with a Core i5-7300HQ. It's a quad-core chip with a base clock speed of 2.5GHz, but it doesn't have Hyper-Threading.
Its Geekbench scores reflect that specification – solid but unspectacular. The SSD returned similar results, with a great read speed of 2,095MB/s but a middling write pace of 575MB/s. There's enough ability to handle gaming, web browsing and office tasks, but not much more. You'll certainly want a beefier CPU if you'd like to stream, for instance.
Battery life isn't brilliant, either. The MSI lasted for around three hours in both benchmarks and just short of ninety minutes when gaming. That's entirely normal for an affordable laptop, but it does mean that you won't be able to stray from the mains. It's also about half as long as the Dell.
The modest components, at least, caused no thermal problems. The CPU and GPU peak temperatures of 63°C and 80°C are fine, and the fan noise never rose beyond a subtle whirr. The keyboard became a little warm during stress-testing, but it's nothing to worry about.
Screen and Speakers
We've no problems with a 1080p, 60Hz TN panel on an affordable gaming laptop – but this screen has undeniable issues.
Pleasingly, the colors are good. The panel's average Delta E figure of 0.37 is stellar, and the color temperature of 6,967K isn't far away from the ideal middle ground of 6,500K. The panel renders 97.8% of the sRGB color gamut, and it's relatively consistent: it lost around 12% of its brightness, which is fine. Viewing angles are a little disappointing, but response times are excellent – ideal for gaming.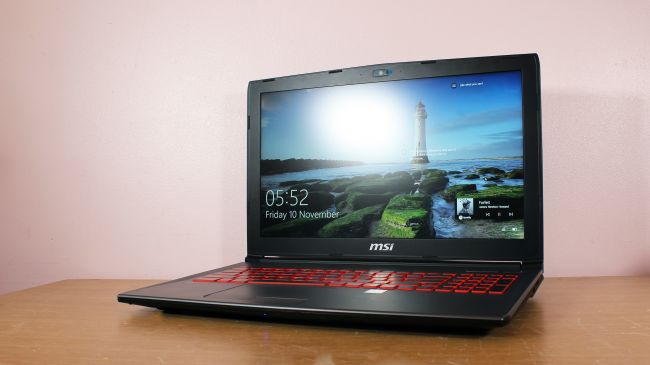 The big issue is contrast – or a lack of it. The modest brightness level of 230cd/m2 combines with the poor black measurement of 0.73cd/m2 to create a contrast level of just 315:1 – about a third of most other laptops.
The low contrast ratio and high black level means that colors will lack distinct shades and darker areas won't look deep enough. That means that games and movies won't look their best – but it's not going to cause problems aside from that.
The speakers aren't much to shout about, either – the high-end is tinny and they lack bass. Use a headset instead.
We liked
The MX150 has enough power to handle current esports titles, and it's bolstered by a solid Core i5 processor and a rapid-reading SSD.
The MSI GV62 7RC looks good, weighs less than most 15.6in gaming laptops, and has plenty of versatility.
It's cheap, too – most gaming notebooks cost twice as much.
We disliked
Build quality isn't great, and the screen lacks contrast – so games don't look as punchy as possible, and black levels are underwhelming.
The MX150 GPU quickly finds its limitations, too. The GTX 1050 is able to handle esports and big-name games at Full HD, and the rival Dell machine also offers better battery life for similar money.
Final verdict
The MX150 is a solid esports chip, and it's built into a good-looking and easily-portable notebook. The low price means that the screen and build quality aren't as good as they could be, though, and similarly-priced machines have better graphics chips.
This is a decent, affordable gaming notebook, but it's not the only option at this end of the market.
(techradar.com, https://goo.gl/nYPwPF)
Comments
comments