HIGHS
Massive size
Sharp, color-accurate image quality
Plenty of connectivity options
Sturdy stand
LOWS
Average contrast ratio
Short warranty
In the land of big monitors, the ultrawide is king – or at least, we think so. These 21:9 panels boast impressive resolution, immersive curves, and more workspace than you're used to from a single panel. The most common we've seen are 2,560 x 1,080 panels, or more impressive 34-inch displays with 3,440 x 1,440 resolution.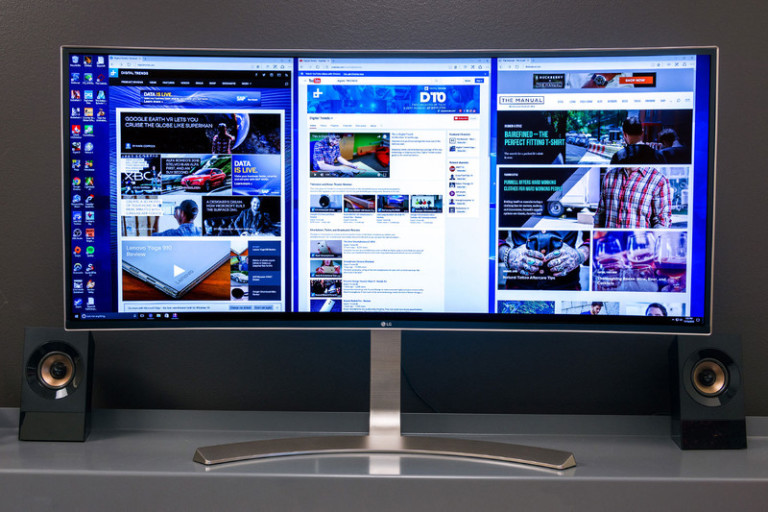 But LG is taking things to a new level with the massive 38-inch 38UC99, boasting 3,840 x 1,600 resolution, and a 75Hz refresh rate, with FreeSync support. At a glance, the 38UC99 is both massive and impressive, something we don't usually say about computer monitors.
There's nothing else like it on the market right now, with its only competition coming from the aforementioned ultrawide panels at half the price, such as the Samsung S34E790C, Dell's U3415W, and LG's own 34UC98. But is this extravagant display worth its $1,500 MSRP, or will smaller screens suffice?
You'll need a big desk
There are no real surprises when it comes to the LG's stand and aesthetic. The white and stainless steel color scheme used on all high-end LG monitors is found here, and the sleek, curved stand is similar to its small siblings. It's mundane, but elegant.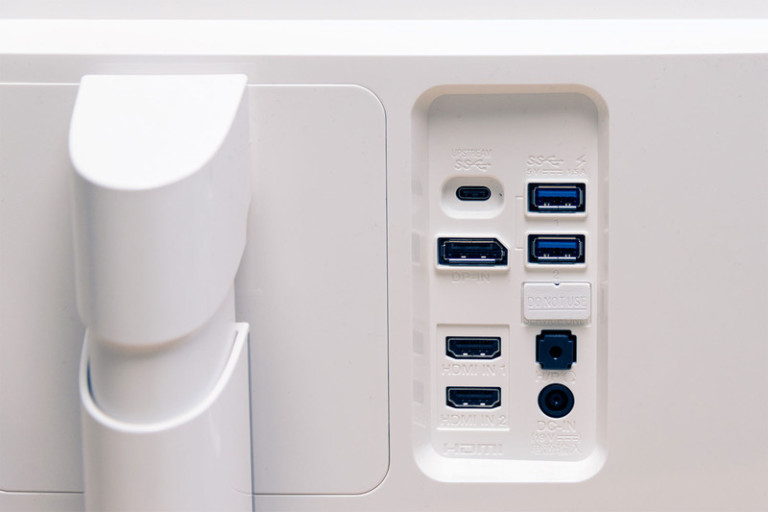 The stand provides some ergonomic options, offering height and forward-back tilt adjustment. The wide base means it doesn't wobble much, and the range of motion is enough for most use cases. The only exception is that, without pivoting the whole setup, it's tough to plug anything into the back of the panel. VESA compatibility is included, so you can replace the stand for a more adjustment mount if desired.
LG's use of a similar design across its range has its benefits. There are no major panel gaps or oddities, and the monitor feels sturdy and well-built. That's important, given the monitor's price. You'll want it to feel premium, even if you rarely touch it.
Several ports, and…Bluetooth?
LG packs the back panel of the 38UC99 with a plethora of ports. There's two HDMI 2.0 and a single DisplayPort 1.2 for video inputs,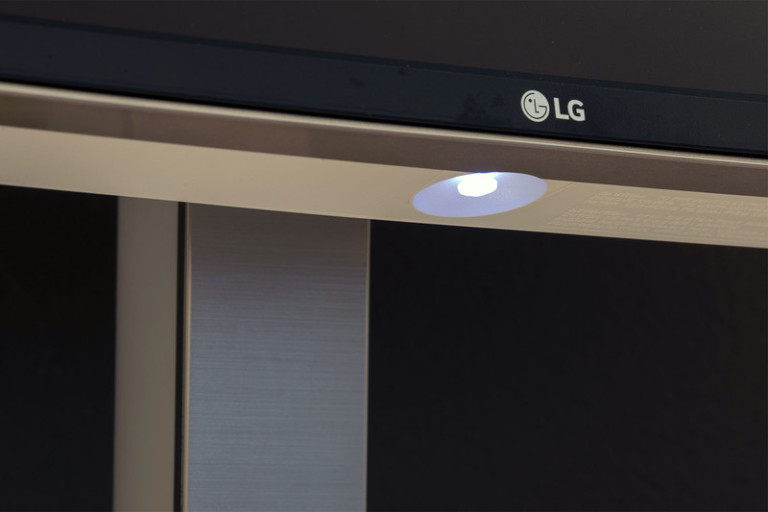 In addition, this screen has Bluetooth for pass-through audio from the system. With USB Bluetooth adapters as cheap as they are, this perk isn't all that important, but it's a nice touch for anyone with external speakers or wireless headphones.
A joyful joystick
Like most LG monitors, the main control method for the on-screen display is a directional joypad situated on the underside of the screen, right in the center.
Within the on-screen display menu, there are a handful of sub-menus that, unlike some monitors we test, are arranged intuitively. The first sub-menu handles brightness, contrast, and volume, as well as allowing you to quickly turn on Bluetooth audio.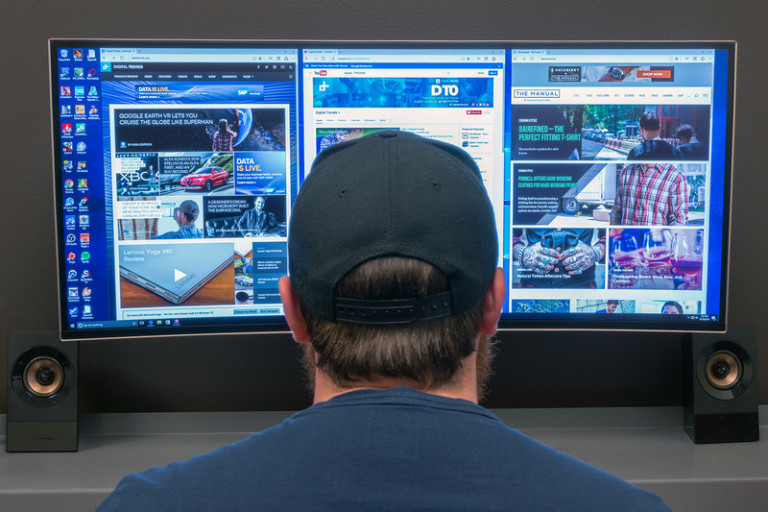 The next menu lets you handle more esoteric parts of the display's operation, including input switching preferences, reported aspect ratio, and multi-input picture-by-picture settings. More complex image settings allow to you adjust the picture as you see fit, including gamma, color profiles, and response rate.
Finally, there are options for controlling the speakers and Bluetooth audio pass-through. Again, we're not sure how commonly this feature will be used, but at least it's configurable, just like the rest of the panel.
Pre-calibration image quality
We'll start off by saying we don't put much stock in manufacturer claims about monitor specifications, so we always pull out our trusty Datacolor Spyder to take real measurements.
There isn't much to write home about here. The LG 38UC99 manages to coast along in most benchmarks, reaching our baseline numbers, without setting records. Its 1.53 color accuracy is just shy of an ideal one — lower is better — and is the best of the ultrawides, except for our pre-calibration LG 34UC98. It covers 100 percent of the sRGB gamut and 78 percent of the AdobeRGB gamut, which is about the same as every other ultrawide we've tested.
Brightness is a similar story, with the 38UC99's 332 lux maximum brightness just a hair short of the Dell, and slightly ahead of the Samsung. Acer's Predator Z35 takes a strong lead, falling just short of 400 lux. Gamma is a strong point for the LG, sitting at an ideal 2.2, with 2.1 and 2.5 options built-in. The Samsung, Dell, and Acer are all off-center at 2.0, which means they have a brighter cast than they should.
Contrast ratio is the only real sticking point for the LG, but it's hard to call it a total loss. At 660:1, the 38-inch version improves on LG's own 34-inch ultrawides, which fall at or below 600:1. Unfortunately, it still can't keep up with the Dell, Samsung, or Acer Predator options, which all break 700:1.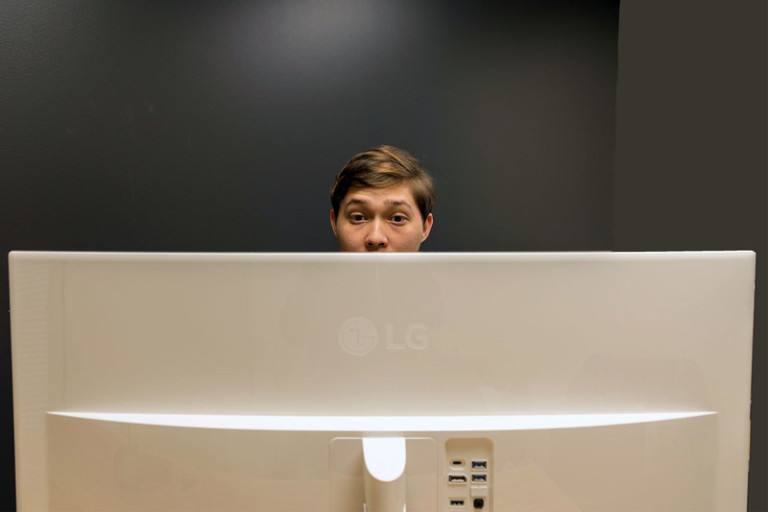 At the end of the day, the LG's image quality isn't anything special, but it's good enough to provide a strong real-world experience. Games and movies look great in motion thanks to the monitor's respectable color accuracy, accurate gamma, and reasonable contrast ratio. Dark scenes can test the limits of contrast, though. Blacks never reach an true, inky darkness. That's common with monitors, but this is likely the LG's more mediocre trait.
But you may not care. The monitor's huge, sharp screen inspires awe at a glance, and then continues to do the same for hours. Playing Forza Horizon 3 on the LG 38UC99 was a stunningly immersive experience, nearly as engrossing as a virtual reality headset.
And there's more good news. Backlight bleed – spots of brightness that become noticeable in dark scenes – commonly spoil ultra-wides due to the curvature of the display. Spots are noticeable in the corn of the LG 38UC99, but they're among the tamer we've seen, and not noticeable in most situations. You'll only notice them in extremely dark movies, and probably never in games.
Post-calibration image quality
While calibration can't fix major issues, it often brings gamma and color accuracy more in line with ideal values, two fields in which the LG already boasts strong numbers.
In fact, not much changed at all when we calibrated the LG. The color accuracy got a little better, but only moved from 1.53 to 1.35, the best of the ultrawides. Everything else stayed where it was before, except contrast, which is affected by our reduced brightness during calibration.
That's good news for most buyers, as it means you won't need to spend another $200 to get the most out of your already expensive display.
Warranty
LG's 38UC99 includes a one year warranty for parts and labor. This is a sore spot for LG, as many of its competitors offer better terms. Acer, Asus, and Dell all offer three-year warranties, often with a "rapid replacement program," or similar, which will (in certain situations) ship out a replacement as soon as you've shipped out the defective display.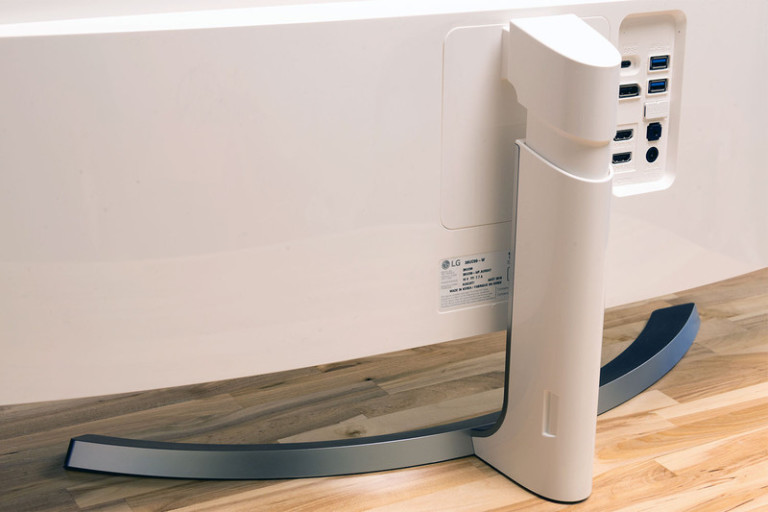 OUR TAKE
LG's 38-inch ultrawide is nothing short of jaw-dropping, and from the moment you lay eyes on its curved 4K panel, you'll wonder how you ever got by with a measly 27-inch or 24-inch monitor.
Is there a better alternative?
Other screens may come close, but there's simply no substitute for the LG 38UC99. The closest competitors are 34-inch 1440p panels, of which we've reviewed a handful. They're all basically on par with the 38-inch version in terms of image quality, but they aren't nearly as awe-inspiring because, well, they're small. But they're also less expensive, ranging from $500 to $1,200, depending on quality.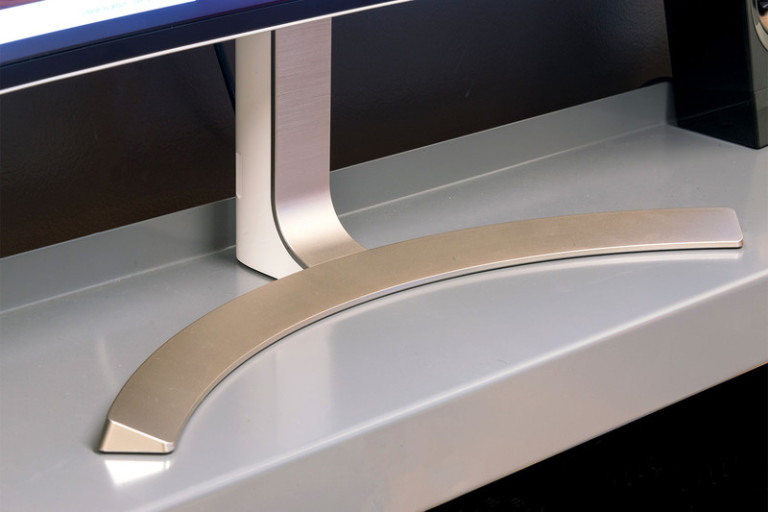 How long will it last?
The LG's almost-4K resolution, adaptive refresh, and multitude of connections make this a monitor that's built to last. We don't expect to see many panels reach beyond 4K in the next few years, and those will be even more expensive than the 38UC99. Also, FreeSync support means there's opportunity to smooth out games. This screen will hold up over time.
Should you buy it?
Yes, if there's somehow $1,500 in your budget for a monitor. That's enough money to build a high-end gaming system and a decent 4K panel, so you've got to want the expansiveness and showmanship the 38UC99 offers. If you do, there's nothing quite like it.
(digitaltrends.com, https://goo.gl/FxcZCe)
Comments
comments