Key Features
i5 and i7 Eighth Gen Intel CPU options
8GB or 16GB DDR4 RAM
256GB – 1TB PCIe SSD options
15.5 hour quoted battery life
13.3-inch 4K screen
Hands on with Lenovo's 8th-gen Intel-powered Yoga 920 announced at IFA 2017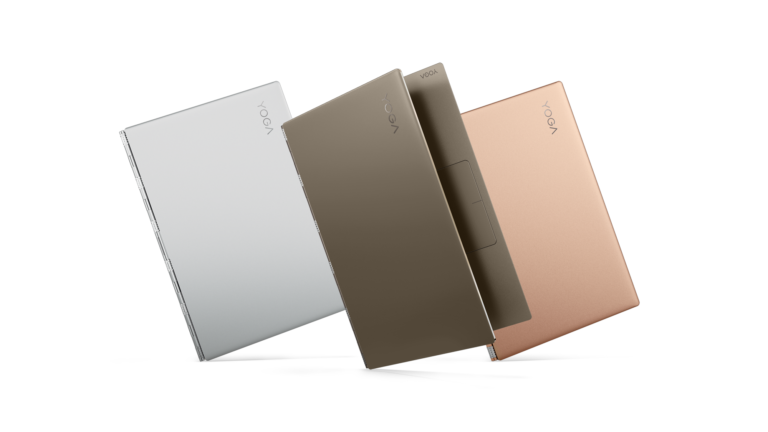 The Yoga 920 is Lenovo's latest foldable laptop. At first glance, this flagship model doesn't look hugely different to the older Yoga 910, with the new device featuring the same watchband hinge design and a close-to-identical external chassis.
While some may find the lack of new visual flair somewhat dull, in my opinion the design still ticks all the right boxes when it comes to functionality.
The watchband hinge is as useful as ever, allowing you to fold the laptop into a table-top position, or set it to stand at a variety of angles. The backlit chiclet keyboard has the same slightly spongy feel, when compared to that of the more reactive Dell XPS 15's, but is still comfortable enough for basic typing. I had no issue using the laptop's sizeable Microsoft Precision touchpad during my demo.
You also get the same Full HD and 4K (tested) 13.3-inch screen options as before, which during my demo looked reasonably well calibrated. Colours looked neither too cool nor too warm, and offered solid viewing angles thanks to the use of an IPS panel.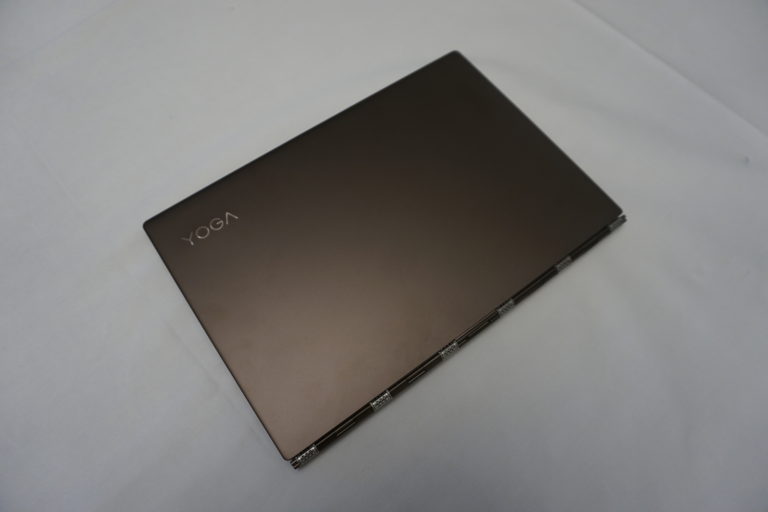 The only notable change was that the port options have been upgraded to include two USB-C Thunderbolt inputs alongside the regular USB 3.0 on the device's left side – and that there will be a select number of custom Star Wars-themed and special "Vibes" 920s released when the new film launches. Don't get too excited, though, the Star Wars laptops are identical to the regular 920, except for having a custom Empire or Rebel Alliance logo (below) painted onto their front. Yes, it really is quite naff. The only difference with the Vibes is that they have special painted-glass tops.
So far, so dull right? Fortunately, things get more interesting under the hood. The 920 is set to be one of the first flagship Ultrabooks to run using a spiffy new Intel 8th-gen CPU.
You may wonder why this is a big deal: after all, most people's living memory of laptop CPUs is of a confusing, dull market dominated by Intel – which, let's face it, has been resting on its laurels for the past year with the release of the unexciting Kaby Lake architecture. But this year all that changed, when AMD threw down the gauntlet with its new Ryzen CPUs and Intel responded with its most interesting update in a quite some time.
The version I tested came with a new i7 U-series CPU, 16GB of DDR4 memory and a 1TB PCI-E 3 SSD – although a spokesperson on hand confirmed the 920 will also get Core i5, 8GB RAM and 256GB SSD options. Whichever version you opt for, performance should be radically better than past Yogas, if Intel's claims are to be believed. Intel boasts the 8th-gen laptop chips are 40% more powerful than 7th-gen equivalents and twice as fast as five-year-old equivalents.
I didn't get the opportunity to run any benchmarks during my demo – but, if remotely accurate, this means the 920 will be a beast capable of everything from basic web browsing all the way up to large-scale digital painting, photo editing and 3D modelling workflows – aided no doubt by its support for Lenovo's Active pen 2 stylus, which can detect 4000 pressure-sensitivity levels.
My only minor quibble is that Lenovo is only offering the device with Intel Integrated graphics. Personally, I'd have preferred that the company follow Dell's example and offer one version with a dedicated GPU – the Nvidia GeForce MX150, for example – that would make it a great choice for videographers and even light gamers.
As an added perk Lenovo is also claiming the new architecture's improved power efficiency means that the Yoga 920 will survive a stonking 15.5 hours from a single charge. I'd take this claim with a pinch of salt, however, since the company didn't disclose its testing setup or which configuration of the laptop it was referring to.
First impressions
The Yoga 920 may not look that different to Lenovo's older flagship, but in this instance it isn't necessarily a bad thing. The chassis still looks great and, thanks to the 920's upgraded port selection and hardware, it still feels very much like a modern Ultrabook. If the 8th-gen Intel CPU comes close to matching the company's performance claims then this device should also be an absolute powerhouse.
My only concern is that Lenovo hasn't confirmed all the configuration options or given the 920 a firm price. The only info I received at the event was that it will be "in the $1400-ish" price bracket.
(trustedreviews.com, https://goo.gl/XCd42k)
Comments
comments