Our Verdict
The Lenovo ThinkPad E480 not only continues to wear the E series badge with pride but also returns to its roots by displaying some traditional ThinkPad traits. This new model is definitely a job well done.
PROS
Subtle yet solid body design
Already great keyboard now backlit
Charging via USB Type-C port
CONS
Grainy and dull HD Display
Lacklustre hard drive performance
Lifting it is a mini-workout
Lenovo ThinkPad E480: Detailed Review
Every time I unbox a ThinkPad, I'm filled with a sense of thrill and curiosity. It excites me because I know I'm opening a box of quiet innovation and constant improvements. I know I'm about to see and use the computer equivalent of a sturdy Casio G-Shock. This time, it was more than just the usual thrill—I felt nostalgic and gooey. Please allow me to explain.
Some five years ago, I got a ThinkPad Edge E431 just before starting college. She was a fine machine (and still is), but I could see easily that her design was far removed from that of the traditional ThinkPad: she was curvier (the opposite of what a ThinkPad ever was), her touchpad was more barren (fewer buttons means lower costs), and her display would not fold back all the way to 180 degrees (an ability integral to the ThinkPad bloodline). Long story short, she was less 'ThinkPad' and more 'laptop' so that she could still bear the famous IBM-forged badge and retail for about thirty-five thousand rupees.
With the ThinkPad E480, I'm convinced the E series of ThinkPads is making a return to the old ThinkPad ways. I find more and more traditional ThinkPad traits on the model with each use, which can only be a good thing, right? Let's find out.
Build and Design
Although the ThinkPad E series was originally called the Edge series, it's only now that Lenovo has decided to bring in some sharp edges to the laptop body. Irony is unavoidable in life, isn't it? The ThinkPad E480 sports sharp edges on all four corners in an attempt to look more mature, understated, and of course, more ThinkPad-ish. Lenovo says the addition of sharp edges comes after taking customer response into consideration. It's definitely working if you ask me. According to Lenovo, the body of the ThinkPad E480 is 19.9 millimetres in thickness, an 11-percent reduction from the previous model. With a weight of 1.75 kilogrammes, the laptop feels somewhat heavy to carry around. Most of the weight is felt at the base of the laptop.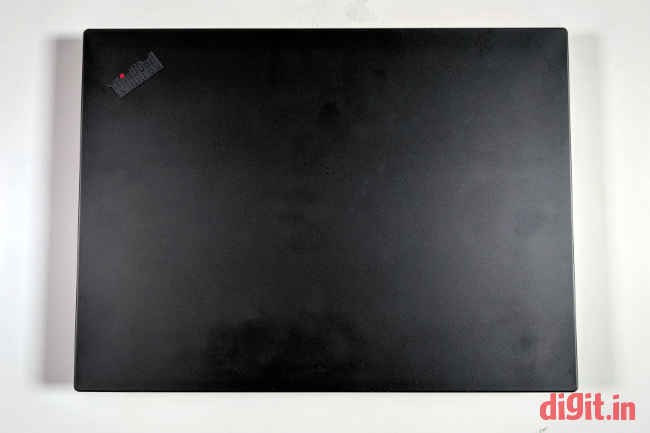 The lid is made of aluminium with a black finish, but low-end variants get only a coated plastic lid. The one in the model I received for review seemed to be made of plastic. It showed mild signs of flex when held and lifted from one corner but seemed tough enough for those occasional unintended grazes. The base of the laptop contained three rubber feet and a few grilles for heat dissipation. Veteran ThinkPad users may notice the lack of a docking port on the base. That's because the E series has never had one, nor will it ever; port replication is all done through USB Type-C these days.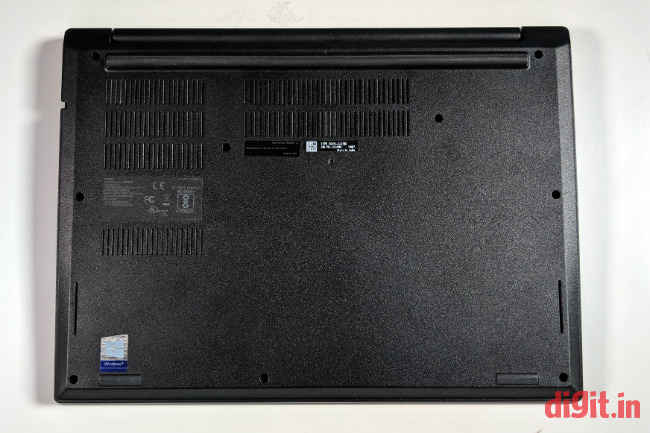 The lid opens easily with the push of a single finger and goes all the way back to a ThinkPad-standard 180 degrees. The bezels around the 14-inch display are made of brushed plastic and are fairly narrow except for the one at the bottom; it's spacious enough to fit half a dozen Post-it Notes. Lenovo says it's managed to shave off a significant width of the bezel in this model. The area around the keyboard is also made of plastic but has a certain softness to it. Resting the palms here is a comfortable affair. Punching the keyboard reveals no sign of flex.
Display, Audio, and IO
The ThinkPad E480 comes with two 14-inch matte-finished display options: a Full HD IPS panel and a HD panel. The model I received for review had the latter. Colours on the display seemed somewhat blunt while the screen itself burned brightly enough for bright places (like a sunny balcony). Colours shifted and darkened when I viewed the display from different angles. Text seemed unreadable when the display was at angles below 85 degrees. On the whole, text and images on the ThinkPad E480's HD display looked grainy and in need of more pixels for every inch. On the bright side, ambient light didn't reflect off the display at any angle, thanks to the matte finish on the display.
Audio on the ThinkPad E480 is delivered through down-firing speakers that sit inside two thin slits on the base of the laptop. The volume of sound pushed out was sufficient for a small conference room, but simply insufficient for a 24 x 24-foot bedroom where the air conditioner and fan were turned on. With the speakers on full volume, I was unable to catch all the dialogues of The Officewithout enabling subtitles. Bass output was weak but mid-range and high frequencies were better delivered, I felt.
There are ports aplenty on the sides of the ThinkPad E480's body. On the left side, there's an HDMI port, a 3.5mm audio jack for headsets, and two USB 3.1 ports. It also has a port I didn't expect to see on the machine: a USB Type-C port. It's what is used for charging the laptop. It of course works as a regular USB port as well. It's nice to see Lenovo attempting to standardise the charging port wherever possible on new models. On the right side, there's a USB 2.0 port, a microSD card slot, and an ethernet port, something that's barely seen these days on the sides of laptops.

For safety, Lenovo has included a Kensington lock port to tie your precious machine down to a spot. Select models also come with a fingerprint scanner below the keyboard. The fingerprint sensor features in-sensor authentication so fingerprint data isn't sent to the operating system where it's more vulnerable. During my time with the ThinkPad E480, the fingerprint scanner worked swiftly in the first go four out of five times. I found the quality of the HD camera questionable as it captured grainy and pixelated images with washed-out colours.

Keyboard and Touchpad
The keyboard on the ThinkPad E480 is borrowed from the preceding ThinkPad E470 (and the many models before it) but features backlighting for the first time on an E series. Pressing the Fn key and the space bar together allows you to choose between two levels of brightness for the backlight. According to Lenovo, the keyboard continues to be resistant to liquid spills up to 50 ml in quantity.
As with all ThinkPads, the keyboard on the ThinkPad E480 is large and comfortable. The keys on the keyboard have ample pitch (distance between individual keycaps), sufficient travel (how far the keys travel when depressed), and enough resistance (how easy the keys are to press). If anything, I felt they were slightly harder than the keys from the more sophisticated ThinkPad X1 Yoga's keyboard. The difference is understandable, given the huge gap in price. The dedicated keys for Home, End, Page Up, and Page Down functions make text manipulation a breeze.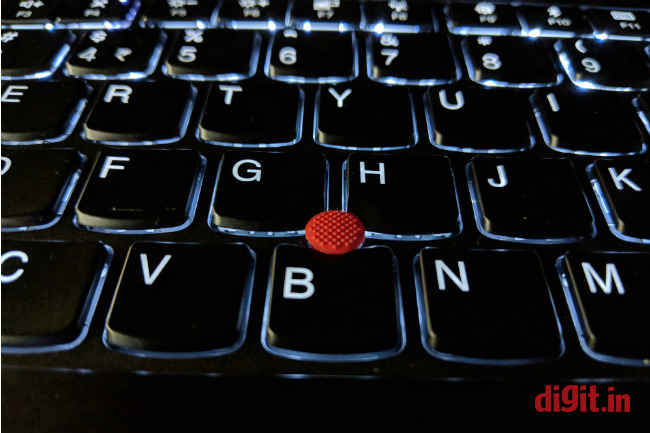 Good ol' TrackPoint continues to do duty
The touchpad on the ThinkPad E480 is a precision unit, which means multi-fingered gestures are supported. Settings for the gestures can be changed directly through Windows in Settings without downloading third-party utilities. Additionally, Lenovo has provided a utility in the Mouse Properties window to change 'Advanced Settings' and the way the TrackPoint works. Like many long-time ThinkPad users, I generally preferred using the TrackPoint over the glitchy touchpads of the the past but this ThinkPad E480's touchpad is jaw-droppingly precise and comfortable. The presence of a physical middle button made killing of window and browser instances a lot easier.
Performance
The ThinkPad E480 can be configured to have a CPU as high-end as the Intel Core i7, and RAM up to 32GB. According to the Lenovo product page, the laptop also features optional dual drive storage and PCIe SSD-based storage up to 512GB thanks to Intel Optane memory. The model I received for review came with an Intel Core i5-8250U CPU, 8GB RAM, and an integrated Intel UHD Graphics 620 GPU. Up to that point, everything on the sheet looked good.
In the storage department is where this review unit fell short: it came equipped with a Western Digital 1-terabyte hard drive. This—believe it or not—made overall computing slower than it should have. Starting Chrome for the first time after Windows had fully booted took over 17 seconds. Subsequent launches took about 4 seconds. On one occasion, I began five instances of Chrome simultaneously right after a boot and watched them open 40 seconds later.
In benchmark tests, the ThinkPad E480 did surprisingly well. On PCMark 8's Conventional Creative test, the ThinkPad outscored the Lenovo IdeaPad 330S by 363 points. The difference was more or less the same with other PCMark 8 and 3DMark tests.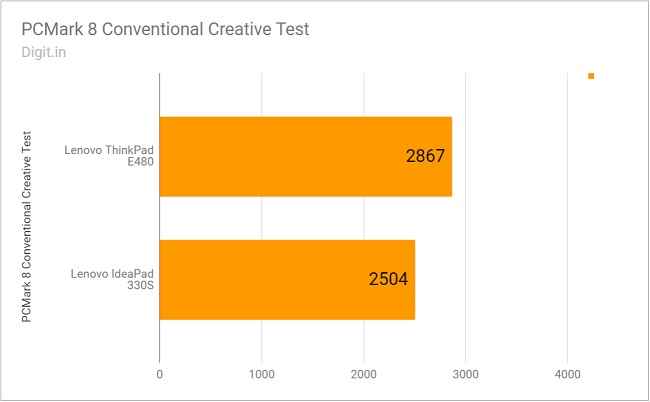 With everyday use, I discovered that the ThinkPad E480 was a really capable machine let down only by its sluggish hard drive. It switched between eight applications with ease. It even managed to retain browser tabs that were opened many hours ago in memory without refreshing or struggling. But suddenly clicking on the Wi-Fi icon in the system tray, or launching File Explorer—or performing any task that demands speed from the hard drive basically—made Windows freeze for a few good seconds.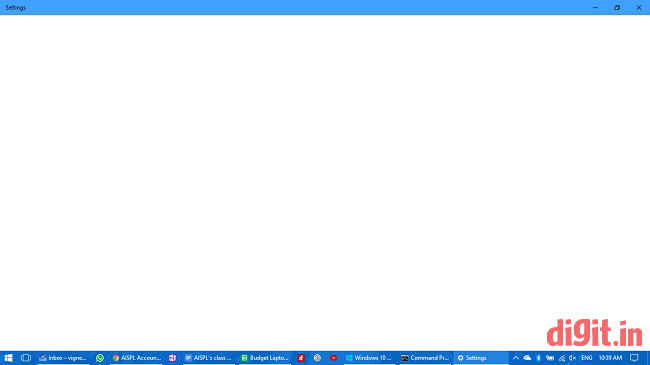 Windows Settings screen went blank; slow hard drive is to blame
Under high load, the temperature of the base of the laptop would sometimes rise to a figure close to 70 degrees Celsius and then the fan would spin fast enough to make itself audible in a quiet conference room. Despite that, the heat never got to a point where it became uncomfortable to place the machine on the lap.
All things considered, performance on the ThinkPad E480 is still very much acceptable. Things get slow occasionally but I suspect that's only because of the slow hard drive. Besides, Windows never slows down to point where you feel frustrated with the laptop. In other words, it's still a much better performer than the Lenovo IdeaPad 330 I reviewed some two months ago. If you can upgrade to a solid-state drive option on the ThinkPad E480, you definitely should.
Battery
On our standard benchmark test, the ThinkPad E480 lasted 2 hours, 48 minutes, which isn't bad. The score is roughly 22 minutes over what the Lenovo IdeaPad 330S scored and 32 minutes below what the Asus Vivobook UX507 scored. According to Lenovo, the ThinkPad E480 lasts up to 13 hours on a single charge and fast-charges from 0 to 80 percent in a competition-crushing one hour's time.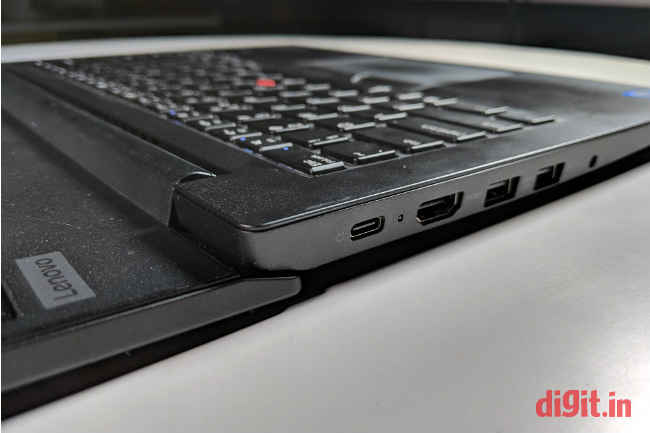 Go, USB-C!
In real-world use, the ThinkPad E480 lasted about five hours on multiple occasions. On two of those occasions, I had eight applications open, including Chrome and Windows Update. Wi-Fi and Bluetooth were turned on and the screen brightness was turned up to 70 percent. Charging from near zero to full charge happened in about 1 hour, 45 minutes. Five hours of battery life isn't too shabby for a laptop if you're paying thirty-five thousand rupees. That said, a longer battery is always welcome.
Bottom line
The ThinkPad E480 is definitely more ThinkPad for its price now than it was before. It's a great machine to buy and deploy if you're running and managing a small business. The ThinkPad E480 scores top marks in the build, keyboard, and touchpad departments, but leaves us wanting in the performance and display departments.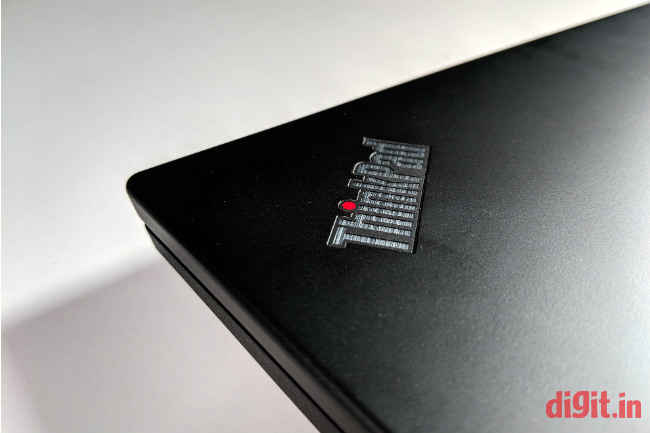 The tittle on the letter 'i' glows red as always
You should buy the ThinkPad E480 without batting an eyelid if your job (or hobby, for that matter) involves a great deal of typing and web browsing. Do yourself a favour before swiping your card though: get a variant with 8GB of RAM and choose an SSD-based storage option over HDD even if you're losing out on capacity.
(digit.in, https://goo.gl/kBK7A7)
Comments
comments