OUR VERDICT
A package of budget components packed in a decidedly non-budget shell – but the whole can't quite cut it.
FOR
Great looking chassis
Decent Pentium performance
Nice price
AGAINST
Poor TN screen
Limited storage space
Disappointing battery life
The march of technology stomps ever onwards, and it's as noisy as ever. But we don't see the technology parade the way we once did. We've found ourselves able to tune out its incessant footsteps.
That constant, desperate upgrade cycle has, by all accounts, slowed rapidly; sometimes a great budget laptop will meet all our needs. Why invest close to a grand on the Lenovo IdeaPad 720S when you could have its (slightly larger) little brother, the decidedly affordable Lenovo IdeaPad 320S?
Yes, if you want the power to wrestle polygons you're better off looking elsewhere – the Medion Erazer X6603 (also, sort of, a Lenovo product) is a solid gaming laptop at a decent price – but could this cut price PC, with its paltry Pentium processor, actually have what it takes?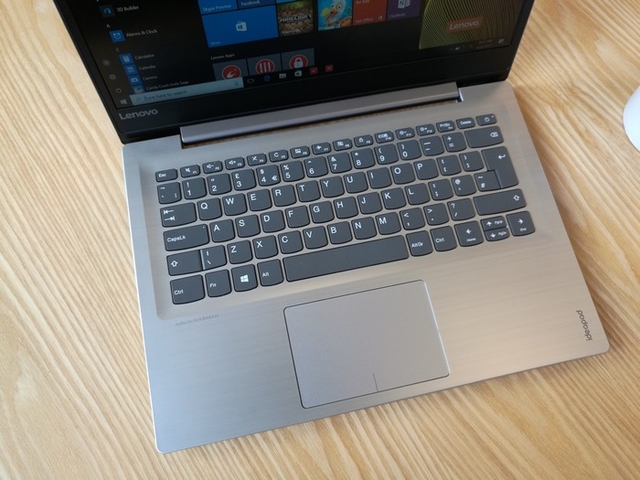 Price and availability
As mentioned, we're testing the Pentium flavour of the IdeaPad 320S 14-IKB here – it's also available with a beefier Core i3, a Core i5 and, proving the versatility of its chassis, a full-on Core i7 with FHD screen.
While the MSRP of the Pentium model is a reasonably high £399.99 (around $550, AU$700), you can find it for £50 less – if you don't, there's little benefit to buying the Pentium model over the already-discounted Core i3 flavour of the same machine, which is the same price at press time.
We've been unable to find any evidence of this Pentium model being sold anywhere other than through certain UK retail stores, though its Core i3-7100U cousin (with otherwise identical specifications) is available for an MSRP of £479/$479/AU$649.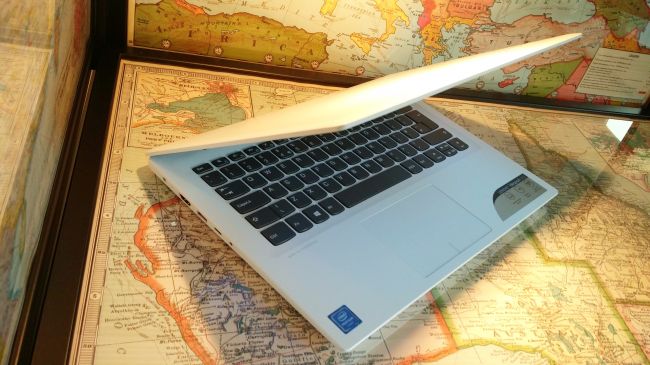 Design
You don't usually expect a budget machine to look any good. Spend under £400/$600/AU$700 and you'd traditionally be dragging a silvery paving slab out of your bag, a thick, chunky, ugly beacon, shouting to all around that you're a cheapskate with poor taste in computers.
Not so with the IdeaPad 320s, which shares the same slim, curvy chassis throughout its line. It's really rather nice. Were it not for the holographic blue 'Pentium' sticker on the base, you'd never know this was a budget machine at first glance.
This white version (there's an aluminium version of the same chassis, used in more premium models) does have a few peculiarities to bear in mind. Everything but the aluminium lid is made of plastic, so it'll all-too-easily pick up dirty marks, and there's a certain amount of flex in both the base and the screen, so you'll want to put it in a proper padded case rather than just tossing it in a backpack.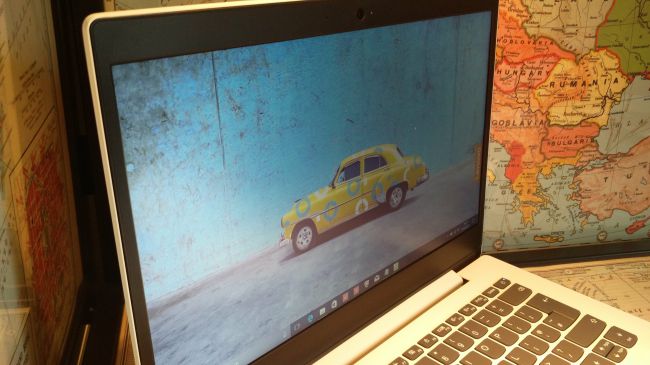 Screen
The low-end IdeaPad 320s-14IKB's biggest sacrifice, and the loudest klaxon announcing its budget nature, is its screen — this is the most bog-standard 1366 x 768 TN panel you're likely to find.
It takes some angling before you'll find a position that doesn't wash out or even invert some of the colors; move your head around and the whole image shimmers. It's not great.
Credit, though, to Lenovo for not adding a glossy material to make it even more difficult to see. The anti-glare coating on the screen really does neuter reflections, making this the ideal sub-HD media machine if you can tilt the screen just right.
As you'd be right to expect from a low-end laptop, the performance of this machine is nothing to shout about.
It does, however, highlight something pretty significant: Intel's current Pentium line is no slouch in terms of raw performance.
The 320s-14IKB pulled in processor numbers not a million miles away from its (little) big brother, the Core i5 720S. It doesn't feel sluggish or neutered unless you attempt to game on it, and even then the integrated Intel 610 chipset puts up a valiant (if rather feeble) fight.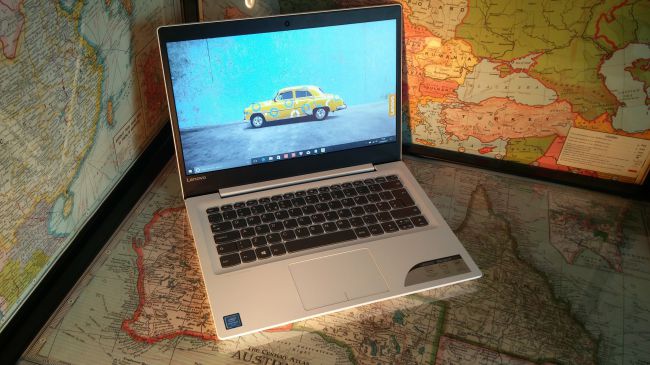 The Time Spy benchmark didn't find enough resources on board the 320S to run; with only integrated graphics on offer, Time Spy's rather hefty requirements weren't met by this non-gaming machine.
However, the Harman sound system is clear, thick and pleasant. While watching movies is a sometimes futile exercise in neck positioning and screen slanting, at least you'll be able to hear them well.
What's missing
There are some niceties that we've come to expect from today's laptops, many of which you won't find here. We've already mentioned the sub-optimal screen, and there's no backlighting on the keyboard. It also retains Lenovo's rather awkward key layout, including the too-close-to-backspace power button.
This particular 320S is also not terribly efficient, exhibiting a rather disappointing battery life, and while its SSD surely helps it stay responsive, 128GB storage is really not adequate for a modern machine.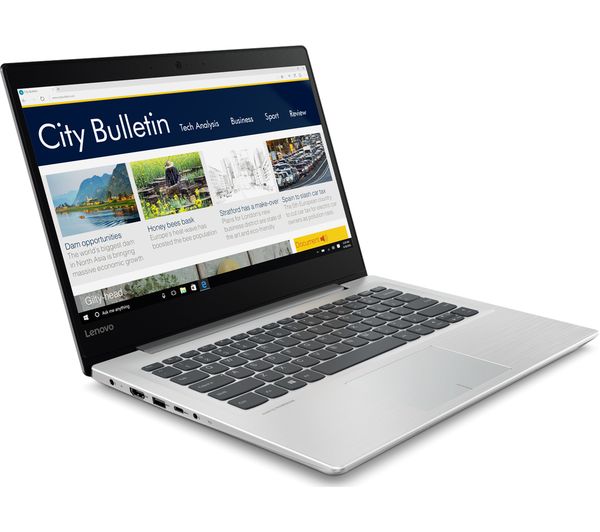 We liked
Although much of its makeup grates, the overall package – a solid, fast-enough laptop in a damn handsome shell – means the Pentium edition of the IdeaPad 320S punches above its price.
If you're only looking for something for light internet, office and general desktop use, it's solid.
We disliked
There's a typical slew of budget-price parts on offer, a lacking battery, and pretty much everything that would have been nice to have is not included.
Perhaps we're asking too much, but with stronger members of the IdeaPad 320S line already dropping in price to the same level, this Pentium machine doesn't do quite enough.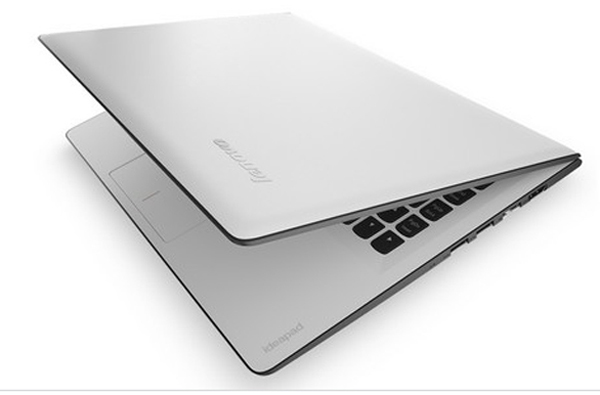 Final verdict
It's hard to know whether it's OK to be disappointed in a machine that costs so little, but here we are, slightly underwhelmed. Applause to the processor inside for putting up such a plucky fight, and Lenovo's chassis – wonky keyboard and all – is worthy of high praise. This certainly doesn't look or feel like the budget laptops of old.
The rest of it, though? How 1920×1080 is not now the absolute standard for screens we'll never know, particularly given that budget devices are pouring out of China which manage full HD panels for pennies. A stronger battery life would have been a big benefit, and we'd have gladly sacrificed that SSD for a little more storage space.
(techradar.com, https://goo.gl/MJ2gbj)
Comments
comments