The Chinese manufacturer, Jumper is known for its mini PCs, ultrabooks and tablet PCs. But honestly, the products of this company are associated with products of top brands. Say the Jumper EZBook Air is known as a low-cost MacBook. The problem is that we have to agree with those considerations, because Jumper doesn't want to create something for its own. The company prefers to copy top brands design instead. On the other, hand if a certain design works, why we can't get our hands on products looking similar to top brands and acting differently. Moreover, they are priced the way higher than those they want to look like. Finally, there are many users who like how an Apple or Samsung product looks, but they don't want to pay the price tag set for them. If you are one of these customers, I have grabbed an interesting device for your pleasure. Recently, we have reviewed the Jumper EZPad 4SE, and now we are going to explore the key features of a model higher – the Jumper EZPad 5SE.
The Jumper EZPad 5SE is available for a higher price tag than its predecessor. Thus we have to meet many improved features if compared to its sibling. In other words, the Jumper EZPad 5SE should differ in terms of dimensions, display resolution, camera lens, CPU performance, memory options, color options, etc. Otherwise, there will be no reason to pay almost $50 more. At last, before we start the review, I think the Jumper EZPad series products are copying the Microsoft Surface line devices like the EZBook line ultrabooks are copying Apple MacBook models. I don't hint at anything, but I want you to know what devices the Jumper EZPad 5SE should be compared to.
Jumper EZPad 5SE Build Quality
If the Jumper EZPad 4SE is compared to the Microsoft Surface 3, the EZPad 5SE is compared to the Microsoft Surface Pro 4. If you are not aware, the former model is a budget tablet PC, therefore it's packed with weaker features. As for the Surface Pro 4, we are dealing with one of the most powerful Windows 10 2 in one PCs. Thus the Jumper EZPad 5SE should correspond it to stay afloat. On the other hand the EZPad 5SE is the special edition of the original Jumper EZPad 5S, so it could just be the improved version of the original model. I mean we have to take all three devices into account when looking at the Jumper EZPad 5SE.
First, the Jumper EZPad 5SE comes with a solid-feeling aluminum body. If this was a budget-friendly device, more likely, we'll see an ABS as a material for the housing. But this device is going to stand against the best business device in the world, therefore its design should correspond the requirements of this category. Moreover, the EZPad 5SE comes with a metal bracket that helps users place the tablet in the way you want and access it in various angles.
As this device will be used as tablet as well as laptop, it is a bit thicker than other similar devices. The Jumper EZPad 5SE comes at dimensions of 27.50 x 17.10 x 1.00 cm. If compared with other models, the EZPad 4SE has dimensions of 27.83 x 16.97 x 1.10 cm, the EZPad 5S comes at 29.95 x 18.58 x 1.05 cm, and finally, the Microsoft Surface Pro 4 comes at 29.21 x 20.14 x 0.84 cm. This means the EZPad 5SE is the thinnest model among its siblings, but it yields the Surface Pro 4. The picture is quite different when it comes to weights – the EZPad 5SE weights 700 grams, while the 4SE weighs 640 grams, the 5S weighs 927 grams, and the Surface Pro 4 comes at 766-786 grams. Thus, the EZPad 5SE is one of the lightest tablet PC in its niche.
When it comes to the design, the Jumper EZPad 5SE comes with a 10.6-inch display on the front accompanied with a 2MP front camera. A USB 3.0 port, a micro USB slot port, a mini HDMI port, a DC jack and a speaker are located on the left side, while a 3.5mm audio jack, a USB 2.0 port, a TF card slot and a speaker are placed on the right side. The unlock button, the volume rocker and a noise cancellation microphone are on the top, while the bottom side carries only a connector for the detachable keyboard. At last, the 2MP primary camera is on the back. Unlike the Jumper EZPad 4SE that is available only in black, this model comes in silver. Unfortunately, there are no color options to choose from. But as you remember, the Microsoft Surface Pro 4 has only one color option as well.
Jumper EZPad 5SE Display
Surprisingly, the Jumper EZPad 5SE comes with an original Samsung display at a resolution of 1920×1080 pixels. FHD display is good, but is it capable of competing with the Surface Pro 4. It turns out, the latter is packed with a crazy screen – the Microsoft's beast sports a 12.3-inch PixelSense display at a resolution of 2736 x 1824 pixels and 267ppi. Thus it's better than a 2K display that provides a resolution of 2048×1080 pixels. Well, that's the Surface, and it should come with an amazing screen, but what about the Jumper competitors. The EZPad 5S comes with an 11.6-inch Full HD display, while the EZPad 4SE sports a 10.6-inch at a resolution of 1366 x 768 pixels (720p HDTV). As you see, though the Jumper EZPad 5SE features a display provided by Samsung, it yields its main competitor. And I have to say this is one of the main reasons why it is priced lower.
Jumper EZPad 5SE Performance
This is one of the most important parts of this review, because the processor and the memory will define its place among other tablet PCs. The Jumper EZPad 5SE is equipped with an Intel Cherry Trail Z8300 quad-core CPU clocked at 1.44GHz that can be also run on 1.84GHz, which is its maximum frequency. The latter cab be implemented via Intel Turbo Boost Technology that delivers dynamic extra power when users need it. The SoC is paired with an Intel HD Graphics, a 4GB DDR3 RAM, and a 64GB eMMC ROM that can be expanded up to 128GB via a TF card slot.When comparing it with the Jumper models, we see it looks quite attractive. For example, the same Jumper 4SE sports an Intel Atom "Bay Trail" Z3735F quad-core processor clocked at 1.33GHz that can be boosted up to 1.83GHz. Though these processors carry different model numbers, I guess users won't feel real differences. As for the EZPad 5S, it features the same CPU.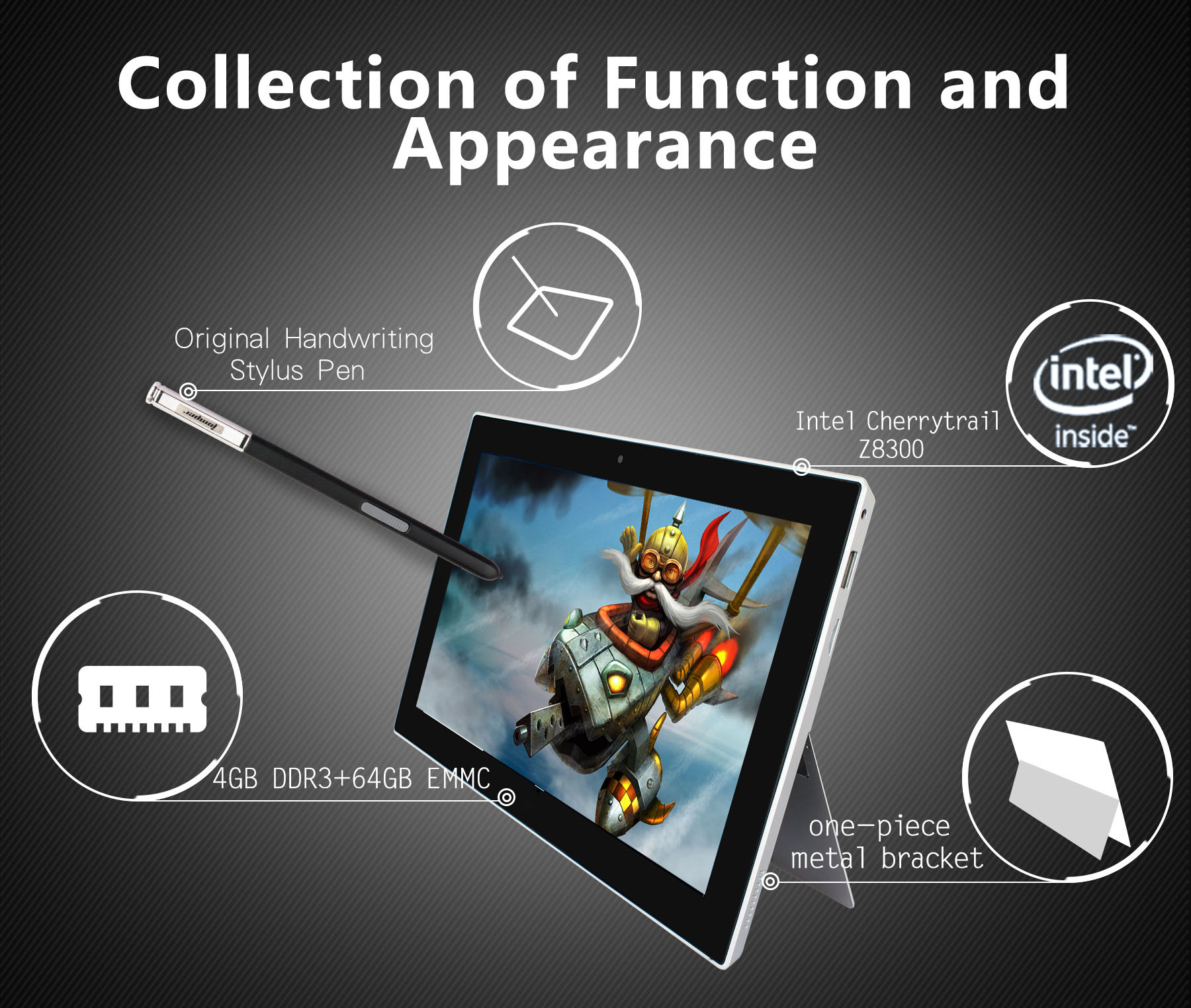 And finally, when compared to the Microsoft Surface Pro 4, we have to say the Jumper EZPad 5SE has no chances to stand against. The Surface Pro 4 comes in three versions – m3 paired with an Intel HD graphics 515, i5 apired with an Intel HD graphics 520, and i7 apired with an Intel Iris graphics. Moreover, there are different memory configurations you can choose from – 4GB, 8GB, or 16GB RAM and 128GB, 256GB, 512GB, or 1TB of storage. I think the only mistake of Jumper was the absence of different configurations. Say it could come in with 4GB RAM + 64GB ROM as a regular version, and a 6GB RAM + 128GB as a top version.
Jumper EZPad 5SE Connectivity and Battery
We have already taken a look at the ports it comes with. And probably the most attractive part is the presence of a USB 3.0 port. Plus, it supports 802.11b/g/n wireless internet connectivity option as well as Bluetooth 4.0. Unfortunately, there is no SIM card slot, so you can't connect to the internet in this way. As for the battery, the Jumper EZPad 5SE is packed with a 6600mAh battery that will serve you during 6-10 hours without additional charging.
Seems the tablet comes with acceptable connectivity options and the battery looks good as well. But we can't assess it not looking at its competitors. The EZPad 4SE features the same battery, the EZPad 5S comes with an 8500mAh, and finally, the Microsoft Surface Pro 4 is powered with a 5087mAh battery that is capable of providing up to 9 hours of video playback. Thus the battery capacity can't be a decisive factor, because it depends on CPU and other factors as well.
Jumper EZPad 5SE Stylus
Neither the Jumper EZPad 4SE nor the EZPad 5S come with a stylus pen. But the Jumper EZPad 5SE does. This means only this model can compete with the Surface series handsets. As the manufacturer says, the stylus pen adopts the original handwriting input, i.e. when using this pen you will have a feeling of writing on paper.
Jumper EZPad 5SE Pricing
This is the most important feature we have coming to so long. The EZPad 5SE is available for only $176. I say 'only', because it's very difficult to find a Surface Pro 4-like model for such a price tag. For example, the Jumper EZPad 4SE is sold for $132, but it yields this device in many aspects. The EZPad 5S comes at $238, but I think it's overpriced. And finally the pricing of the Surface Pro 4 varies from $899 to $1599 depending on the configuration you choose.
The Final Words
Well, we found out the Jumper EZPad 5SE is a good device, and sports an identical design if compared to the Surface Pro 4. Plus, it is a head higher than its siblings. But let's talk honestly, can the EZPad 5SE compete with the Microsoft Surface Pro 4? I think we'd better compare it with the Surface 3. If we do this, it will have more chances not to look like a fool. But the Surface 3 is priced at $500, which means many customers will prefer to pay this pricing rather than pay almost $200 and get a clone. So it turns out Jumper has designed a tablet that can compete only with its siblings or with products of similar brands. On the other hand, those who don't like Microsoft products, and think they are overpriced, can easily get their hands on this model and stay happy.
(xiaomitoday.com, https://goo.gl/xT9Jxz)
Comments
comments