Our Verdict
Premium mechanical keyboards are supposed to incorporate all the features you need for your typing and gaming needs while delivering a strong build quality. Software support is also expected at this price range and the HyperX Alloy Elite RGB fulfils all of these pointers. Built with a sturdy steel top frame and plastic body, there's no compromise in build quality. The only downside to build quality is the loosely fit keycaps. Some of them would pop out easily while typing. It isn't a deal breaker but will cause frustration among heavy users.
The keyboard uses Cherry MX switches across the Red, Blue and Brown variants. Gaming and typing performance was satisfactory. Since full N-key rollover has been implemented, we didn't notice any erroneous key presses. This means you can comfortably play all your favourite games without worrying about skipped or repeated key presses.
HyperX's new NGenuity software has a simple interface and it can improve drastically with more features. You can change the lighting effects on every single key and even create your own custom lighting effects. Reassigning keys and macro recording functionality is available as well.
At this price point, the HyperX Alloy Elite RGB isn't offering enough features. If you have the same budget for your next keyboard, we would recommend the Razer BlackWidow Chroma V2. Not only does it include more features and better build quality, it has an impressive software. However, if you're able to acquire the Alloy Elite RGB for a lower price, you should definitely consider this one
PROS
Good build quality
USB passthrough port
Easy-to-use software
CONS
Expensive
Weak keycap fit
HyperX Alloy Elite RGB: Detailed Review
HyperX has been catering to professional and hardcore gamers with their peripherals for a few years. Until now, they hardly went for gimmicky features on their products, sticking to only functional ones. Just like everyone is bowing down to the RGB frenzy, HyperX will now be catering to this market with their lineup of the same products, with an RGB upgrade. Among those products, the HyperX Alloy Elite RGB is the first one to make its way to our labs. Apart from the keyboard, they have also upgraded their Predator RAM and Pulsefire mouse with RGB lighting. There aren't any changes made on the other aspects apart from the lighting on the Alloy Elite RGB. They've introduced the HyperX NGenuity software to control the lighting and macros on the keyboard that we will also be exploring in this review.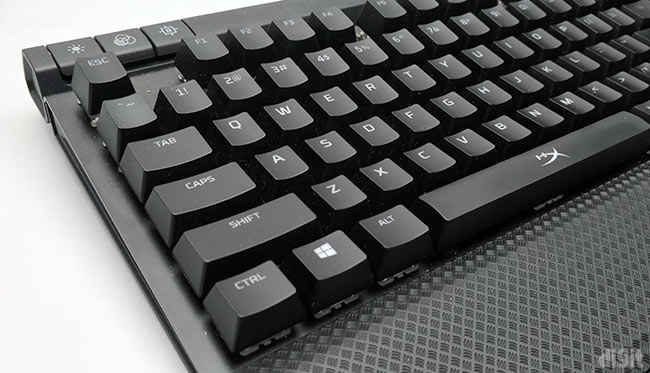 Technical specifications
Keyboard size: Standard, Numpad included
Keyboard backlighting: RGB
Switch type: Mechanical (Cherry MX Red 50-million lifecycle)
Polling rate: 1000Hz (1 ms)
Key-rollover: N-key rollover
Interface: USB 2.0
Dimensions: Width – 44.4 cm, Length – 22.68 cm, Height – 3.63 cm
Cable length: 1.8m
Weight: 1.467 kg
Features and accessories
The HyperX Alloy Elite RGB sits on the top tier of mechanical keyboards from the company. This means that this is their best offering with premium features and build quality. Speaking of features, you get all the expected ones at this price range. There are dedicated buttons for multimedia control. With the volume wheel, you get finer control over the volume. The brightness can be changed using the dedicated button through three levels. A few basic lighting modes have been added to be toggled using the button. You also have a Game Mode button that disables certain keys like the Windows key. All these dedicated buttons are placed on the top panel of the keyboard.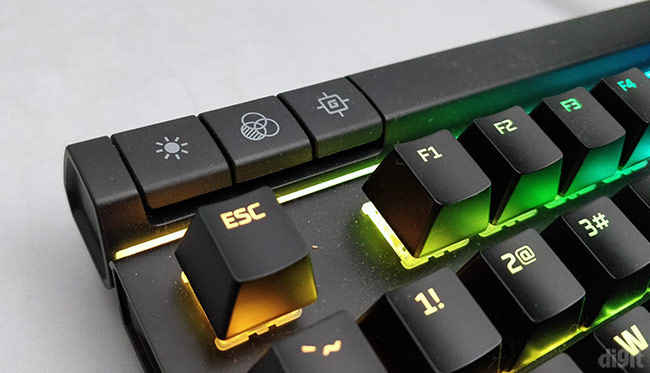 The keyboard uses Cherry MX mechanical switches just like the rest of their keyboards. The non-RGB variant was mostly available in Reds and Browns while the stocks of Blue switches were usually out of stock. This keyboard will ensure that all the variants are available. A USB passthrough port is present right beside the cable. Naturally, there's an additional passthrough USB connector along with the keyboard's connector going to your PC.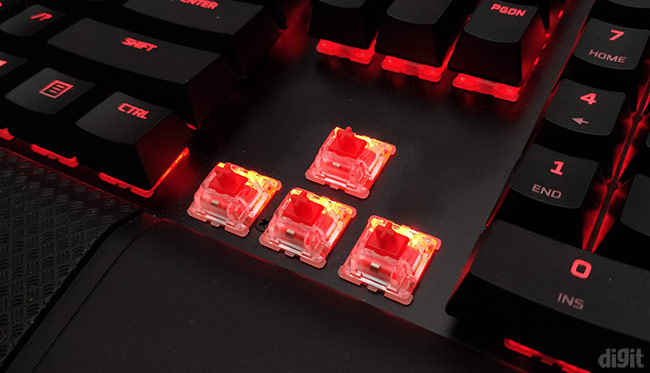 Full N-key rollover is present on the keyboard. All your keystrokes will be registered by the keyboard even if you simultaneously press multiple keys. We verified the same on Switch Hitter and observed that all our key presses were registered in the software.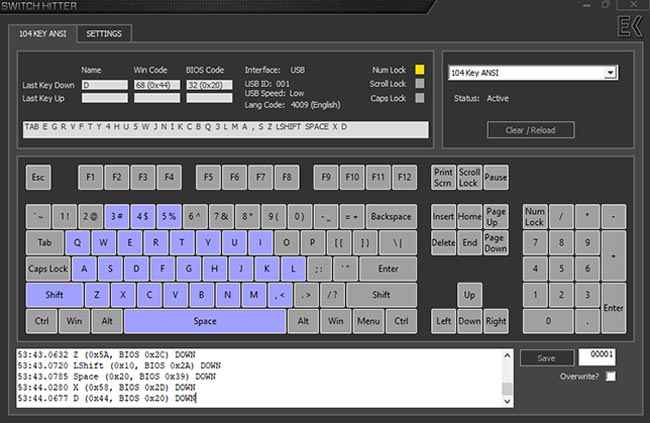 HyperX gives you a set of replaceable keycaps for WASD and 1234. All the keycaps have a titanium colour coating where the WASD ones are textured. These keycaps are specifically directed towards FPS gamers. You also get a plastic keycap puller. When it comes to premium keyboards, we expect companies to pack a keycap removal tool.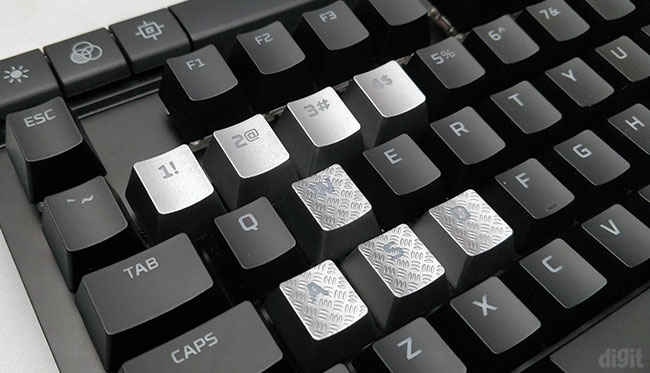 Finally, the keyboard comes with a detachable wrist rest as well. The area where your hand will be resting is covered with a textured but soft layer for comfort.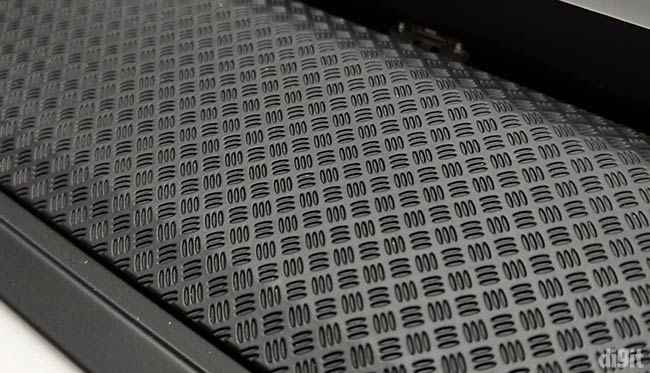 Build quality and design
As mentioned earlier, there hasn't been any changes made to the build quality and design front. The sturdy plastic body holds has a solid steel frame on the top to hold the mechanical switches. This gives the entire body a rigid structure resulting in driving away any kind of flex. All the multimedia buttons are made of good quality switches. There's also a volume wheel on the keyboard and we would have loved if it had some more resistance or soft steps to give a heavier feel.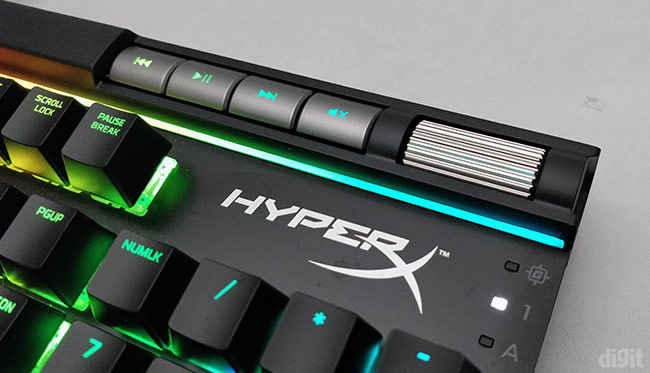 When the package arrived, we found that several keycaps had come off from the keys. Initially, we thought the box went through some terrible handling. However, on close inspection, we found that certain keycaps didn't fit the switches properly. This has been a problem since the first Alloy FPS keyboard where there wasn't consistency in the quality of the keycaps. We inspected the keycaps and compared to others from different manufacturers. It was found that the density of the keycap stem wasn't consistent across all the keycaps since some of them would snugly fit on the switches while some wouldn't. HyperX either needs to replace the current batch of keycaps or simply implement better quality control to ensure consistency.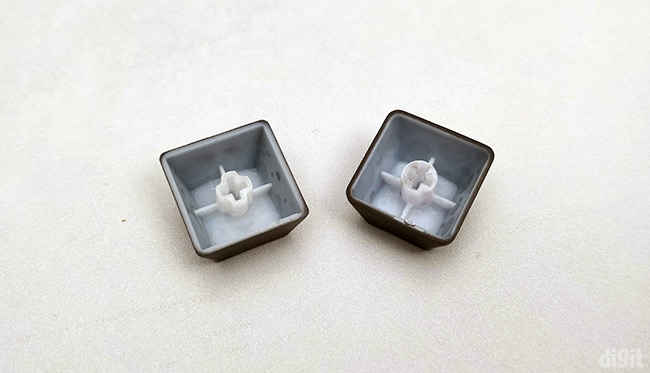 HyperX keycap (left) vs. Corsair keycap (right)
As the price goes up, we expect each and every component on a keyboard to have superior build quality. Although the wrist rest has a premium feel with the soft touch coating and textured area, it still uses plastic clips to attach to the keyboard. Magnetic wrist rests are a thing and seeing other manufacturers implement it at this price point demands that everyone else follows suit. Not only is it easier to attach but it takes away the potential of the plastic clips breaking off.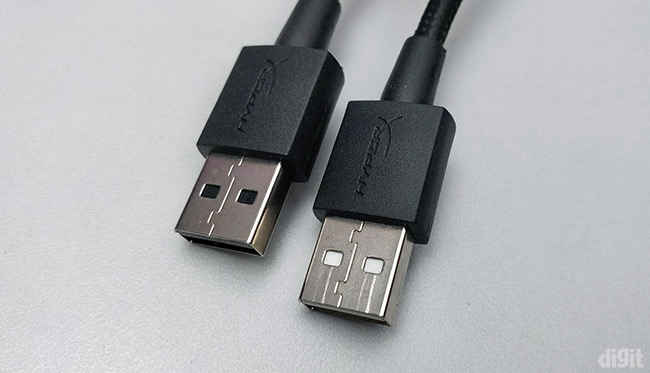 Gaming and typing performance
As mentioned earlier, the keyboard has implemented full N-key rollover. All our keystrokes were registered in games and we didn't encounter any latency issues. The WASD was able to register all the key presses simultaneously, so you should be fine with FPS games. Our review unit had Cherry MX Red switches on them. Since other variants are also available on this variant, you wouldn't have to worry about choices. If you need some flair or just want your WASD to feel different from the rest of the keys, you can replace them out with the extra ones. To put the keyboard to test, we played games from various genres.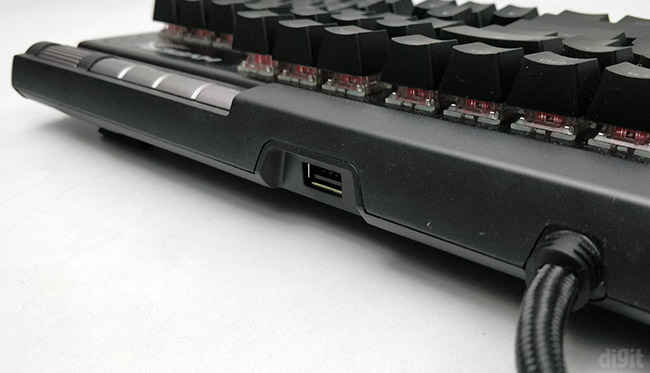 Typing on the Alloy Elite RGB was fine and there weren't any erroneous key presses even with faster typing speeds. Not everyone will like the feel of typing on Red switches but it's all up to your own preferences. However, after a couple of days of rigourous typing, the keycaps would start coming off slightly. We had to push those keycaps back which was another sign of the low quality of the keycap stems.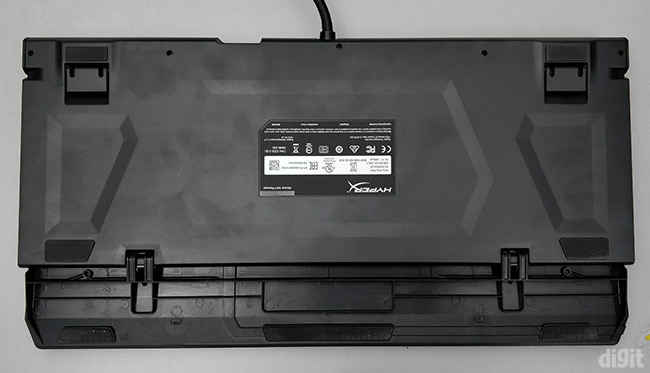 HyperX NGenuity software
The previous products from HyperX never had software support and were simple plug-n-play devices. With their new lineup of RGB products, the company finally has a software to give you more control on the peripherals. The NGenuity software brings RGB lighting control and macro recording functionality to the Alloy Elite RGB. You will be shown instructions to what every button does on the first time you run the software. This is great because sometimes you might not know what a particular button does.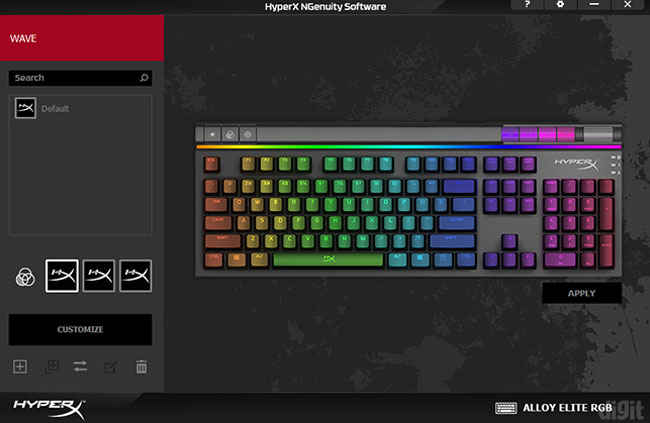 You are allowed to store a maximum of three profiles onto the keyboard or switch between the three presets in the software. However, there are some issues we faced with the software while storing different profiles. Since there aren't any dedicated buttons to switch through the three profiles, you have to rely on the software to change between them. The last profile saved on the keyboard will stay on the keyboard even after you close the software. However, when you re-open the software, the keyboard switches to the default "wave" lighting effect. Your saved profiles will still be visible in the software but you'll need to re-apply them.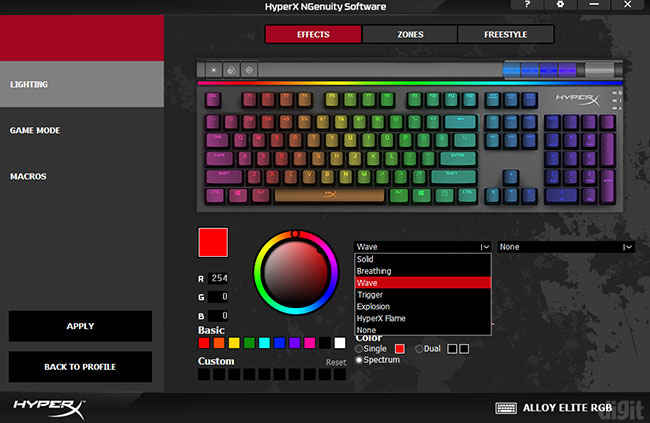 In its default state, the Game Mode button only disables the Windows key. In the software, you can further add more button combinations such as Alt + F4 or Alt + Tab to be disabled when the Game Mode button is switched on. The keys can be assigned with different keyboard or mouse functions from the drop-down list. Macros can be recorded and stored using the software. The same recorded macros can also be assigned to single keys. We faced the same issue of the profile going back to default with these functions too. Conclusively, all the customisations applied in a profile is saved by the software to your keyboard. However, when you close the software and re-open it, then the default preset profile is set. You have to manually re-select your customised profile again. This is a minor bug and it can definitely be resolved through a software update.
(digit.in, https://goo.gl/G72uZU)
Comments
comments