THE GOOD: The HP Omen X is a powerful gaming desktop with a modern, minimalist design, and is angled for easy access to ports and components. DIY types can buy the just case and build it themselves.
THE BAD: The system is big, heavy and expensive. Lighting effects are limited compared to some other gaming desktops.
THE BOTTOM LINE: The HP Omen X builds a powerful gaming desktop with smart ergonomics into a bold but expensive statement piece.
It's big. It's powerful. It's cube-shaped.
The Omen X desktop from HP is one of the boldest PC designs of the year, taking what could have been a cool but not exactly groundbreaking cube shape and standing it on one edge for a sharp, angular look.
The first thing everyone does when they see the Omen X is reach out and ever so gently give it a shake. Even though it looks precariously perched on a single edge, the stand is actually rock solid, and there's zero danger of it tipping over.
Why is this desktop balanced on one edge? It's actually a pretty brilliant idea that makes it very easy to access the ports, the drive bays, and even the interior of the system. With standard desktops, you usually have to (carefully) lie them down on their side, or else crawl up next to them on the floor. That makes removing the side panel difficult to start with, and also makes working inside the case, swapping out hard drives and graphics cards, a hassle.
In the Omen X, you just pop off the side cover, and everything's already at an ergonomic 45-degree angle and easy to reach. It's easiest on a desk or table, but works fine on the floor as well.
Three ways to get into the
Omen
The configuration reviewed here is a pretty basic build, with an Nvidia 1080 card, an Intel Core i7 CPU and a 256GB SSD and 2TB HDD storage combo. It runs $2,499 on HP's website right now, a similar configuration sells for £2,499 or AU$4,499 in Australia. And it comes with a handful of CPU, GPU and storage options.
But, that's not the only way to get the Omen X experience. As the big, airy case is sure to appeal to DIY-style system builders, HP offers the case itself, minus any components, for $599 or £549. It's not currently available in Australia, but that price converts to about AU$800. To address the elephant in the room right away: That's an insane price for a PC case, even one as nice-looking and feature-filled as the Omen X. It's hard to imagine spending more than $200 on an empty case, even at the high end.
If you want something really high-end with speciality components, extreme overclocking and a custom paint job, HP is going to kick you over to a well-respected gaming PC custom builder named Maingear. They'll take the basic Omen X case and build you the very expensive gaming desktop of your dreams, starting at $2,999 — that's about £2,365 or AU$4,025.
HP OMEN X
| | |
| --- | --- |
| Price as reviewed | $2,499 |
| PC CPU | 4GHz Intel Core i7-6700K |
| PC Memory | 16GB DDR4 SDRAM 2,400MHz |
| Graphics | 8GB Nvidia GeForce GTX 1080 |
| Storage | 256GB SSD + 2TB HDD |
| Networking | 802.11ac wireless, Bluetooth 4.? |
| Operating system | Windows 10 Home (64-bit) |
Enter the cube
There's plenty of room for two graphics cards and even liquid cooling in the main compartment, and that's because this cube is cut into separate quadrants. The power supply is tucked away in its own zone, and all the hard drives are in a separate zone — makes cooling and cable management much easier.
I liked the four hot-swappable drive bays, easily accessed from the outside, each with a fabric loop to pull the drive cage out by. Most of the ports and connections are on the rear panel, but a handful, including a few USB 3.0 and USB-C ones, are on the side, and also easy to access because they're pointing up towards you at a 45-degree angle.
The front lights can be customized with different colors, or to show CPU use through a simple included app. It's not nearly as customizable or flexible as case-lighting apps from Alienware or Razer, but you can still use it to cook up some cool color combos.
As with any big gaming desktop, performance is going to largely depend on the specific components you invest in. A single Nvidia 1080 GPU and a Core i7 6700K is more than enough for current games at high detail settings and even up to 4K resolution. Mafia III, Deus Ex: Mankind Divided and other games all played smoothly in hands-on testing.
In benchmark tests, the system performed well, which HP attributes to its system tuning and the case's design emphasis on keeping temperatures down. It wasn't as fast as an insanely overclocked $6,000 boutique desktop from Origin PC, but was as good or better than other desktops in its price range.
Virtual reality also performs well here, plus it helps to have enough USB ports for a VR headset plus accessories. I'm making this my initial test bed for the new Oculus Rift Touch controllers, which require an extra USB port for the second sensor that comes packed in with them.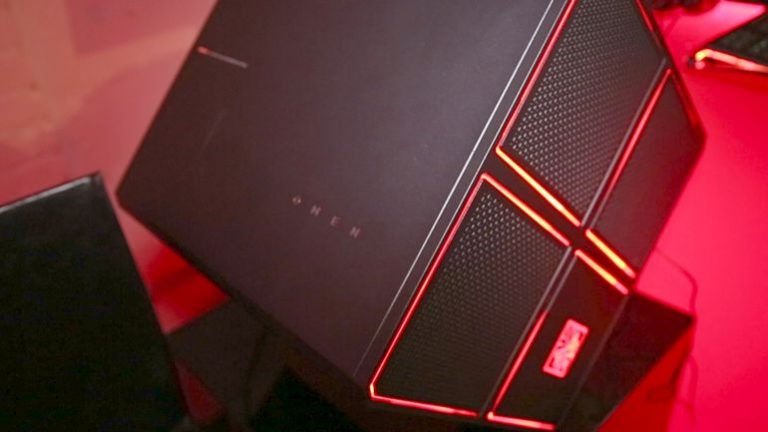 Thinking outside the box
Some visitors to the CNET PC testing lab thought the Omen X was just too big, and questioned the unusual design. I liked it a lot, and especially appreciated the modernist, minimalist look (no side-lit glass panels or extraterrestrial architecture), but the point is made that a Falcon Northwest Fragbox orOrigin PC Chronos can offer similar high-end performance in a much smaller package.
But I also found the Omen X incredibly easy to use, considering I'm always plugging and unplugging accessories and frequently need to access the case interior. There's a premium to be paid, but once you're spending $2,500 or more on a gaming desktop, you may not be looking for the lowest-cost option at every turn.
That said, if anyone ever catches me paying $599 for an empty PC case, please confiscate my credit card immediately.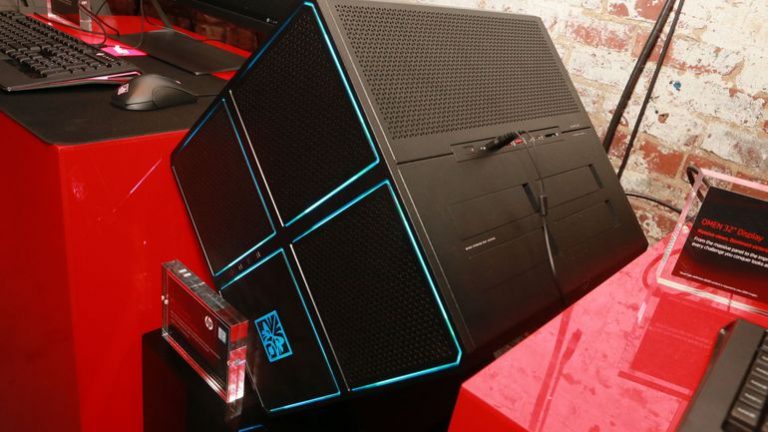 SYSTEM CONFIGURATIONS
| | |
| --- | --- |
| HP Omen X | Microsoft Windows 10 Home (64-bit); 4GHz Intel Core i7-6700K; 16GB DDR4 SDRAM 2,400MHz; 8GB Nvidia GeForce GTX 1080; 256GB SSD + 2TB HDD |
| HP Omen (17-inch) | Microsoft Windows 10 Home (64-bit); 2.6GHz Intel Core i7-6700HQ; 16GB DDR4 SDRAM 2,400MHz; 8GB Nvidia GeForce GTX 1070; 256GB SSD + 1TB HDD |
| Origin PC Millennium | Microsoft Windows 10 Home (64-bit); (oc) 4.4GHz Intel Core i7-6950X; 16GB DDR4 SDRAM 2,133MHz; (oc) (2) 8GB Nvidia GeForce GTX 1080; 512GB SSD + 3TB HDD |
| Alienware Aurora R5 | Microsoft Windows 10 Home (64-bit); 4GHz Intel Core i7-6700K; 16GB DDR4 SDRAM 2,133MHz; 8GB Nvidia GeForce GTX 1080; 256GB SSD + 2TB HDD |
| Acer Predator G1 710 | Microsoft Windows 10 Home (64-bit); 3.4GHz Intel Core i7-6700; 30GB DDR4 SDRAM 2,133MHz; 8GB Nvidia Geforce GTX 1080; 512GB SSD + 2TB HDD |
(cnet.com, https://goo.gl/cmrwZg)
Comments
comments