THE GOOD: It's small, attractive and cleverly designed for expansion, and the voice-optimized meeting-room configuration comes with touch call controls.
THE BAD: The wireless conference-call audio isn't terrific and practicality mars its prettiness.
THE BOTTOM LINE: For work-at-home folks who spend a lot of time on calls, can hook up to wired internet and use mostly official Microsoft/Windows 10 communication tools, this compact enterprise system offers some useful features.
Cell phones are great for a lot of things, but they're really not designed for conference calls. And those are what most people dialing in from home these days use. Or they're on a laptop with a headset that can't quite filter out the barking dog and crying kid in the background. HP's Elite Slice mini desktop offers a fresh take on the problem; it's designed to be a conference room or worker-bee system, but it moonlights as an intriguing option for home-based workers.
Two things boost it above the crowd: a chic, stackable design, and options that equip it for double-duty as a conference phone.
The basic Slice is smaller than a Mac Mini. Optional add-on choices include the Collaboration Cover, which gives it conference call touch controls and a more powerful noise-cancelling microphone, and an Audio Module with Bang and Olufsen speakers that get louder than any conference phone I've ever had to listen to. In the absence of calling, the module upgrades the system's sound quality from ick to to decent. Other available modules include an optical drive (ODD) and a VESA-compatible mounting plate. The modules connect to the the Slice using internal USB-C, and it's easy to snap them on and off. An alternative version of the chassis has a fingerprint sensor.
If you have minimal computing needs, such as running email and an application or two at most, then the base configuration should be fine. Sadly, you can't customize the turnkey meeting-room model, which already comes with the two conference options, to bring it up to spec as a more serviceable PC. At the very least, I would avoid the traditional hard disk drive configurations; even with the 7,200 RPM drive in our evaluation system, the system boots painfully slowly, and I think it holds back the performance in general. (We didn't have recent performance results for comparable systems, but our test system performed more or less like a midrange business laptop.)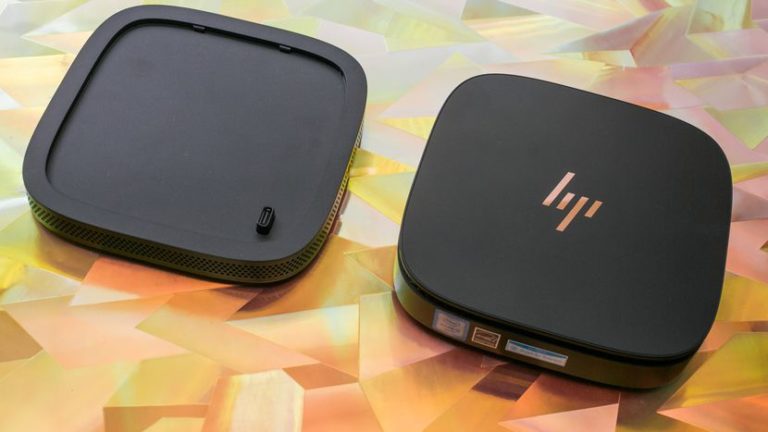 HP ELITE SLICE
| | |
| --- | --- |
| Price as reviewed | $949 |
| Display size/resolution | None |
| PC CPU | 2.5GHz Intel Core i5-6500T |
| PC Memory | 4GB DDR3 SDRAM 2133MHz |
| Graphics | 128MB (dedicated) Intel HD Graphics 530 |
| Storage | 500GB HDD |
| Optical drive | None |
| Networking | 802.11ac wireless, Bluetooth 4.2 |
| Operating system | Windows 10 Pro (64-bit) |
Stripped down to the least-powerful configuration (Core i3, 500GB spinning disk drive, 4GB of memory and Windows Home), HP offers it for as low as roughly $640; the cheapest ready-to-ship version is $700. Maxed out (Core i7, 2 512GB SSDs, 32GB memory and all the Cover options) it can approach $1,900. One of the advantages of configuring an enterprise-targeted system is the choice of operating systems: you can downgrade to Windows 7 Professional (32- or 64-bit) or even opt for FreeDOS to run legacy software from the year gimel. Or just for the heck of it.
There's also a Qi wireless Charging Cover that was announced in September 2016 but still hasn't shipped. Like the Collaboration Cover, it has to be specified as part of the initial configuration; you can't add it afterwards.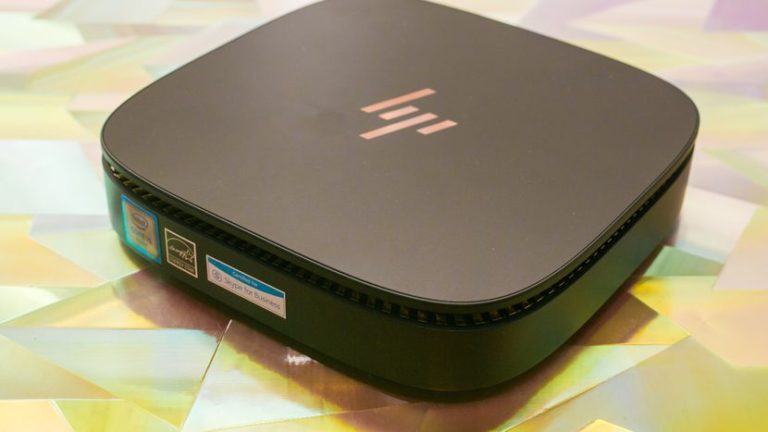 If you plan to use the Slice as a serious computer plus phone, my suggested configuration runs almost $1,300 for the base desktop (with a quad-core i7, 16GB of RAM and a 256GB SSD) plus the Collaboration Cover and Audio Module which turns it into a decent conference phone.
Oddly, the Meeting Room model in the UK has much better configuration than the US version. It costs more at £1,014, but comes with 8GB of memory and a 256GB SSD. The base Slice has the same specs for £992, and there's a better Slice option with a Core i7-6700T for £1,133. However, since you can't custom configure the systems, if you want the Collaboration Cover you have to buy the meeting-room model.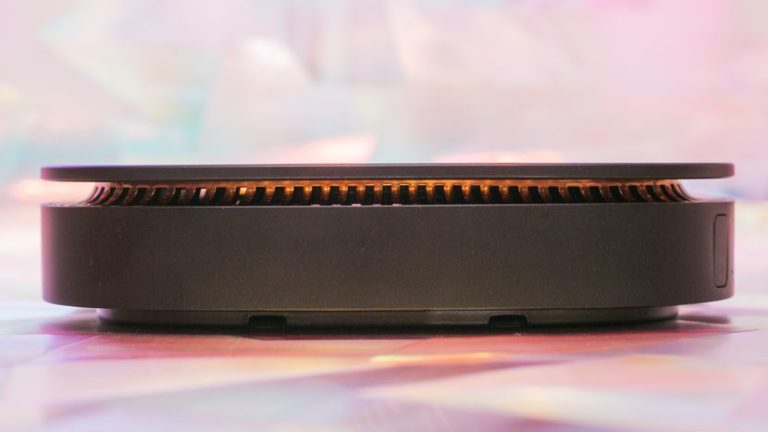 The Meeting Room model isn't available yet in Australia, though it looks like it will be, and though you can't custom configure, there are a lot more granular options in Australia than in the UK. They don't differ much, ranging in price from AU$990 for the same base Slice configuration as our test system, to AU$1,290 for a Core i7-6700T with 8GB memory and a 240GB SSD.
So pretty… on paper
One of problems manufacturers face when designing systems to look pretty is, well, reality. Take my Mac Pro, for example. It's intended to look sleek and relatively invisible, but that's only true if you don't need to get to the connectors on a regular basis and can place it with its back to the wall. But I do need to get to the connectors almost daily, so mine has a rat's nest of cables pooled on my desk in front of it with a hub hanging off because it doesn't have sufficient USB ports, either.
The Slice isn't quite as bad, but sadly doesn't look nearly as nice in the real world as HP's marketing photos would have you believe. It's got a power button, charger connection, Ethernet jack, USB-C and two USB-A connectors, DisplayPort and HDMI for connecting to a display, and Kensington lock slots on each module. On the side is a headphone jack and Thunderbolt-compatible USB-C connector.
First, none of HP's photos show it with the power cord hanging out the back; they show it elegantly perched, isolated on a desktop, somehow operating without a power source. Using a compatible monitor — that is, one with a USB-C/Thunderbolt port that outputs sufficient juice (and HP just happens to have one!) — you can power the desktop and a single module via the display, which would look a lot more innocuous.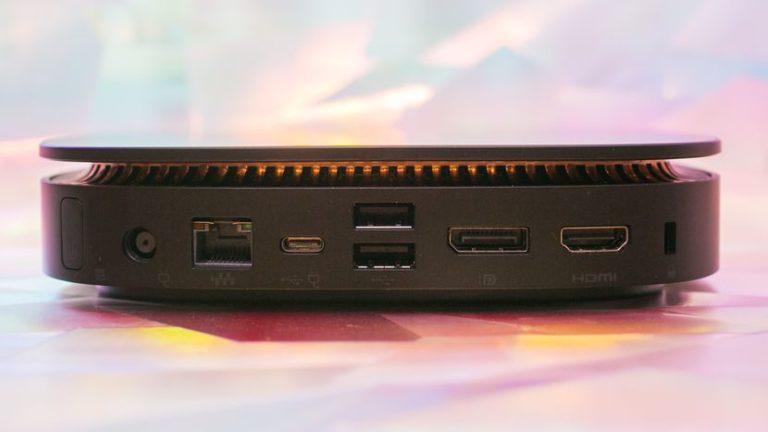 To connect a display, you can use that USB-C port, but most people will likely need to connect via HDMI and/or DisplayPort. The 4K output will look lovely onscreen, but those huge connectors out the back? Not so much.
Then, of course, there are the inescapable and usually nonremovable stickers plastered on the front. Those don't appear in the marketing photos either. Ugly — and they should be on the bottom of the system. But then you might forget Intel's Inside or that the system's certified for Skype for Business! The horror!
And there's the phone. The touch controls let you adjust volume in any application, much like the B&O implementations on HP's Curved Envy and flat Envy all-in-ones. The phone controls, though, can only operate when using a Windows application (because they work via a Windows application programming interface). So if you're using a web-based interface for something like Google Hangouts, no go.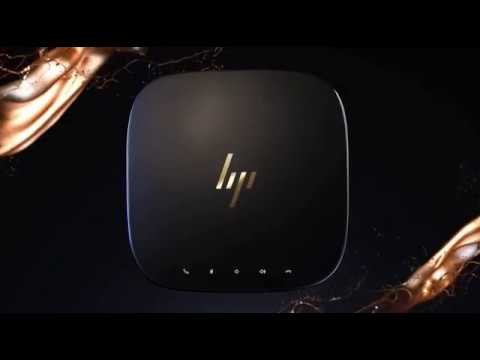 If you're teleconferencing via Wi-Fi, what people hear from you on the other end isn't great, either. The mic is very good — you can tell because recording directly on the system sounds great. But by the time the sound has been chewed up and compressed to pass through wireless connections, you really don't gain much. It should be better over wired Ethernet which is likely in an enterprise setting but probably not as common in a home office. And that's another cable hanging off your Slice.
Any way you Slice it
It's not as generally useful as I'd like or as unequivocally attractive as other HP system designs we've seen of late, though it does use the same brown-and-copper color scheme. If you spend a lot of time on calls and are enmeshed in a Microsoft ecosystem — you use its applications rather than, say, web-based Google ones — and want a desktop system that's smaller than any laptop, the Slice is a good bet. It's definitely attractive as well, but don't count on it remaining quite so sleek after you've hooked it up.
(cnet.com, https://goo.gl/D47BJL)
Comments
comments