Now, in the past three months I've come across a few budget laptops. Some were good, but others, not so much. I'd like to pick three amongst them and see how they stack up against one another against some specific parameters. Let's go with three Lenovos: theIdeaPad 330, theIdeaPad 330S, and theThinkPad E480. All three models have a starting price well below Rs 40,000 and a 1TB hard drive. But that's where the similarities end.
TheIdeaPad 330 is the most barebones of the three. The unit I reviewed came with a low-end AMD E2-9000 CPU, 4GB of RAM, and an integrated AMD GPU with 80MB of video memory. It has a plastic body with a brushed finish on the area around the keyboard.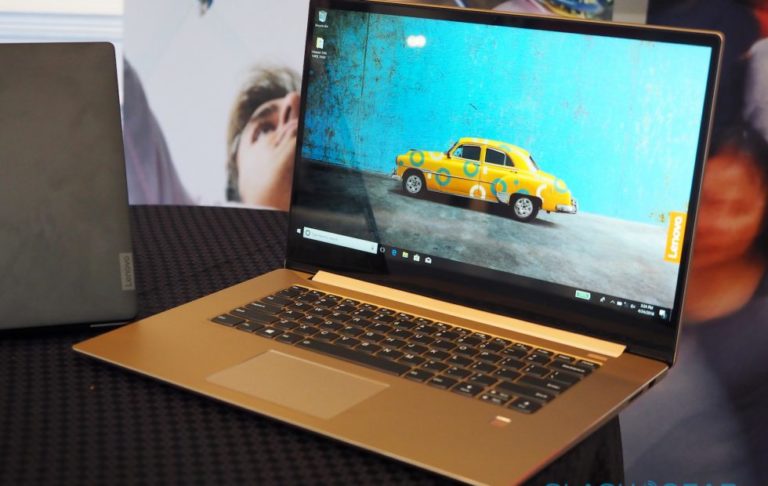 TheIdeaPad 330S is a successor to the IdeaPad 320. Launched along with the more expensive, more sophisticated IdeaPad 530S, the IdeaPad 330S sports a slimmer, more lightweight avatar. The review unit I had with me for testing had an 8th-gen Intel Core i3 CPU, 4GB of RAM, and an integrated Intel GPU.
TheThinkPad E480 is technically a notch above these two IdeaPad models in terms of pricing but still remains within the 40k mark. The unit I reviewed was a mid-range variant and had an 8th-gen Intel Core i5 CPU, 8GB of RAM, and an integrated Intel GPU.
Let's see how the three compare:
Performance
In terms of overall speed, I believe theIdeaPad 330S and theThinkPad E480 stand on equal footing. You'd imagine that the Core i5 CPU would give the ThinkPad the upper hand here, but it sadly wasn't the case with the review unit. The ThinkPad E480 had a sluggish 5,400rpm hard drive, which made app launches and booting quite slow. The IdeaPad 330S had acceptable performance for somebody who uses their laptop infrequently, but welcomed more speed nonetheless. The low-end AMD on theIdeaPad 330 failed it completely. It switched between applications without too much fuss but lacked outright crunching power. No one laptop among the three is particularly known for performance, which is understandable given the easy-to-reach price. But if and when you can, invest in a solid-state drive for better speeds. Choosing the ThinkPad means you're assured of two swappable RAM slots. And that means you can upgrade RAM at your convenience.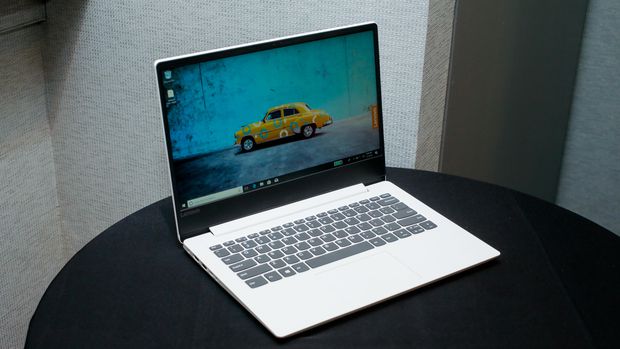 Build
Even with the plastic body option, the ThinkPad is downright the most superior in terms of build. It's tested to MIL-SPEC standards and the keyboard can take up to 50 ml of liquid spills. That said, theIdeaPad 330S comes with a polished aluminium cover, which works better for overall appearance and occasional scratches. TheIdeaPad 330 is thicker and heavier than the IdeaPad 330S. It's also made of hard plastic all over, making itself prone to a lot of unnecessary flex when pressed hard.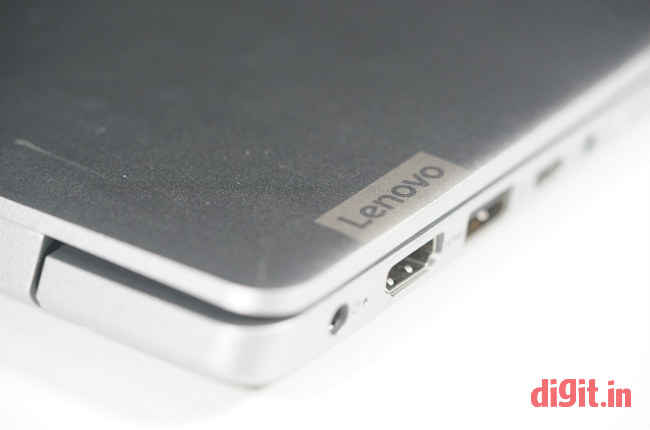 Pressing hard on the keys of the keyboard reveals flex on theIdeaPad 330but not so much on theIdeaPad 330S. On the ThinkPad, it's not even noticeable. All things considered, you can't go wrong with theThinkPad E480 for build if you ask me. The IdeaPad 330S is a close second.
Port availability
TheThinkPad E480 wins this contest hands down. It comes packed with ports: it's got a full-size HDMI port, a 3.5mm audio jack for headsets, an ethernet port, a microSD card slot, and three USB ports. Additionally, it gets a Kensington lock port and a USB Type-C port, which is also used for charging the laptop.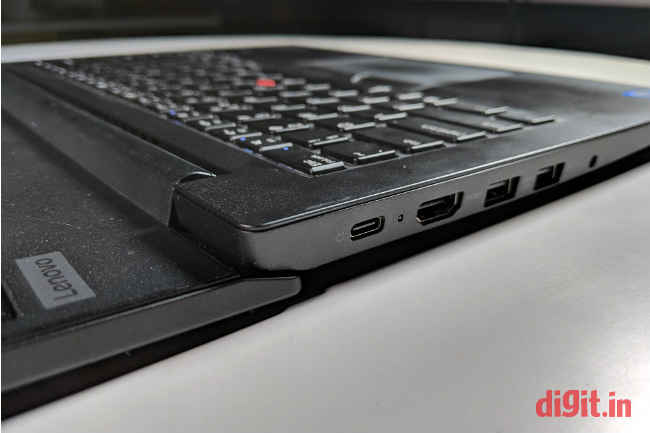 TheIdeaPad 330S falls slightly short in the department. It gets two USB ports, a power port, a full-size SD card slot, a full-size HDMI port, a 3.5mm audio jack for headsets, a Kensington lock port, and a USB Type-C port.
TheIdeaPad 330 carries all its ports on just one side. It comes with a power port, an ethernet port, a full-size HDMI port, two USB ports, a full-size SD card slot, and a 3.5mm audio jack for headsets. You'll see no USB Type-C port here. On the other side, there's an optional optical disc drive.
Audio Quality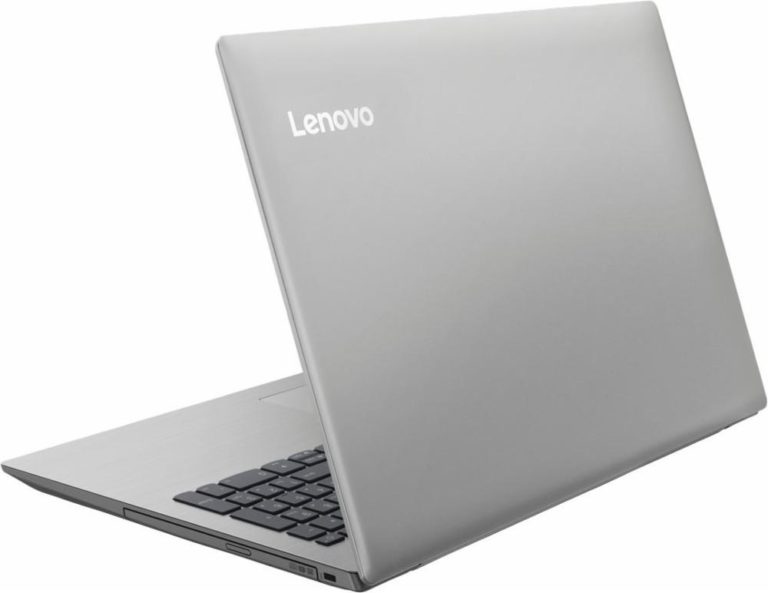 In terms of sheer volume of sound, theIdeaPad 330S scored first, theThinkPad E480, second, and theIdeaPad 330, last. The ThinkPad delivered mids and highs pretty easily but struggled with the lows, like many laptops do. It was the same case with the IdeaPad 330S as well. The IdeaPad 330 was the most feeble and limited in terms of volume and frequency coverage. All things considered, the IdeaPad 330S sounds like a winner for the singing talent. At any rate, I'd suggest getting a Bluetooth speaker along with whichever one of the three models you choose to buy.
Summary
It might seem as if theIdeaPad 330 is the black sheep among its two Lenovo cousins but that's only because it's the most inexpensive of the lot. Another variant with a more capable AMD CPU should give it more crunching power. TheIdeaPad 330S is an ideal choice if you want something classy and portable for around Rs 36,000. You can carry it with confidence when you're dressed in full formal. TheThinkPad E480 is thicker and larger than the IdeaPad 330S, but comes with equally credible specs. It's hard to choose between the IdeaPad 330S and the ThinkPad E480, but I'd personally go for the ThinkPad because of its legendary keyboard quality and overall sturdiness.
Read the reviews of the IdeaPad 330, IdeaPad 330S, and the ThinkPad E480 to get a better understanding of the models.
(digit.in, https://goo.gl/x94bKT)
Comments
comments