PROS
Super cheap
Attractive design
Slim and light
Good keyboard
CONS
Screen is fairly basic
A little slow
Small amount of storage
KEY FEATURES
11.6in, 1366 x 768 TN display
Up to 12 hours' battery life
Intel Atom X5-Z8350 processor
2GB RAM
32GB SSD
Windows 10
Manufacturer: Asus
Review Price: £230.00/$345.00
WHAT IS THE ASUS VIVOBOOK E200HA?
The Asus VivoBook E200HA is the company's attempt to make as small, light and cheap a laptop possible while still providing usable performance and long battery life. This 11.6-inch device weighs less than a kilo and boasts up to 12 hours' battery life – and costs only £230/$345.
Inevitably, compromises have been made at this price, but if you simply need a basic typing tool that will easily see you through a day then the E200HA is well worth a look.
ASUS VIVOBOOK E200HA – DESIGN AND BUILD
Asus can generally be relied upon to make an attractive laptop, even at the budget end of the market – and sure enough, the E200HA is a smart little machine. The plastic build is hidden by a decent metallic paint job on the outside and around the keyboard, while the simple matte black screen surround and keyboard finishes things off nicely.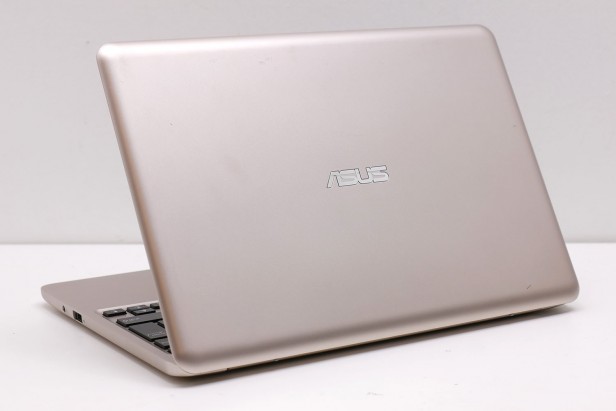 Contributing to the laptop's svelte frame is that the processor is passively cooled, so there's no need for any fans and ventilation grilles.
The E200HA is just 17mm thick and has a diminutive footprint of 286 x 193mm. Combined with a weight of only 980g, this really is a take-anywhere device. A minor downside of its light weight is that you'll need two hands to open the laptop, since there isn't enough weight in the base to overcome the stiffness of the hinge.On the right edge is a USB 2.0 port and headphone socket, and the left is home to a microSD slot, micro-HDMI socket and a USB 3.0 port. Considering the basic tasks this machine is likely for, that's more than sufficient connectivity options.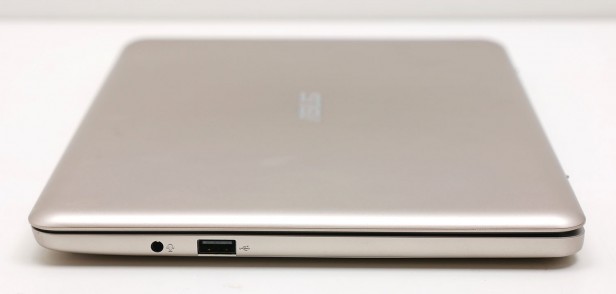 Also on the left edge is the power input, which at first I mistook for a USB Type-C. Sadly, it's a proprietary socket so you'll need to keep the supplied charger with you at all times.
Elsewhere, there's a trio of indicator lights on the front for power, charging and Caps Lock; the power button is above and to the right of the keyboard – a position we prefer over the side, where it can be found on some laptops of this size.
ASUS VIVOBOOK E200HA – KEYBOARD AND TOUCHPAD
Considering the price and size of this laptop, the E200HA's keyboard is surprisingly good. UK users get a proper UK layout and the overall arrangement of keys is perfect. It's a touch smaller overall than the keyboards on larger laptops, but it doesn't feel too cramped.
The key action is also reasonable, with a crisp defined break right at the top of a key's travel. How long the keyboard will last if you're regularly hammering out 10,000 word essays is difficult to say, but out of the box it's responsive enough.
The only major note of caution is that when typing with the device on your lap; the lightness of the base in relation to the screen and the slight flex in the base means that it can feel a little unstable. You'll want to make sure the palm of at least one hand is resting firmly on the front edge to hold it steady.
Note, too, that there's no backlighting. That's to be expected at this price, but it isn't ideal for taking notes in a dark lecture theatre.
As for the touchpad, it's surprisingly good. It's a decent size and its surface provides smooth gliding. Tracking is accurate and gestures work well. It's some way from the silky-smooth experience of the best trackpads – the click action is a bit stiff – but it's more than usable.
ASUS VIVOBOOK E200HA – WEBCAM AND AUDIO
The E200HA's webcam is extremely basic, but it's adequate for video-calling duties. Be aware that the VGA resolution and very slow frame rate mean it's difficult to discern any real detail, plus motion is choppy.
As for audio, the two down-firing speakers on the underside of the front edge of the device are as weedy as you might expect. There's very little in the way of overall volume and they sound shrill and tinny. They're fine for watching the odd movie trailer and the latest clip from your favourite vlogger, but hopeless for music and any longer-term video viewing. Headphones are a must.
ASUS VIVOBOOK E200HA – SCREEN
The E200HA is available with only one screen option, which is an 11.6-inch TN LCD with a resolution of 1366 x 768 pixels. It's absolutely fine for most things, although certainly has its limitations.
The most obvious drawback is the use of a TN panel. Such screens are notorious for offering poor viewing angles – and sure enough, that's the case here. View the display from any angle other than straight on and colours and contrast are all over the place. The main issue is vertical viewing angles; you'll constantly have to tweak the angle of the screen depending on the height of your lap, table or other surface on which you're resting the device.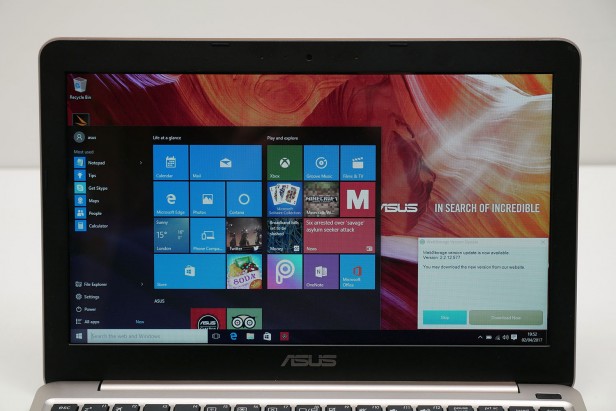 Although that resolution sounds quite low, it's actually fine for this size of screen. Everything looks the right size – not too big, not too small – so you don't have to go fiddling around with the settings to make text readable and icons a sensible size.
The screen does have other issues, though. Brightness is quite low at just 245 nits – we'd hope for closer to 300 nits – while contrast is just 502:1, which is half what the best laptops can deliver. That means the display struggles to maintain a deep black level while also showing bright colours, resulting in an image that looks a little grey and washed out.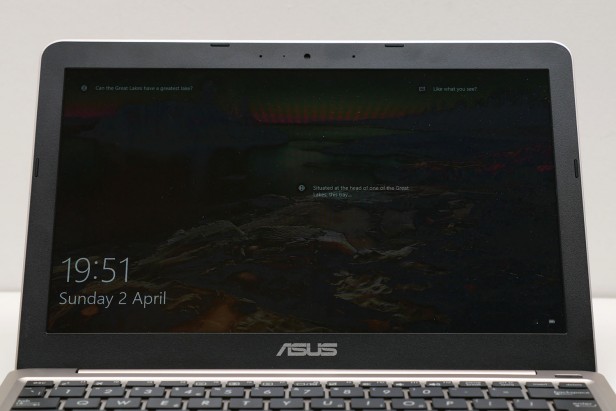 Tilt the screen forward or back just a few degrees and image quality drops considerably
Overall colour reproduction also struggles. The main problem is the sRGB colour space coverage of just 66.6%. That's actually higher than the Acer Swift 3, for instance, but still quite low. As a result, you simply don't get the same level of fine colour difference that a good quality monitor provides, resulting in more noticeable colour banding.
Again, this is typical of a machine at this price, with the likes of the HP Stream suffering the same problems.
ASUS VIVOBOOK E200HA – PERFORMANCE AND SOFTWARE
The Asus VivoBook E200HA can boast a quad-core processor – but don't let that fool you: this is a modestly powerful machine. Each of those cores has a base frequency of only 1.44GHz and a boost frequency of 1.84GHz. In comparison, the latest Core i3 processors have base frequencies that start at 2.4GHz.
This lack of raw clock speed is immediately obvious in daily use. Everything from boot-up and app startup to simply opening the Start menu feels a touch sluggish compared to more powerful laptops.
The E200HA remains fine for light tasks such as word processing, web browsing with one or two (rather than dozens) tabs open at once, and maybe having an email client running in the background. Much beyond that and it will start to feel too sluggish. Even ad-heavy web pages really make it chug.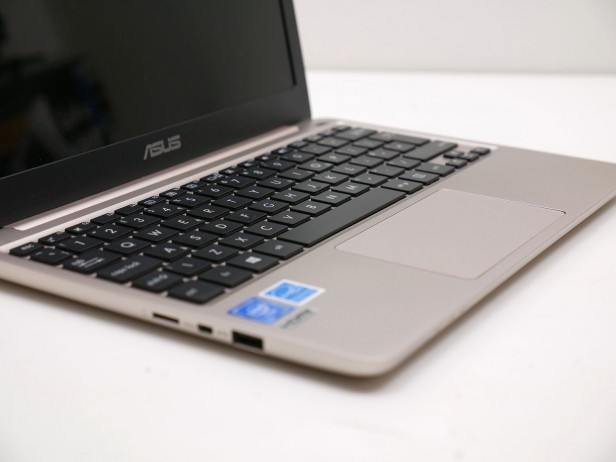 This is reflected in our benchmarks. In Geekbench 4, it scored just 802 and 2287 in the single and multi-threaded tests. In comparison, the Acer Swift 3 scored 3511 and 6551 respectively. It's a similar story in PCMark 8, where the Asus managed just 1253 points compared to the Acer's 2543.
What's more, the E200HA's paltry 32GB SSD is slow too, managing just 154MB/sec read and 98MB/sec write in the AS SSD benchmark – that's as slow as a hard drive. Speedier SSDs will hit closer to 500MB/sec for both, making boot-up, app startup and file-transfer times much shorter. Plus, 32GB doesn't offer much storage space to play with anyway. At least if you install a microSD card it doesn't stick out from the side, so you can potentially permanently expand the storage this way.
Again, this is all typical of this type of machine. The likes of the Asus Transformer Mini T102HA, HP Stream and the Lenovo Yoga Book also suffer the same performance problems. These are lightweight, cheap devices (actually, the E200HA and Stream are far cheaper than the T102HA and Yoga Book) meant for single-task use, much as you would use a tablet, but with a better typing experience and access to all of the features of Windows 10.
Asus also packs in a few extra bits of software. There's the useful LiveUpdate app for easily updating drivers, the WebStorage app for providing cloud storage, and the less useful McAfee antivirus – running this rather intrusive antivirus on a machine that's already this slow is a very bad idea.
ASUS VIVOBOOK E200HA – BATTERY LIFE
Asus makes some bold claims about the E200HA's battery life, and in our tests it well and truly lived up to them. In our Powermark test, where we loop 10 minutes of web browsing and 5 minutes of watching video, with the screen brightness set to 150 nits, it lasted 11hrs 42mins. That's just 18 minutes shy of the claimed 12 hours. Drop the brightness a touch more and it will reach that figure.
This level of longevity is a crucial part of the appeal of devices such as this. Being able to go a whole day at university without the need for a charger or being able to watch hours and hours of video on those long bus journeys as you backpack around the world is what such machines are all about.
SHOULD I BUY THE ASUS VIVOBOOK E200HA?
The Asus VivoBook E200HA is a great little low-cost laptop that's ideal for students or travellers looking for a device that can be taken anywhere. It won't cost the earth to replace when it's inevitably dropped or lost, and it provides a good enough experience for basic computing duties.
For a machine costing just over £200 it looks far nicer than you'd expect, and the screen, keyboard and trackpad are all entirely adequate. Inevitably there are compromises, however.
Performance really is only good enough to use this laptop in the manner you would a tablet: that is, one task at a time. Open half a dozen tabs in your web browser and it will grind to a halt. But, if you just need something to tap out a few emails, watch some video and browse a couple of web pages at a time, then it's fine.
What's more, its battery last for ages.
Your only viable alternatives here are the HP Stream 11, which is less powerful, and Chromebooks such as the Acer Chromebook 14. Chromebooks are arguably better value due to their lower price, but if you prefer Windows, the E200HA is a great choice.
VERDICT
Cheap but effective, the Asus VivoBook E200HA has plenty of compromises – but it provides adequate performance, long battery life and looks far smarter than you'd expect for its price.
(trustedreviews.com, https://goo.gl/MzT6bY)
Comments
comments