Summary: The TUF FX504 is a new entry from Asus in the budget to mid-range segment of gaming notebooks. Its main selling points are the 120 HZ screen, the hardware specs and the excellent keyboard, corroborated with an affordable pricing policy and a few extra perks. The performance in demanding loads is a potential concern though, based on what we found from this review unit, and there are a few extra quirks you should be aware of before taking the plunge. Read on for more details.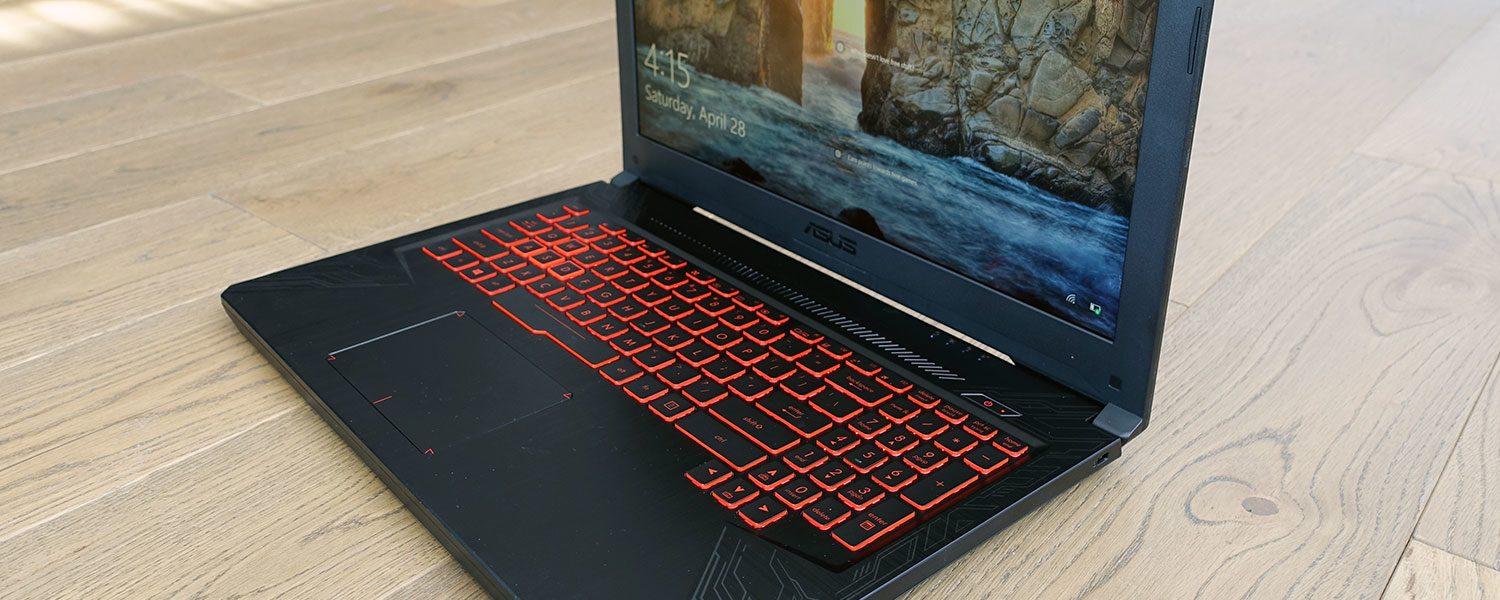 THE GOOD
well made, nice design lines
gets a matte 120 Hz screen
great keyboard and trackpad
runs quiet with daily use
very fast wireless
affordable price tag
THE BAD
TN panel – limited vertical viewing angles
some performance issues with demanding loads
runs warm with daily use
loud fans under load
average speakers
only gets a 48 Wh battery
The niche for full-size laptops under $1000 able to handle 1080P gaming with ease is highly competitive as of 2018, with most OEMs offering at least one unit in this segment. The competition drives down prices and at the same time, drives up the overall quality of the available products.
The Asus TUF (The Ultimate Force) FX504 series is Asus's new entry in this niche and includes 15-inch gaming laptops built on Intel Coffee Lake hardware platforms and Nvidia GTX 1050 and 1050 Ti graphics, with a starting price of around $700 in the US. These laptops are not just powerful hardware-wise though, they're also built well and designed to withstand the daily hassle, incorporate good backlit keyboards and a high-refresh rate screen.
We've spent time with the higher-end configured model of the TUF FX504 line, the FX504GE that comes with an Intel Core i7-8750H six-core CPU, Nvidia GTX 1050 Ti graphics and hybrid storage, and we've gathered all our impressions below. Read on if you're interested in getting one of these and want to know more about its strong points, quirks and issues.
Specs as reviewed
| | |
| --- | --- |
| | Asus TUF FX504GE Gaming Laptop |
| Screen | 15.6 inch, 1920 x 1080 px, 120 Hz, TN, non-touch, matte |
| Processor | Intel Kaby Lake Core i7-8750H CPU |
| Vide0 | Intel HD 630 + Nvidia GT 1050 Ti 4GB |
| Memory | 16 GB DDR4 (2x DIMMs) |
| Storage | 256 GB SSD (M.2 PCIe) + 1 TB 5400 rpm HDD (2.5″) |
| Connectivity | Gigabit LAN, Wireless AC (Intel AC 9560) , Bluetooth 4.1 |
| Ports | 1 x USB 2.0, 2 x USB 3.0, HDMI, LAN, SD card reader, mic/headphone, Kensington Lock |
| Battery | 48 Wh, 120 W charger |
| OS | Windows 10 |
| Size | 384 mm or 15.11" (w) x 262 mm or 10.31" (d) x 25 mm or 0.99" (h) |
| Weight | 5.02 lbs (2.28 kg) + 1.1 lbs (.5 kg) for the charger |
| Extras | red backlit keyboard, webcam, 7.1 headphone output |
Asus offers the FX504 notebooks in a few different configurations, split between two base sub-lines: the FX504GE with GTX 1050 Ti graphics, and FX504GD with GTX 1050 graphics. There are also options for either the i5-8300Hor the i7-8750H processors, various amounts of RAM and storage, but all the other traits are shared by all the available variants.
Design and first look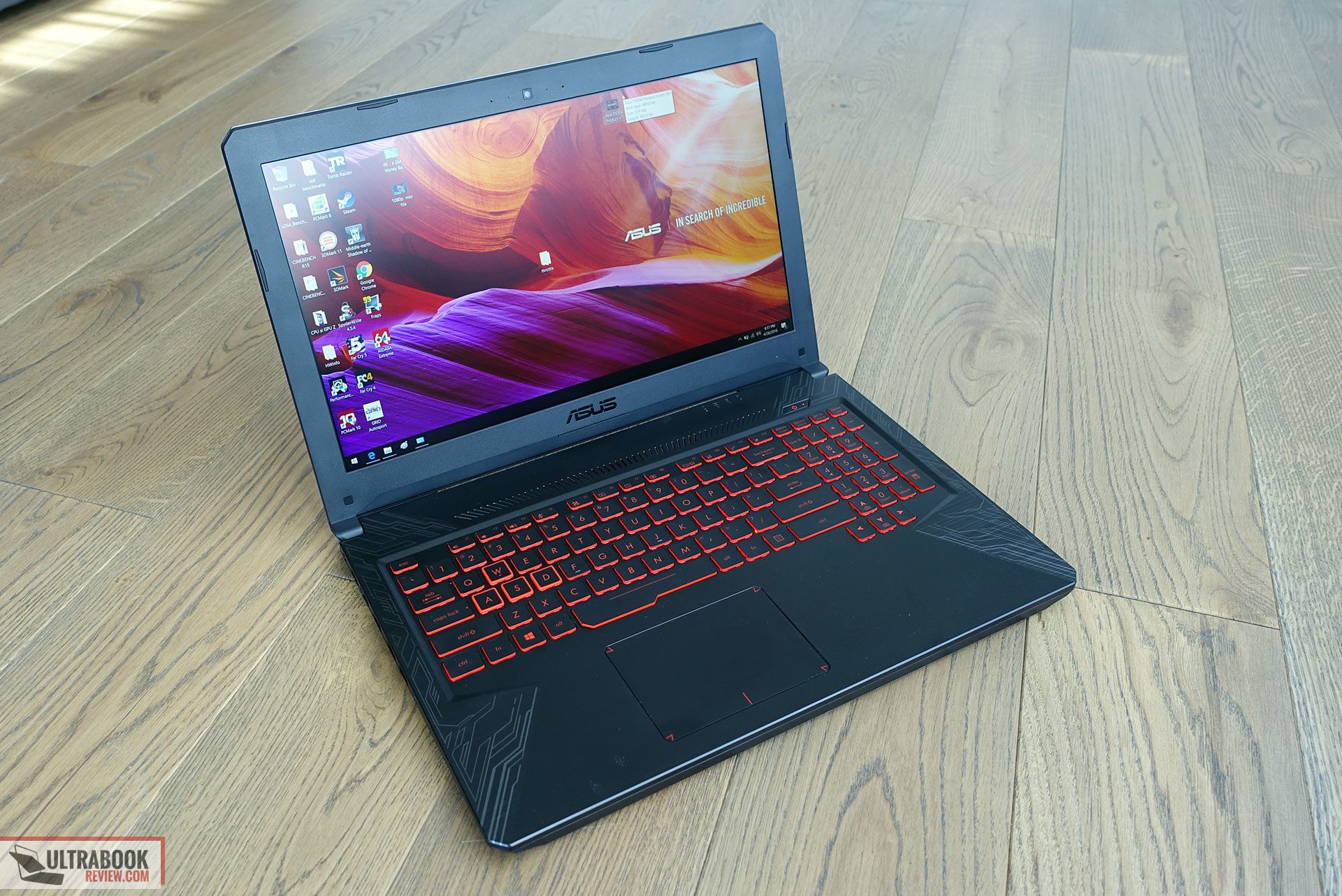 The TUF FX504 borrows some aesthetic lines from the existing ASUS ROG notebooks, but is for the most part a brand new design, completely different from the design of the FX503 line it replaces.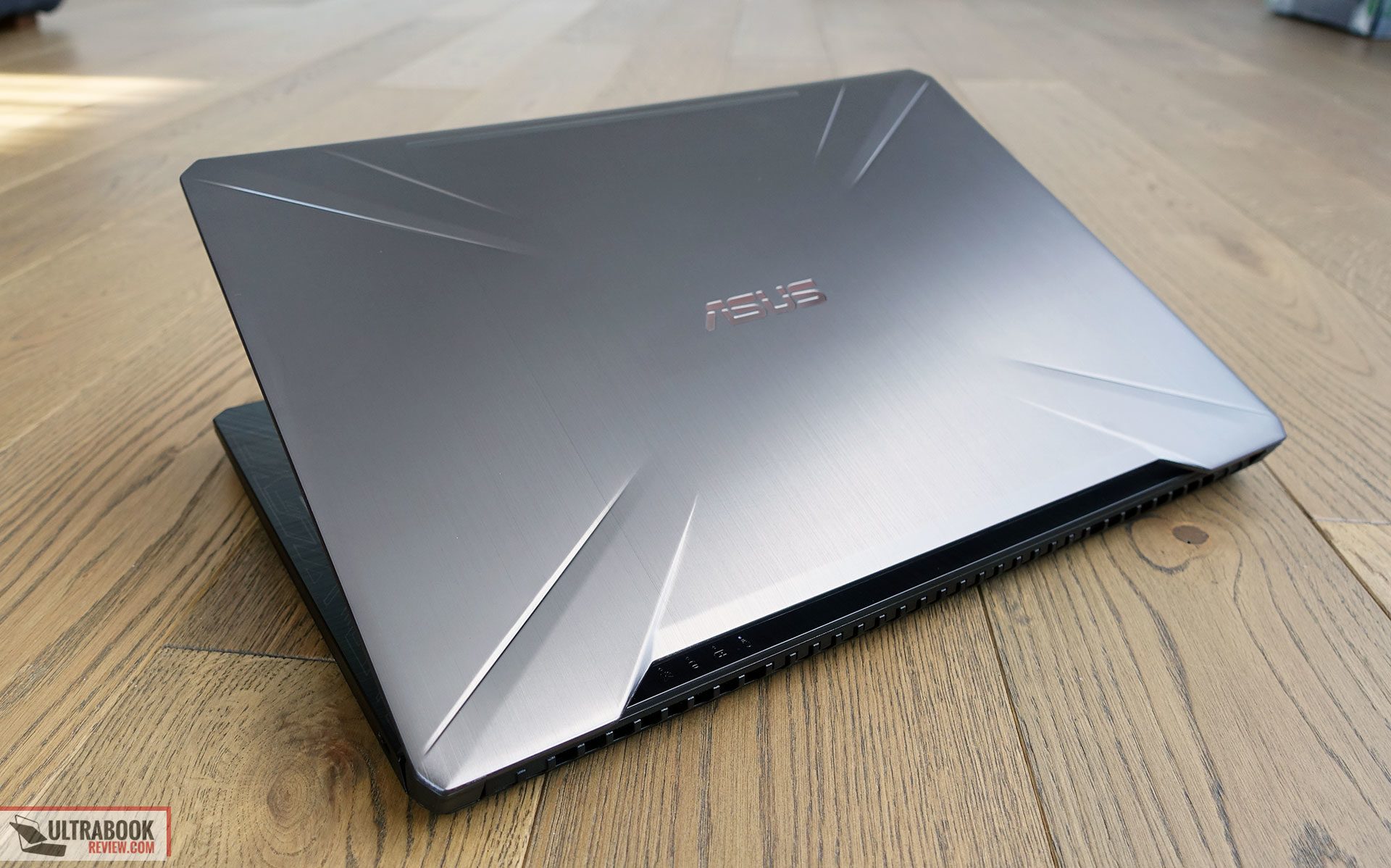 It's up to you whether you'll like it or not. Personally I'm a fan of plain and simple designs, and on one side this one doesn't get any flashy color accents aside from the red bordering on the keys, and doesn't get any sorts of annoying lights either; but on the other, the interior is perhaps a bit over-crafted for my taste, with that pattern on the sides that somewhat mimics circuit lines. It's not ugly though and I could get used to it.
The images on the official page suggest some red lines on the laptop's lid and on the interior, and that's because Asus offers the TUF FX504 in 4 different colors schemes: Black Matter, Red Matter, Fusion and Premium Steel. As far as I can tell we have the Black Matter version here, with the simpler hood and dark-silver lines on the inside.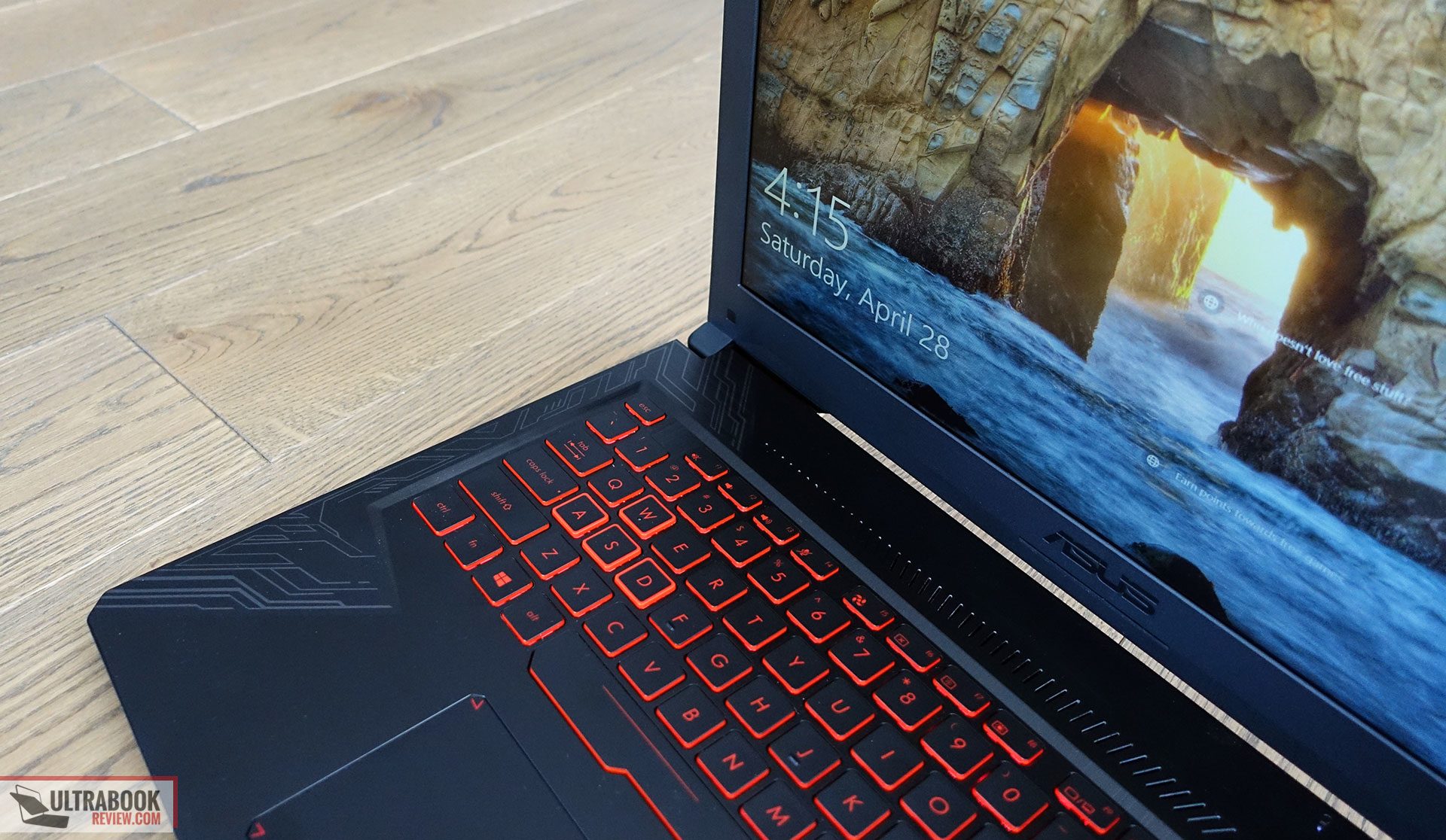 I find all these options confusing for the potential buyer, especially since I couldn't find the differences between them properly explained on the site, so you'll want to further look into this and make sure you choose the color scheme that best suits your taste. We do know that the Premium Steel version will get a red backlit Asus logo on the lid, which could have an impact on your purchase decision.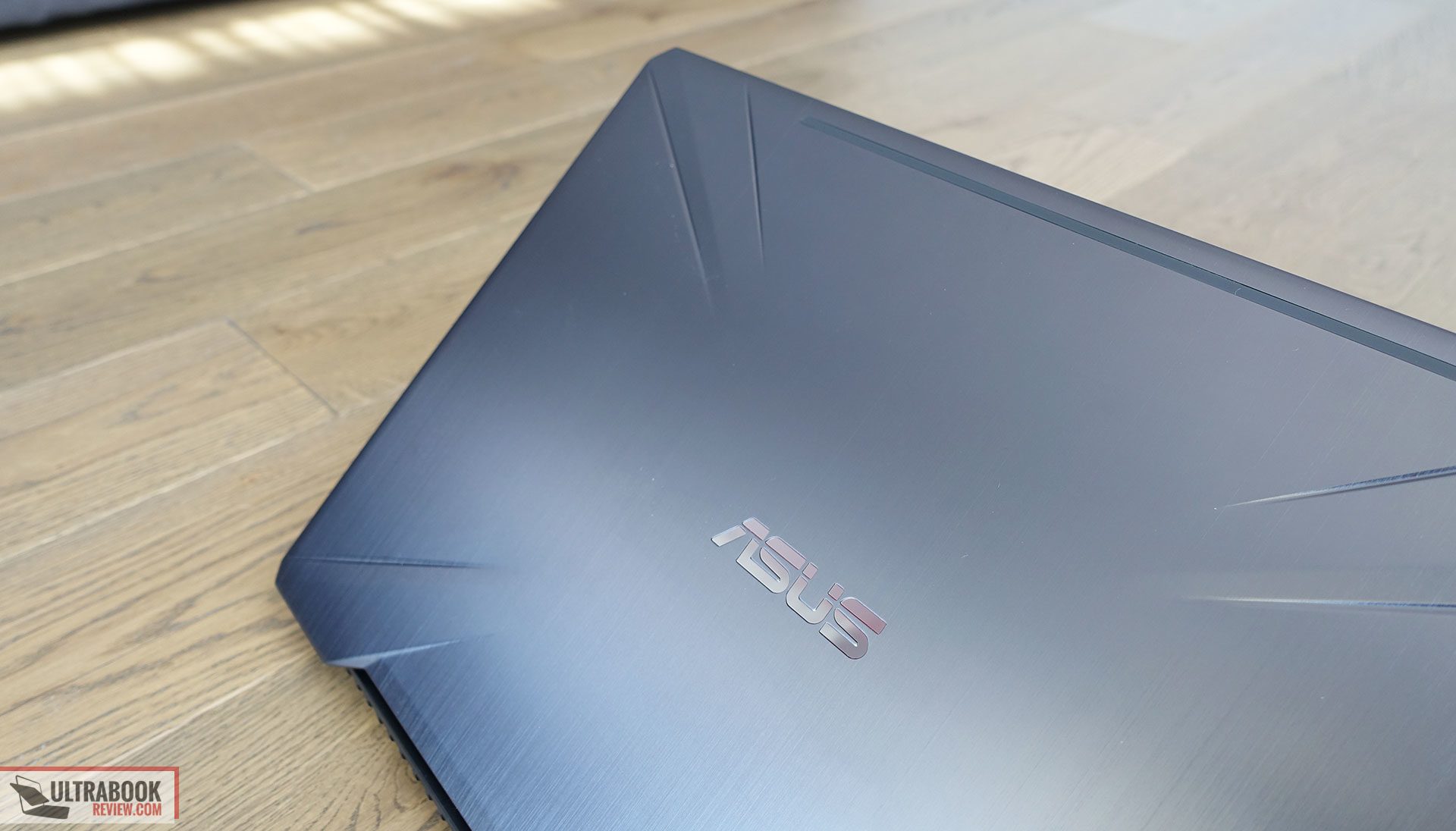 As far as the build goes, the chassis and outershell of the FX504 are made out of the plastic, while the lid cover gets a brushed metallic finishing. There's little to complain about the craftsmanship quality.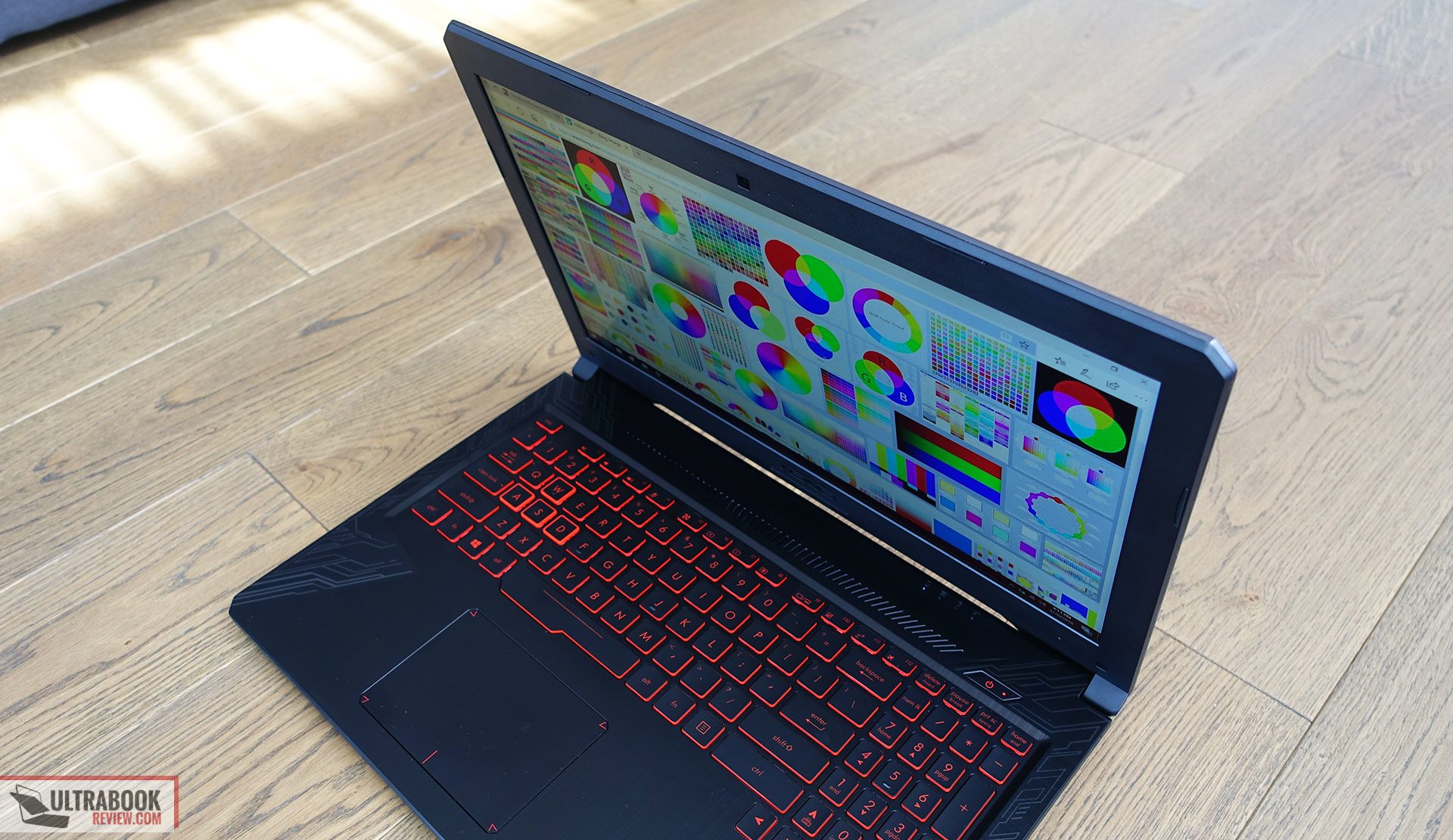 Yes, there's some flex in the lid and the main deck, but let's not forget the price range this notebook competes in, so overall I can conclude that the FX504 is built well and should also age fairly well, as Asus went with textured materials for the inner deck which shouldn't scratch or wear down easily.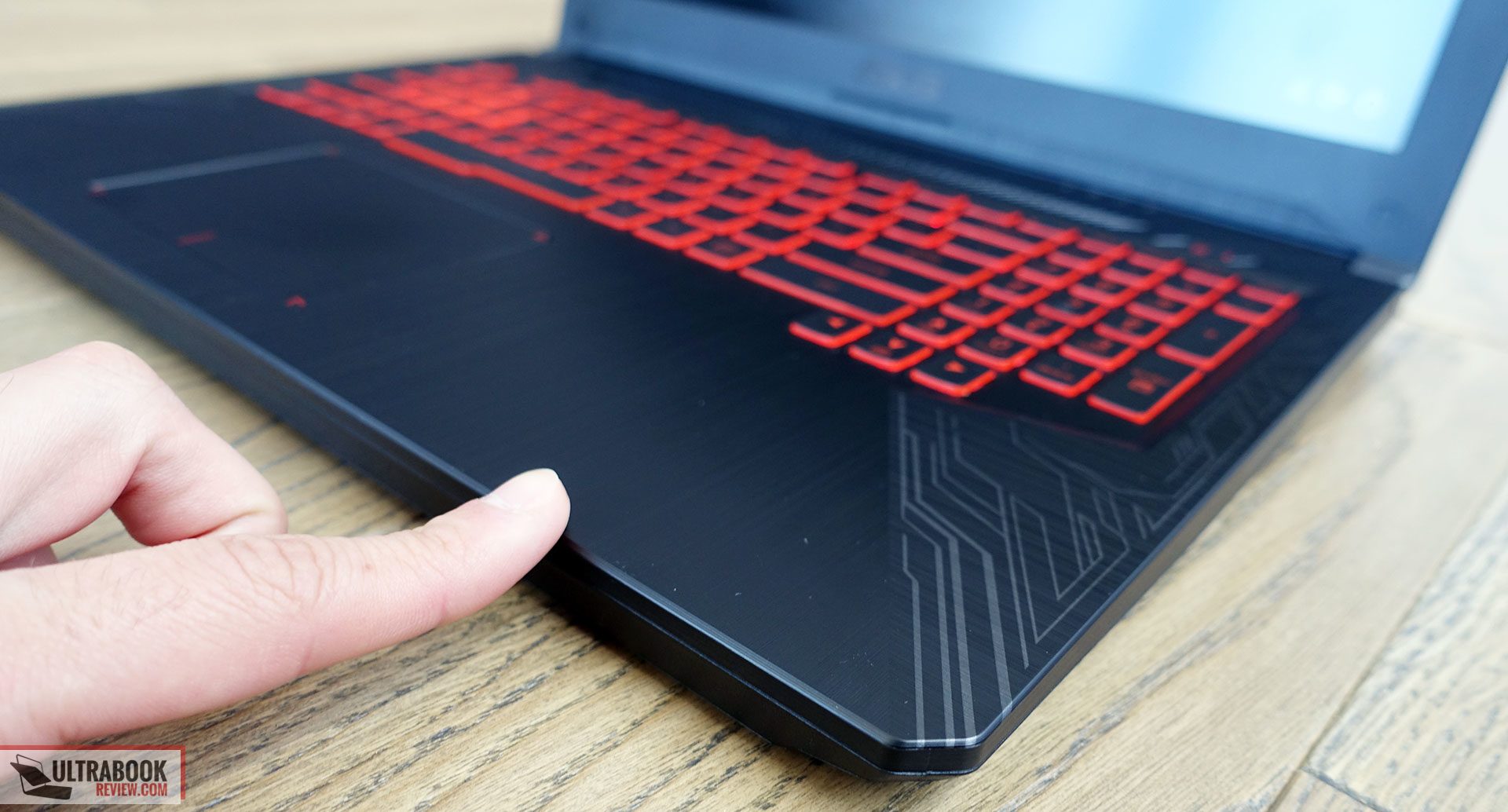 There's nothing truly special about the size and the weight of the TUF FX504, as at 5 lbs and 1-inch in thickness it blends in with the crowd, albeit in all fairness it is one of the more compact and lighter options in its class.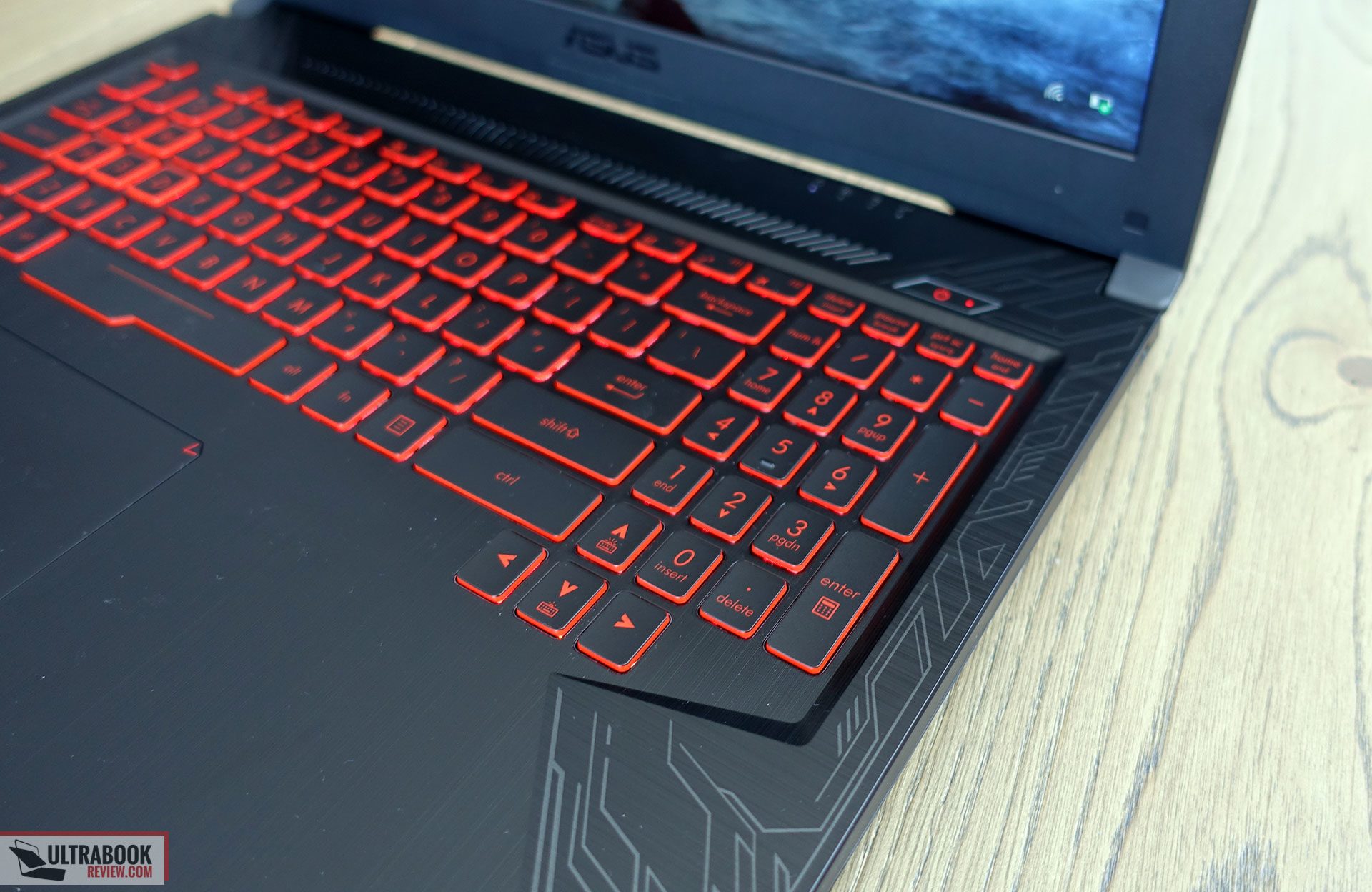 I'm also pretty happy with the laptop's practicality. The screen for instance is hold in place by two solid hinges and can be easily lifted with a single hand. The palm-rest is spacious and there are no sharp bits or edges to dig into your wrists like with many other laptops, as Asus made sure to blunt the edges and cut the corners, and on top of these the TUF FX504 has a pretty low profile as well.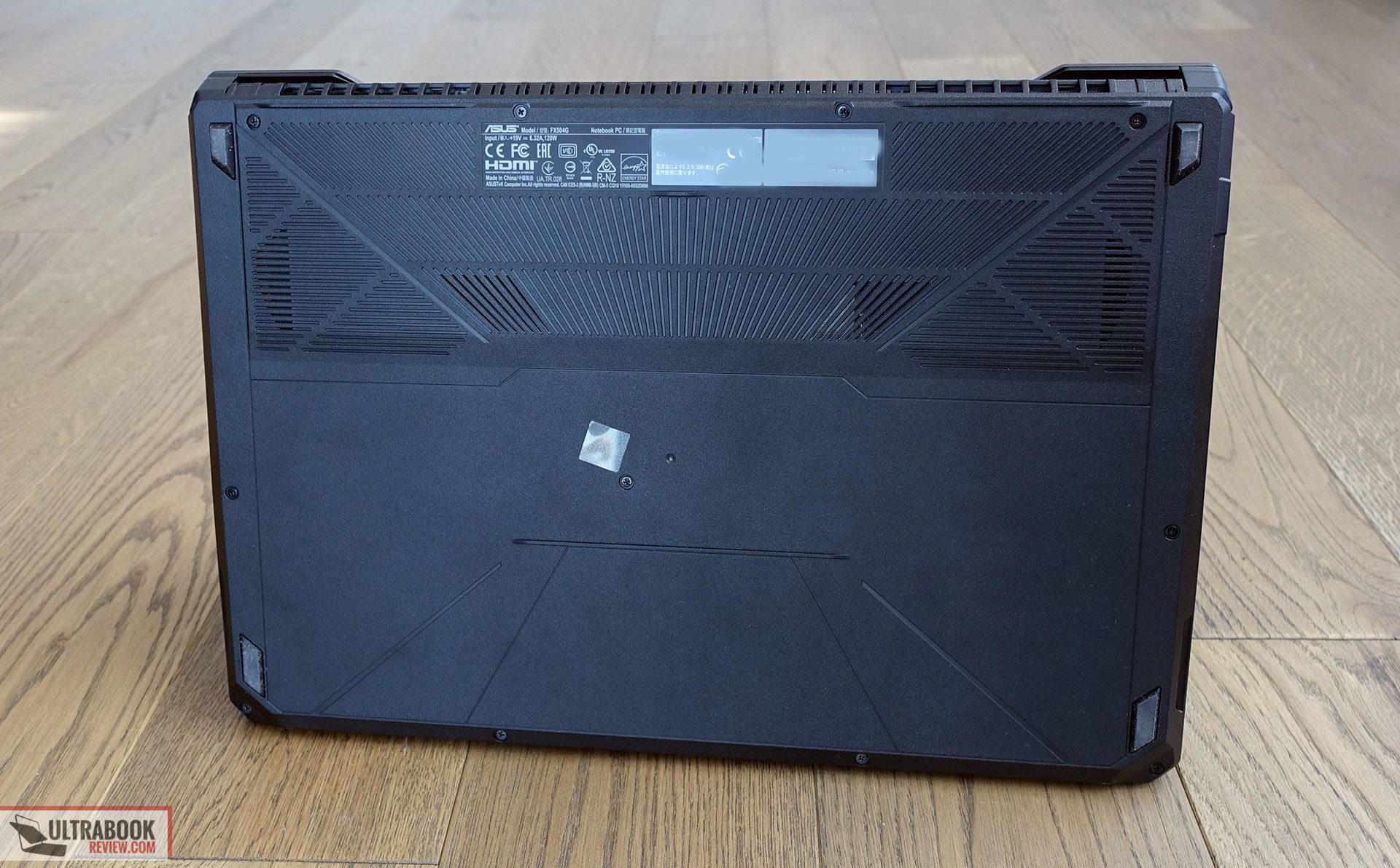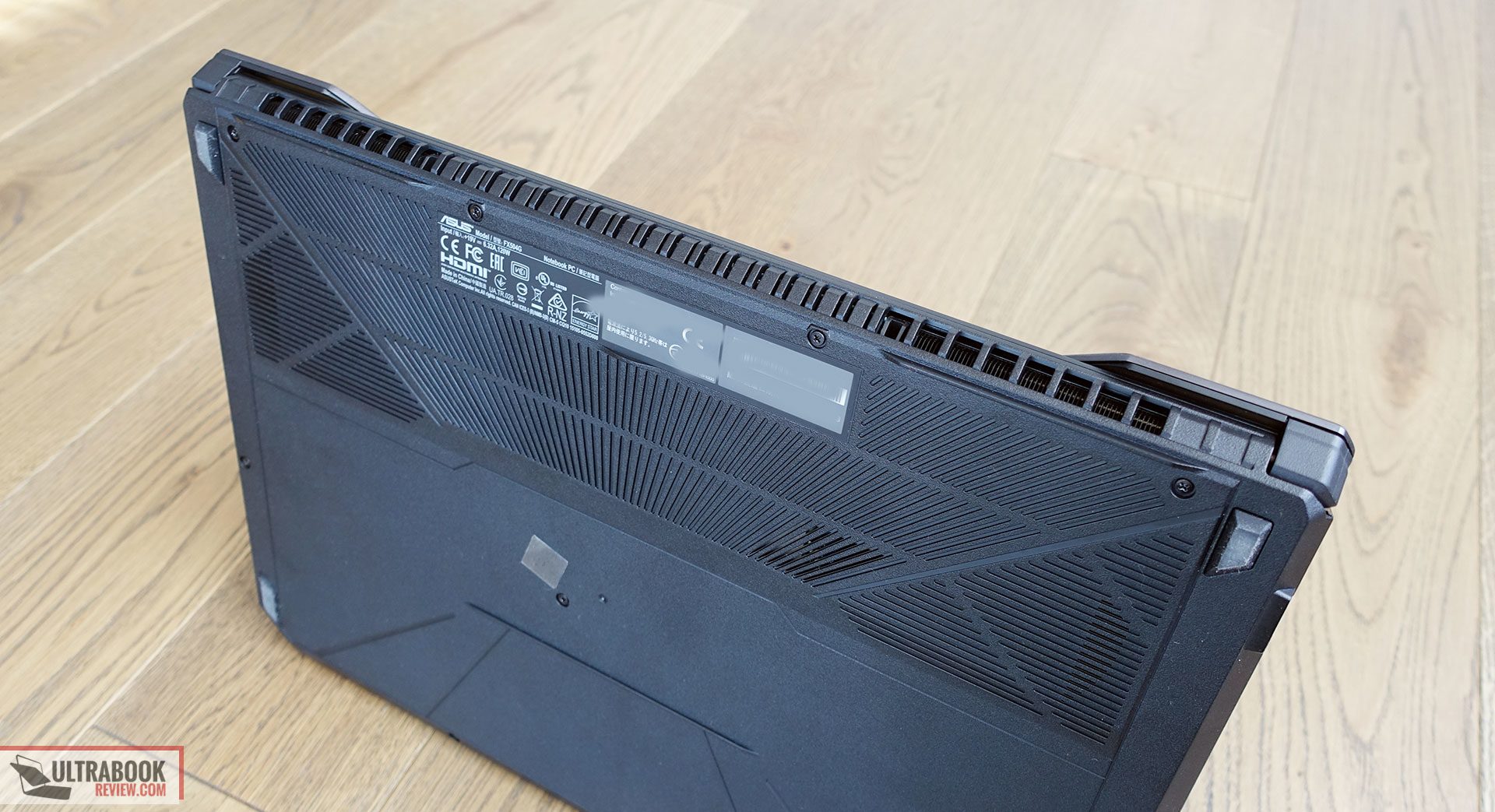 The feet on the bottom are rather small, but grippy enough to keep the computer well anchored on a flat surface, and you'll notice that Asus added a few plastic feet in the middle of the back-panel as well, to reduce the chassis's overall flex. Down here you'll also notice some air intake cuts, and there's also an intake on top of the keyboard, with the exhaust grills placed on the back edge, a pretty much ideal arrangement . Asus also advertises a patented Anti-Dust solution implemented on this computer (illustrated in the clip below), which should keep dust out of the fans and the internals.
The IO is somewhat limited here though. You do get 3x USB A slots, HDMI and LAN, but there's no USB-C of any kind and no card reader either. You'll also notice that all the connectors are grouped on the left edge, which is great news if you're a right handed user, but not that much if you're a lefty.


All in all, the Asus TUF FX504 is well built, nicely sized and fairly nice looking as well, with some arguable design elements, which at the same time make it stand out from the competition.


Asus advertises this series's durability and toughness, but aside from perhaps the choice in materials used for the outer-shell and the Anti-Dust technology implemented for the cooling solution, it doesn't seem to meet any sort of recognized durability standards, so we'll have to wait and see how these perks actually verify with real life use.
Keyboard and trackpad
This laptop types well.
I have a few complains about the layout, namely the fact that the NumPad section is cramped and the directional keys are quite narrow, which isn't ideal for a gaming laptop, but at the same time I do like that they're placed somewhat lower on the chassis and I also like the large Space key, both elements we've seen on previous Asus ROG laptops. In fact, the entire keyboard is similar to the one of the ROG GL503VD, but the dedicated multimedia keys have been left out.
This keyboard shines when it comes to the overall typing experience though. The keys click well and offer the right amount of resistance and the right feedback, at least for my taste. They're also backlit (with red illumination) and quiet. While typing this article I did however notice that the Left Shift key needs to be pressed firmer than I'm used to in order to actuate properly, which lead to a few errors while getting accustomed to this keyboard.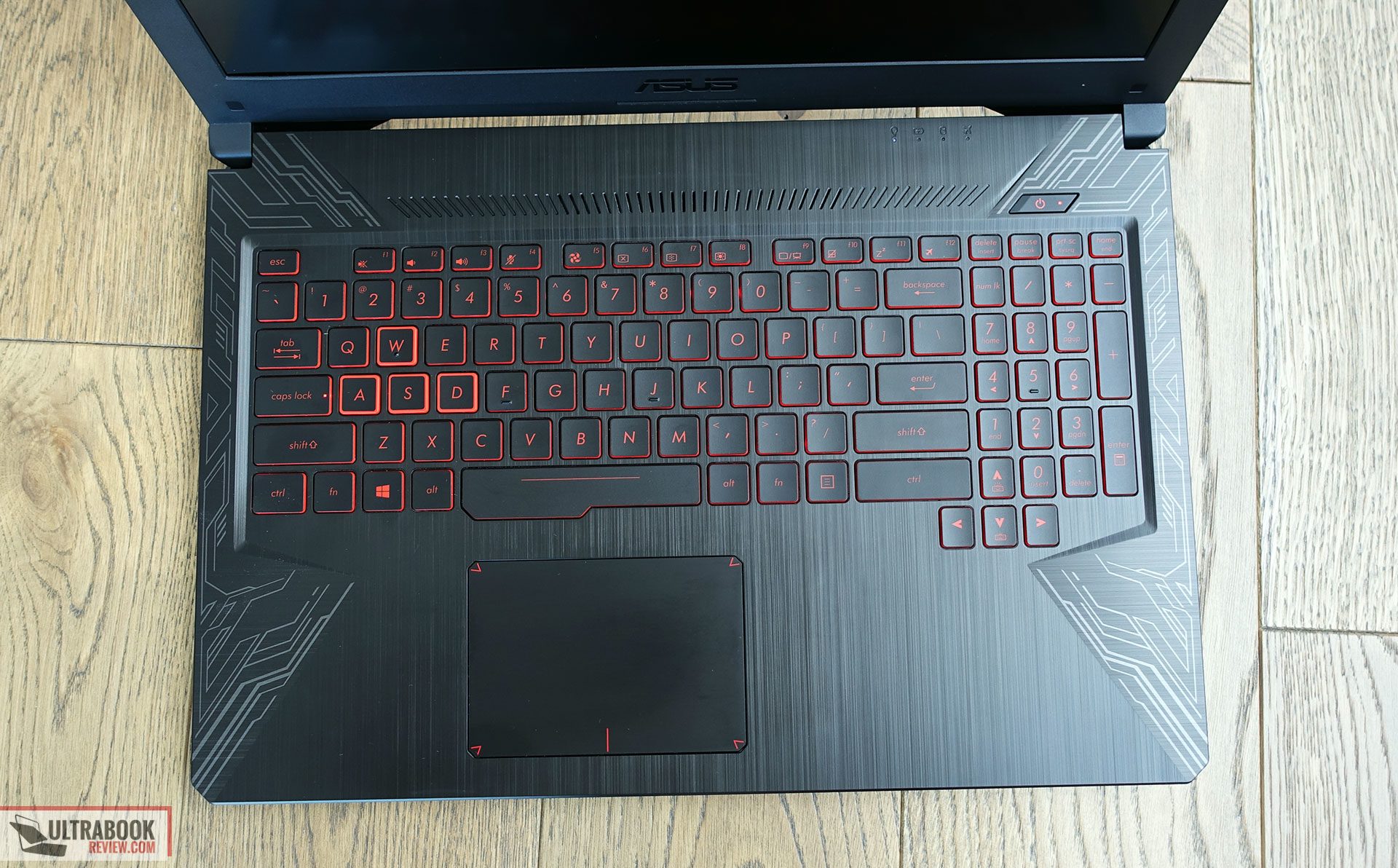 As a side note, Asus also claims the keys have a 20 million presses life-span, which is to some extent a marketing gimmick, but at the same time ads to the nice experience and can be another reason to consider this computer for serious typing and for gaming.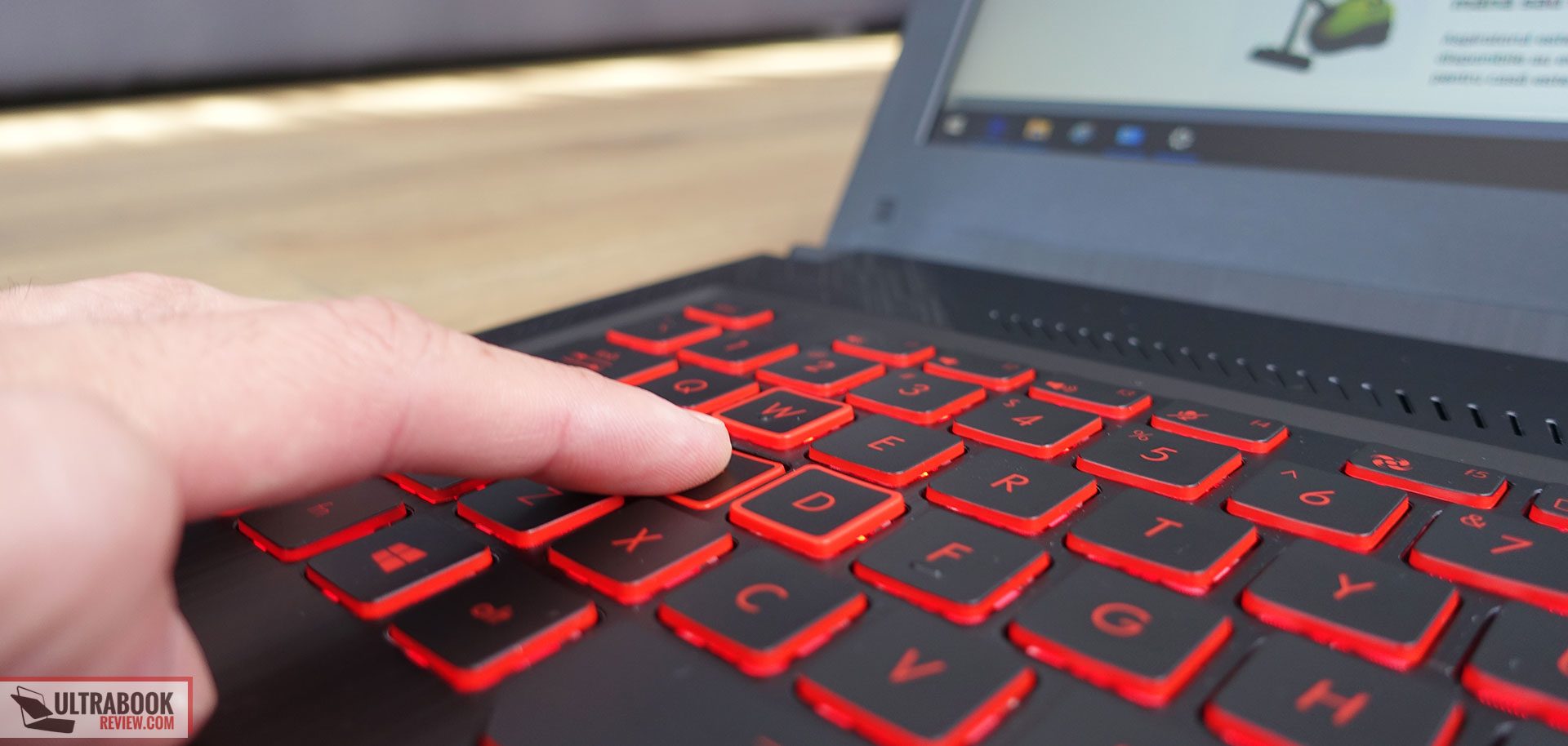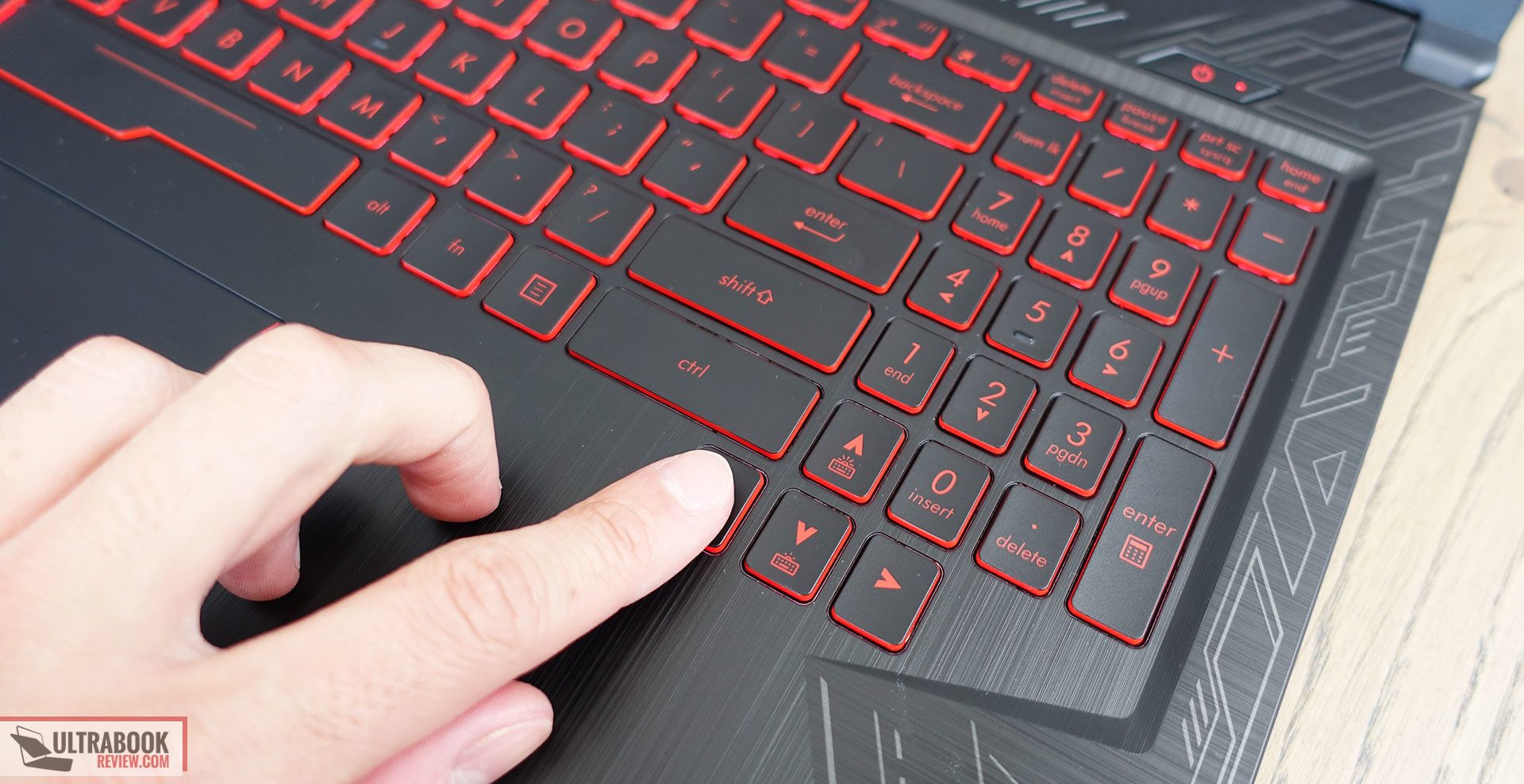 The clickpad is alright. It's a plastic surface made by Elan, with Precision drivers, and it performed well during our time with this laptop. It doesn't handle one particular use case that well: having one finger on the left click area and swiping with the other, which it sometimes interprets as a two-finger zooming gesture, but this aside I didn't notice any other quirks.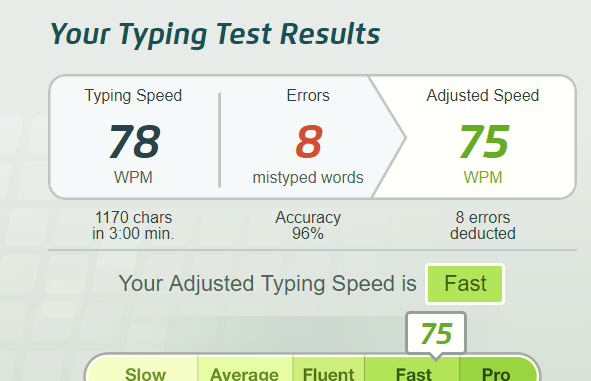 The physical clicks are fairly nice as well and they're silent, just make sure to press towards the corners though, otherwise they can get a little stiff.
Screen
Asus equips the TUF FX504 series with a 15.6-inch matte screen, but with a TN 120 HZ panel. So it's a win some, loose some situation.
On one hand TN panels get poorer viewing angles than their IPS counterparts, but this one's are actually far from bad, with contrast and color shifting only noticeable from upper and lower angles, but not that much when watching the screen from the sides and not at all when watching it head-on. On top of that, this screen is brighter and with richer contrast than the IPS panels available on other laptops in the $800 – $1000 price range, as you can see below.
Panel HardwareID: Chi Mei CMN15F4 (N156HHE-GA1);
Coverage: 100% sRGB, 86% NTSC, 88% AdobeRGB;
Measured gamma: 2.1;
Max brightness in the middle of the screen: 327 cd/m2 on power;
Contrast at max brightness: 910:1
White point: 7600 K;
Black on max brightness: 0.36 cd/m2;
Average DeltaE: 9.49 uncalibrated, 1.45 calibrated.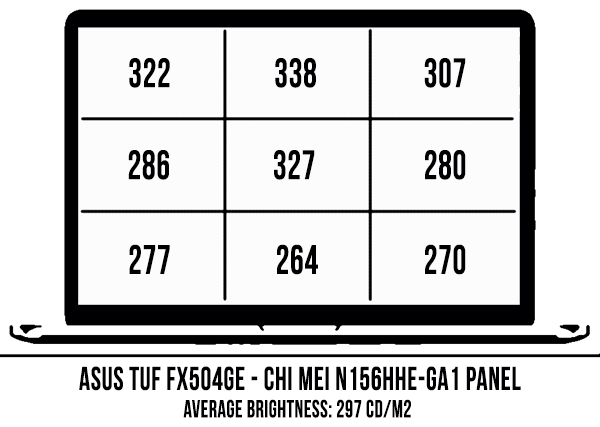 The panel is however very poorly calibrated out of the box , with a cool White Point, skewed Gamma and gray levels, so you should definitely calibrate it or use our calibrated color profile available over here. The brightness distribution is also poor, with certain parts of the screen dimmer by around 15-20% than the center and the top, but I don't think you'll actually notice this with everyday use. I for one didn't.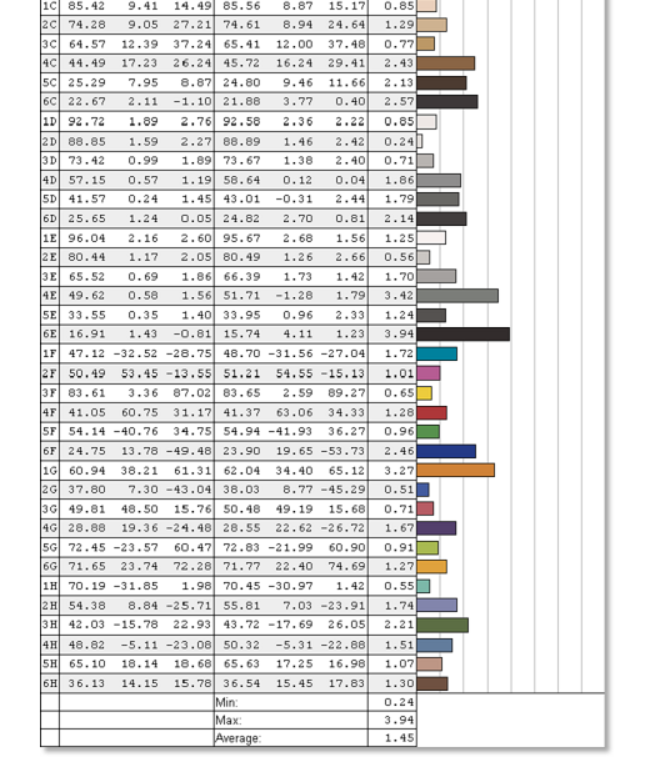 These aside, this TN panel offers a 120 Hz refresh rate, which will make your gaming experience much nicer, albeit you'll probably want to lower the details in order to get high frame-rates, as there's no GSync on this series. It also gets faster response times than a standard IPS screen, which once more helps in games.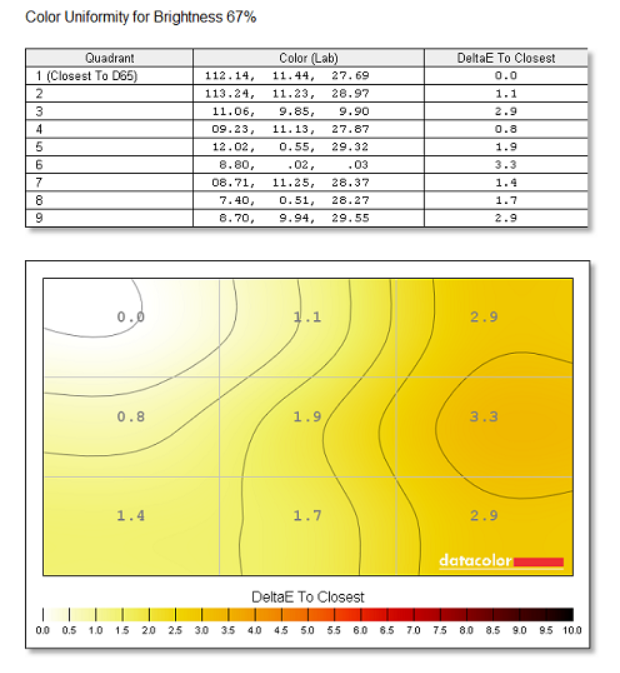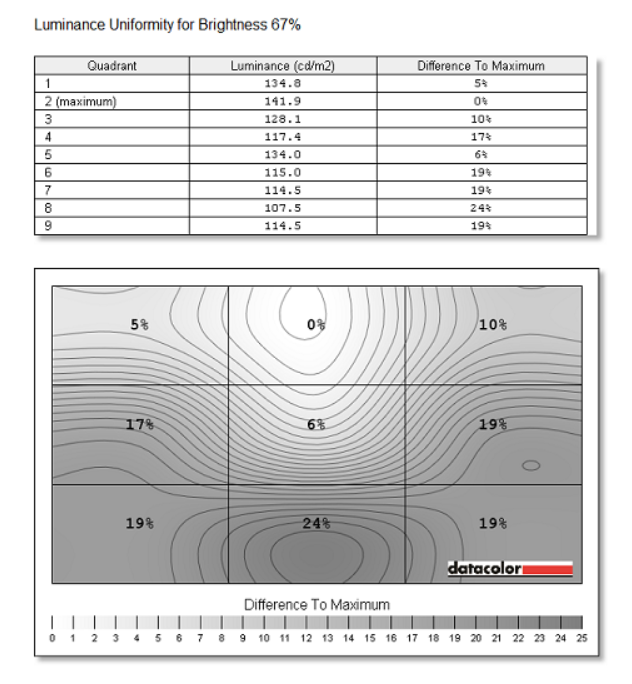 I'll also add that this ChiMei panel uses PWM for brightness modulation, but at at high frequency of around 26000 Hz and only for brightness levels between 0 and 25%.
All in all this screen is much nicer than you'd expect from a regular TN panel. Going with it Asus sacrificed the brightness distribution and vertical viewing angles to some extent, but offers potential users 120 Hz refresh rates, solid contrast and brightness, as well as good colors (once calibrated), so I for one prefer this option over any of the lower-tier IPS screens that most other OEMs put on their mid-range gaming computers.
Hardware and performance
Asus offers the TUF FX504 in a few different configurations and we got to review one of the higher end variants, the FX504GE model with an Intel Core i7-8750H processor, Nvidia GTX 1050 Ti graphics, 16 GB of RAM and dual-storage, with an M.2 SATA SSD and a regular 2.5″ mechanical HDD.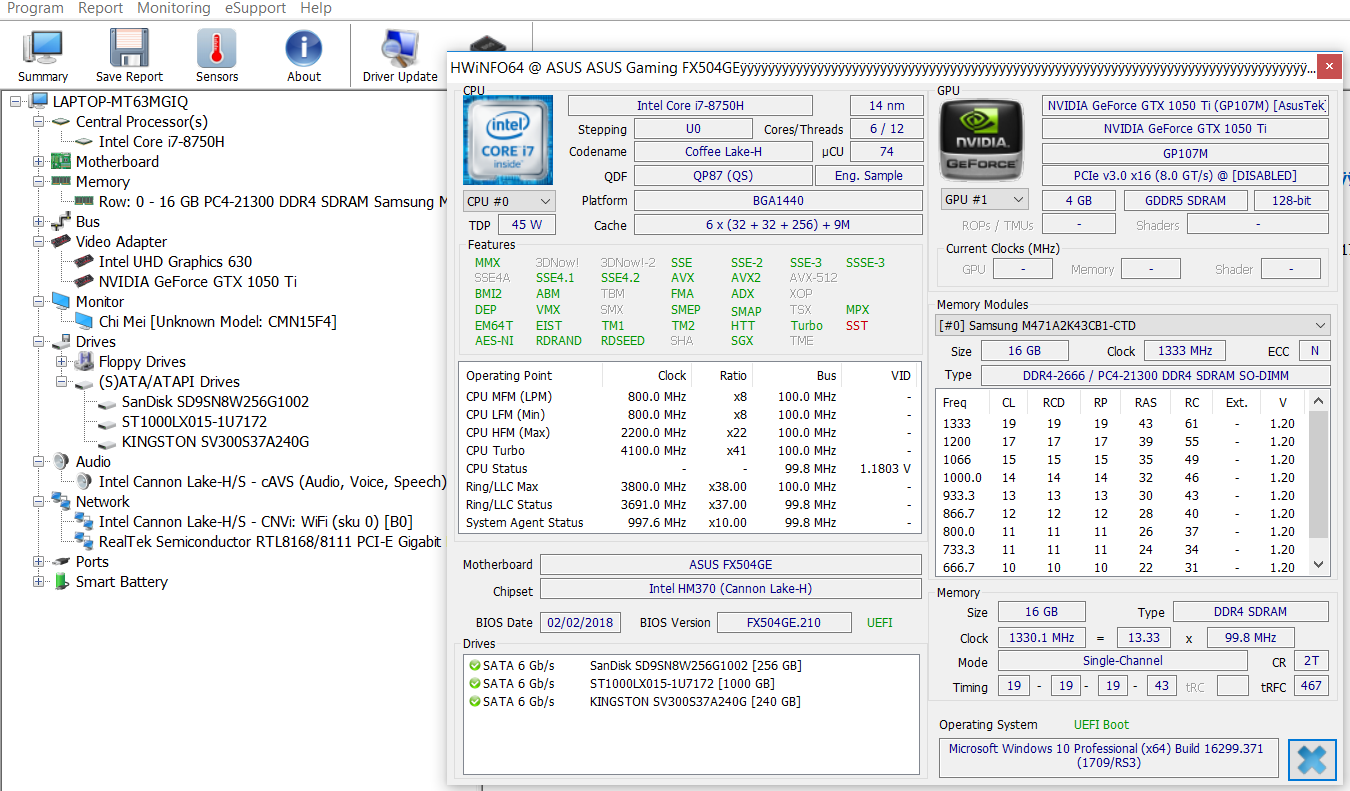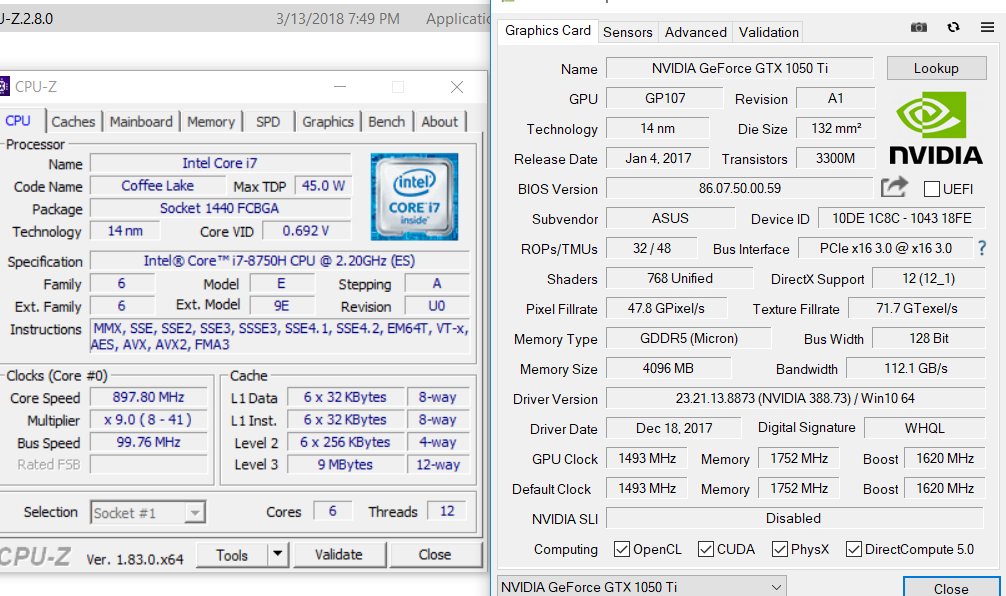 The RAM, storage and Wi-Fi chip are all upgradeable on this laptop and fairly easily accessible; in order to get to them you'll need to take out the entire back panel, hold in place by Philips screws, all clearly visible around the sides and in the middle of the panel. Be careful that the screws are of different length, so take note where each comes from. Inside you'll notice the two memory DIMMs, the M.2 slot and the 2.5″ bay. Our test unit comes with a SATA M.2 SSD, but this laptop supports faster M.2 PCIe drives as well.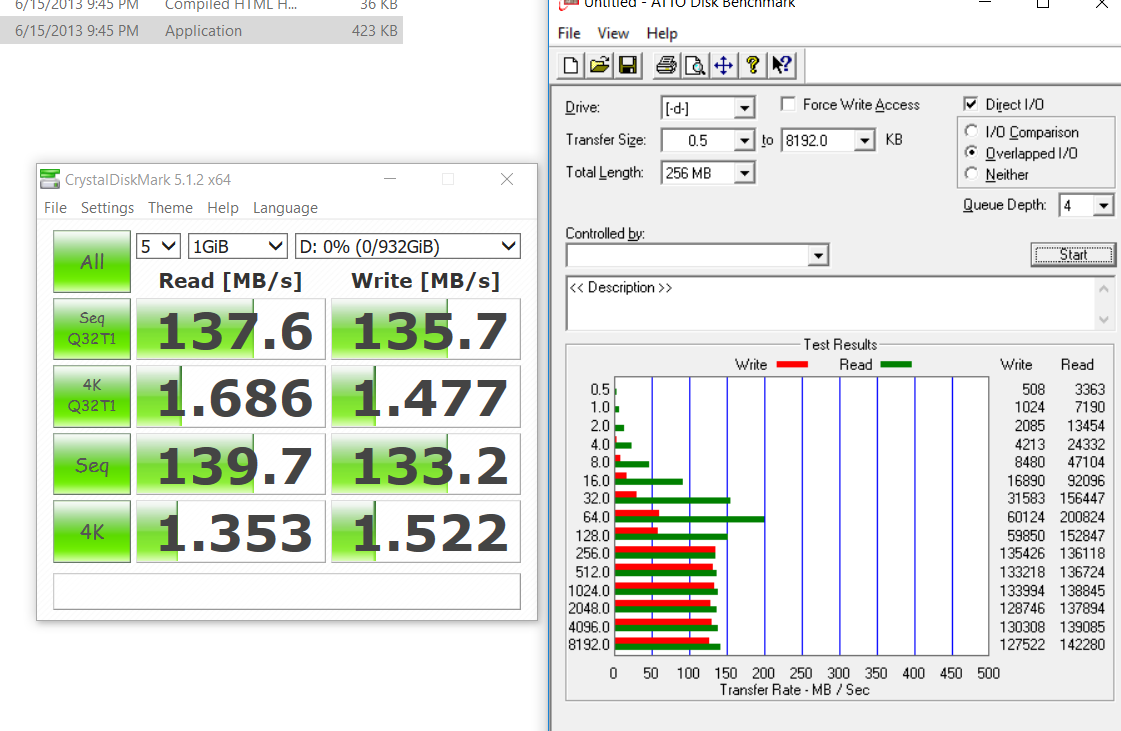 I should also mention that Asus equips the FX504 series with Seagate Firecuda SHDDs, which are supposedly some of the faster 5400 rpm HDDs out there and should help with loading games and applications. As the benchmarks above prove though, these SSHDs are far from the performance of even a SATA SSD. In other words, in case you're opting for one of the lower end configurations of this laptop that are only equipped with a SHDD, you should seriously consider putting an SSD inside as well, as it's a simple upgrade, but with a significant impact on the computer's overall snappiness and experience.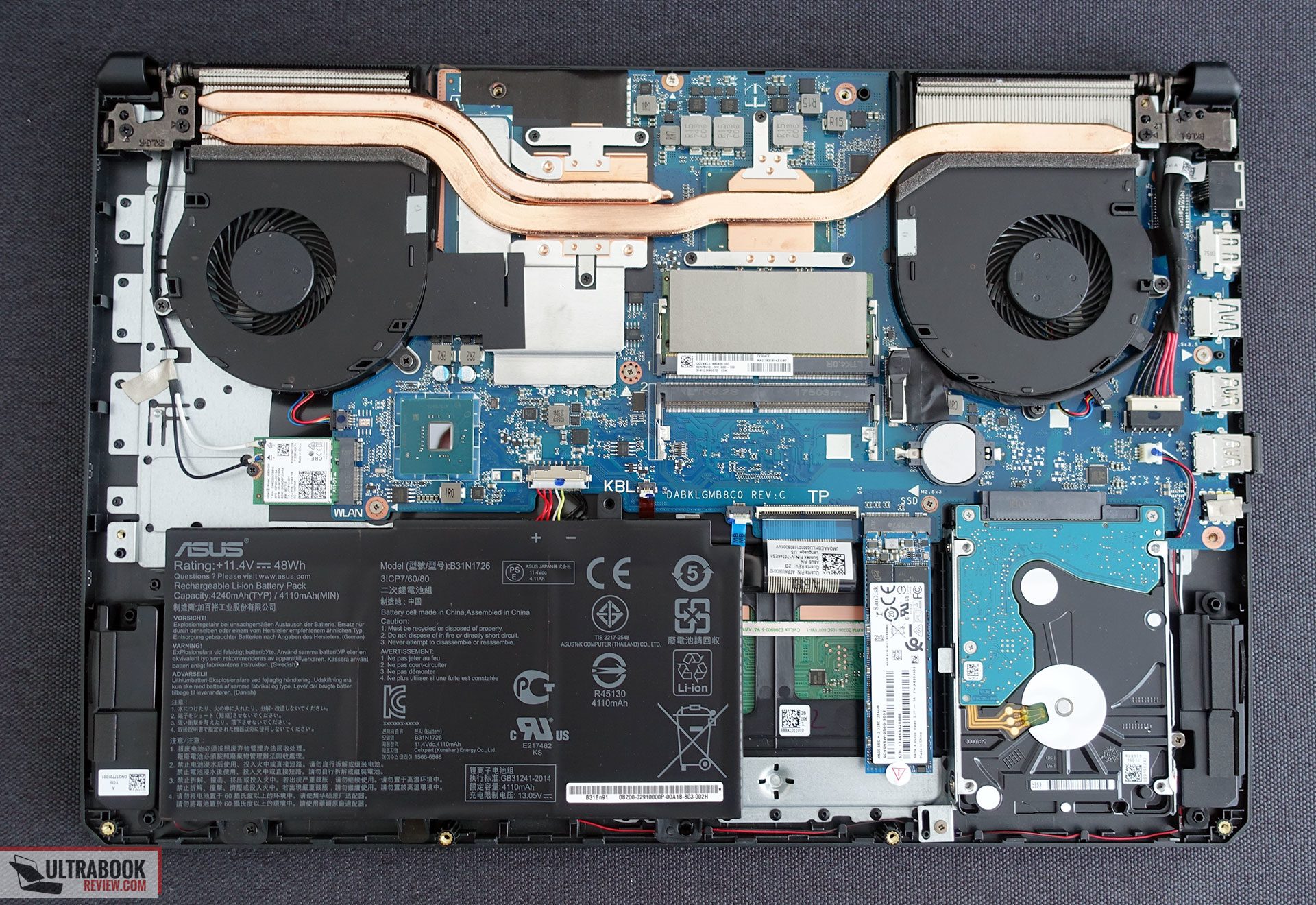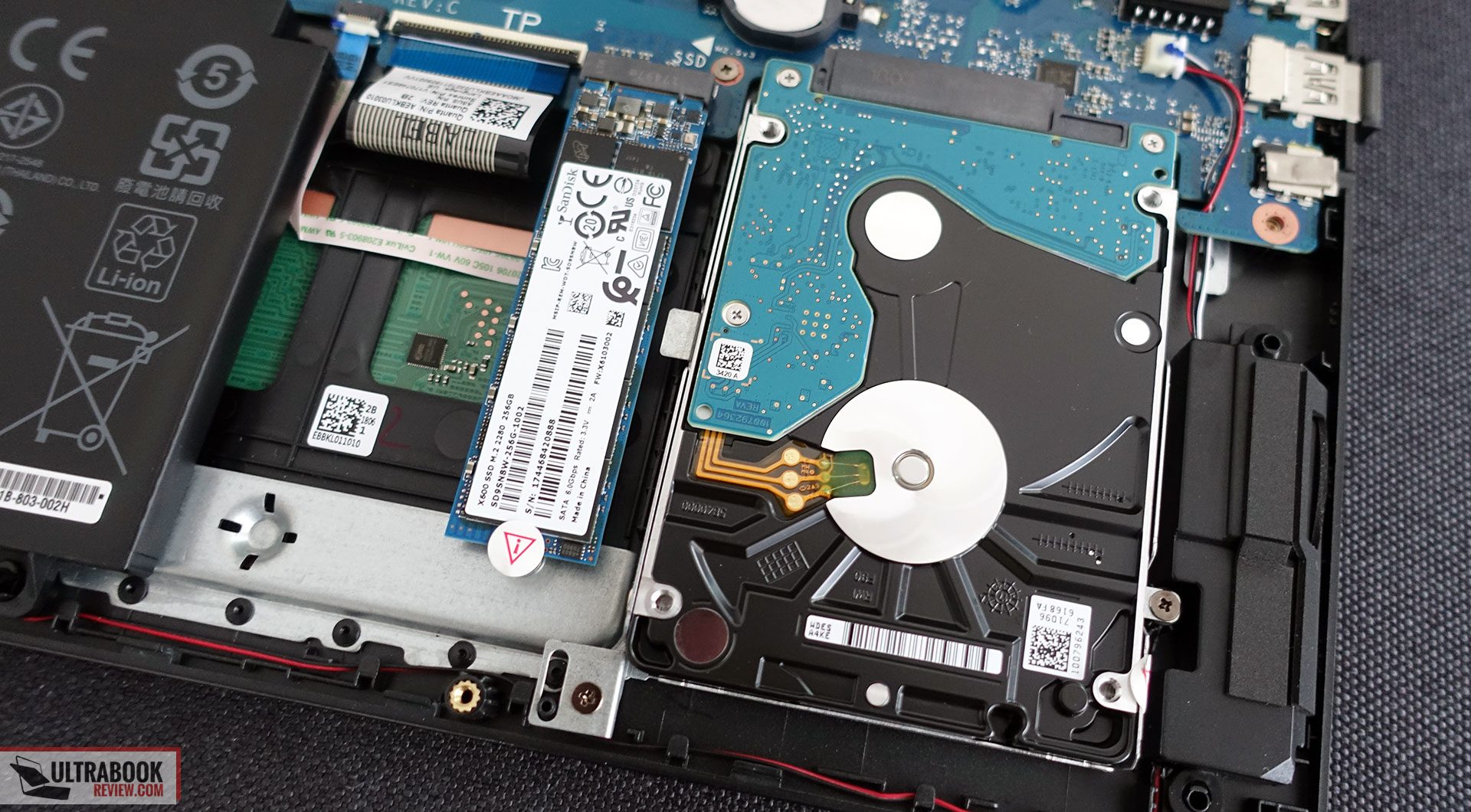 The Coffee Lake i7-8750H processor is perhaps the big novelty here, as it's a six-core twelve-thread CPU and greatly outmatches the KabyLake i7-7700HQ CPU used in most similar laptops launched in the last years. Check out this article for an in depth comparison between these two processors.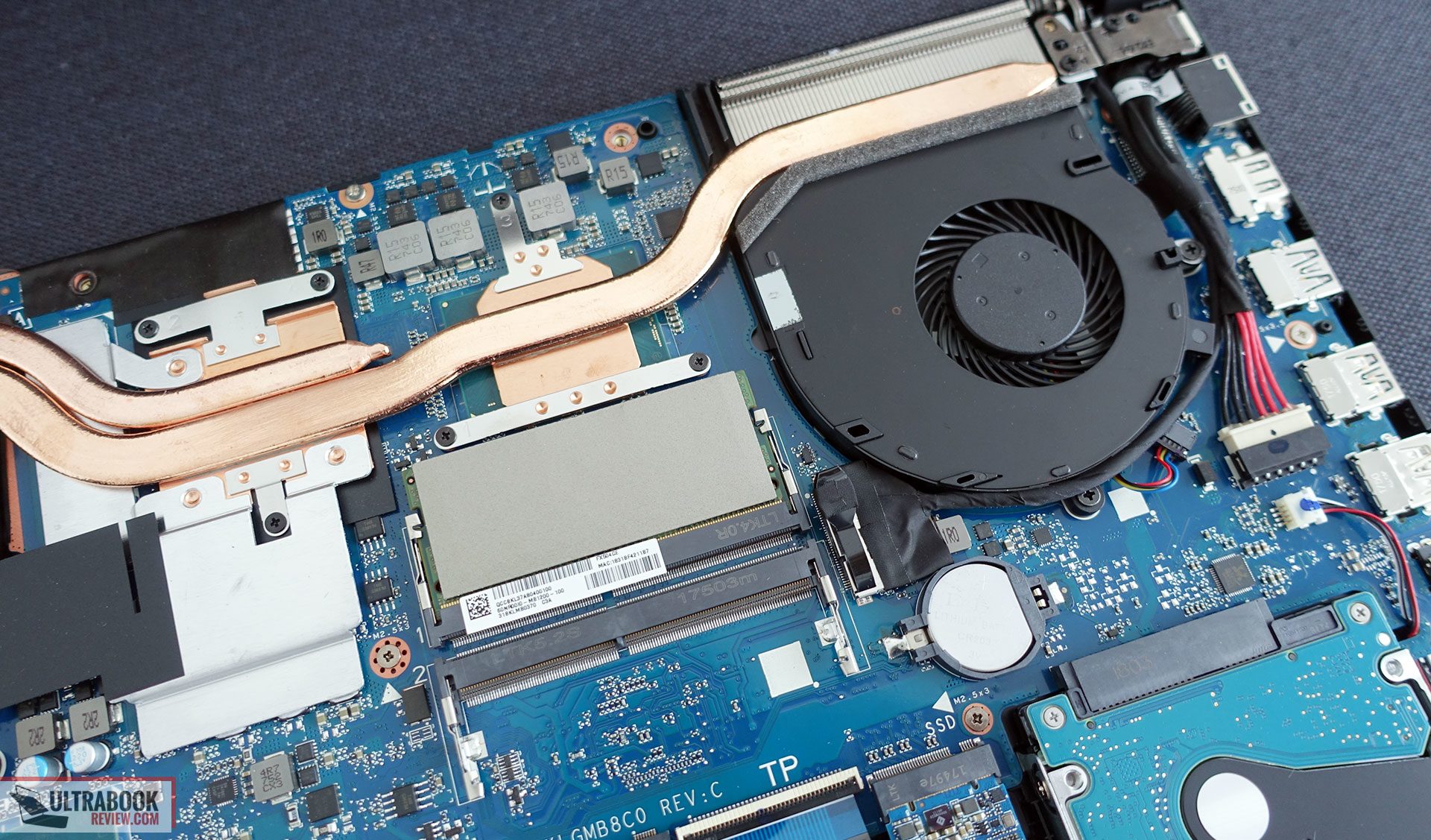 On the other hand, you should consider whether you'll actually put this processor to proper work or not, as it shows its strengths primarily in those applications that can benefit from the increased number of working cores and threads. For primarily a gaming notebook I'd also consider one of the more affordable i5-8300H configurations. I would however stick to the GTX 1050 Ti graphics available on the FX504GE models if the budget allows, as it's 15-25% faster than the GTX 1050 option available on the FX504GD models and this will help with games down the line, as they become more demanding.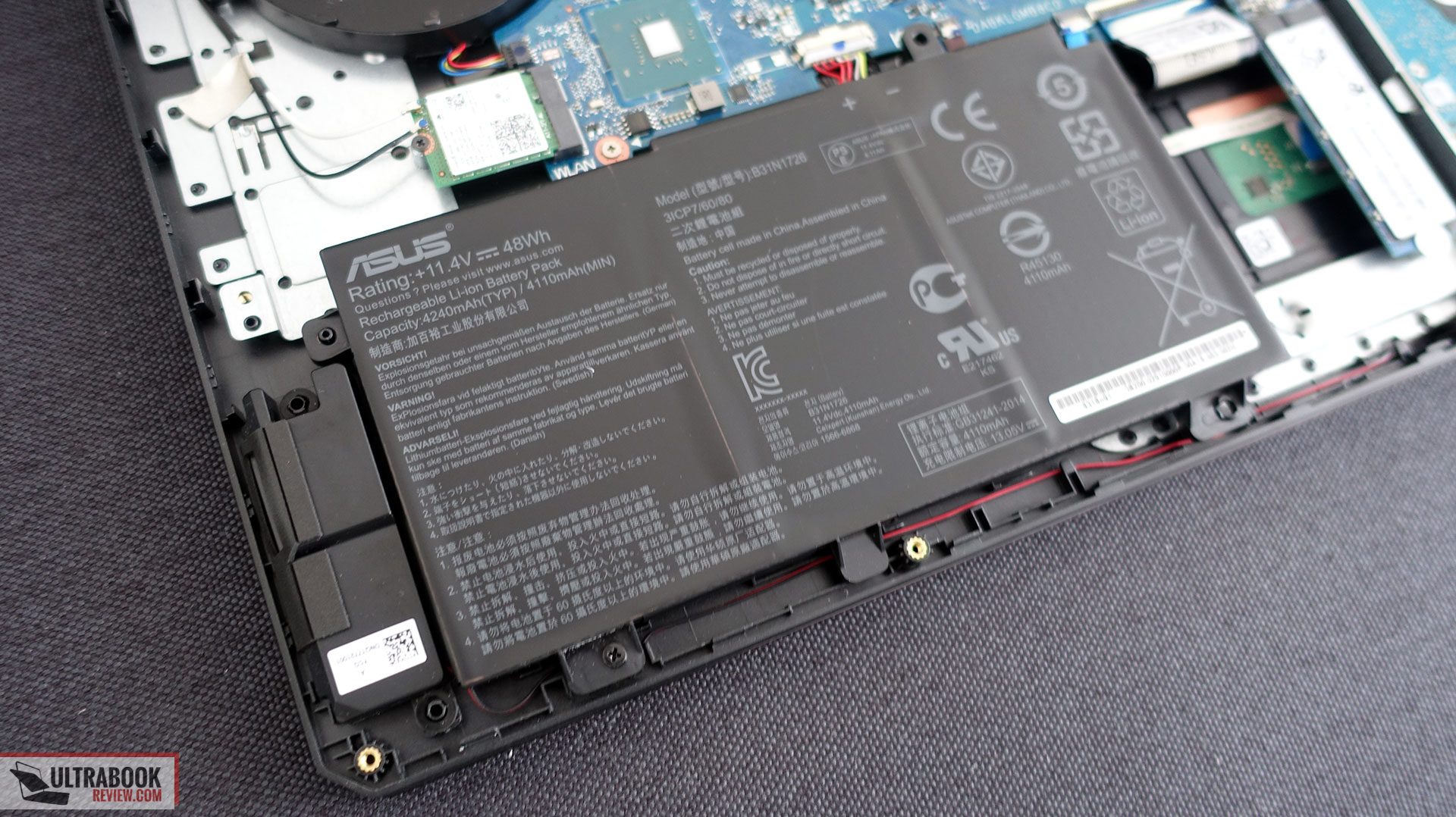 Both the FX504GE and the FX504GD models are designed to offer a proper FHD gaming experience with details cranked high, most of the time to their maximum. We ran a few games on our test unit and here's what we got:
| | |
| --- | --- |
| | FHD Ultra |
| Shadow of Mordor | 91 fps |
| Grid Autosport | 86 fps |
| Tomb Raider | 65 fps |
| Bioshock Infinite | 78 fps |
| FarCry 4 | 53 fps |
| Total War: Attila | 22 fps |
As far as performance goes, this laptops handles everyday chores like music, video content, browsing and so on easily, and you're definitely not going to need the i7 processor for such kind of tasks.
Things get a little iffy when talking about the performance in demanding loads, benchmarks and games, but keep in mind that the impressions gathered in this article are entirely based on our experience with our review unit, and you should also check some other reviews in order to get a better picture of how this laptop performs.
Asus thermally limited our sample, which means that the CPU drops below its maximum Turbo Boost Speeds once the package reaches temperatures on high 70s – low 80s. As a result, the benchmarks scored lower on this sample than on other laptops built on the i7-8750H processor we've tested in the past.
3DMark 11: P9569 (Physics – 9484, Graphics – 9665);
3DMark 13: Sky Driver –21599, Fire Strike – 7079, Time Spy – 2566;
3DMark 13 – Graphics: Sky Driver – 25508, Fire Strike – 7905, Time Spy – 2352;
PCMark 08: Home Conventional – 4528;
PCMark 108: 3488;
PassMark: 4878 (CPU – 11806, 3D Graphics – 6330);
Geekbench 3 32-bit: Single-Core: 3876, Multi-core: 19550;
Geekbench 4 64-bit: Single-Core: 4635, Multi-core: 16579;
CineBench 11.5: OpenGL 72.14 fps, CPU 11.12 pts, CPU Single Core 1.98 pts;
CineBench R15: OpenGL 105.24 fps, CPU 986 cb, CPU Single Core 173 cb;
x264 HD Benchmark 4.0 32-bit: Pass 1 – 197.33 fps, Pass 2 – 64.54 fps.
With Cinebench for instance, the CPU drops quickly to about 2.7 GHz and that's why the initial multi-core results only get to about 960 points, and then stabilize at around 900 points with multiple consecutive runs.
With games the CPU drops quickly to about 1.7 GHz, but the GPU runs well and the gaming experience isn't affected much. At the same time the 6-core CPU doesn't help.
However, undervolting the CPU with Throttlestop to just -100 mV changes things. Cinebench scores jump to around 1080 on the first runs and then stabilize at around 1000 points with concurrent runs, with the CPU's frequency dropping to just around 3.0 GHz now, while Geekbench multi-core and 3DMark Physics scores show improvements as well.
3DMark 13 – Physics: Fire Strike – 16525 (vs 15225);
Geekbench 3 32-bit: Single-Core: 3849, Multi-core: 20003;
Geekbench 4 64-bit: Single-Core: 4775, Multi-core: 17510;
CineBench R15: OpenGL 106.06 fps, CPU 1076 cb, CPU Single Core 172 cb.
The undervolting has a very little impact on the gaming performance, as the CPU continues to drop to about 1.7 GHz in some of the more demanding titles, but not as fast as it does with the default voltage.
All in all our FX504GE sample performed out of the box poorer than other laptops built on the Coffee Lake Core i7 platform we've tested in the past. Asus aggressively limits the CPU's speeds based on temperatures and the limit is set low, at about 80 degrees Celsius, which causes the lower benchmark results and poorer performance in demanding chores. This could be addressed on the final retail units with software tweaks, but if the hardware were to run hotter, the increased internal temperatures would also translate in the outer-case reaching higher temperatures, which as you'll see in the next section, is already quite unpleasant.
Emissions (noise, heat), Connectivity and speakers
Asus implemented a rather standard, but deprecated by today's standards imo, cooling solution on the FX504 series, with two fans that flank the hardware and two heat-pipes, a thicker one that spreads on top both the CPU and GPU, and an extra thinner one that goes just on top of the GPU. This is different from what they're using on the ROG GL503VD models (the step-up from the FX series), which get two full-size heatpipes covering both the CPU and GPU, but a solution we've seen on other budget notebooks as well.
On top of that, the intake grills on the bottom are limited, albeit the design might suggest otherwise, as the air only gets in through 4 small cuts, two on each side. I'd reckon this has something to do with the dust defender solution implemented on this line, but it also has a negative impact on the cooling's performance imo. Combine the two together and you get a fair explanation for the CPU's thermal limitations.
As a result, this laptop runs warmer than most others in its class with daily activities, yet at the same time the fans stay mostly off in this case, with the CPU fan kicks in from time to time, but remaining pretty much inaudible. You'll also hear the HDD cranking in a quiet place, and some occasional electronic winning as well.
With games the fans get noisy, averaging 51-52 dB at head-level, so you'll need headphones to cover them up. Asus offers three Fan profiles (Silent, Auto and Fan-Boost), and we used the Auto profile in our tests. The fans are much quieter while running games on the Silent mode, but the CPU and GPU also run 10-15 degrees hotter (the CPU reaches low 80s and the GPU reaches 90s) and I wouldn't recommend playing games on this mode for too long. So keep the laptop on the Auto Fan mode, or on Fan-Boost if you're using headphones.
Out test unit also gets fairly hot in certain spots, but in all fairness not hotter than other computers with similar builds and hardware. However, the hottest area on the FX504 is somewhere between the O, M and Enter keys, and your fingers will get in touch with it more often than if it would have been above the keyboard, like on most notebooks. It's also strange that the laptop's interior and keyboard deck runs hotter than the bottom, which suggests perhaps some arguable design decisions or some issues with our test unit.
*Daily Use – 1080p Youtube clip in EDGE for 30 minutes
*Load – playing FarCry 4 for 30 minutes
As far as connectivity goes, the Asus TUF FX504 gets Gigabit wired and Wireless AC Internet connections, as well as Bluetooth. We've mostly used it on wireless, and the newer generation Wi-Fi AC 160 Hz Intel 9560 module integrated on this sample performed flawlessly both near and away from the router.
Two speakers are in charge with the sound and they fire through some small cuts on the sides. They're averagely loud at around 79-80 dB at head level, but the audio quality is rather mediocre, as they sound tinny and with little bass. Lows are in fact only noticeable from around 95 Hz in some of the tests we've ran.


As a side note, our sample came with a piece of software called DTS Audio that can help tweak the audio, which had the options for Bass Boost and Surround activated by default. I'd advise you to untick them and slightly adjust the levels in the equalizer to match your preference, as the sound output can be slightly tweaked and improved this way. Just don't expect much.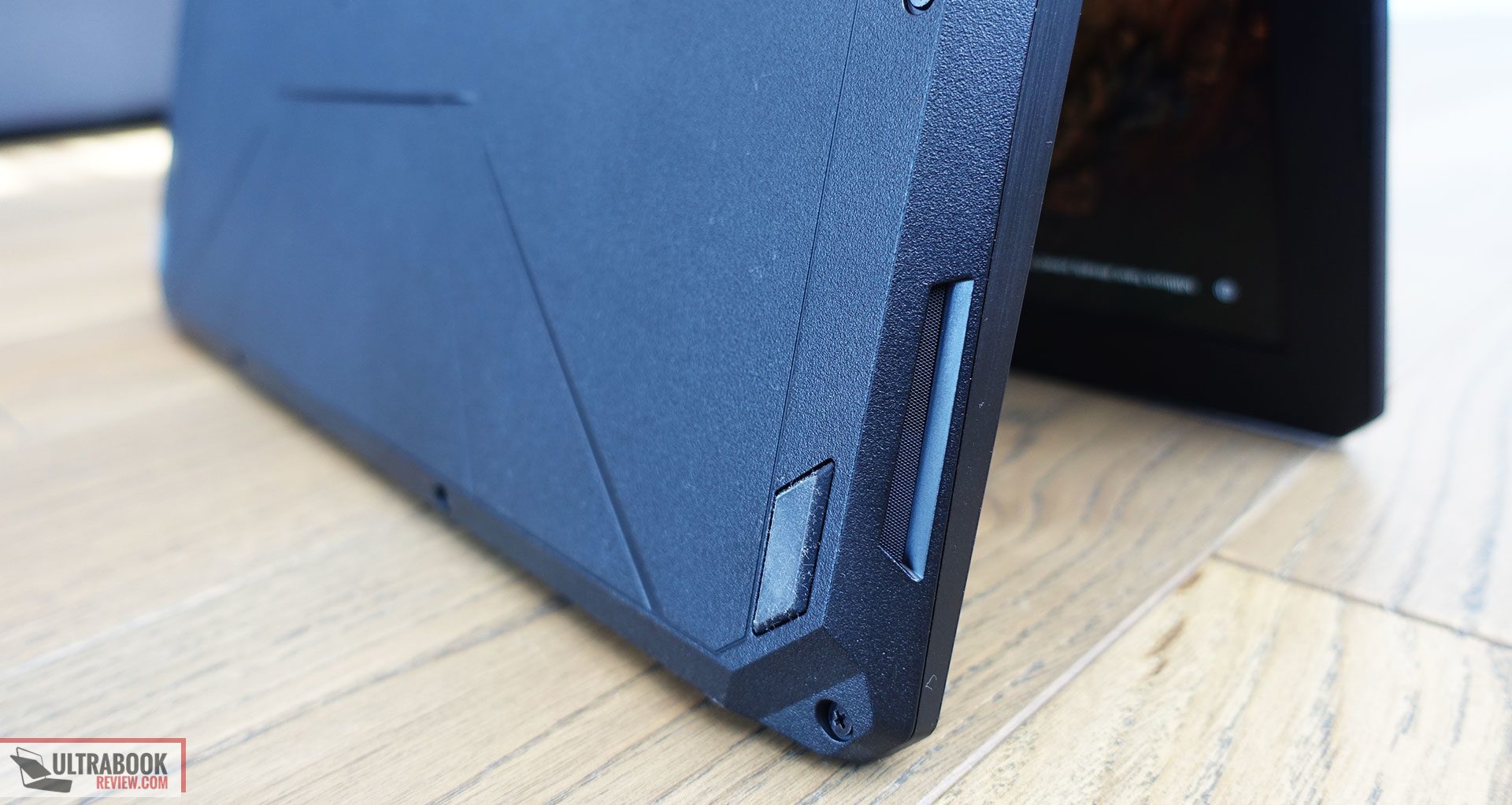 One of this laptop's selling points is also its ability to output 7.1 audio through the headphone jack, which should improve your gaming and movie-watching experiences when hooking peripherals that support multiple-channel audio.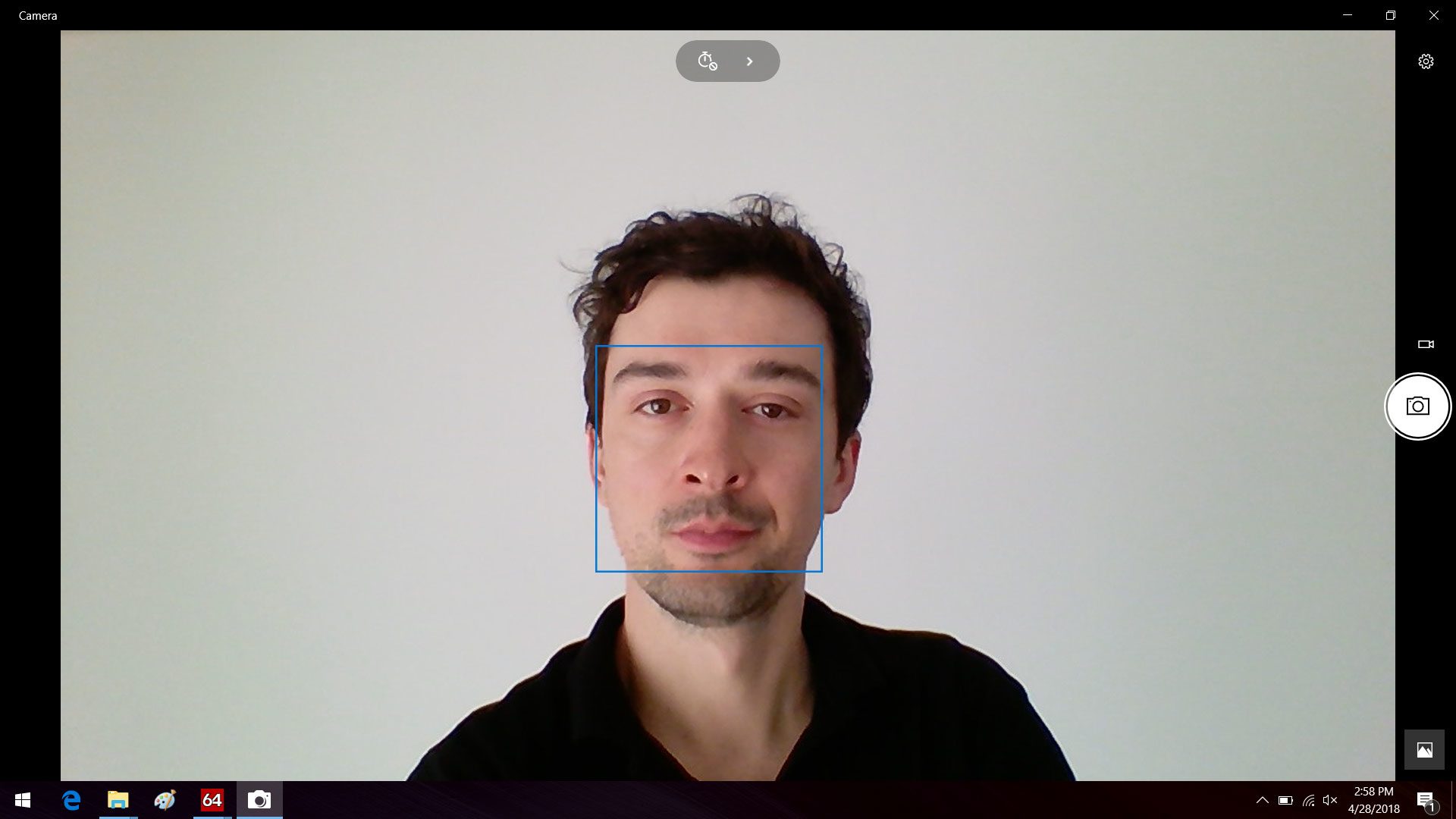 I'll also add that the FX504 gets a decent 720p webcam at the top of the screen, flanked by microphones. It's nothing to brag about, but takes alright images in a properly lit room.
Battery life
There's a 48 Wh battery on the Asus TUF FX504, which is rather small for this day and age, so you'll have to accept that the battery life is not this one of its main selling points, even if there's Optimus on-board, which means the Nvidia GPU switches off and the Intel chip takes over for daily activities.
For some reason HWInfo did not properly run on our test sample, so we can't offer our standard battery readings with different scenarios. However, we got around 6 hours of FHD video, 5-6 hours of Youtube streaming and 3 and a half hours of everyday multitasking, with the screen's brightness at about 30% (roughly 120 nits) and Balanced mode selected.
The laptop comes with a standard 120 Wh power brick and a full charge takes around 1 hour and 30 minutes.
Price and availability
The Asus TUF FX504 is available in stores around the world as of late April 2018.
The base configuration of the FX504GD series, with an i5-8300H quad-core processor, 8 GB of RAM, GTX 1050 graphics and a 1 TB Firecuda SHDD, starts at $700 to $800 in the US, while the FX504GE models with the i7 processor, more RAM, SSD storage and GTX 1050 Ti graphics go for around $1000. Various configurations of the TUF FX504s are also available in Europe and the UK.
Just keep in mind that if you opt for one of the base models you should also add an SSD in the M.2 slot. That aside, while the i5-8300H is fast enough for daily use and games, the GTX 1050 is considerably slower than the GTX 1050 Ti alternative and given this laptop comes with a 120 Hz screen and no GSync, you'll want the faster option in order to get the better gaming experience without considerably trimming down the details in the newer titles.
Follow this link for more details on the FX504 series, updated configurations and prices at the time you're reading this article.
Final thoughts
As of late April 2018, the Asus TUF FX504 is one of the first mid-range gaming laptops to sell with Intel Coffee Lake hardware. On top of that, Asus checked a lot of the right boxes with this product, so it should be on your list of you're shopping in the $700 to $1000 price range.
The main selling points are the construction, the 120 HZ screen, the keyboard and the hardware, alongside perks like the anti-dust cooling system, the 7.1 capable audio output, the fast wireless or the advertised durability. Battery life, connectivity and speakers are just about average, while my main concern regards the performance of the higher tier configurations in demanding loads and whether the implemented cooling is able to keep the six-core Coffee Lake Core i7 processor and that GTX 1050 Ti graphics at bay. Our sample ran into some issues, which in all fairness were partially addressed with undervolting, but make sure to read other opinions as well, as there's a fair chance final retail models do better out of the box.
If the performance actually proves to be on par with the expectations, the Asus FX504 is definitely a solid buy across the board. If not, then I'd mostly consider one of the affordable i5 configurations and perhaps look at something else if I would actually need the i7.
The TUF FX504 series is aggressively priced, but competes in a highly competitive niche. If interested in a budget option, the Acer Nitro 5 or the Lenovo Legion Y520 are alternatives worth considering, and if you're shopping for the higher tier configuration you could also consider the MSI GL63 or even the aggressively priced Acer Predator Helios 300, which would get you GTX 1060 graphics for not much extra, especially on a good deal.
(ultrabookreview.com, http://bit.ly/2lposMj)
Comments
comments