A fantastic Z370 motherboard with all the essential enthusiast features and decent overclocking abilities, all for a reasonable price
Pros
Plenty of enthusiast features
Decent amount of fan headers
Cons
Wi-Fi isn't included as standard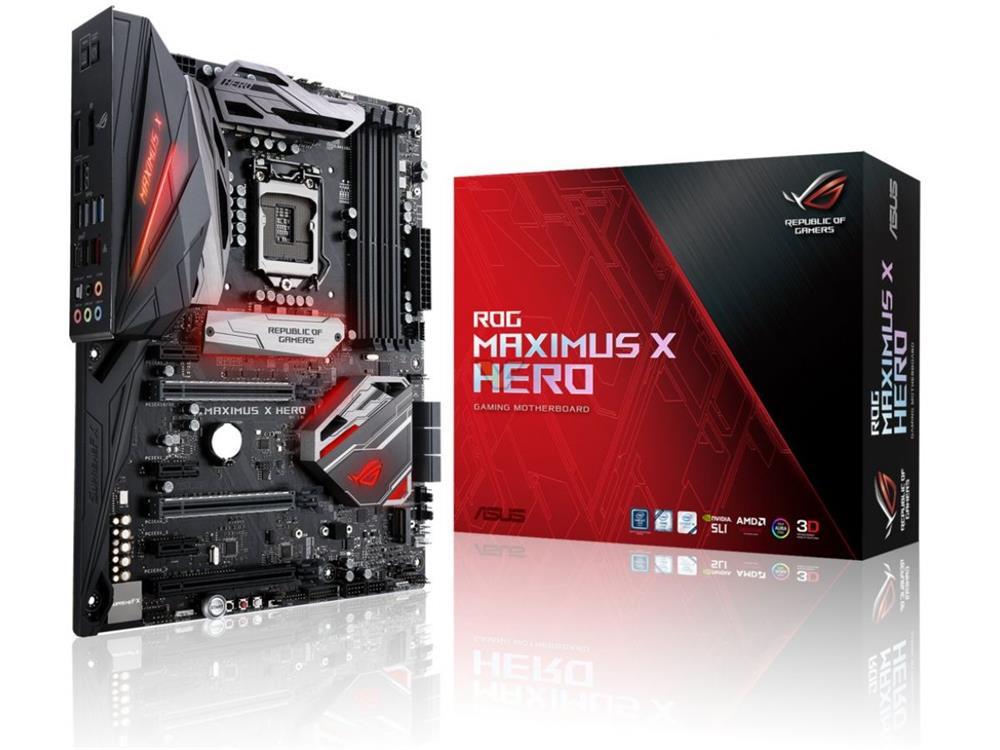 While some Z370 boards are pricier than their Z270 equivalent predecessors at launch, Asus' ROG Maximus X Hero actually costs around the same amount of money. What's more, the new board appears to offer more features – rather than taking a machete to the specification list. The Maximus IX and X Hero look quite similar, but there are two clear aesthetic differences. The first is the inclusion of a nifty integrated I/O shield, and the other is a large heatsink for one of the two M.2 ports.
It's one of the better-featured boards, yet the Hero doesn't cost that much more than cheaper models. It has an enviable set of features compared with less expensive boards too, including the full complement of overclocking and testing tools, from power, reset and clear CMOS buttons to USB BIOS Flashback and an LED POST code display – all absent on the cheaper ROG Strix Z370-E Gaming. The latter sports Wi-Fi, but while this is missing from our ROG Maximus X Hero model, Asus offers another Wi-Fi-equipped version.
Asus also sensibly includes a decent amount of fan headers near to the CPU socket, and the Hero includes a 3A header to power watercooling pumps, dishing out up to 36W. That's enough to power DDC and D5 pumps, albeit using a 3-pin to 4-pin Molex adapter. There are thermal probe and water-cooling flow rate headers too, and while Asus' fan-control system isn't quite as flexible as those of MSI or Gigabyte these days, there's still plenty of scope for using the ROG Maximus X Hero as a powerful fan-control system.
The Hero only offers two M.2 slots, while the slightly more expensive Gigabyte Z370 Aorus Gaming 7 has three, but two will be enough for most people. The Gigabyte board does sport some incredible lighting, though, and both boards offer support for individually addressable RGB LED strips.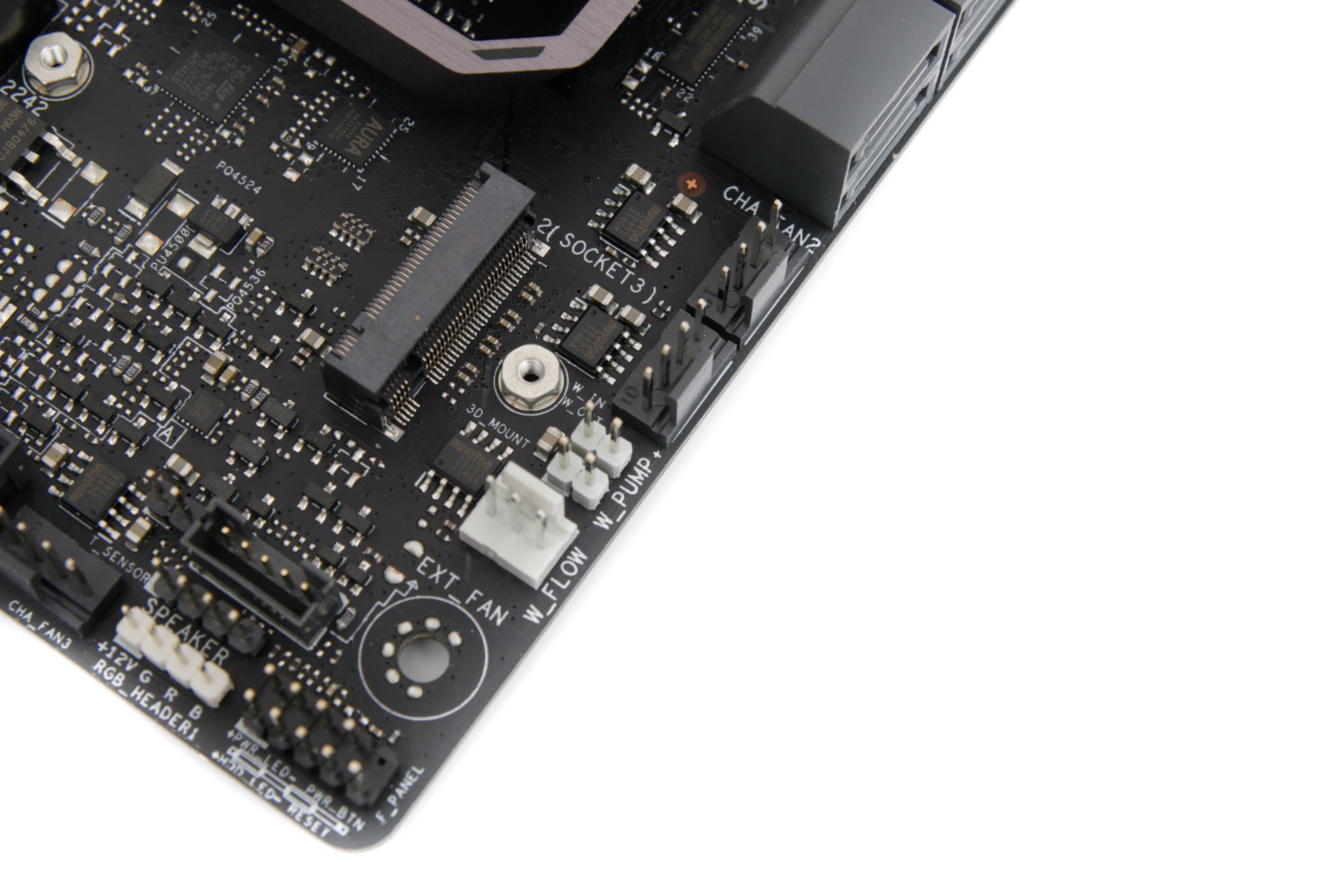 Both boards also have single M.2 heatsinks, located above the graphics card slot, which allowed for much lower temperatures than heatsink-less boards. However, the larger heatsink on the ROG Strix Z370-E Gaming and lower-positioned heatsink on the MSI Z370 Godlike Gaming resulted in noticeably lower temperatures, although not any speed gains.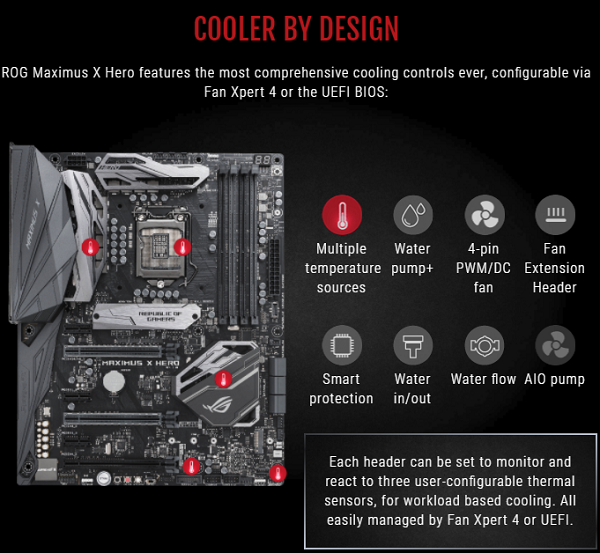 Also, while the ROG Maximus X Hero's heatsink cut the load temperature of the Samsung 960 Pro by 12°C, the close proximity of the graphics card and memory meant that it was still 10°C warmer under load than on the MSI Z370 Godlike Gaming, where we used the outermost heatsink at the board's base.
In terms of power consumption, the ROG Maximus X Hero was reasonably power-frugal at stock speed, but it had the highest overclocked idle power draw as well as higher load draw, despite using a lower VCORE. Speaking of overclocking, the ROG Maximus X Hero managed to overclock our CPU to 5GHz with a VCORE of 1.25V, with temperatures easily tameable by our all-in-one liquid cooler.
Meanwhile, the EFI is up to Asus' usual high standards; our only issues are that the fan control section isn't quite as detailed as those on the MSI or Gigabyte boards, plus the M.2 PCI-E speed is set to 2x on one port as standard – you'll need to bump it up manually to 4x to get the full bandwidth.
Verdict
It's a shame Wi-Fi isn't included on the Hero as standard, but thankfully there's a Wi-Fi version available too if you want it. Otherwise, though, the Asus ROG Maximus X Hero has decent overclocking abilities, and plenty of enthusiast features to make it well worth the extra cash over cheaper boards.
(expertreviews.co.uk, https://goo.gl/LckAHV)
Comments
comments