Our Verdict
The Acer Nitro 5 Spin is a good overall laptop, but is not suited for gaming or heavy duty tasks.
PROS
Well built
Relatively lightweight
Good keyboard
CONS
GPU Bottleneck
Heating issue
Display could have been better
Acer Nitro 5 Spin: Detailed Review
I am a fan of both ultrabooks and gaming laptops. And I get to cover a lot of laptops at Digit, and these are the two categories that I truly believe can take the PC industry further. These machines push laptop OEMs to innovate and sometimes even re-invent the wheel, though that hasn't happened in a while. Still, I believe thin and light will be the future and we are starting to see signs of that this year with powerful gaming laptops shedding weight being thinner. While this is in part due to decreasing thermal envelopes of PC components, a good thermal design also makes quite an impact. Amidst this, at IFA this year, Acer introduced the Nitro Spin 5. Powered by an 8th Intel Core i7 processor and featuring the GTX 1050, the Spin 5 is the first convertible gaming oriented laptop we have seen this year. Let's take it for a spin (pun intended).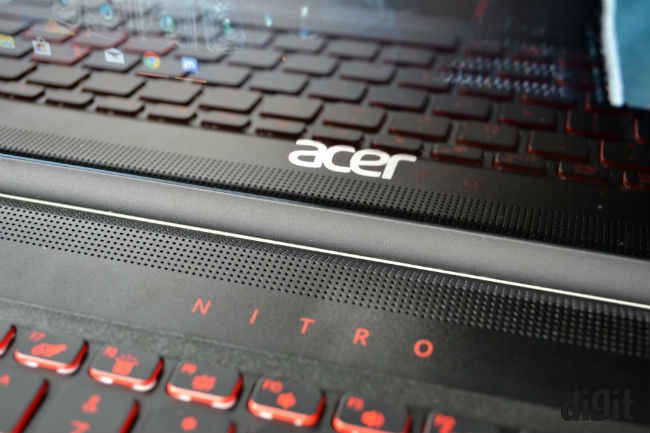 Specifications of our test machine
Display: 15.6-inch, 1920 x 1080p, touchscreen
CPU: Intel Core i7 8550U
RAM: 8GB
GPU: Nvidia GeForce GTX 1050 + Intel UHD 620
Storage: 256GB SSD + 1TB HDD
Build and Design
Unlike the Nitro 5 and the Helios 300 before it, the Nitro 5 Spin looks like a classier approach, from the outside. The company retained the red and black theme, albeit a muted version. A red trim runs around the edges and you get red hinges that give this machine its classy look. On the inside, you have a 1080p touchscreen panel and the keyboard has red backlighting, completing the "gamer" look. There is a red trim around the touchpad as well, that adds to the aesthetic values of the machine.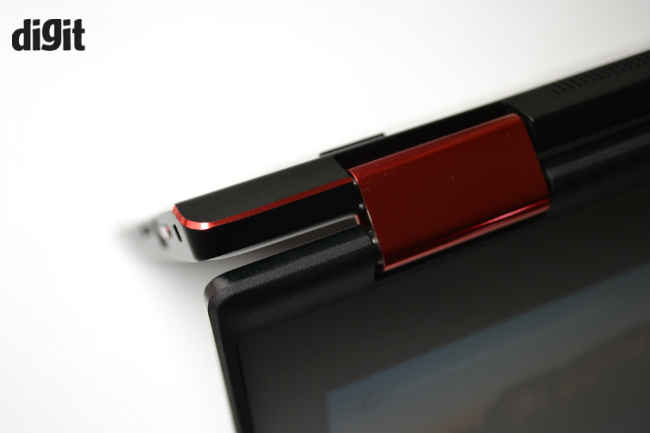 That's not all. It is very well crafted and undoubtedly offers one of the best build quality I have seen on a laptop in this price segment and of this size and caliber. Both the front and back of the laptop are made out of metal. Same goes for the keyboard and they all add some heft to it, but the overall build quality makes up for that. In addition, there are no plastic bits sticking out, the vents are not orange (like many gaming laptops) and it is perfectly rectangular, like a laptop should. I like the whole simplistic appeal of this laptop, but looks are always a subjective matter.
Display and Ports
The Acer Nitro 5 Spin is a convertible laptop. You get a 15.6-inch IPS LCD display with 1080p resolution at your disposal, with touch support. It is not the best when it comes to colour fidelity, as the NTSC colour coverage is just 48%. But in the time I have spent with the machine, I didn't find the experience lacking in any sense. Games look sharp enough and so do movies. The only issue I have with the display is that being a touchscreen, it uses a glossy panel. This makes it quite reflective in any lighting condition.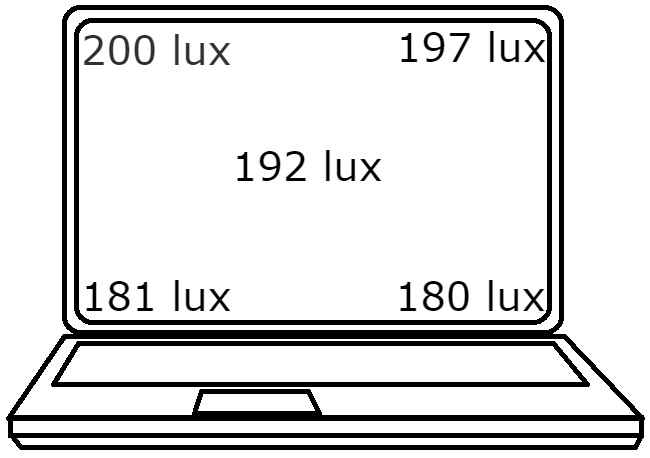 As for the ports on this machine, the suite is limited yet workable. On the left you have the proprietary barrel power jack, one HDMI port, one USB Type-C port with display support and two USB 3.0 Type-A ports. On the right, there is a USB 2.0 port and a SDXC car slot. The power button and volume rocker reside on the right side. Considering all use cases, the only thing which I believe is missing here is Thunderbolt 3.0 support.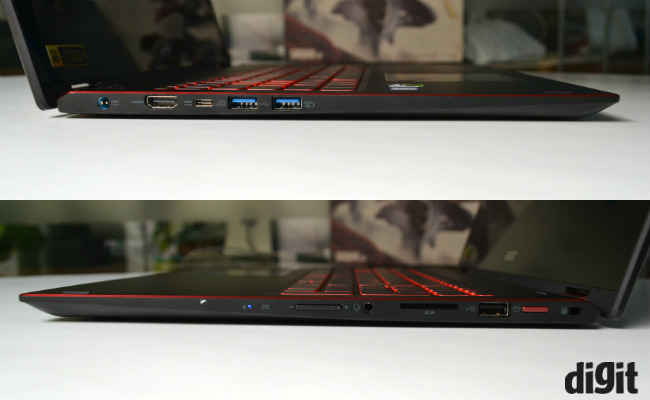 Keyboard and Touchpad
Building upon what we have seen in recent times from Acer, the well-spaced island style keyboard on the Nitro 5 Spin is actually quite good for typing. The red and black keys offer decent travel and press down with an audible sound. This makes it one of the best laptop keyboards I have come across this year for touch typists. However, the smaller arrow keys are a blotch in the typing experience and Acer should address this. The keyboard has red backlighting, which is good, but using the laptop at night is nothing short of frustrating. The backlight can be turned on or off with the "F8" key, which means that you will end up pressing each key on the top row in order to find F8 in the night. The other thing is that when the computer restarts or comes back from sleep, the backlighting goes back to the default state, which is off.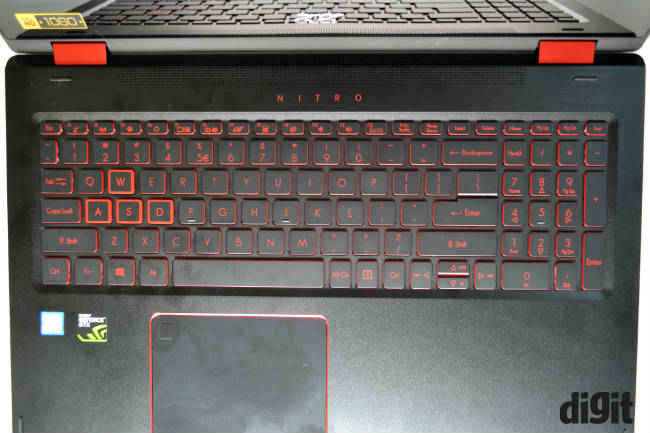 As for the touchpad, it is quite plain. It tracks well, is smooth to touch and supports all gestures without any issues. The left and right click buttons are embedded on the touchpad itself and you need to press down lightly. It even has a faint yet audible click. Acer has also integrated a fingerprint scanner on the touchpad itself, which works with Windows Hello.
Performance
Things become interesting as soon as we talk about performance as this is the first time we are testing a machine running the 8th generation Intel Core i7-8550U. The newer U series CPU from the blue team now features two additional physical cores, which should take the performance beyond the 7th generation i7 quite easily. So, it wasn't a surprise that this U series Intel chip posted some really intriguing scores against the likes of last year's Intel Core i7-7500U and the more powerful Core i7-7700HQ.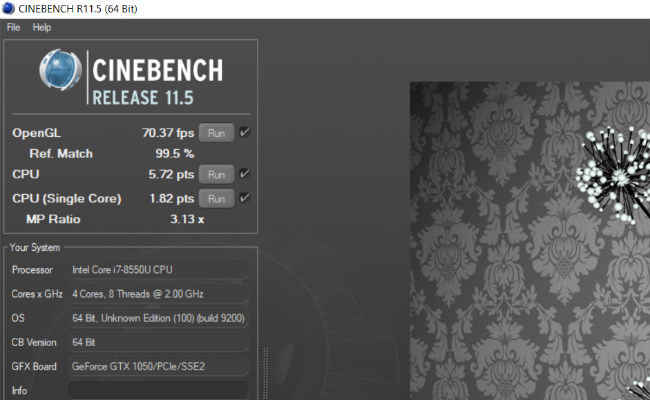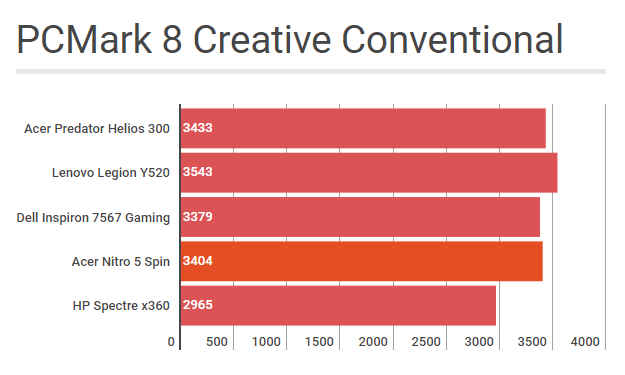 The performance of the CPU and the laptop itself remains equally snappy through day-to-day applications, such as MS-Office, Chrome and Netflix. I even tried some Blu-ray content on the machine and it also ran fine. However, I was far more interested in testing the gaming claims made by Acer. Hence, I ran the normal suite of games I generally run on these laptops.
We started with less demanding games like Dota 2 and Bioshock, and to our astonishment the performance was rather dull. Even less demanding games such as Dota 2, which are easily playable at high settings even on integrated graphics, drops frames every now and then. The CPU and GPU combo was unable to go beyond 50fps at the highest settings in Dota 2. Moving to DOOM, which is a well optimised graphic intensive title returned a max fps of just 33 fps at the highest settings. So, like anyone would do in such a situation, I dropped graphics quality to its lowest settings and the average frame rate on DOOM increased by mere 3 frames per second.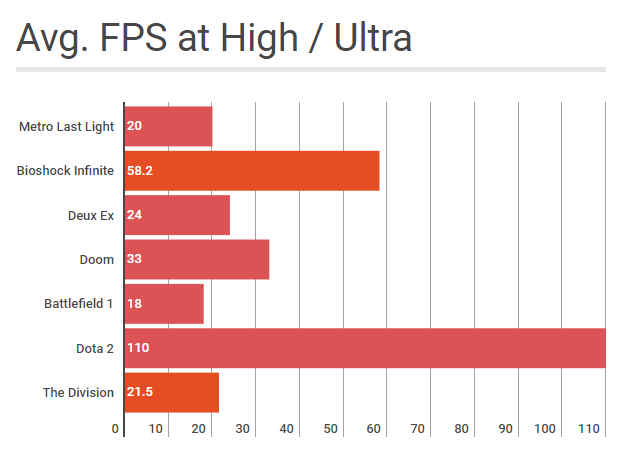 Running more gaming benchmarks, it was quite obvious that the GTX 1050 is creating a bottleneck for the new Core i7-8550U. Some games are not affected by this mis-match of GPU and CPU, but games like DOOM and Battlefield 1 do justify our findings.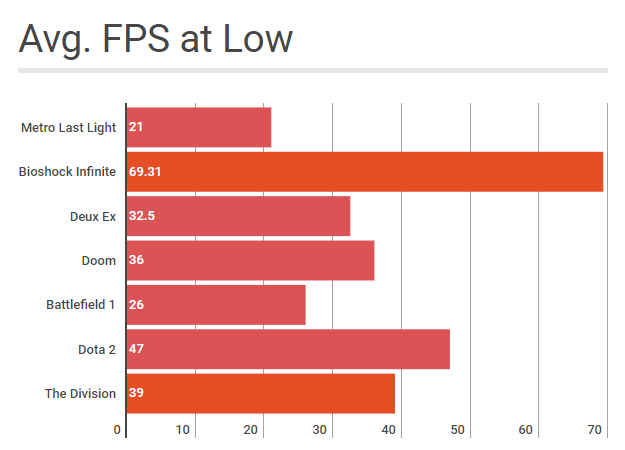 Then there is the heating issue, as the processor instantly reaches 75 degree celsius (on chip), throttling down the CPU to base clock speeds and sometimes running even lower. The twin fan cooling setup used by Acer here is rather inefficient as the all metal keyboard deck does get uncomfortably hot, reaching 48-50 degree celsius in some areas, including the "WASD" keys. The heat is less noticeable if you are sitting in an air conditioned room, but I wouldn't recommend gaming on this machine without that.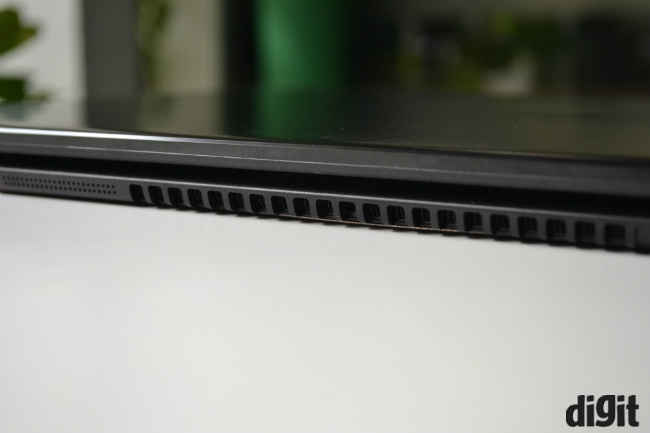 The two shoulder mounted speakers fire towards the back are loud, but lack quality. Moreover, on our test unit, the right speaker started rattling after just half an hour of use. The only good thing is that in tent mode, the speakers are firing towards (or nearer) to you, which does make movie watching experience slightly better than its counterparts.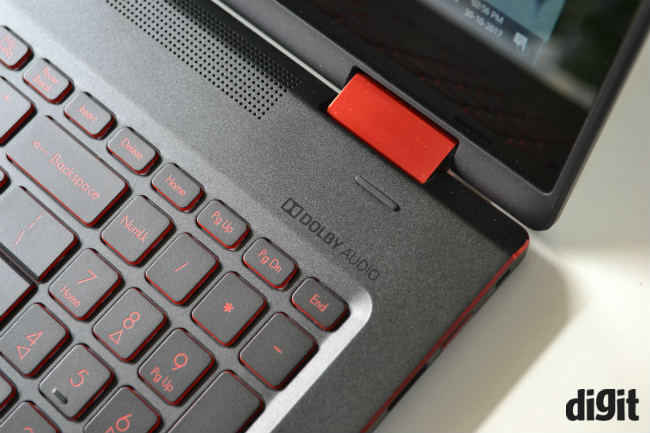 Battery
The powerful yet counter-intuitive hardware also burns battery pretty fast and in our PCmark 8 benchmark, the machine lasted for just 2 hours and 44 minutes. However, the screen on time varies from application to application, and also with brightness. If you are watching a movie at 50% brightness for instance, the laptop may last you less than four hours, which isn't exactly bad for a gaming laptop. All-in-all, there is room for improvement, especially when Intel is claiming that the new Kaby Lake refresh is more power efficient.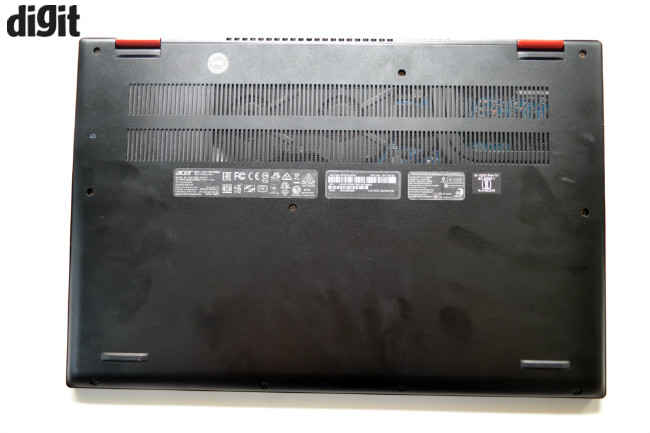 Bottomline
Overall, I think the Acer Nitro 5 Spin is a good example of hardware mismatch. While the CPU is quite powerful and plays its part well for most regular tasks, the discrete GTX 1050 is not the right match for the new quad-core chip here. The Nitro 5 Spin is a good overall thin and light convertible, but should not be considered for gaming.
However, if you look past the janky gaming performance, Acer has done a superb job with build quality and looks of the device. The keyboard is one of the best I have encountered in its price segment, barring Thinkpads and though the battery life isn't great, it meets industry standards today.
(digit.in, https://goo.gl/dP6EjE)
Comments
comments