The Aspire V3 is a straightforward 15in all-rounder of a laptop, featuring styling touches and specification that raise it well above the cheapest budget machines.
The metal lid back has an unusual reeded effect, like carbon fibre and not unattractive. The top deck is brushed aluminium veneer, inset with a large trackpad that is unusually high-quality for a Windows laptop, responding accurately to finger movements.
An extra numberpad to the right of the keyboard is standard fare, while the keyboard itself is well-made – flat Scrabble tiles with a good firm action for solid typing.
SCREEN
An IPS screen, especially on a circa-£500 laptop, should be cause for celebration, and while this is a major improvement on low-grade TN types the example here is a budget version with limitations. The full-HD resolution (1920×1080) across 15.6 inches gives a pixel density of 141ppi, making clearer type and sharper images than the plethora of 1366×768 screens which are much more common. Its contrast ratio of around 550:1 isn't bad but colour gamut is restricted by its 6-bit nature, to just 65 percent sRGB, where IPS screens typically cover 90-plus percent. That said, subjective impressions suggest this is a decent display, flicker-free for comfortable use.
HARDWARE AND PERFORMANCE
For storage our sample (product code NX.G1TEK.011) had a 1TB hybrid disk/solid-state drive, although Toshiba's limited 8GB flash gives only basic read-cache benefits. So while booting may be slightly quicker than disk-only, don't expect silky SSD performance throughout.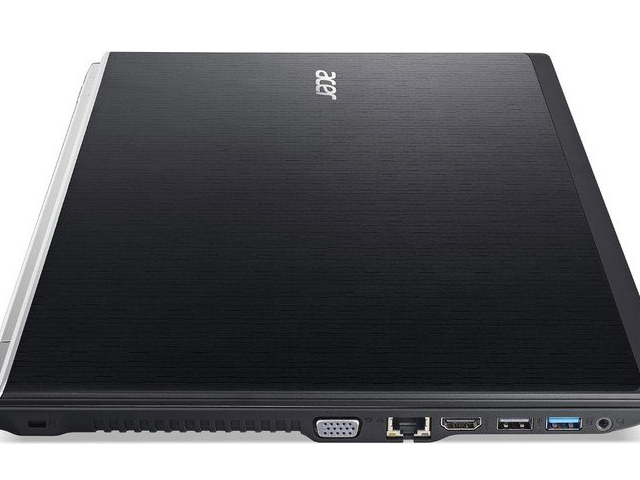 The internal battery is small at 37Wh, and fixed inside. Small keeps weight down to a luggable 2.2kg, and the efficient 5th-generation Core series processor means reasonable battery life, 5 hr 20 mins in the video rundown test.
Clocked at 2.2GHz, the Intel Core i5-5200U is a wise choice, allowing a Geekbench 3 score of 5221 points with the help of Hyperthreading and 2619 points, single-core Turbo Boosted to 2.7 GHz.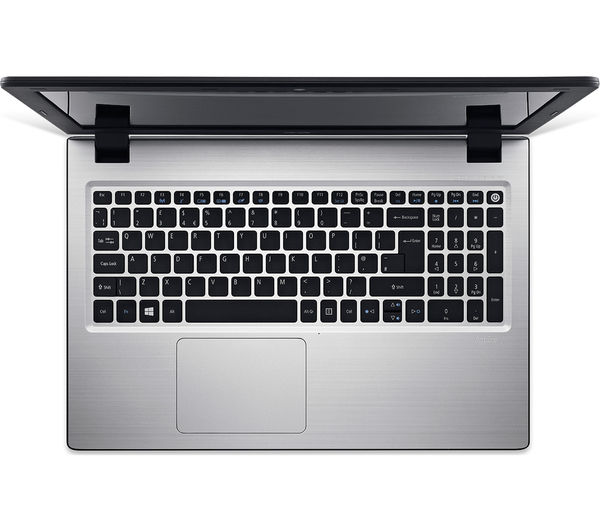 PCMark 8 rated the V3-574G with 2250 points (Home), rising to 2899 points with OpenCL acceleration. That's less than we'd expect given Nvidia graphics, although the GTX 940M is a basic integrated solution little faster than Intel's. In fact another version of this Aspire features Intel Iris graphics which may be faster, given the limited 29fps average we saw from Batman: Arkham City at native screen resolution and Medium detail.
Dropping to 1280×720 however let the Acer average 46fps, even at High detail. Tomb Raider 2013 fans can expect 38fps at the latter resolution and detail, or even 39fps at 1080p and Normal detail.
SPECS
15.6-inch (1920 x 1080) 141 ppi, AH-IPS matt anti-glare
2.2 GHz Intel Core i5-5200U (2.7 GHz Turbo) 2C, 4T
Windows 8.1
NVIDIA GeForce GTX 940M with 2 GB DDR3 + Intel HD Graphics 5000
8 GB (1x 8 GB) 1600 MHz DDR3 RAM
1 TB 5400rpm HDD with 8GB flash
gigabit ethernet
802.11ac (Qualcomm Atheros QCA6174)
Bluetooth 4.0
tray-load DVD±RW with M-DISC
2x USB 3.0, 1x USB 2.0
HDMI, VGA D-Sub
Kensington Lock Slot
SD card slot
stereo speakers
0.9Mp webcam and single mic
3.5mm headset jack
UK tiled, backlit with numberpad
buttonless multi-touch trackpad, 106 x 78mm
37 Wh lithium-ion, non-removable
65 W mains charger with IEC C5 inlet
381 x 259 x 24.0–28.5mm
2212g
VERDICT
For under £600 the Aspire V3-574G is easy to recommend. It's a commendable balance of virtues from the IPS screen, to the precise trackpad and highly regarded CPU. Nvidia graphics allow fluid gameplay up to 720p. The five-hour battery life, while half that of the best, may even get you through half a day's use away from the mains.
(pcadvisor.co.uk)
Comments
comments