THE GOOD: Zmodo's $200 Torch Pro camera light, doorbell and Wi-Fi range extender work together to deliver prompt motion alerts and a high-definition live feed of outdoor activity.
THE BAD: The Torch Pro's camera light is seriously oversized and won't fit in the majority of porch light fixtures. It doesn't work with any smart home platforms and the initial app set up and overall app design is confusing.
THE BOTTOM LINE: The Zmodo Torch Pro is a neat concept, but odd design choices ultimately make it difficult to recommend.
Zmodo's $200 Torch Pro — roughly £165 and AU$265 converted — is actually three separate products. You get a 720p camera hidden inside a color-changing outdoor LED, a motion-detector-equipped wired doorbell and a plug-in indoor Wi-Fi range extender. All of this stuff worked pretty well with the related Android or iPhone app to keep tabs on my front door.
But there's a big problem. The camera light is gigantic and wouldn't fit in any of the porch lights at my house or at the CNET Smart Home. The system also doesn't currently work with any smart home platforms and the app configuration and overall layout is confusing. The Torch Pro is an interesting concept with fine performance, but is ultimately much too unwieldy to recommend.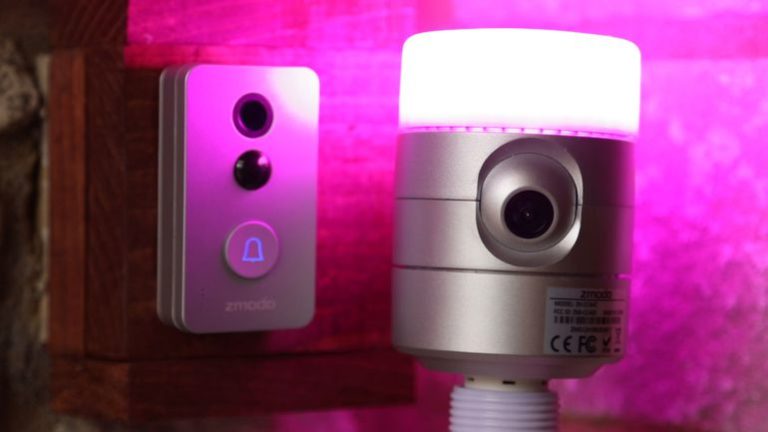 A big idea
The Zmodo Torch Pro security light clocks in at 5.51 inches tall and 2.95 inches wide. Rather than having a traditional tapered shape, this light is roughly the same width from top to bottom — with the exception of its smaller E26 socket. For this reason, it simply won't fit into most small- or medium-sized outdoor light fixtures.
I even ventured to a home improvement store to try it with various porch lights on display. Even with dozens of options to choose from, it would only fit in the largest models. And, if the bottom of the porch light has a tapered design, you'll probably be completely out of luck regardless of size (this happened with the porch lights at the CNET Smart Home — see the image to the right).
Installation should have been simple, but I never managed to find a ready-installed light fixture big enough to support this device. Instead, I screwed it into an indoor table lamp for testing.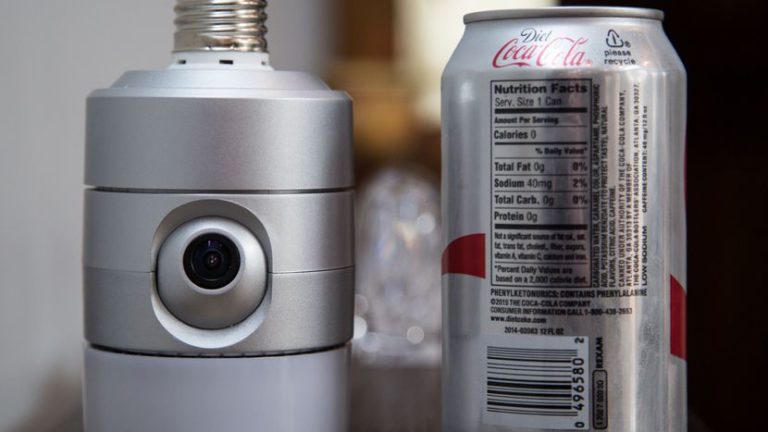 The color-changing LED claims a brightness rating of 350 lumens, a 5,000K color temperature and 100,000 hours of runtime. Those specs are roughly comparable to the Philips 40W Equivalent Candelabra LED. A 40W replacement LED isn't very bright in terms of output. For comparison, brighter 60W replacement LEDs typically have at least 800 lumens and 100W replacement LEDs typically have at least 1,600 lumens.
Even so, the light looked bright enough when I dragged the indoor table lamp outside. It helps that it's designed for use in a porch light surrounded by glass rather than in a lamp diffused by a shade. You can dim the light and adjust its color in the Zmodo app. You can also set an on/off schedule so the lights turn on and off and any custom color settings adjust automatically.
You can pull up a live feed from the light's built-in 720p, 132-degree camera. Whenever the light is on, the camera will automatically display in night vision mode and revert to day mode when the light turns off.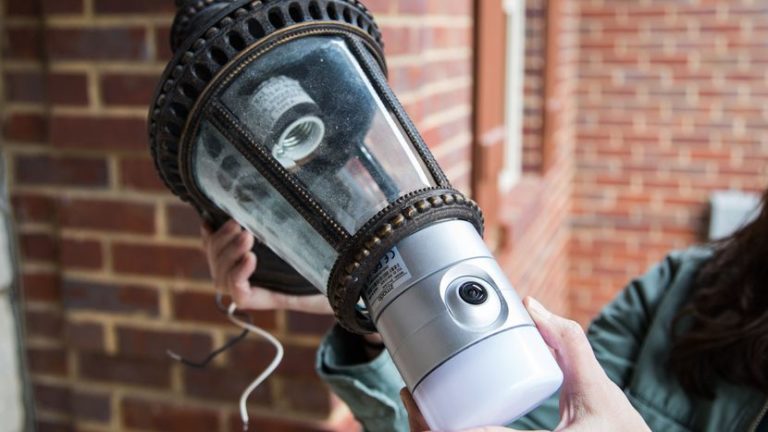 While the security light provides visibility, the wired doorbell detects motion. If you're familiar with standard doorbell wiring, you can definitely install the Zmodo buzzer yourself. It took our technical editor, Steve, only 15 minutes to remove the existing doorbell and replace it with the Zmodo model. It probably would have taken me closer to 30 minutes from start to finish. Of course, if you're iffy on this process, always consult a professional. A battery-powered design for the Zmodo doorbell would obviously be easier, but it wouldn't be practical given the power demands of continuous video streaming.
Whenever the doorbell detects activity, it sends a push alert to your phone. Click on the alert to pull up a live feed from the camera light and use the two-way audio feature in the doorbell to talk.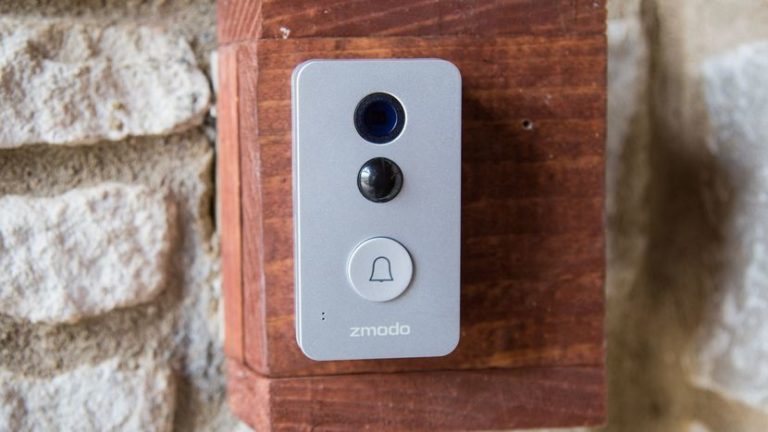 Up close
All of this functionality worked well, for the most part. I received prompt motion alerts, was able to quickly pull up a live video feed on the camera app — and the scheduling function automatically adjusted the light settings to my exact specifications. The two way talk feature was pretty hit-or-miss, though, with poor audio quality on both ends.
The bigger problem was getting everything configured in the app in the first place. Both the instructions from the box and the app were confusing. Basically, there are three main connection methods and the app doesn't tell you which one you need, so you're left guessing (see the screenshot below).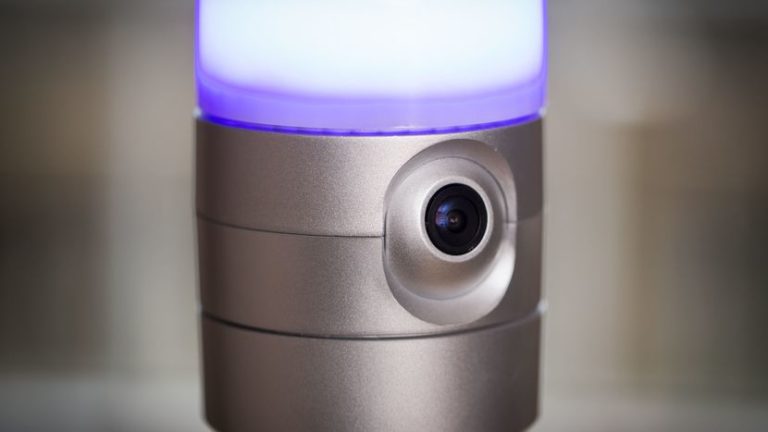 After about an hour without any luck, I called customer service and they helped me connect everything very quickly. Still, this sort of set up shouldn't be that complex. And even after you connect everything, the cluttered app layout makes it difficult to find what you're looking for.
In terms of connected porch-light-style security systems, the Kuna and the Toucan both do a better job. The Kuna is a porch light with an integrated camera, whereas the Toucan is a camera accessory that attaches to existing porch lights. They work with regular non-smart bulbs, but the related apps offer advanced integrations between the light and the camera. Like the Torch Pro, these products don't work with IFTTT, Amazon Alexa, or any other smart home platforms.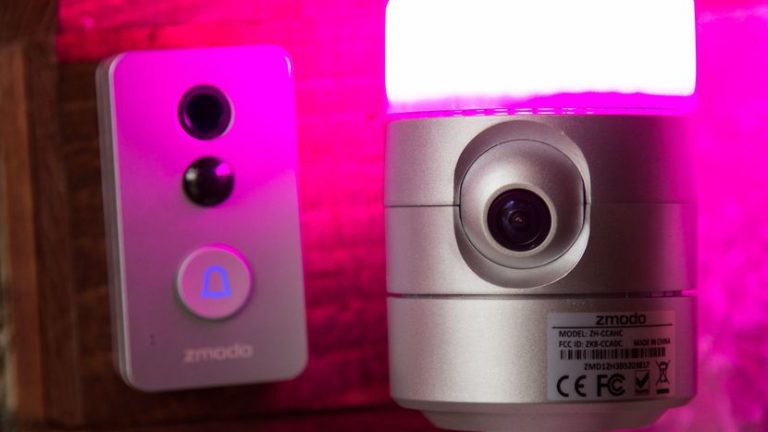 The verdict
Zmodo markets its $200/£165/AU$265 Torch Pro as a simple system for your DIY smart home. But due to the size of its security light, you'll probably have to buy and install a larger light fixture just to accommodate it. The app setup and overall layout needs work, too, and the Torch Pro doesn't currently work with any smart home platforms. I'd strongly suggest looking at either the Kuna or the Toucan porch light security cameras instead.
(cnet.com, https://goo.gl/6tqQvg)
Comments
comments