PROS
Excellent handling and controls
Superb autofocus tracking
High-speed shooting with minimal distortion
Excellent electronic viewfinder with zero blackout
Impressive battery life
CONS
AF area not highlighted in viewfinder when moved via the joystick
Touchscreen woefully under-used
KEY FEATURES
24.2MP full-frame stacked CMOS sensor
20fps shooting
693-point autofocus
ISO 50-204,800 (extended)
5-axis in-body image stabilisation
Manufacturer: Sony
Review Price: £4,499.00/$6,749.00
WHAT IS THE SONY A9?
The Sony Alpha 9 (or A9 for short) is a high-speed full-frame mirrorless camera that's designed to go head to head with Canon and Nikon's flagship professional DSLRs. It's capable of shooting 24MP images at 20 frames per second while keeping focus on moving subjects, and costs £4500/$6750.
When mirrorless cameras first appeared, most manufacturers seemed to think that their niche would be as small, simple alternatives for people who didn't want to carry a DSLR. Instead it's become clear that the real demand is for high-end models tailored to the needs of serious photographers. Perhaps the last remaining pillar of DSLR superiority has been autofocus, and specifically the ability to keep track of erratically moving subjects.
But with its new Alpha 9, Sony has produced a camera with remarkable autofocus and continuous shooting that's specifically designed for high-speed sports and action work.
SONY A9 – FEATURES
The Alpha 9's mind-boggling speed is enabled by an innovative home-grown 24.2-megapixel Exmor RS image sensor. It's the first full-frame chip to use stacked CMOS technology, with the light-sensitive photodiodes backed by a large amount of RAM and a processor that's dedicated to autofocus. Together with Sony's latest Bionz X processor, this allows the A9 to shoot at full speed with no viewfinder blackout, with a huge buffer for 241 compressed RAW frames or 362 JPEGs.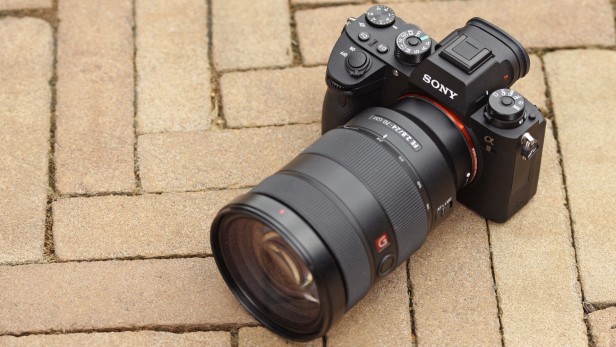 These feats are achieved using a silent electronic shutter that's designed to be free from rolling shutter distortion effects, while providing speeds up to 1/32,000 sec. There's also a mechanical shutter onboard offering a maximum speed of 1/8000 sec and 1/250 sec flash sync, but at just 5fps shooting.
To keep up with fast-moving subjects the Alpha 9 employs an on-sensor AF system with 693 phase-detection points arrayed across 93% of the frame, capable of 60 focus- and exposure-tracking calculations per second. This wide-area coverage and sheer density of focus points puts its competitors in the shade.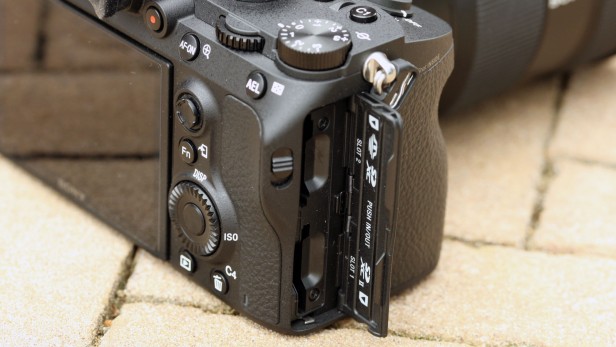 Sony has included twin SD card slots, the lower of which is compatible with the faster UHS-II standard. You can record files to both simultaneously or split by file type, for example sending JPEGs to one and RAWs to the other, or do a similar thing with movies and stills. Perplexingly, though, the camera isn't capable of using the cards sequentially, and won't automatically switch to the second when one fills up; instead it just stops shooting.
To keep help keep images blur-free, 5-axis in-body image stabilisation is onboard, which works with practically any lens you can mount on the camera. It also works in concert with Sony's optically stabilised lenses to give the best overall effect.
4K video recording is included at 3840 x 2160 resolution, with no crop of the lens's horizontal angle of view. The sensor captures sufficient information for 6K video then downsamples it, which gives sharp, detailed footage.
However, because Sony sees the Alpha 9 primarily as a stills camera, some key video features are missing, such as S-log gamma mode. However the camera does include an easy-to-use Slow and Quick Motion mode that records in Full HD resolution, and is given its own place on the mode dial.
SONY A9 – BUILD AND DESIGN
In terms of design, the Alpha 9 is based on the Alpha 7R II, but adds some significant improvements. It has a slightly deeper handgrip to accommodate a higher-capacity battery, and the button layout has been redesigned.
Sony has finally added a joystick control for selecting the AF point, handily placed within easy reach of your thumb. Alternatively you can now select the focus point by touch when using the LCD, although that's pretty much all you can do with the newly added touchscreen. There's also a new dedicated AF-ON button for activating autofocus independently of the shutter release, but its position on the sloping section at the top of the back isn't ideal.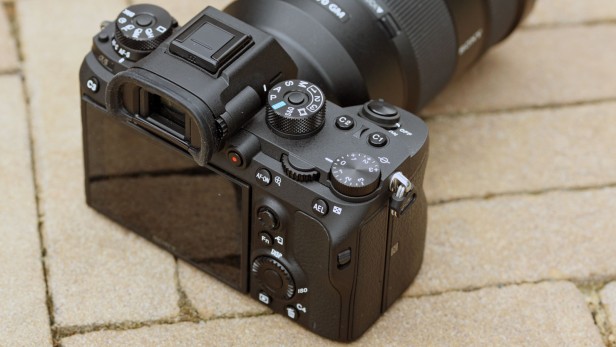 To the left side of the viewfinder on the top plate, a new double-decker dial offers control of the drive settings and AF modes. Both feature locking buttons, as does the exposure mode dial on the other side of the viewfinder. Meanwhile for video shooters the record button has been moved from the outside of the handgrip to a spot just to the right to the EVF. This is much better placed for when you're using the rear screen, but I found it awkward when shooting with the EVF.
The vertical rear dial is now larger than on the Alpha 7 models and has more distinct clicks, making it much nicer to use. I set it to control ISO directly, which allows all four main exposure parameters to have their own dedicated control without having to press any buttons. Most of the camera's buttons and dials are customisable, and the onscreen Fn menu can also be adapted to suit the user. Together these changes transform the user experience compared to the fussy Alpha 7R II, making the Alpha 9 a real pleasure to use.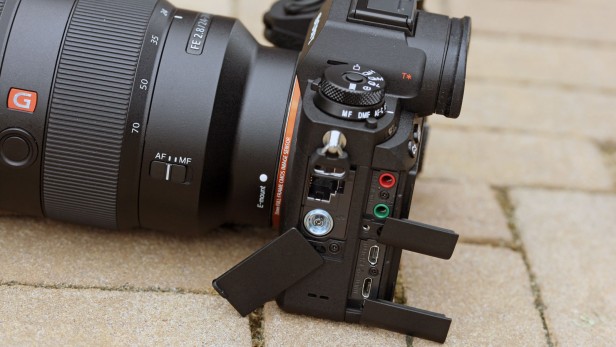 In terms of build quality there's little to complain about either, with the camera feeling extremely solid. My one concern is that the plastic covers over the various ports are rather thin and don't particularly inspire confidence in their ability to keep the camera weather-sealed. You can see them in the picture above, opened to reveal the microphone and headphone sockets, USB and HDMI, plus PC flash sync and an RJ-45 Ethernet socket (for pro sports shooters).
Sony has revamped its menus, with all the options now split between five colour-coded tabs. There are 35 screens full of settings that allow you to customise almost any aspect of the camera's operation, although some have very opaque abbreviations. Crucially, though, you now get a programmable My Menu tab, so can store your most-used items for easy access.
SONY A9 – VIEWFINDER AND SCREEN
With a 3.68-million-dot resolution and 0.77x magnification, the A9's viewfinder has one of the highest specifications on the market. It's bright and clear, and easy to see into the corners even if you wear glasses. However the live-view feed doesn't quite do justice to the panel resolution, and aliasing artefacts can often be seen in areas of fine detail.
The LCD is much the same as used in the Alpha 7 series, and its ability to tilt up or down is a real advantage for low- or high-level shooting, although it's still not quite as versatile as a fully articulated screen. By default the display brightness is quite low, though, so you'll need to turn it up on sunny days.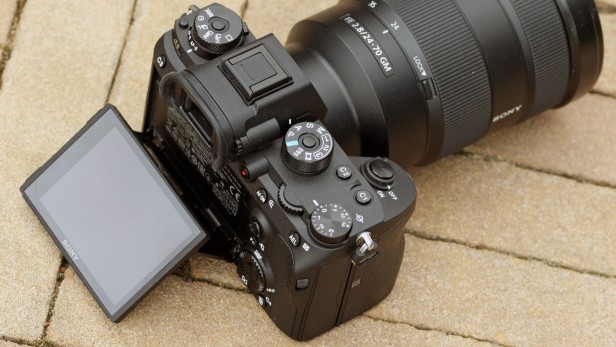 SONY A9 – AUTOFOCUS
Given the Alpha 9's aim of competing with pro DSLRs, a lot rests on its autofocus system. Fortunately, this is just as remarkable in practice as its specs suggest on paper. It can focus on a subject practically anywhere in the frame, and use subject recognition to track it as it moves around. Indeed, it's mesmeric to watch the little green AF points light up and track across the viewfinder as the camera keeps a subject in its sights. This allows you to shoot sequences of frames and pick your favourite, confident that it will be in focus, as I did with the below shot of a Westland Lysander.
Users can choose between allowing the camera to select the focus point itself, which with moving subjects it does uncannily well, and there's also a centre lock-on AF mode in which the camera will attempt to track a specified subject based on its size and colour. Alternatively you can select the focus point manually. But in one of the camera's few operational missteps, the AF area isn't highlighted in the viewfinder when you move it using the joystick, but instead drawn in a near-invisible grey.
This is especially strange as the AF point is highlighted in orange when positioned by touch, as you can see below, but this is usually invisible beneath your finger. Hopefully Sony will soon fix this behaviour with a firmware update. Face detection is also available for portraits, with the option to lock focus on your subject's eye.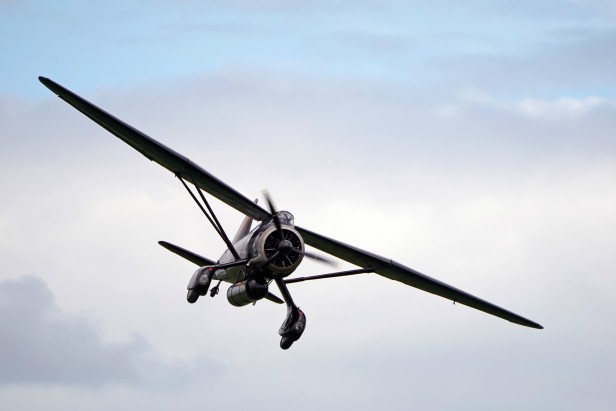 I first tested continuous AF by photographing trains with the Sony FE 70-200mm F2.8 GM OSS lens, and the camera did an exceptional job, keeping them in sharp focus while shooting long bursts at 20fps with the lens set to f/2.8. It only occasionally faltered when they were moving quickly away from the camera, giving a few frames that were a little less than pin-sharp – but this is a scenario in which DSLRs usually struggle too.
Shooting fast-flying vintage fighter planes at the Shuttleworth Fly Navy day, I had to switch to using a Canon-mount Sigma 150-600mm f/4.5-6.3 DG OS HSM Sport lens with the Sigma MC-11 adapter to get enough reach. Set to AF-C and wide-area AF, the Alpha 9 was able to pick out planes as tiny dots in the distance and focus on them in the blink of an eye, then keep them sharp as they closed in on the camera, as with this Hawker Sea Hurricane below.
Indeed I found that continuous AF worked practically as well as with the native 70-200mm, giving an excellent proportion of keepers while achieving real-world speeds of 12-17fps. It didn't always keep the subject in absolutely pin-sharp focus during extended bursts, but even so, out of the thousands of images I took, only a handful were unusably out of focus.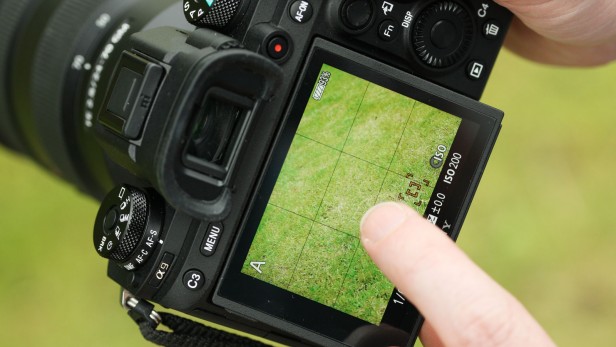 SONY A9 – HIGH-SPEED ELECTRONIC SHUTTER
To shoot at 20fps, the Alpha 9 uses a fully electronic shutter. Ordinarily this would come with a risk of image distortion artefacts or banding under artificial light, as there's usually a delay of 1/60 sec or more between the top and bottom of the frame being exposed, regardless of the shutter speed used. But Sony has developed a high-speed readout system that reduces this time considerably, meaning the rolling-shutter effect is all but eliminated.
This marks the A9 out from other super-fast mirrorless models, and I only saw image distortion in really extreme circumstances, such as the propeller of the Avro Tutor in the image below, which has bent slightly. Bear in mind that this is a very fast-moving object covering most of the frame height.
The electronic shutter comes with no viewfinder blackout, which makes panning with moving subjects a breeze, but Sony has provided useful visual feedback by making the AF area frame flicker while you're shooting.
It's also possible to turn on a shutter sound when you don't need the camera to be silent. By default the camera will switch automatically between the electronic and mechanical shutter depending upon which is more appropriate for the conditions, but you can also specify this manually.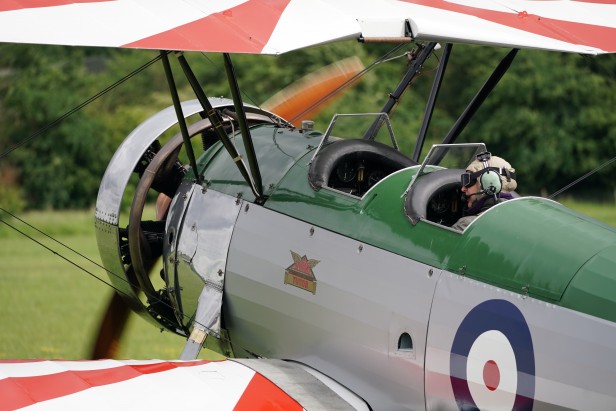 SONY A9 – PERFORMANCE
To say the Alpha 9 performs well in normal use would be a massive understatement. It's an exceptional camera that's astoundingly quick and delivers superb results time after time. It has all the usual advantages of mirrorless, giving an accurate preview of how your images will turn out so you can confidently adjust exposure or white balance before even releasing the shutter.
Compared to the pro DSLRs it competes against it's considerably smaller without sacrificing usability, and it works just as well using the rear screen as with the viewfinder, which makes the Nikon D5 in particular look like a dinosaur.
In the image above, the camera was able to capture the precise moments that the ball caught the edge of the bat, and the ensuing catch being taken. Despite this taking place inside a fraction of a second, Sony A9 recorded 11 frames in between.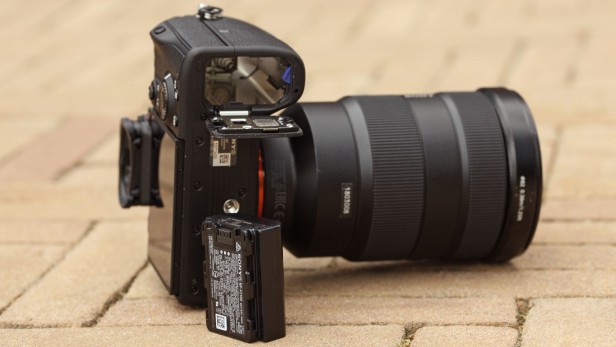 It does have its quirks, though. For example, if you want to switch between SD cards for playback, you have to dive deep into the menus. The camera also refuses to let you access its menus when it's recording to card, which for a full burst of fine JPEGs can take up to a minute with a fast UHS-II card – however, you can still keep on shooting and change other settings quite happily. Recording uncompressed RAWs reduces both the shooting rate and the buffer by about a half.
This kind of camera needs to produce good-quality JPEG output, and for the most part the Alpha 9 delivers. Indeed in typical Sony fashion, fine-detail rendition and high-ISO noise reduction are both very impressive, while colour reproduction is very neutral and accurate. However, auto white balance is biased towards a distinctly cool tone, which means that out-of-camera JPEGs are not quite as attractive as those from some competitors.
Mirrorless cameras have a bad reputation for battery life, and on the face of it the Sony A9's CIPA-standard rating of 480 shots per charge is far behind pro DSLRs. But when shooting bursts it will manage many, many more than that, and its endurance can easily extend to thousands of frames. At a Kent vs Surrey 2nd XI cricket match, I shot 1800 frames and still had 75% battery remaining.

The battery can also be kept topped up over USB, even while you're shooting, which means the camera can keep going practically indefinitely when wired to an external powerbank – I managed over 7000 frames in a single session this way. For anyone used to obsessively power-managing a Sony A7R II, it's a revelation.
The camera's speed and stamina does mean that you'll need to invest in large, fast cards – during my intensive testing I shot almost 10,000 images taking up nearly 100GB, and much of that time I was shooting JPEG only. You'll also need lots of time and patience to pick out your best shots – Sony really needs to add a way of rating favourites in-camera, as you can with other high-speed cameras.
SONY A9 – VIDEO
The Alpha 9 is capable of recording 4K video in the XAVC/S format at 25fps and up to 100MB/s, with a dedicated position on the mode dial that affords full manual control. It's also possible to record files in a second, lower resolution simultaneously. In addition its S&Q mode allows Full HD recording at rates from 1fps to 100fps – in effect from one-quarter-speed slow motion, up to 8x-speed quick motion.
Microphone and headphone sockets are onboard for getting the best sound quality, which is helpful as I found the built-in mics to be quite susceptible to wind noise. Meanwhile zebra pattern and peaking displays aid judging exposure and focus respectively. Surprisingly, though, Sony has left off its Picture Profile settings and S-log mode, which provides flat output for colour-grading in post-production.
Video is recorded using all of the pixels from a 16:9 segment of the sensor covering its full width, effectively reading 6K of data with no crop of the lens's field-of-view crop. This is then downsampled to 4K, which gives high-quality, detailed footage with no visible artefacts – you can get an idea of the quality from the frame grab above.
The in-body image stabilisation does a respectable job of smoothing out camera movement when shooting hand-held, although the large sensor means it's not quite as effective as the systems on the Panasonic Lumix DC-GH5 or Olympus OM-D E-M1 Mark II. Focus can be pulled from one subject to another by repositioning the AF point using the joystick,while tapping the touchscreen engages subject-tracking lock-on AF; both functions work pretty well when using native Sony FE lenses.
SONY A9 – IMAGE QUALITY
With its 24.2MP full-frame sensor the Alpha 9 offers impressive image quality, giving excellent pixel-level sharpness. Compared to the £1250/$1875 24.2MP Alpha 7 II it delivers improved high ISO performance, but reduced low-ISO dynamic range. There's still a lot of scope for lifting shadows in RAW, though; in the example below, the corresponding JPEG was mostly black.
Noise is barely noticeable up to ISO 1600 and images are still eminently usable at ISO 25,600; above this the drop in quality becomes very noticeable, but you'll still get recognisable images up to ISO 102,400. Unsurprisingly, though, studio and landscape photographers would still be better off with the 42.4MP Alpha 7R II.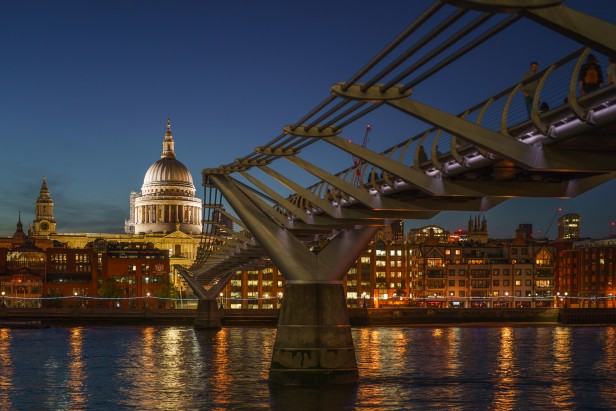 Shot in extremely low light, this is an out-of-camera JPEG at ISO 102,400. The quality isn't exactly outstanding, if you look closely, but colour retention is extremely impressive at such a high sensitivity.
Resolution
At low ISOs the Alpha 9 records 3600l/ph in our resolution chart tests. This is a little higher than the Alpha 7 II, and attributable to the new stacked CMOS sensor design. Initially this value holds up well as the ISO is raised, with 3200 l/ph still achieved at ISO 3200, and 2800l/ph recorded at ISO 25,600. Beyond this noise has a more dramatic impact, giving around 2400l/ph at ISO 102,400 and barely 2000l/ph at the top ISO 204,800 setting. Sony's well-judged sharpening means that JPEGs give just as much resolution as RAW.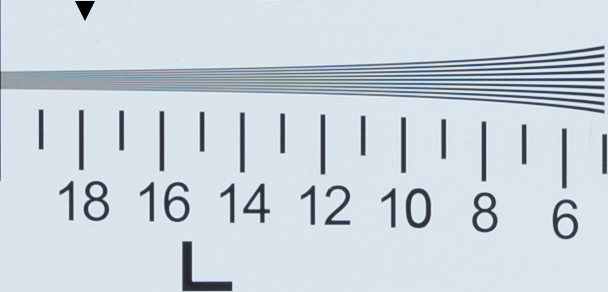 Sony Alpha 9, RAW, ISO 50. Multiply the number below the line by 200 for the resolution in lines/picture height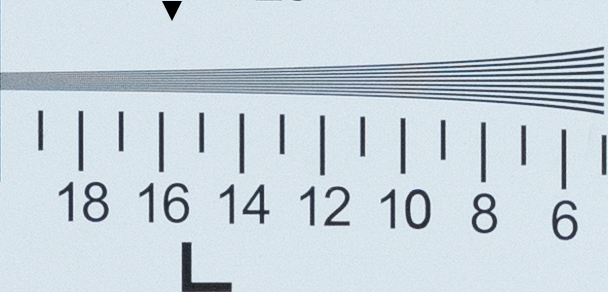 Sony Alpha 9, RAW, ISO 3200. Multiply the number below the line by 200 for the resolution in lines/picture height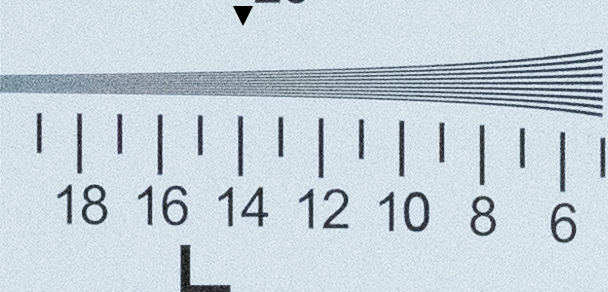 Sony Alpha 9, RAW, ISO 25,600. Multiply the number below the line by 200 for the resolution in lines/picture height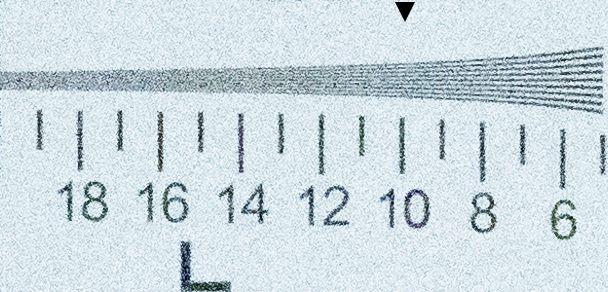 Sony Alpha 9, RAW, ISO 204,800. Multiply the number below the line by 200 for the resolution in lines/picture height
Dynamic range
Our Image Engineering dynamic range tests give an interesting result, with a maximum 12.4EV range at the camera's lowest ISO. This is relatively limited for full frame and indicates that there's less scope for extracting noise-free detail from deep shadows compared to Alpha 7 models. This is the price you pay for the Alpha 9's blinding speed, and appears to be a similar trade-off to that made by Nikon with the D5. Dynamic range drops off fairly monotonously as the sensitivity is raised, with sub-6EV values above ISO 25,600 indicative of severe noise and detail loss in darker regions of the image.
Noise
The Alpha 9 gives excellent pixel-level sharpness at low ISO with barely any noise. There's hardly any visible drop in quality up to ISO1600 – indeed it's only at ISO 6400 that noise or noise reduction has any significant impact on fine, low-contrast detail. Beyond this detail suffers and colour desaturates, but even ISO 25,600 still gives very respectable colour and detail. Above this image quality deteriorates quite dramatically, and out-of-camera JPEGs become distinctly 'muddy' due to watercolour-like noise reduction and limited shadow detail.
You'll get better results shooting RAW, of course, and with careful processing images shot at ISO 102,400 aren't completely unusable, especially when you're looking for a one-off shot that can't be achieved any other way. The top extended setting is really a step too far, though.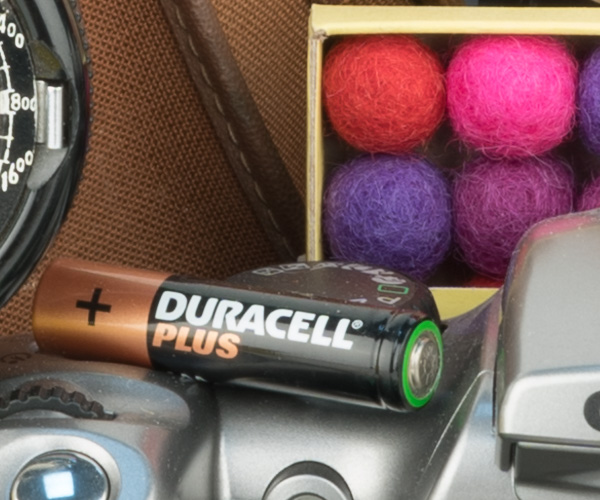 Sony Alpha 9, RAW, ISO 50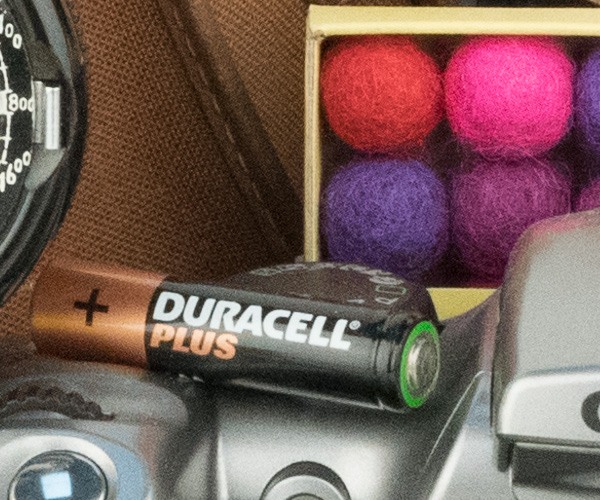 Sony Alpha 9, RAW, ISO 6400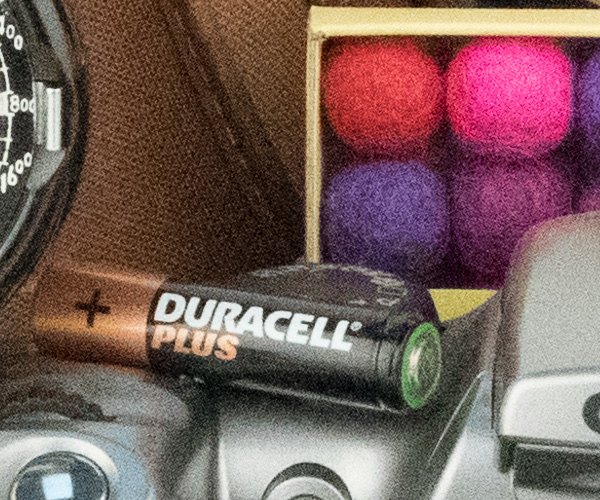 Sony Alpha 9, RAW, ISO 25,600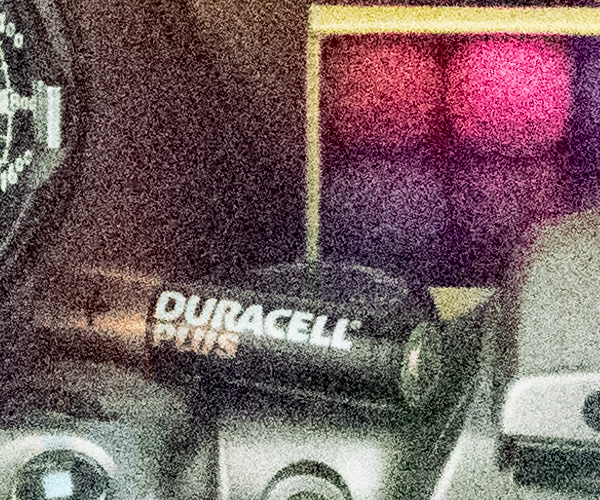 Sony Alpha 9, RAW, ISO 204,800
SHOULD I BUY THE SONY ALPHA 9?
With the Alpha 9, Sony has rewritten the rule book regarding what we can expect from a full-frame sports and action camera. It's small yet handles extremely well, and its combination of superb autofocus, 20fps silent shooting and built-in 5-axis image stabilisation is unmatched by any DSLR.
Where Sony can't yet compete is in terms of lenses, and particularly the big telephotos normally used with this type of camera – its longest FE telephoto is the 100-400mm f/4.5-5.6 GM OSS. It's possible to gain many of the A9's key benefits using adapted Canon EF-mount lenses, but functionality is limited unless you use recent Sigma lenses on its MC-11 adapter.
This means that while the Sony A9 is an astonishing camera, right now it's almost too far ahead of its own system to achieve its full potential. And there's little point in buying one if you won't use its speed; you'll get much the same image quality from the £1250/$1875 Alpha 7 II.
Despite this, if you shoot a lot of sports and action photography, its unique abilities might make it impossible to live without.
VERDICT
An astonishing high-speed mirrorless model that pushes the boundaries for full-frame sports and action cameras.
(trustedreviews.com, https://goo.gl/Gs18t2)
Comments
comments