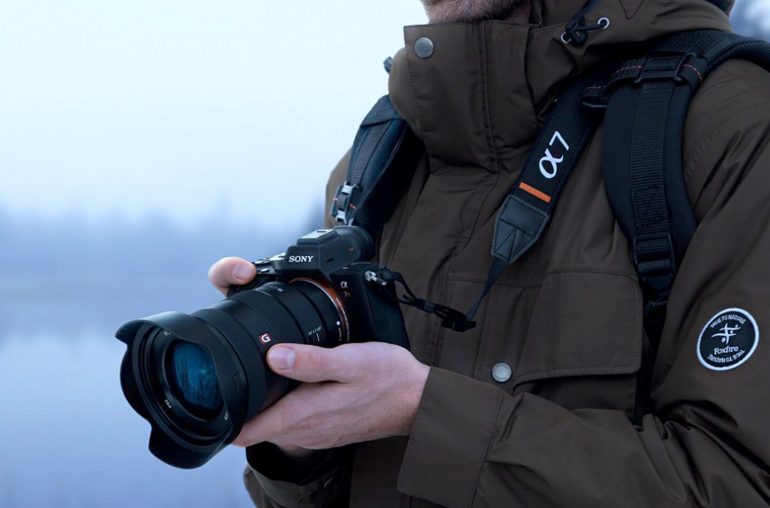 Wow, what a camera! Sony's already wowed us with the earlier iterations of the A7R, but for the third go-around, they've managed to out-do themselves. Sony keeps what we love about the A7R series — high-resolution image quality with excellent dynamic range and high ISO performance — and yet introduces numerous improvements, many of which have been brought over from their flagship A9.
Sony FE 16-35mm f/2.8 GM @ 32mm, f/13, 1.6secs, ISO 50
Note: This image has been edited. 
Amazing image quality & improvements despite same 42MP sensor
Looking at the specs, you'll notice the same 42.4-megapixel full-frame sensor from the A7R II sits inside the A7R III. Despite this, Sony's managed to eke out some more performance from the same silicon thanks to improved circuitry and a faster, more advanced BIONZ X image processor. In particular, Sony claims the dynamic range is improved, and this proved to be the case, especially at lower ISOs. Further, we saw improved high ISO performance as well as better hue accuracy and skin tone reproduction.
Going further on the resolution scale, the A7R III introduces a "Pixel Shift Multi Shooting" high-resolution mode thanks to its improved sensor-shift image stabilization system. It captures four pixel-shifted frames for a whopping 169-megapixels-worth of information, resulting in images with improved detail, more accurate colors and fewer artifacts. Like other cameras with similar high-res capture modes, Pixel Shift Multi Shooting is tricky to use and limited in scope — subjects need to be perfectly still, and you have to use a tripod to get usable artifact-free results.
Overall, the image quality of the A7R III is outstanding. The camera is capable of capturing stunning images with tons of detail and resolution, making it an ideal camera for landscapes, astrophotography, architecture, portraits, weddings and more. Low ISOs are phenomenal, and high ISO performance is excellent, despite the high megapixel count and the relatively small pixel size.
Sony FE 16-35mm f/2.8 GM @ 26mm, f/4, 1/1250sec, ISO 100
Note: This image has been edited. 
Big improvements to speed & performance make A7R III highly versatile
When it comes to speed, the A7R III breaks the mold of what is typically seen from high-resolution-centric cameras. Bringing over many of the performance improvements and faster AF features from the flagship A9, the A7R III is not only a high-res camera, but it's a pretty darn capable high-speed one as well. The A7R III captures images, even with RAW, at up to 10fps with C-AF, a big step up from the A7R II which topped-out at 5fps. Buffer depths are generous and more than double the buffer depth of the A7R II.
It's not all great, though, as we still found buffer clearing times to be frustratingly sluggish, despite the faster UHS-II SD card support (which, disappointingly, is only offered on one of the two card slots). Another disappointment is the camera's power-up time, which is still slow and much more sluggish compared to DSLRs.
AF performance also received massive improvements with the Mark III. The A9's autofocus is excellent, and the A7R III is nearly at that level. In real-world shooting, both single-shot and continuous AF performance worked extremely well. The A7R III also brings over the A9's faster Eye-AF tracking mode, which worked very well.
No new video framerates, but 4K quality is better & 120fps now at 1080p
Though the A7R III seems targeted more towards photography, the video capabilities are still very impressive and shouldn't be ignored. The A7R III doesn't offer 4K at 60fps like the Panasonic GH5 and the Canon 1DX Mark II, so you're still capped at 30fps. Nevertheless, the A7R III's 4K video quality looks fantastic and is improved over the Mark II thanks to the way it captures 5K-resolution footage and downsamples it for sharp 4K video. The camera uses the full pixel readout (no binning or line skipping) in its Super 35mm crop mode, and now also supports Hybrid Log Gamma and the S-Log3 profile for excellent dynamic range performance. HD recording is improved as well, now offering 120fps recording at 1080p instead of just 720p as with the A7R II.
Same size & shape but better controls, dual SD cards & battery life
At first glance, the A7R III doesn't look much different from its predecessor. Indeed, it's the same size as the Mark II, but there are some nice improvements to the control layout, including a very helpful joystick control as well as a touchscreen. And despite keeping the same footprint, Sony's managed to squeeze in not only dual SD card slots but also the A9's larger, much longer-lasting battery into the A7R III. Battery life, once a big Achilles heel for the A7R II, is now vastly improved, with a single battery lasting throughout the day despite heavy shooting.
If you enjoyed the handling and size of the A7R II, the Mark III will feel much the same in the hand. Though it'll come down to personal preferences, the relatively compact size of the A7R III can still feel a bit cramped for those with larger hands, especially if you have a big, heavy telephoto lens attached. Similarly, the smaller body can feel a bit unbalanced with these big lenses. In general, though, the grip is contoured and comfortable, and while the button layout has changed slightly, you still have tons of customization options to fit your shooting style.
Like the Mark II, the A7R III is said to have a dust- and moisture-resistant design. However, we still found it to be less sealed than some rivals. Our field tester found dust to be problematic, and in a testing scenario, we did manage to have water enter the camera body (however after a thorough drying, the camera still works). Nevertheless, the build quality still feels excellent and very solid, and the camera would likely withstand some light inclement weather, just don't push it.
On the inside of the camera, Sony has made some improvements to the software. You can now access more menu items while the camera is writing images to the memory card(s), but you're still locked out of some. The menus themselves are still very confusing with pages upon pages of options with many sub-categories. One interesting change is the lack of PlayMemories support, so the add-on apps that worked with the A7R II, for example, are no longer available. A result of that, for example, is that there is, as of now, no longer the ability to have a built-in intervalometer for doing timelapses.
Sony FE 16-35mm f/2.8 GM @ 19mm, f/8.0, 1/200sec, ISO 250
Note: This image has been edited. 
Summary: One of the best cameras of 2017
The A7R III sees improvements in pretty much every area: physical design features, image quality, speed and performance, as well as video recording capabilities. The camera address many of the shortcomings of the Mark II, especially when it comes to speed, performance and battery life. You now not only have a compact, full-frame camera capable of capturing incredible detail, it's also nimble and speedy enough for sports and action — a rare feat. Since its debut, the A7R-series has consistently earned high praise from us, and the Mark III is no exception. This camera offers a wonderful combination of versatility and quality. There are some drawbacks to the camera, still, but with each generation of A7R, issues feel much more minor.
Pros
Improved dynamic range over its predecessor
Somewhat better high ISO performance
Improved hue accuracy and skin tones in JPEGs
Very low shutter lag
Much improved real-world AF performance with very good subject tracking
Can autofocus in very low light
Class-leading burst speed up to 10 fps (8 fps with live view)
Generous buffer depths (more than double A7R II's)
Improved 5-axis in-body image stabilization (5.5 stops, up from 4.5)
4K video at 30p with full pixel readout
Hybrid Log-Gamma and S-Log3 included
Full HD video up to 120p
Much improved battery life
New AF joystick and AF On button
Dual SD card slots
Added USB-C (USB 3.1 Gen 1) port
New Pixel-Shift resolution mode
Large higher-res EVF
LCD is now a touchscreen
In-camera charging and power via USB
Can now shoot best quality JPEGs with RAW
14-bit uncompressed RAW now supported in continuous mode and with e-shutter
500K-cyle low vibration shutter mechanism
Menus can be accessed while buffer is clearing
Excellent external controls with lots of customization
Movie record button moved to a better location
Multi Interface Shoe allows for various smart accessories and adapters
Flash sync terminal
Cons
Only one card slot is UHS-II compatible
Buffer clearing can still be slow even with fast UHS-II cards
Sluggish power-up compared to DSLRs
Still no lossless compressed RAW option
No built-in intervalometer & no PlayMemories support to add this and other features
Native E-Mount lens selection not as good as DSLR rivals (yet)
In-camera HDR mode sometimes didn't detect blurred images due to slight camera movement
Pixel Shift Multi-Shooting requires processing on the computer for final image
Pixel Shift mode requires absolutely static subjects, otherwise composite images display motion artifacts
No 4K/60p framerate
Top shutter speed still 1/8000s with electronic shutter
Menu system still feels confusing
Dust- and moisture-sealing not as robust as some competing cameras
Small body size can feel unbalanced with larger, telephoto lenses, but battery grip or grip extension is available
Tilt-only LCD isn't as versatile as a tilt/swivel type
No built-in flash
Below are crops from our laboratory Still Life target comparing the Sony A7R Mark III's JPEG image quality to its predecessor, the A7R Mark II, as well as to its A-mount sibling, the Sony A99 Mark II. We've also compared the A7R III to a couple of high-resolution DSLRs from Canon and Nikon, namely the Canon 5DS R and Nikon D850, as well as to Fuji's GFX 50S for a comparison to a current-generation medium-format camera. We've also included a single-shot to Pixel-Shift mode comparison at base ISO.
NOTE: These images are from best quality JPEGs straight out of the camera, at default settings including noise reduction and using the camera's actual base ISO (not extended ISO settings). All cameras in this comparison were shot with our very sharp reference lenses. Clicking any crop will take you to a carrier page where you can click once again to access the full resolution image as delivered straight from the camera. For those interested in working with the RAW files involved: click these links to visit each camera's respective sample image thumbnail page: Sony A7R III, Sony A7R II, Sony A99 II, Canon 5DS R, Fuji GFX and Nikon D850 — links to the RAW files appear beneath those for the JPEG images, wherever we have them. And remember, you can always go to our world-renowned Comparometer to compare the Sony A7R III to any camera we've ever tested!
Sony A7R III vs Sony A7R II at Base ISO
Sony A7R III at ISO 100

Sony A7R II at ISO 100
Sony A7R III vs Sony A99 II at Base ISO
Sony A7R III at ISO 100

Sony A99 II at ISO 100
Sony A7R III vs Canon 5DS R at Base ISO
Sony A7R III at ISO 100

Canon 5DS R at ISO 100
Sony A7R III vs Fujifilm GFX at Base ISO
Sony A7R III at ISO 100

Fujifilm GFX at ISO 100
Sony A7R III vs Nikon D850 at Base ISO
Sony A7R III at ISO 100

Nikon D850 at ISO 64
Sony A7R III vs Sony A7R II at ISO 1600
Sony A7R III at ISO 1600

Sony A7R II at ISO 1600
Sony A7R III vs Sony A99 II at ISO 1600
Sony A7R III at ISO 1600

Sony A99 II at ISO 1600
Sony A7R III vs Canon 5DS R at ISO 1600
Sony A7R III at ISO 1600

Canon 5DS R at ISO 1600
Sony A7R III vs Fujifilm GFX at ISO 1600
Sony A7R III at ISO 1600

Fujifilm GFX at ISO 1600
Sony A7R III vs Nikon D850 at ISO 1600
Sony A7R III at ISO 1600

Nikon D850 at ISO 1600
Sony A7R III vs Sony A7R II at ISO 3200
Sony A7R III at ISO 3200

Sony A7R II at ISO 3200
Sony A7R III vs Sony A99 II at ISO 3200
Sony A7R III at ISO 3200

Sony A99 II at ISO 3200
Sony A7R III vs Canon 5DS R at ISO 3200
Sony A7R III at ISO 3200

Canon 5DS R at ISO 3200
Sony A7R III vs Fujifilm GFX at ISO 3200
Sony A7R III at ISO 3200

Fujifilm GFX at ISO 3200
Sony A7R III vs Nikon D850 at ISO 3200
Sony A7R III at ISO 3200

Nikon D850 at ISO 3200
Sony A7R III vs. Sony A7R II, Sony A99 II, Canon 5DS R, Fujifilm GFX, Nikon D850
Sony




A7R III


ISO 100
ISO 3200
ISO 6400

Sony




A7R II


ISO 100
ISO 3200
ISO 6400

Sony




A99 II


ISO 100
ISO 3200
ISO 6400

Canon




5DS R


ISO 100
ISO 3200
ISO 6400

Fujifilm




GFX


ISO 100
ISO 3200
ISO 6400

Nikon




D850


ISO 64
ISO 3200
ISO 6400
Detail comparison. High-contrast detail is also important, pushing the camera in different ways, so we like to look at it too. Here, we can see the A7R III shows minor improvements over the A7R II, in both color and contrast. Performance is very similar to the Sony A99 II, but with improved color. The Canon 5DS R does resolve more detail at base ISO, but higher noise and a drop in contrast make it lag behind the rest of the pack at higher ISOs. Unsurprisingly, the Fuji GFX comes out ahead here in terms of detail. Contrast isn't quite as good, though, and sharpening halos are a little more evident than from the Sonys or Canon. The Nikon D850 produces slightly better detail and higher contrast than the Sony A7R III, however sharpening halos are the most visible in this comparison.
Sony A7R III Pixel-Shift Multi Shooting
The Sony A7R Mark III offers a new "Pixel-Shift Multi Shooting" mode in which the camera takes a series of four images while moving the sensor by one pixel location between exposures to capture full color information for each pixel. This eliminates the need to use Bayer color interpolation and demosaicing, producing an image with the same native pixel count but with greater detail and fewer artifacts. (Unlike the Olympus and Panasonic systems which make sub-pixel sensor shifts, taking eight shots and producing an image with a higher pixel count than the sensor.)
Like most implementations, the A7R III's pixel-shift mode isn't designed for moving subjects, and can't tolerate any camera movement either; it's designed for stationary shooting of still life, landscapes, architectural and other static subjects. The Sony A7R III can't combine the images in-camera like other cameras can, though. Instead, the A7R III just saves four RAW files and you need to use Sony's free Image Edge software to process them into a composite JPEG (or TIFF) on a Windows or Mac PC, which we have done below in a base ISO comparison using default software and camera settings.
Sony A7R III Single shot vs Pixel-shift mode at Base ISO
Single-Shot Image at ISO 100

Pixel-Shift Image at ISO 100
(imaging-resource.com, https://goo.gl/GnTLA2)
Comments
comments